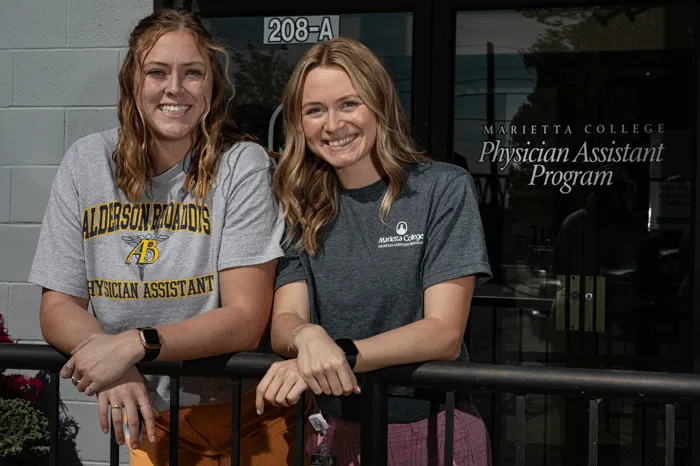 Kenadee Burgoyne PA'25 (Wheeling, West Virginia) and Catie Wilson PA'25 (Bridgeport, West Virginia) first met as graduate students in Alderson Broaddus University's Physician Assistant Program, forging a close bond as they completed their first semester.
But their plans were upended when in early August 2023, the West Virginia school announced it would close before they could earn their master's degrees. Alderson Broaddus, a private Baptist university that was founded in 1838, announced it would close after its board made the decision.
With their futures suddenly uncertain, Burgoyne and Wilson leaned on their friendship amid the disruption. Now, they are thrilled to have found their perfect landing spot: Marietta College's PA program.
"I am the type of person who feels like everything happens for a reason," Burgoyne said. "It was devastating when we learned Alderson Broaddus was going to close, and we had no idea what we would do next. But ending up at Marietta has been a blessing. This is the perfect fit for me."
Wilson said the ABU students were encouraged to transfer to the University of Charleston in West Virginia. But she considered Marietta's PA Program after graduating from West Virginia University in 2021 with a bachelor's degree in Exercise Physiology.
"Our transition to Marietta has been easier than expected because the program is very organized, and the program director and the faculty are amazing and have been so welcoming," Wilson said. "We were also concerned that it would be hard to make connections with the students who were already here. It was just the opposite. Before meeting anyone, they had already added us to the group messages, and I got 20 new Instagram followers. There are almost 40 of us, and it's amazing how everyone gets along. Whatever they are doing at Marietta works."
Christi Gierhart, Director of Marietta's Physician Assistant Program, worked behind the scenes to get approval from the accreditation board, ARC-PA. With ARC-PA's blessing, Burgoyne and Wilson joined Marietta's PA Program on August 28.
"We're delighted that Kenadee and Catie are part of the PA Program's Class of 2025," Gierhart said. "They have already demonstrated such dedication and passion for becoming physician assistants through their studies at Alderson Broaddus and now at Marietta. When we heard about the unfortunate closure of the program, we wanted to open our doors to these bright, motivated students so they could continue pursuing their goals without interruption."
Class President Ellie Campbell PA'25 (Marion, Ohio) rallied her classmates to welcome Burgoyne and Wilson.
"We are truly grateful to have Catie and Kenadee alongside us as we continue our journey through PA school. They each bring unique strengths to our team, and we simply cannot imagine this process without them," Campbell said. "Something that is incredibly important to our class is that we work together and help each other through these next 26 months and for life! The love that we have for this program, and for each other, truly stems from the example set by our faculty. Our professors and staff members constantly support us in more ways than one. We feel that we can approach them about any and everything, knowing they have our best interest at heart." 
Need some proof? Gierhart helped Burgoyne and Wilson find an apartment in Marietta.
"Director Gierhart even helped us by getting information about landlords in Marietta," said Burgoyne, who graduated from Wheeling University with a bachelor's degree in both Biology and Psychology.
Wilson commuted the 24 miles from Bridgeport to Philippi, so living away from home has been an adjustment.
"I think it has been good for me," she said. "Being at home where everyone has their lives, sometimes I would get distracted. Being in a bubble here is nice for me. I need the time to study because there is nothing easy about this. I've gone home a few times, but I mostly stay here."
Wilson noted, though, that the faculty help the students find a balance between class and their personal lives.
"Kenadee and I have talked about how Director Gierhart and the Marietta PA faculty have set very high standards, but they are also aware that we must have lives outside of the program," Wilson said.
Burgoyne added, "When we arrived, we were behind everyone else. But our classmates and faculty helped us get up to speed, and now we feel like we are all on the same page. The fact everyone at Marietta has been so welcoming is why we were able to make such an easy transition. I just love it here. I feel more at home."