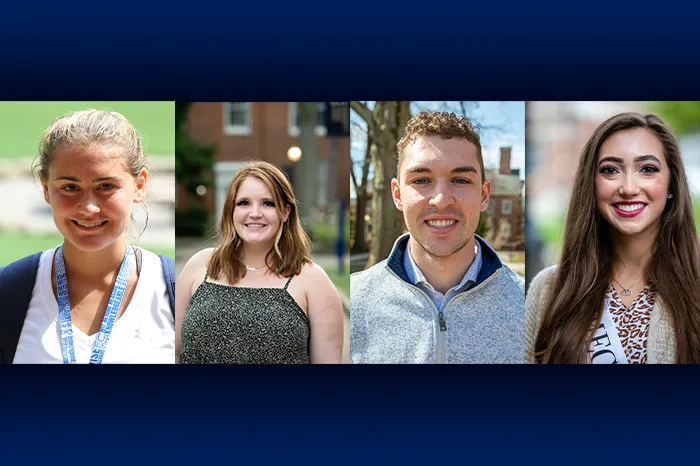 Four members of Marietta College's Class of 2022 who were active members of the Pre-Law program will enroll in law school this fall, including two at the University of Cincinnati College of Law.
Taiylor Williamson Ryan '22 and Tyler Walker '22 will be classmates in Cincinnati, while Taylor Carr '22 is going to the University of Toledo College of Law and Lauryn Ward '22 will be attending West Virginia University College of Law.
"I toured a lot of schools before making my decision and ultimately WVU just felt like the best fit for me," said Ward, who grew up in Mineral Wells, West Virginia. "I am from West Virginia and plan to practice there after I graduate from law school, so I figured WVU would be a good place to study for experience in the state I'll be practicing in. I also love the facilities and resources offered by WVU, which made them stand out against other law schools I considered."
Walker added, "I have always had a love for the Queen City, but the University of Cincinnati gave me a great financial package that was difficult to overlook. Aside from Skyline Chili and Joe Burrow, other factors that drew me to Cincinnati were how personal the deans and faculty were when I spoke with them, the brand-new facilities opening this fall, and that one of my sisters also attends Cincinnati for her undergraduate schooling." 
Dr. Mark Schaefer serves as the College's Pre-Law Advisor and is excited about this year's graduates.
"This year's Pre-Law students took the law school admissions process very seriously," he said. "They excelled in their undergraduate studies and took on internships in the legal arena while at MC. They each were diligent in their preparation for the LSAT, and the law school entrance exam. Moreover, each of our future lawyers is the exact type of person I would want to hire if I ever need a lawyer. I am proud of each of them, and I look forward to hearing about all of their future successes."
Each student praised Marietta College for preparing them for this next step in their careers.
"I think the well-rounded education that I received at Marietta has really prepared me for my next step," Ward said. "I have taken so many classes I probably would not have considered had it not been for the general education curriculum. I feel this has given me so much valuable knowledge. I also feel that the small size of the school has helped prepare me as well because it has allowed me to join so many extracurriculars and be really involved in campus life."
Carr added, "Being a dual sport athlete while taking classes helped me develop great time management skills. The main skill I obtained from my classes was writing, which made me more confident in research and writing, which will be good for law school."
Ryan also believes that Marietta College's demanding academics prepared her well for law school.
"The Political Science Department's courses and expectations have done a great job of preparing me to attend law school," she said. "My advisor, Dr. (Michael) Morgan, was a huge help in me deciding to go to law school and his courses have really prepared me for the rigorous curriculum I will see in law school. Along with academics, the organizations I participated in at Marietta College were also helpful in preparing me."
Ryan chose the University of Cincinnati College of Law because of its academics.
"This law school has professional pathways that help to allow for a more specialized education," she said. "There are numerous disciplines that will also create well-rounded knowledge. They also have amazing clinics where I will get real-world experience while I am a student."
Ryan was a member of the Student Government Association the entire time she was at the College and served as the Student Body President during the Fall 2021 semester. She was also a McDonough Scholar and a member of the Sigma Kappa sorority.
Ryan also gained valuable experience working in the legal field before attending law school.
"Working as a legal assistant at The Law Offices of Saia and Piatt, I have gained so much experience," she said. "The attorney I work for has brought me to court with him for different hearings and has tried to help me learn about the practical applications of law studies. Working at this firm has really strengthened my decision to become a lawyer."
Ward believes her time as an intern for U.S. Congressman Bill Johnson (R-Marietta) during her senior year was beneficial.
"While this is not a law office, I feel that the experience that I gained from working in this office very much relates to the law and has prepared me for my journey into law school," she said.
Walker has worked at the Law Office of Andrew J. Warhola Jr. in Cambridge, Ohio, and Carr completed a law internship in Washington, D.C., while taking a class at American University during the 2021 summer.
"This benefitted me by helping me navigate what types of law I might be interested in pursuing during law school," Carr said.
Each future attorney said they are not ready to commit to the type of law they hope to practice.
"I am planning to enter into law school with an open mind and take different classes to see what I enjoy and what I am good at," Ward said. "I have some interests in a few areas law that I would like to explore such as intellectual property or civil service, but I do not have any definite plans on what kind of law I want to practice."
Carr said the atmosphere at Toledo Law reminded her of her time at Marietta.
"One of the reasons why I chose Toledo Law was because of their small student body that creates a close-knit community," Carr said. "It reminded me of Marietta in that aspect where students had more opportunity to connect with their professors. Another reason is that Toledo Law prides itself on being one of the top law schools for women, with much of their class size being women."
Ward added, "I do not think I could have chosen a better undergrad school to prepare me for law school. The access to extracurricular activities, the help and guidance from professors, and the excellent academics provided by Marietta College have helped me immensely on my law school journey. I'm very excited to start law school and will surely be back to visit Marietta in the future."