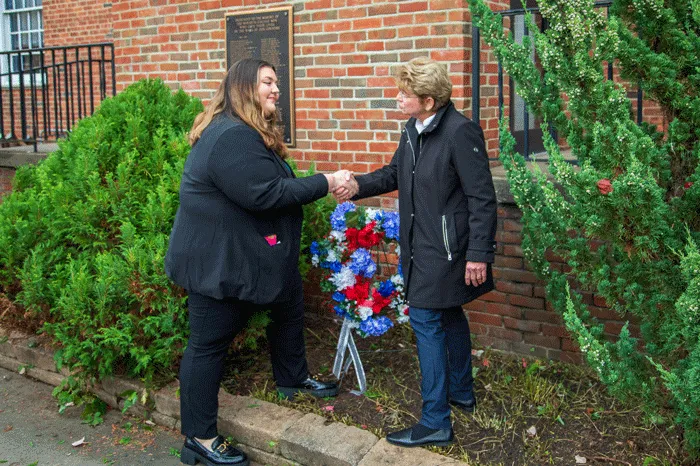 A small gathering of students, faculty, staff, and administrators gathered outside of Gilman Hall on Friday morning to honor military veterans during a special wreath-laying ceremony.
"It is important to celebrate their triumphs and the motivation that drives them," said Student Body President Maria Cipro '25 (Medina, Ohio) during an opening statement. "The bonds they forged in the military, their skills gained, and their resilience have made our veterans leaders and exceptional members of our communities. These are individuals that we find here in the Greater Marietta community and on our campus today."
She encouraged the campus community to actively support and advocate for veterans, recognizing Marietta's chapter of Student Veterans of America (SVA) and the group's service work.
"Coupled with our new Veteran and Military Student Center, Marietta College has worked to make our campus a safe place and home for veterans and military-associated family members," Cipro said.
Marietta College's 20th President, Dr. Margaret L. Drugovich, honored her father — a Korean War veteran — and all veterans, reading Reginald Gibbons' poem, A Veteran, during the ceremony. She also expressed the College's pride in honoring those who had served "our country to ensure our safety, to ensure our Democracy, to ensure our freedom."
"Our Collegiate Purple Star designation, awarded to the College by the Ohio Department of Education, is a signal to others of our care for Veterans and military students," Drugovich said. "Our Student Veterans of America Chapter works to actively support veterans and military students. Our newly dedicated Veterans and Military Center, located in the McDonough Center, supports, cares for, and provides a welcoming space for veterans and military students."
Jason Nulton, a retired Lieutenant Colonel in the U.S. Air Force and the Office of Community Engagement Coordinator in the McDonough Center, and current student Jon White '26 (Davisville, West Virginia), a retired Staff Sergeant in the U.S. Marine Corps, were in attendance.
"For veterans, at least from my angle, Veterans Day is kind of like a birthday because everybody's paying attention to you and saying, 'Thank you,' and it's nice to be able to have that at the workplace," Nulton said. "But for me, I don't think it's about honoring myself — I really think about the veterans who came before me — the ones who really had it so much harder, like our World War II veterans and Korean War vets, like Dr. Drugovich's father."
White, who is the SVA President, is grateful for the progress that the College has made to make campus more accommodating to veterans and military students by opening the Veterans Center in McDonough.
"I think, like Jason says, that it's about the veterans who came before me and those who will come after me," White said. "It's exciting knowing that once I leave here, there will be an area that future veterans can connect with each other and have a place to study and relax."