The inSPIRE award was created by the College's Staff Advisory Council to recognize a staff member who has been inspiring or who has
gone above and beyond the call of duty
helped someone on a project
helped a student, co-worker, or member of the public while on campus
demonstrated outstanding customer service
Recipients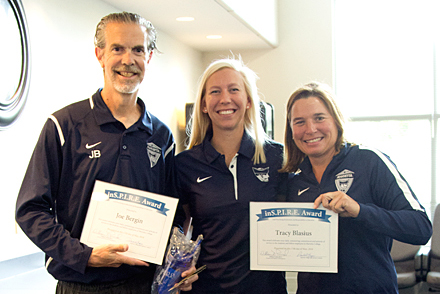 May 2018 — Joe Bergin and Tracy Blasius
Joe Bergin and Tracy Blasius are well known on campus for the amazing job they do in recruiting student-athletes and for producing victories on the soccer field. But they share the May 2018 inSPIRE Award for the outstanding work they did mentoring one of the College's new coaches.
"Although I was bursting with excitement to begin last June, I knew I still had a tremendous amount to learn," said first-year coach Malory Brunett, who nominated them. "Coming in as one of the youngest head coaches was intimidating, and I wasn't sure if these well-established coaches were going to be willing to lend a hand with my difficult task. Tracy and Joe made me feel like family in my first month working here. There hasn't been one time they weren't ready and willing to help me."
Joe has been the men's soccer coach the past five seasons, while Tracy has coached the women's program for five years.
All inSPIRE Award winners receive a number of prizes for the honor, including a personal parking space for one month, a free lunch at Gilman Dining Hall, a gift card from the bookstore and a certificate to display at their workspace.
---