It is often referred to as "The Year That Changed America Forever," and indeed, 1968 was a year full of unforgettable events and changes that still impact the U.S. today.
This fall, members of the Class of 1968 returned home to Marietta College for their 50th reunion. Those who took part in the Golden Reunion were invited to attend a multitude of Homecoming activities and events.
Homecoming 2018 saw a new record for registration with more than 800 people registering for the events. At the MCAA Awards, one of the signature Homecoming events, Marietta honored our outstanding Pioneers and learned more about their accomplishments. Alumni and friends enjoyed reuniting with one another at the Pioneer Tailgate and cheering the Pioneers to victory against Wilmington College, marking a historic 6-0 start to the season for the team. Later that evening, the Class of 1968 presented a reunion check to President William N. Ruud for $239,058.78, the largest in recently recorded years.
"Since the Class of 1968 joined The Long Blue Line, they have shown their commitment to the future of Marietta College by giving their time, talent and treasure to provide opportunities and resources for students at Marietta College," says Angela Anderson, Vice President of Advancement. "Their thoughtfulness in creating new and improved campus buildings, naming scholarships, contributing to The Marietta Fund and creating a lasting legacy through planned giving will help fund student and faculty support and other campus initiatives."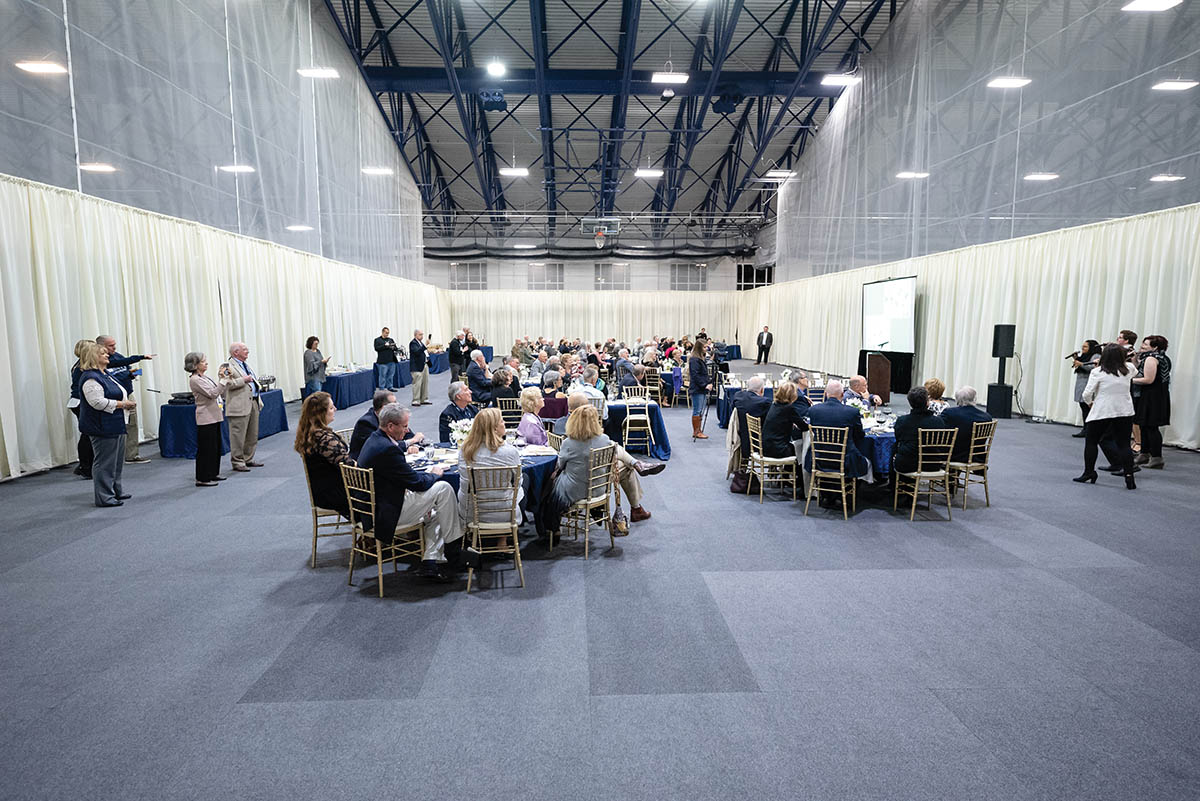 Classmates and friends Robert R. Dyson '68 and Laura Baudo Sillerman '68 — both of whom were inducted into the MCAA's Hall of Honor this year — wanted their peers to be able to reflect on the monumental year of their graduation and the historical impacts of the 1960s by bringing Jeff Greenfield, a veteran political, media and culture reporter, to campus for a special presentation.
"What affected the country affected Marietta College too," Greenfield says. "One of the most striking things is that you lived through it. When you talk of the 1960s there are two parts: the early '60s and the late '60s."
Speaking to the audience in the McDonough Auditorium, Greenfield discussed how the turmoil of some of the events that swept through college campuses in 1968 impacted their generation.
"Those first years in the 1960s were kind of idyllic, and the last years were so turbulent," says Jean Anderson Jory '68.
The Class of 1968 began their Marietta College journey in the aftermath of the 1963 assassination of President John F. Kennedy. Throughout their college years, the Civil Rights movement achieved significant legislative acts; meanwhile, the Vietnam War escalated, and by 1968, more than 500,000 U.S. troops were in Southeast Asia. A mere four years later, their graduation year would be filled with a near constant news cycle of surprise and shock.
"Greenfield's presentation was fantastic," says Aaron Handleman '68. "During the time period that I was going to college here and after graduation, he was someone that I would watch on TV. He was three or four years older than us, but the perspective that he brought was real-time life experience, all tied in with 1968 being the seminal year of all these historic things that happened in the world, and he tied it in with today's political environment."
During the 1960s, Marietta College had a number of notable and prominent speakers visit campus. Martin Luther King Jr. spoke to a crowd of 3,000 at Ban Johnson Field House on March 2, 1967. Consumer advocate Ralph Nader visited on February 9, 1968, and attorney and author F. Lee Bailey spoke on October 13, 1967, to name a few.
In the spring of 1968, Jan Matthews Cohen '68 was on the editorial staff of The Marcolian when she and co-editors Dave Herd '68 and Tim Maroney '68 made the difficult decision to publish an editorial about the Vietnam War.
"We came out against the war because it was becoming increasingly apparent that we just couldn't live in the bubble of Marietta College and so that is what we decided to do," Cohen says. "William Sheppard, who was our esteemed and wonderful advisor for The Marcolian, told us to 'Do it, but do it with facts.' So, we did."
More than 50 years later, the Class of 1968 looked back on their time at Marietta College and reflected on how the campus has changed over the decades. These days, The Christy Mall is busy with foot traffic instead of vehicle traffic. The student handbook no longer lists the evening curfew for female students to be in their dorms. Although some of the Greek organizations have changed, Greek Life remains a strong aspect of campus life. Certain buildings are gone, and new ones stand in their place, but Erwin Hall, the oldest building on campus, and others remain steadfast.
"We had probably one of the largest graduating classes and there were lots of historic changes going on during that time," says Emeritus Trustee Grant Callery '68. "I think all those events created a very strong bond among those in our class. We also knew that we were a really good class and that we had people that would go on and change the world."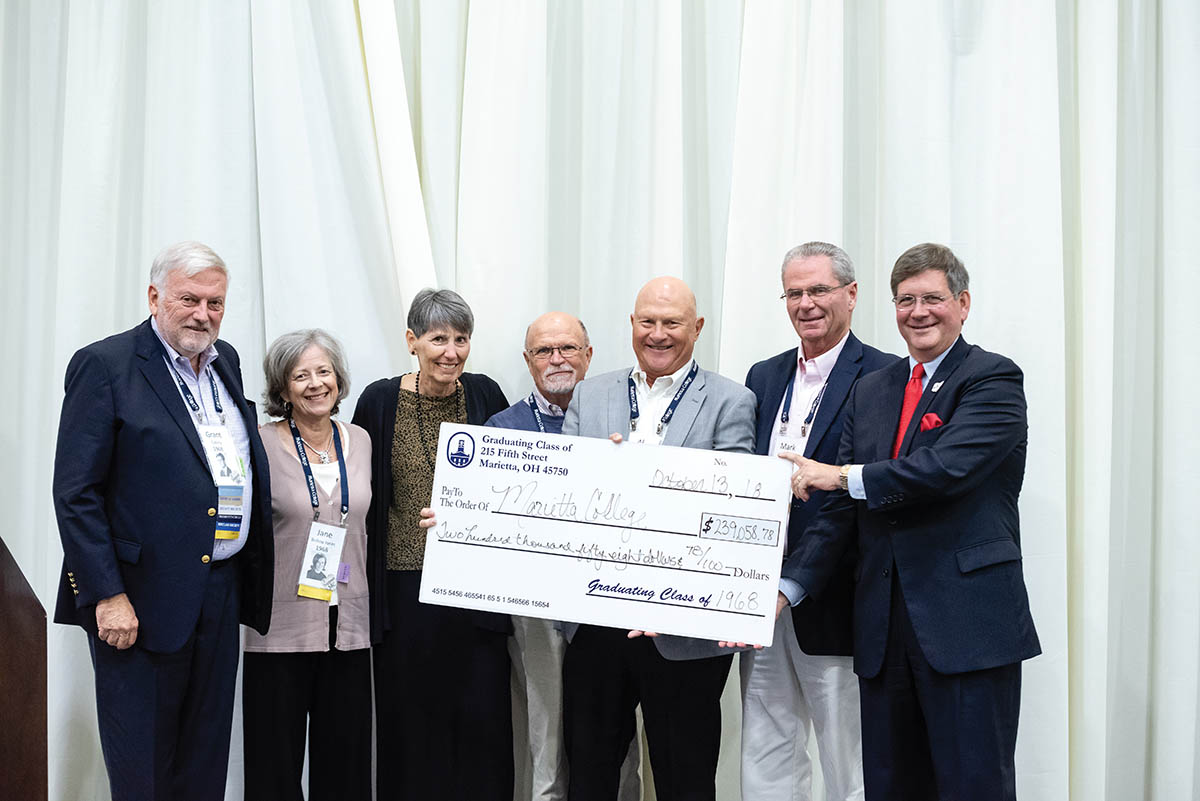 Cohen recounted how she and her friends were involved in a variety of extracurricular activities outside of their major.
"When we were here, we could do so many different things that were not within our major and it gave us personal and up-close attention from professors," Cohen says.
Cohen also had a shift on the college radio station and worked in the theatre department. When Willard Friederich, a faculty member in the Speech and Theatre Department, asked about her plans after graduation, she confided in him that she couldn't afford graduate school and was planning to look for a job. Friederich made a call to a colleague at the University of Wisconsin inquiring about a fellowship opportunity. She applied and was awarded a fellowship in theatre management, which combined her undergraduate English degree with her love for theatre.
Other members of the Class of 1968 met husbands or wives at Marietta. Jory met her husband Steve Jory '66 during her freshman year and they started dating that November.
"My husband and I find that this is a very special place," Jory says. "I think Marietta College is just a gem and I want to see it continue to grow and become stronger."
While the Class of 1968 graduated in one of the most tumultuous years of history, they took that experience and went on to become Pioneers in their own right. Today, members of their class have served on the Board of Trustees and the Alumni Association Board of Directors, volunteered their time and have graciously donated to the College to support the next generation of Pioneers.
- Claire Berlin