It was anything but a typical Friday night at Marietta College.
A good 30 minutes before the women's soccer team was ready to begin a new season, there was a buzz in the air unlike past openers. A school-record crowd of 1,057 fans packed into and around Marietta Field to see the Pioneers take on St. Vincent — but also to get their first look at the all navy blue field and the first-ever night game.
"The thought of opening night on the field gave me chills for about two weeks prior to the game," says women's soccer player Amanda Augustyniak '20 of Pickerington, Ohio. "I have never played in a game with as big of a crowd that we had. The support was amazing, and it makes the team feel that people are noticing us and our talent. They want to keep building the program as much as we do."
One day later, the anticipation of seeing the new, two-tone gray field at Don Drumm Stadium translated into one of the best game-day atmospheres in Marietta College football history. The pre-game tailgate, which included a live performance by local band The Bash, and exciting 35-24 victory over Geneva was capped off with a post-game fireworks show for the estimated crowd of 4,163.
"The new field exceeded the hype," says Caleb Boy '21 of Carlisle, Ohio. "I wasn't sure how I was going to feel about a gray field, but I came full circle when we had that first night practice, and we walked out onto the field. We definitely have a home-field advantage, and we have really embraced it. That first game, under the lights, is something a player dreams about."
Darrien Fields '19, Marietta's quarterback the past three seasons, says the opening game was crazy.
"It was by far the most anticipated game of my tenure at Marietta College," he says. "There was an eagerness by everyone to come see what the field looked like, and the crowd was ecstatic from start to finish, which is something we have lacked in seasons past. The student section was full and rowdy."
Marietta College invested more than $1.4 million in the FieldTurf CORE Field for both facilities, as well as a state-of-the-art Musco LED lighting system at Marietta Field. The fields will have a significant impact on varsity athletics — as men's lacrosse will use Don Drumm, while women's lacrosse will use Marietta Field, and other programs like baseball and softball will be able to use the fields for practices.
The fields also open up more opportunities for recreational and intramural sports.
"We are excited about the possibilities this creates for us to add additional sports to our recreational offerings," says Dash McNeal, Assistant Athletics Director for Facilities and Recreation. "We are still working out those details, but I envision adding an outdoor soccer tournament or other programming that is a natural fit for these fields."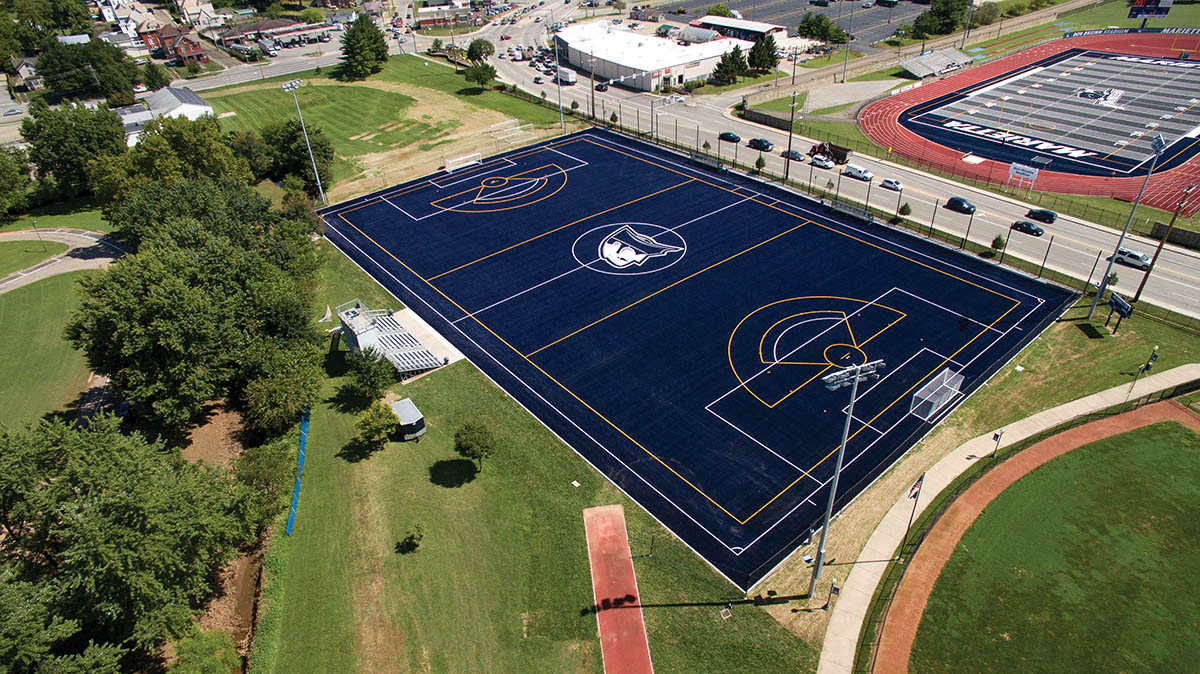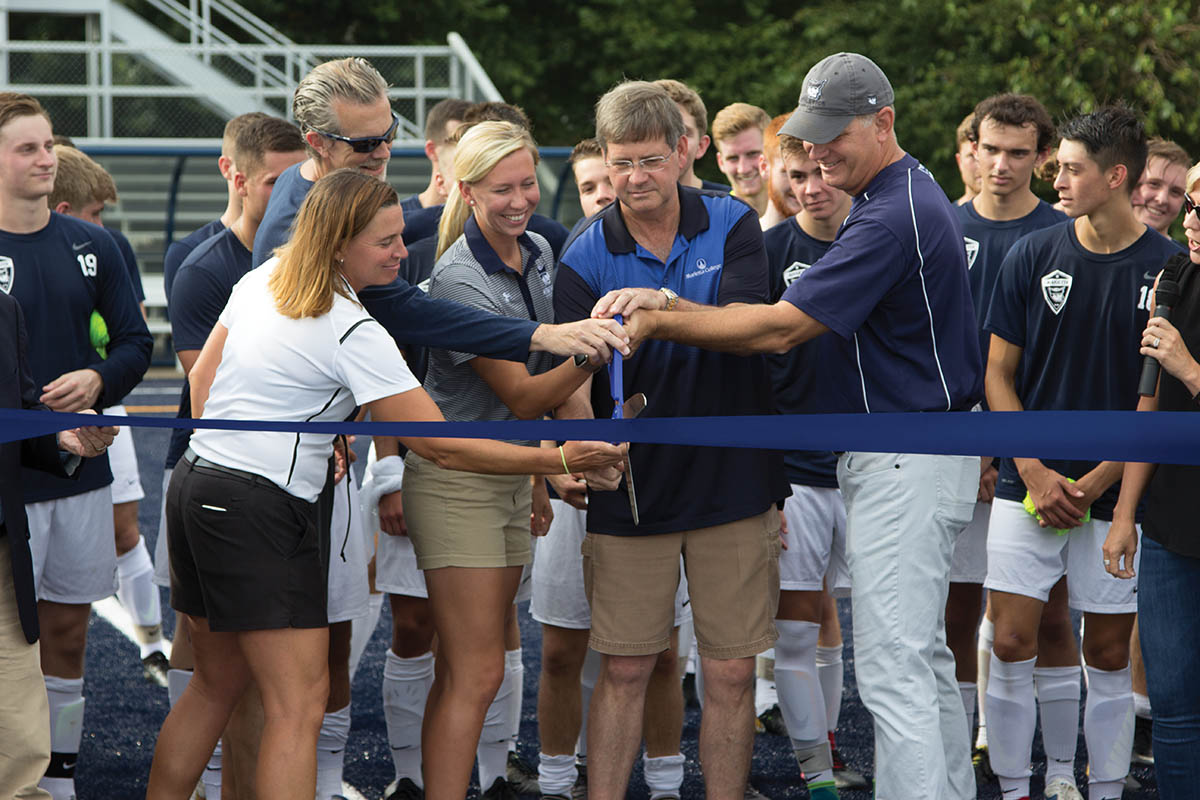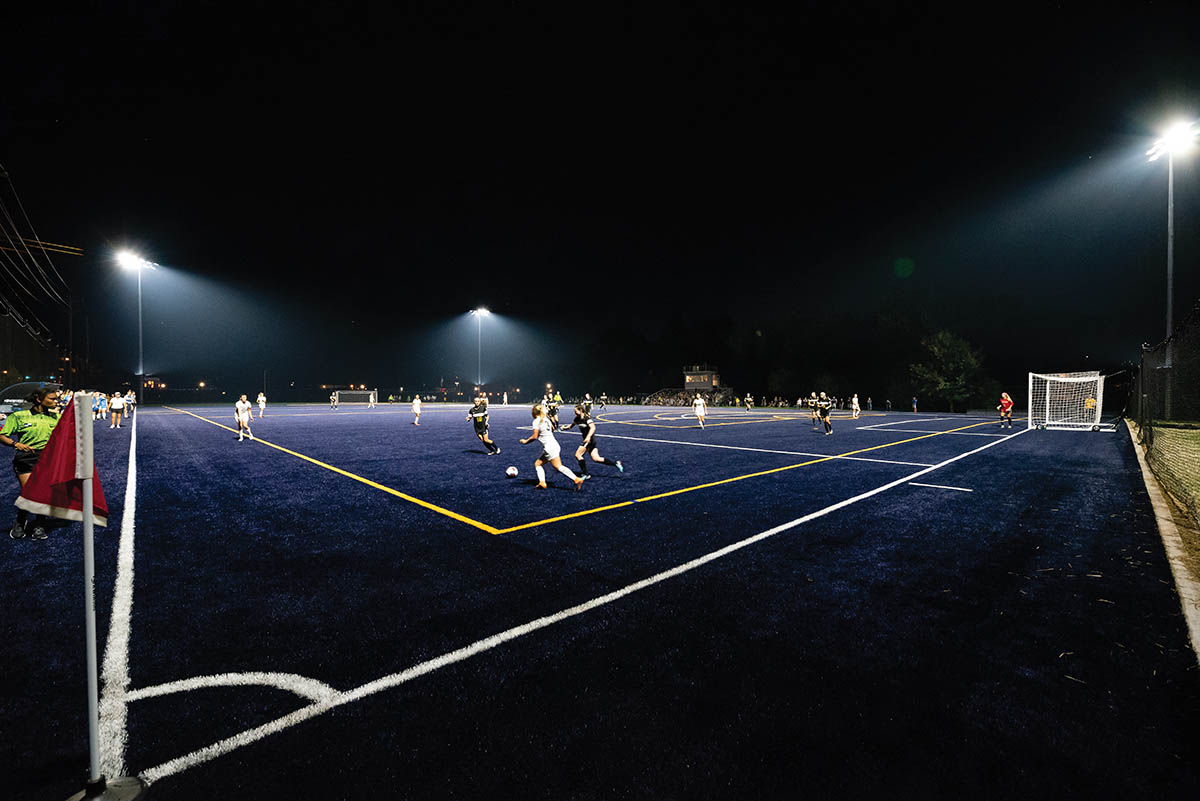 Football coach Andy Waddle says the College made the right decision to use the FieldTurf CORE Field because it is the best product on the market right now.
"The two-tone gray color scheme is cool, but to know that you have the best product is exceptional and a commitment to excellence from Marietta College," says Waddle, who is in his sixth season at Marietta. "The atmosphere here is special and different than other places we go to, and the two-tone turf adds to that atmosphere. Our uniqueness stands out and is bringing positive attention to the team, our athletic department and Marietta College as a whole."
Men's soccer didn't play a home contest until two weeks later, but the support was just as impressive as 1,247 fans filled the bleachers and lined the sidelines.
"Just witness the 1,200-plus fans we had at our home opener," Bergin says. "That is more soccer fans than most D1 programs get. The College has always gotten great support from the community, and now we can add the soccer program to that."
Bergin says he gets a lot of questions about the color choice for the soccer field. But his response is simple.
"You have to put yourself in an 18-year-old's shoes. Every recruit we show it to loves it and the current players are big fans of it," says Bergin, who is in his sixth season at Marietta. "To help take us to another level, the College decided to light the field with a state-of-the-art Musco LED lighting system."
Women's soccer coach Tracy Blasius is equally excited about Marietta's new home-field advantage.
"I can't say enough about the impact this new field is having on our program," says Blasius, who is in her sixth year with the Pioneers. "Our training environment is outstanding, and we are playing at a higher level because of it. Without a doubt, Marietta College is home to one of the finest training facilities in all of Division III soccer."
The switch from natural grass to FieldTurf was not an easy one for either coach, but both agree it was in the long-term best interest — especially when you consider women's lacrosse will also use the field for practice and home games.
"I am a grass guy, but if you had seen it the past couple of years, it was clear it was time to redo it," Bergin says. "The fact that we can do everything, train and play games, at one location is an added bonus. Also, lost in everything is the fact that we were able to widen and lengthen the field to meet minimum NCAA standards. And, getting the correct dimensions is a must for the way we want to play the game."
Both lacrosse teams are getting a feel for the fields during fall practices. They open their seasons in February.
"Marietta women's lacrosse is beyond lucky to have this incredible field for our very first year," says coach Malory Brunett. "Most women's lacrosse programs share fields with multiple other sports, and our lines are traditionally painted on with temporary paint that fades easy. Most teams will come out for a practice and barely be able to see lines. The fact that every time we go out to practice, and our lines are permanently on the field, it allows us to practice correctly for games and prepares us the best way possible."
The student-athletes have also noticed the quality of the playing surfaces — and many of them have heard positive comments from opponents and recruits.
"It's like a perfect storm for us," Boy says. "The way the football team is winning, the crowds have been great and the recruits are excited about the field and to consider playing for a winning program. When I go home, I have people who, when they realize I play at Marietta, ask about the gray field. It has put us on the map in a good way."
Jorden Stuart '20, a defender on the women's soccer team, agrees with Boy.
"It totally changes the atmosphere," she says. "We're really excited to get the opportunity to have such an amazing field."
Men's soccer player Andy Rolfes '19 is proud to be part of a new era at Marietta College.
"I am just happy, as a senior, to see where this program has come in terms of success and facilities," says the Cincinnati native. "We have come a long way from practicing down the street across from Long John Silver's. We appreciate everything the College has done for us, and I can't wait to come back and see how the program takes advantage of what the school has done."
- Tom Perry