With two pots of "welcome chili" simmering on the stove, Billy Sieber '80 walked through the front door of Hess Cabin and was greeted with a big hug from fellow Marietta College Lambda Chi Alpha brother Kevin Scott '80.
"It's great to see you, man," Scott says. "How have you been?"
A few minutes later, Peter Maercklein '78 charged in and the welcoming roars from his fraternity brothers echoed around the room.
On a warm, late-summer weekend in September, 31 brothers from Marietta College's chapter of Lambda Chi Alpha reunited at Oglebay Resort & Conference Center in Wheeling, West Virginia. They started rolling in on Thursday and by early Friday afternoon pretty much everyone who had RSVP'd was on site and the chalet was transformed into the old LCA fraternity house that was affectionately called "The Green Castle."
"It's like a fraternity party from the 1970s, but now were all in our 60s," says a smirking Bill Corwin '78, who makes the chili. The number of attendees ranges each year from 30 to 40.
Don Ritter '81 adds, "We typically move out to the porch and it can go pretty late into the night — sometimes the morning."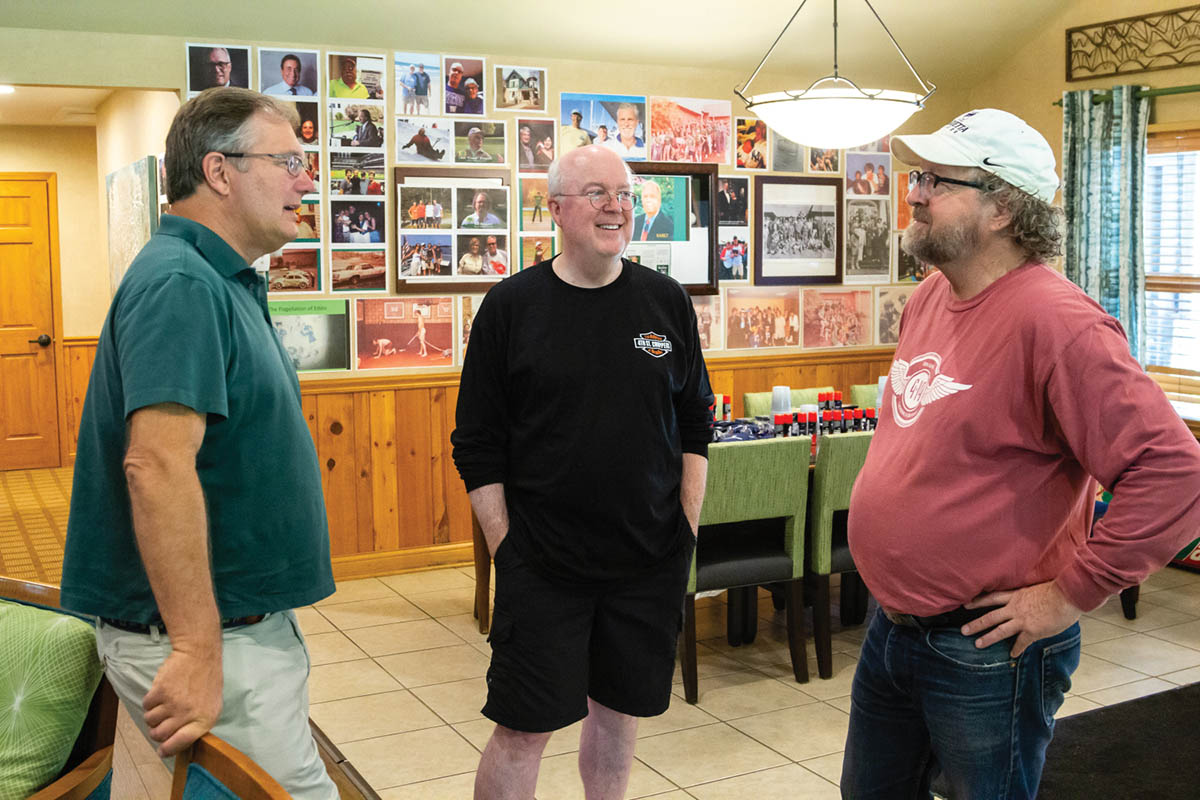 >  John Lubimir '79, Bruce Kinney '79 and Bill Kingzett '79 share some stories during the 21st annual Lambda Chi Alpha summer reunion at Oglebay Resort & Conference Center in Wheeling, West Virginia
This was the 21st annual gathering of the group and 15th at Oglebay. It started small with eight "Choppers" gathering in Cleveland for a Browns-New York Giants game. The only three to attend all 21 are Josh Murray '78, Bruce Kinney '79 and Corwin.
"I was back on campus in 1998 for our 20th reunion and we had such a great time that we wanted to do it again next year," Murray says. "We thought it would be fun to do it every year and it was typically based around a sporting event. But there were a lot of logistics with that, so we decided we needed to find a place that we could meet every year. Once we decided to have this event here, it helped us to invite more guys. Everything is self-contained here."
Attendance at the event has grown in recent years as more fraternity brothers want to attend.
"Some have come only once and others are here almost every year," says Randy Roberts '79. "Now it is the one thing that is on my calendar every year that I have to schedule everything else around."
If it wasn't for Dominic Suarez '79, Roberts may not even know about the annual reunion.
"He rode up my driveway on a bicycle looking like he was from the Tour de France to see if it was me, and he made sure I knew about the reunion," Roberts says. The friends had lost touch, but Suarez thought he'd see if his old friend lived at the address he found online and they have remained connected since.
"I've been coming for the last five years," Roberts says.
Bill Ruud, Marietta College's 19th President, joined the group for some golf on Friday.
"It was an honor to be invited to join these distinguished members of The Long Blue Line," Ruud says. "It is amazing to see them continue to strengthen the bonds they formed as students and remaining loyal to their roots."
It is rare for someone outside of the fraternity to be invited.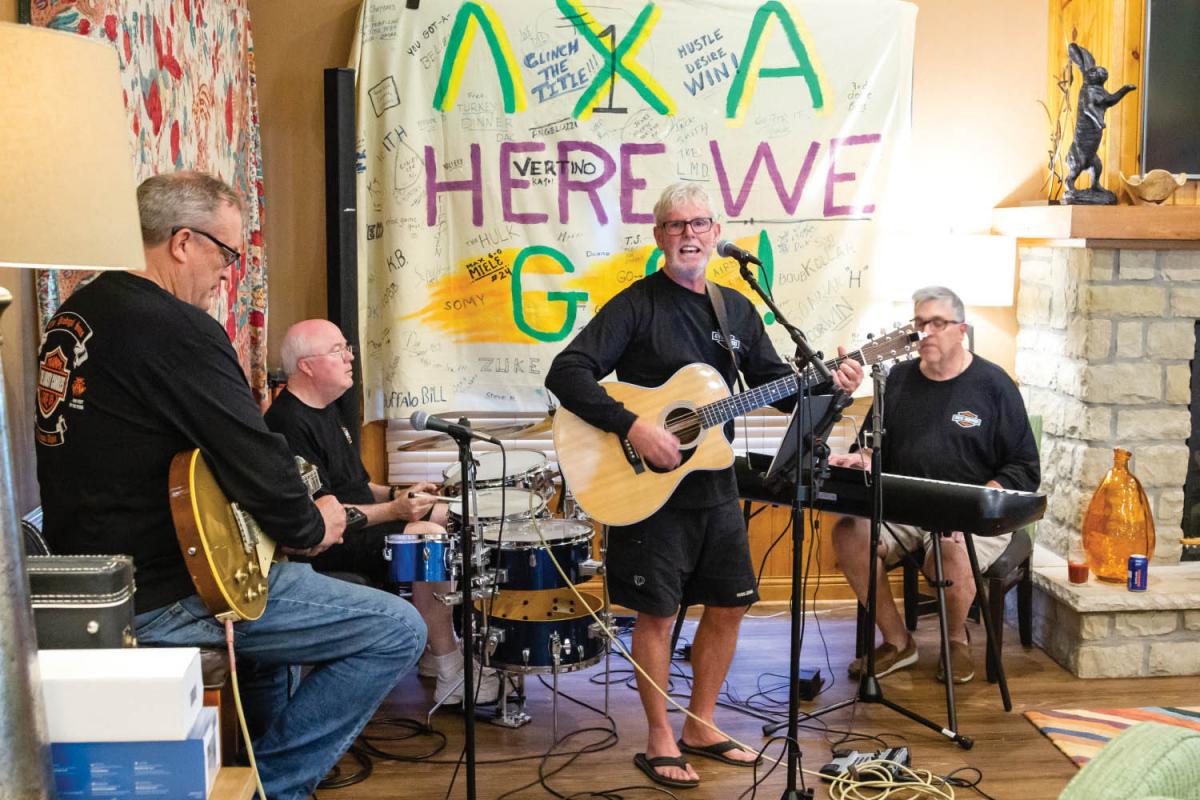 >  Members of the Lousy Candles Band — Don Ritter '81, Bruce Kinney '79, Bill Corwin '78 and Brian Hennessey '76 — play a few tunes from the 1970s
"We had a brother one year ask if a Marietta grad that a lot of us were friends with could join us, and we reminded him this is for former Lambda Chis only," Corwin says. "It's the friendships and bonds that we made as fraternity brothers that brings us together each year."
Ritter says it was a diverse group of young men who made up Marietta's Lambda Chi Alpha chapter, and they have a special connection.
"You have to remember that we all worked together in the house to cook the food, clean the house and fix something when it broke," he says. "If you weren't a member of Lambda Chi, you just don't understand the connection we have."
If you are lucky enough to attend, you get to hang out and listen to the Lousy Candles Band jam. Brian Hennessey '76 (keyboards), Rich Lohmann '81 (banjo), Corwin (guitar and lead singer), Kinney (drums) and Ritter (guitar) play music from legendary artists like Neil Young, Crosby, Stills & Nash, and The Byrds.
With each passing year, though, they also honor members who have passed away. This year, they paid tribute to Bob Emmons '77, who attended his first reunion last year but died in May.
"We spent a lot of time talking about Bob and how fortunate it was that we had a chance to reconnect before he passed," Kinney says. "We included his favorite song, 'Come and Get Your Love,' on this year's Gathering CD, played it during the closing ceremonies on Saturday night and, of course, sang the altered lyrics, 'Gummons Get Your Love' before a long, tearful toast to say goodbye."
The foundation of the Lambda Chi Gathering is "Old friends are proof of a life well-lived." Almost 50 years later, the bond between these Marietta College brothers is still making a positive impact on their lives.
- Tom Perry
G21 Attendees
Dean Bottorff '79 (Moon Township, Pennsylvania)
Greg Michael Carroll '82 (Reston, Virginia)
Dave Colbert '78 (Palatine, Illinois)
Bill Corwin '78 (Kalispell, Montana)
Bruce Downie '78 (Chagrin Falls, Ohio)
Doug Ehrman '82 (Westerville, Ohio)
John Forcier '78 (Leesburg, Virginia)
Herbert "Burry" Gowen '77 (St. Augustine, Florida)
Brian Hennessey '76 (Aiken, South Carolina)
Jeff Hupp '80 (Katy, Texas)
Larry Johnson '83 (Vestal, New York)
Bill Kingzett '79 (Roaming Shores, Ohio)
Bruce Kinney '79 (Hudson, Ohio)
Frank Lattanzi '78 (Laurel, Maryland)
Rich Lohmann '81 (Chesterfield, New Jersey)
John Lubimir '79 (Pittsburgh, Pennsylvania)
Peter Maercklein '78 (Centerville, Virginia)
Steve Monzel '78 (Salisbury, Maryland)
Josh Murray '78 (Ashland, Massachusetts)
Rick Norris '77 (Phoenix, Arizona)
Dominic Suarez '79 (Yardley, Pennsylvania)
Don Ritter '81 (Farmers Branch, Texas)
Randy Roberts '79 (Villanova, Pennsylvania)
Lou Rood '76 (Belle Vernon, Pennsylvania)
Jay Schofield '77 (New York, New York)
Kevin Scott '80 (Cincinnati, Ohio)
Roger Shands '79 (Lake Forest Park, Washington)
Billy Sieber '80 (Englewood, Colorado)
Mike Tietjen '79 (Belvidere, New Jersey)
Mark Vertino '78 (Rockaway, New Jersey)
A.J. Zukowski '79 (Simsbury, Connecticut)