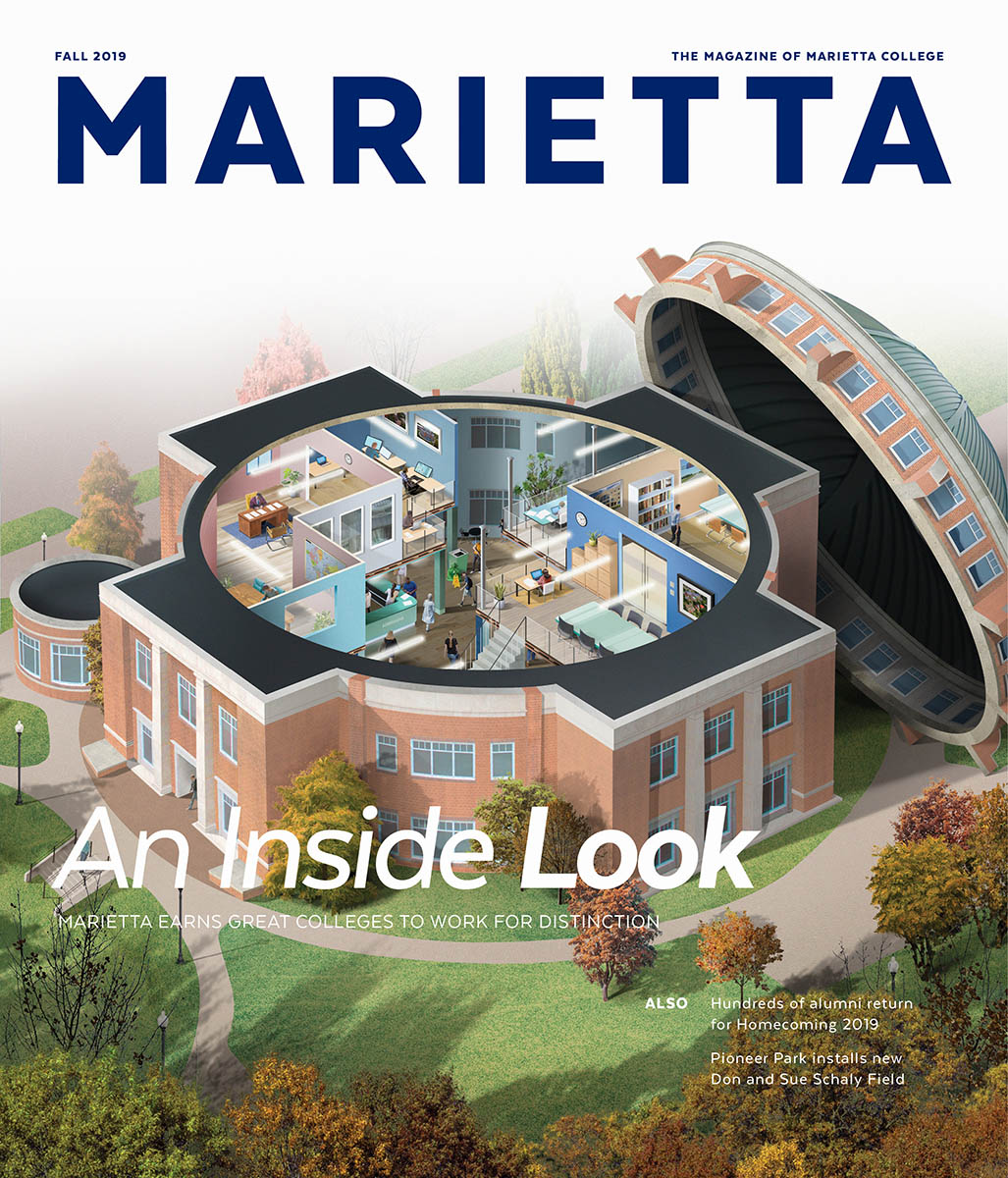 Fall 2019
The September edition of The Chronicle of Higher Education recognized the 2019 Great Colleges To Work For, and for the second year in a row, Marietta College made the list.
While that in and of itself is an accomplishment, what Marietta managed to do this year is almost unheard of — rather than standing out in one or two categories, Marietta earned a spot on this year's Honor Roll list by achieving "Very Good to Excellent" scores in 10 of the 12 categories. Those scores are based on the results of more than 300 surveys sent to Marietta College employees earlier this year.
This edition of Marietta, The Magazine of Marietta College features employees discussing what makes Marietta a great place to work — from the investment in facilities to compensation.
Readers will get a first look at the newly renovated baseball facility, which was renamed Don and Sue Schaly Field at Pioneer Park, as well as learn about a remarkable alumna who recently earned the Best International Research Impact Award from the University of Essex for her work in Syria.
As always, Marietta Magazine would love to share updates about your life — new jobs, recent vacations, recent retirements, etc. — so please email us at marketing@marietta.edu to submit a class note or share a possible story idea.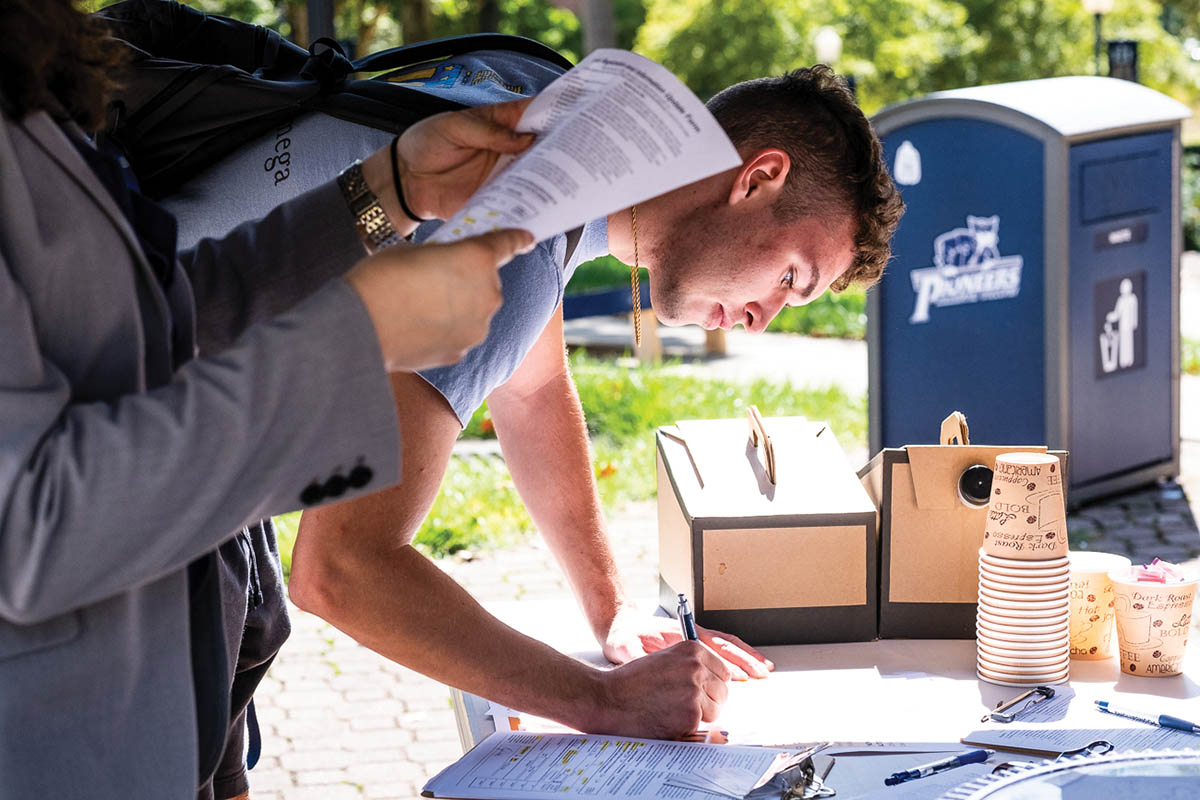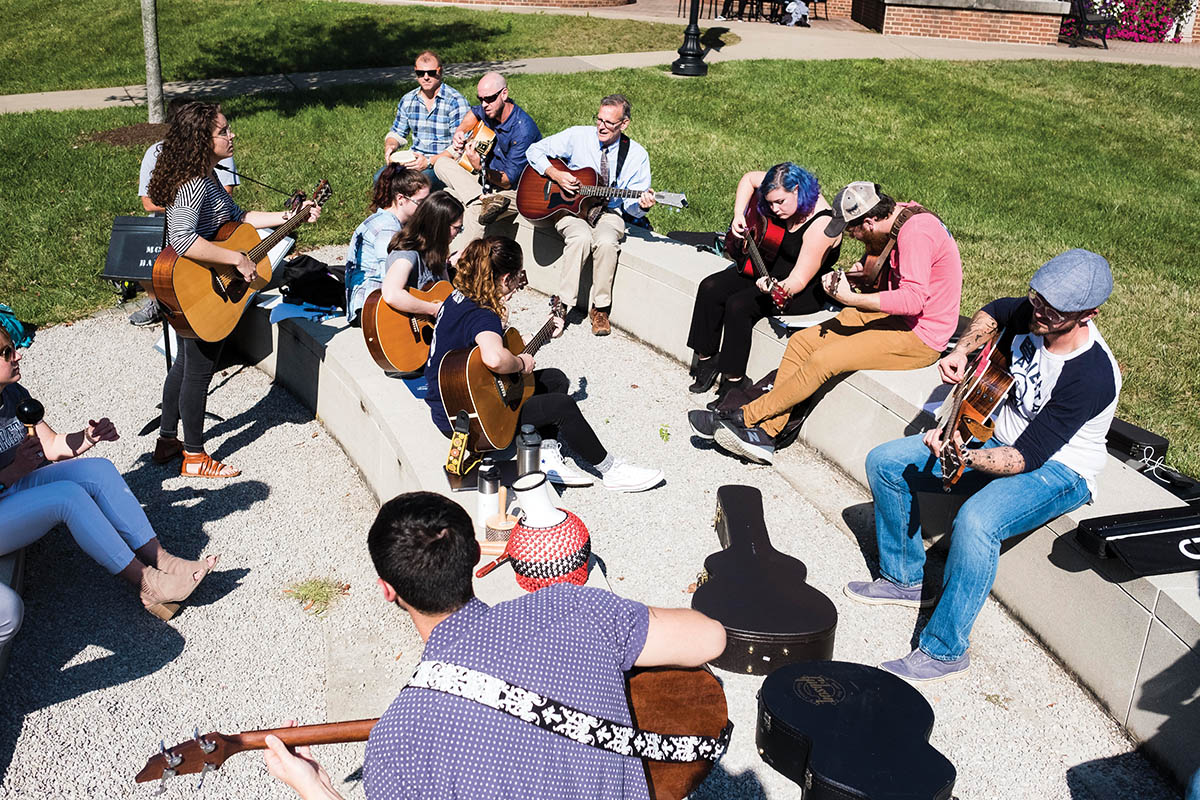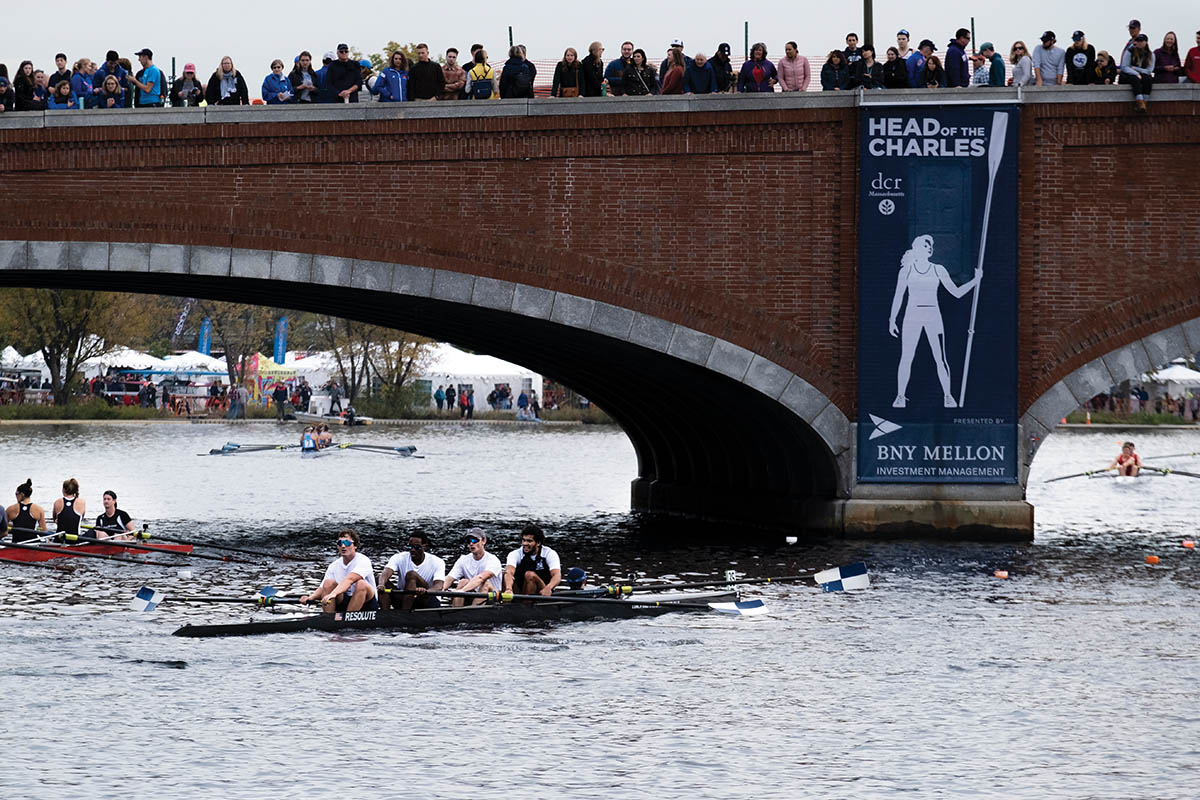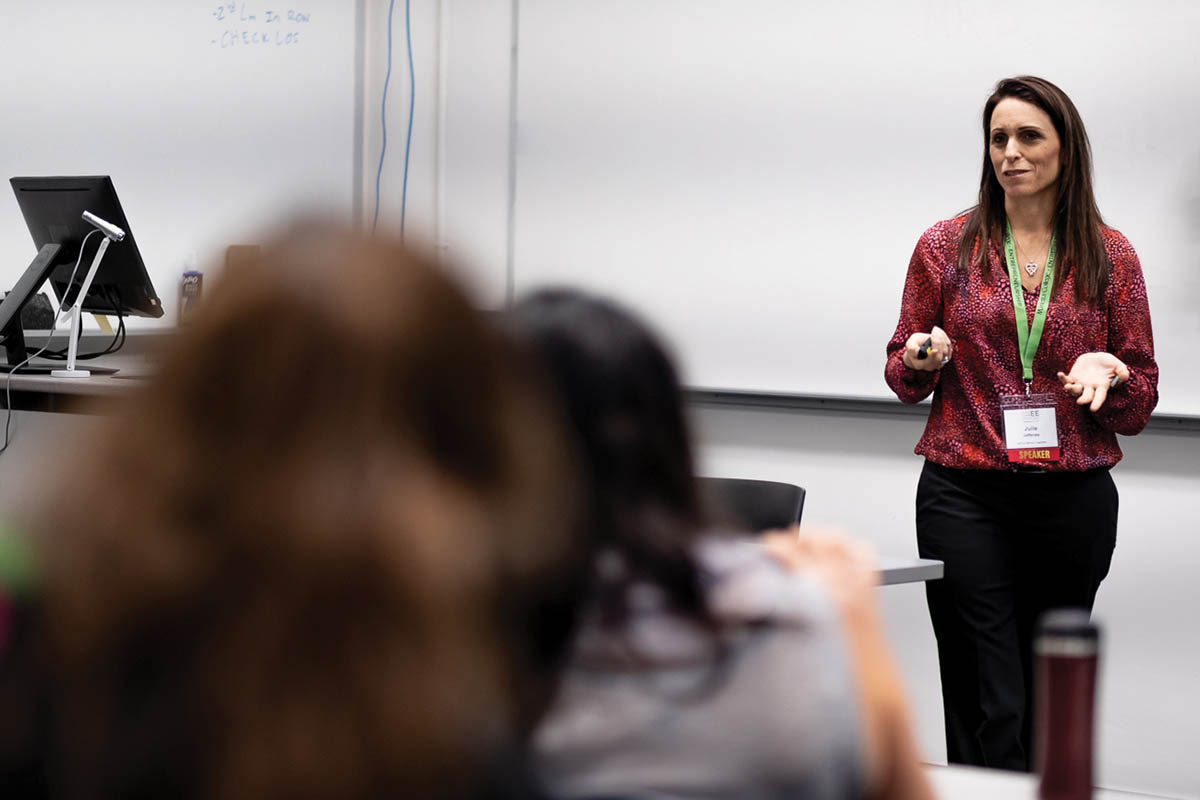 > (Top left) Tyler Walker '20 was among dozens of students who participated in National Voter Registration Day on September 24th. Organized through the Office of Civic Engagement, students could register in Chlapaty Café, Kremer Amphitheatre or Gilman Hall
> (Top right) Music Therapy students and faculty held a Blues Jam session in Kremer Amphitheatre on October 11th
> (Bottom left) Men's Rowing opened the fall racing season at the 55th annual Head of the Charles Regatta, competing in the Collegiate Eight and the Collegiate Four races
> (Bottom right) Julie Jeffries '93 was among a host of presenters during the 2019 Mid-Ohio Valley Entrepreneurship Expo. She spoke about her experiences becoming an "accidental entrepreneur
---
Feature
This is a Great College to Work For
Marietta College achieves stellar marks from employees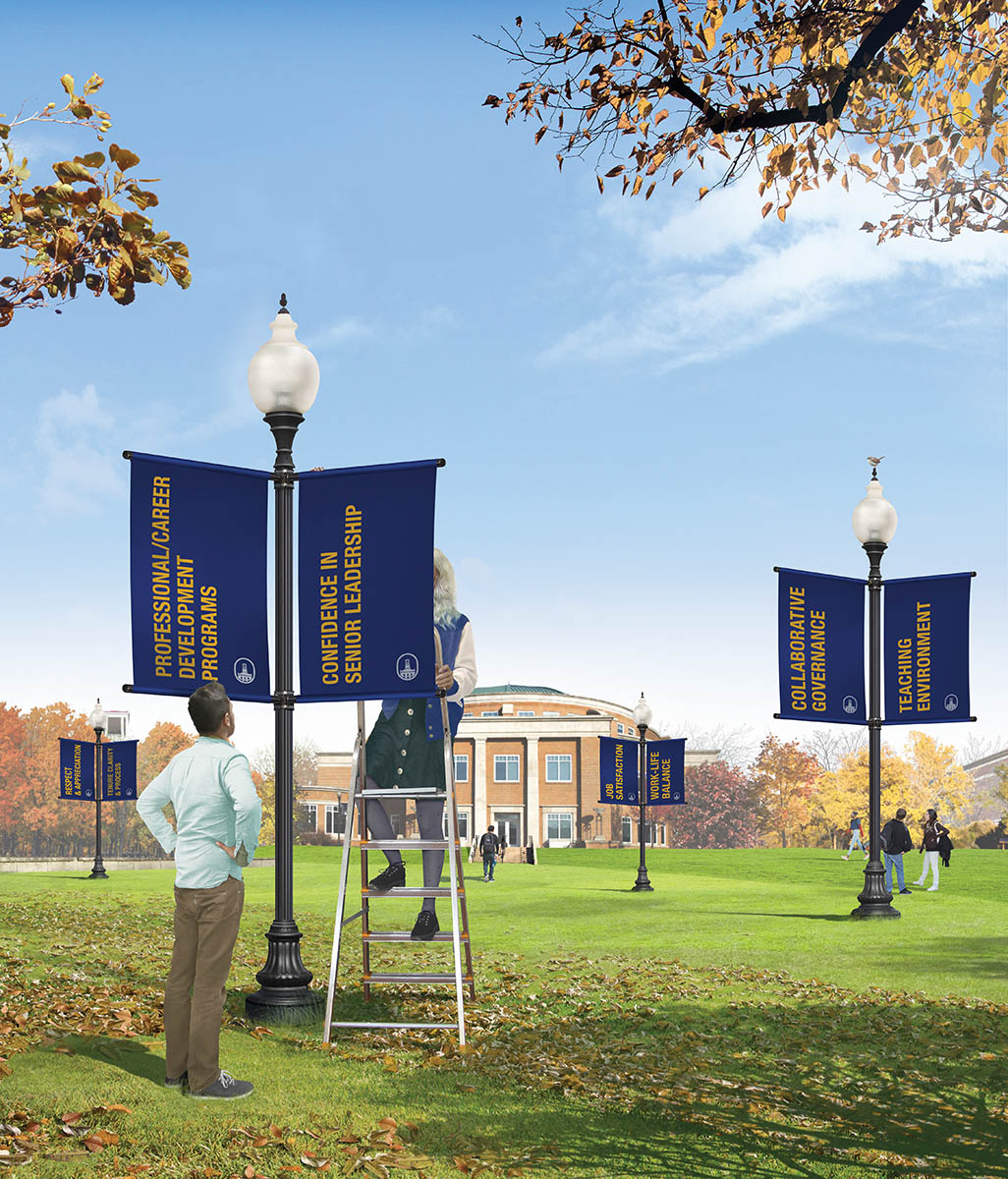 ---
Transitions
The Comforts of Home
It's the quintessential autumn day in Marietta — warmed by the shining sun yet cooled by a breeze just slight enough to make the trees sway in a hypnotic wave.
But our students know that things can always get better.
Before the 2018-19 academic year came to a close, the Student Government Association came up with a plan to make that day even better — they used SGA's year-end funds toward the installation of permanent hammock poles and purchased hammocks for students to sign out for when they want them. Over the summer, the College installed the poles in three locations on campus and Student Life took charge of managing the hammock program.
And now, that breeze also sways brightly colored hammocks for clusters of friends who have a few hours to spend soaking up the Marietta autumn day.
Perfect.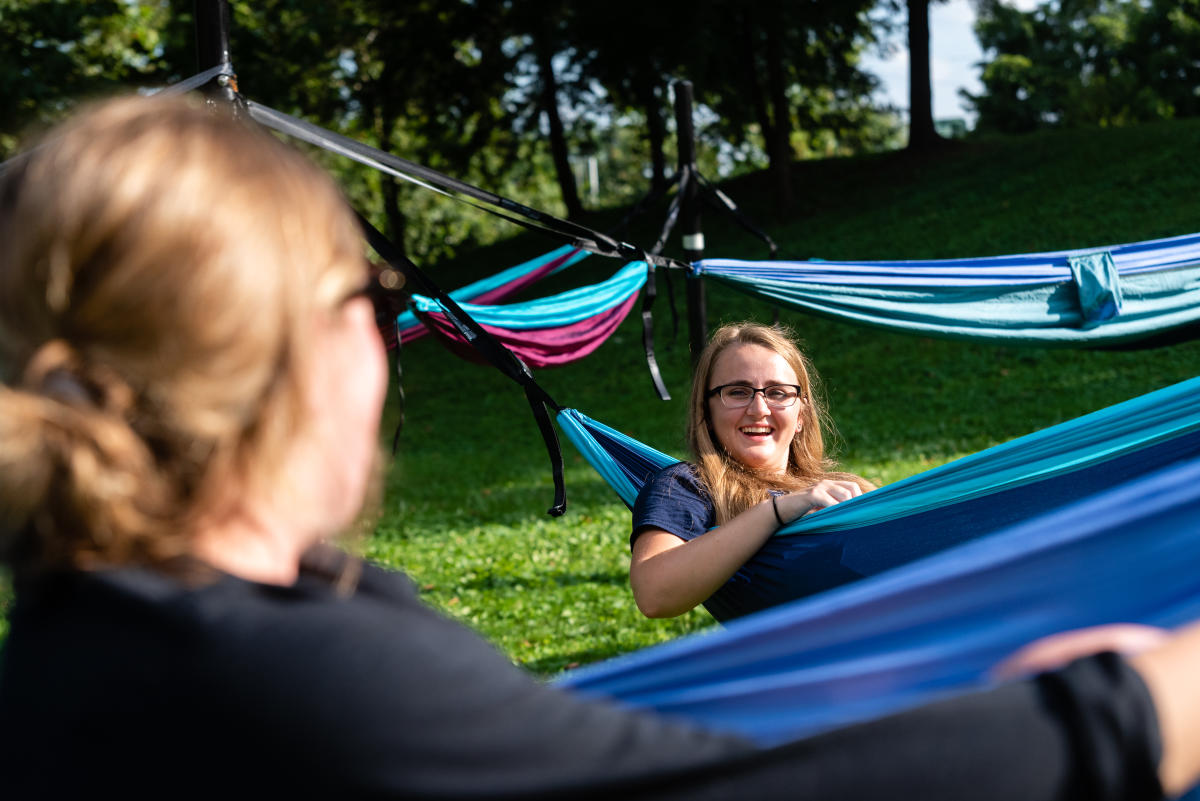 ---
Marietta Scene
Letter from the editor, and letters from readers
Professional Achievement
Dr. Paul R. Geisler '87 was recently recognized by the National Athletic Trainers' Association with the Most Distinguished Athletic Trainer Award during the 2019 Annual Convention in Las Vegas for his considerable service, scholarship and professional accomplishments since his graduation from Marietta. He and his wife, Susan, are enjoying the four seasons of upstate New York (well, three of them at least) and being empty nesters in the Finger Lakes! Paul is a Professor at Ithaca College in New York and teaches in the Department of Exercise Science & Athletic Training.
---
Navy Blue and Quote
"I can't express enough what this means for my family. It means the world to me. My mom is a single parent and she has scrambled to provide for my sister and me."
— Rebecca Guhde '23, inaugural recipient of the Virginia McCoy Scholarship
Guhde grew up in Signal Mountain, Tennessee (about eight miles outside of Chattanooga). She is majoring in Environmental Science and plans to attend law school and become an environmental lawyer.
---
The Big 3
From Meatloaf Mondays to Chicken Nugget Thursdays, every Pioneer generation has their favorite Gilman meal. This year, so far, the top breakfast, lunch and dinner dishes served in the main dining hall are:
Breakfast
Cheesy hash brown potatoes
Yogurt bar
Made to order sandwich station
Lunch
Wings
Chef Dave's flank steak with creamed polenta
Judy's pizza
Dinner
Chicken mashed potatoes bowls
BBQ meatloaf
Beer-battered fish
---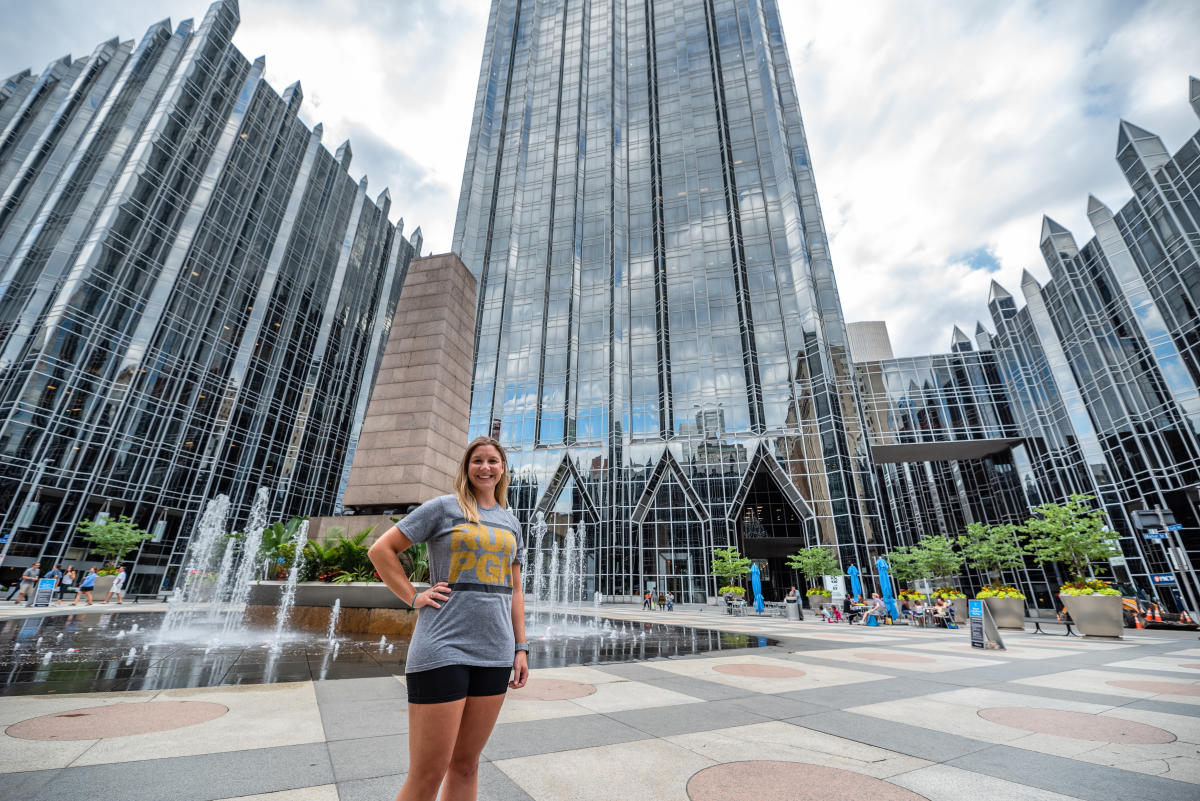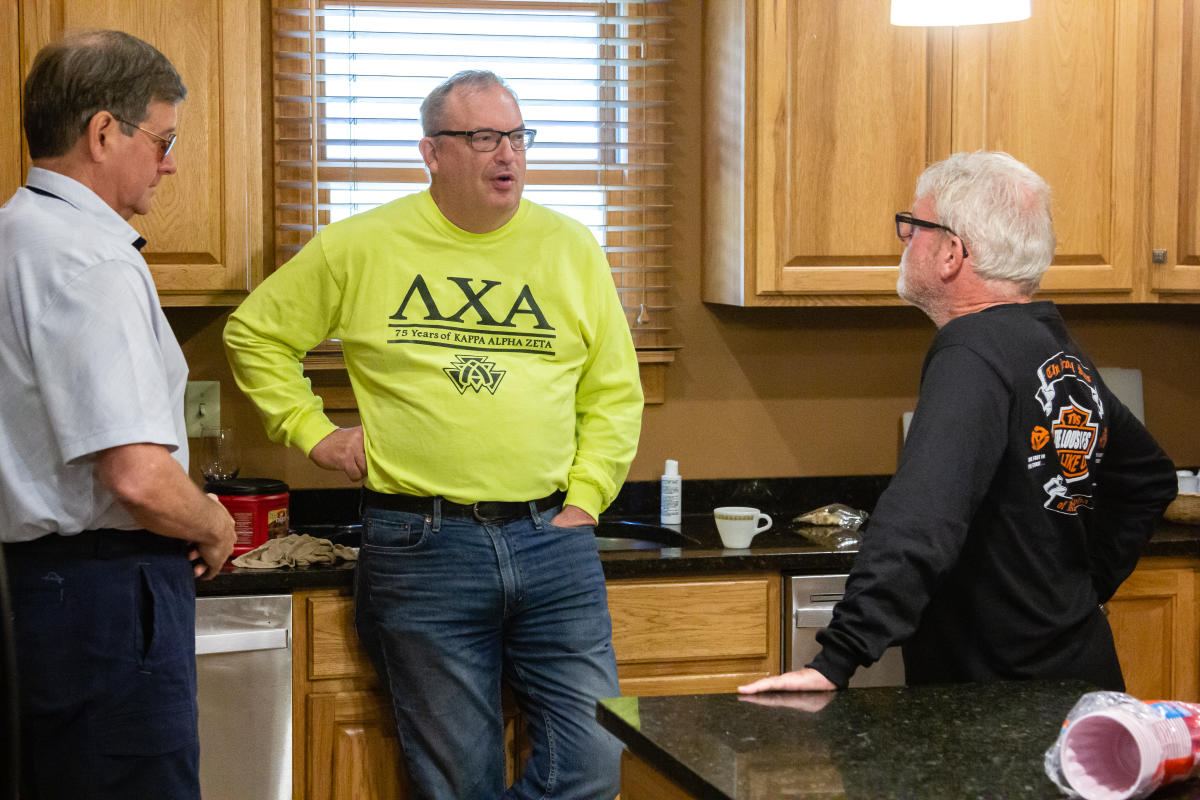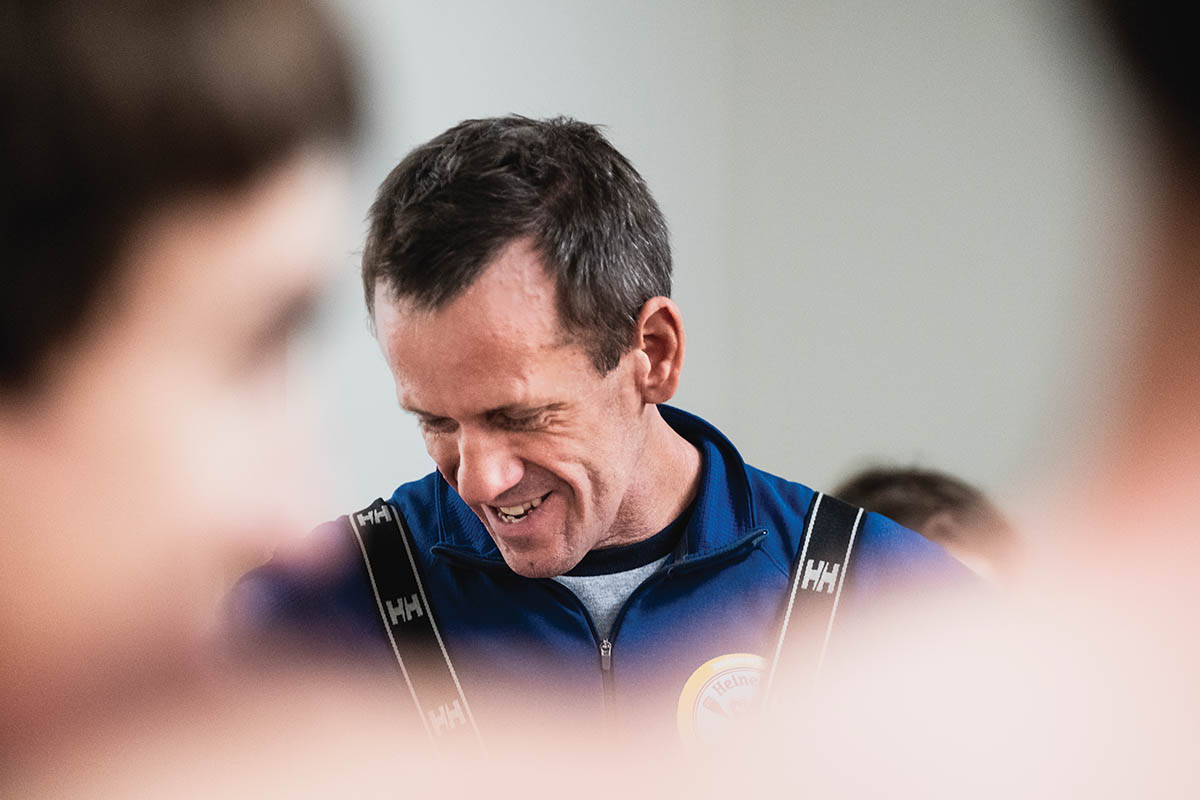 ---
Tara Van Ho '00
Human Rights Expert Earned the Best International Research Impact Award From the University of Essex for Her Work on Syria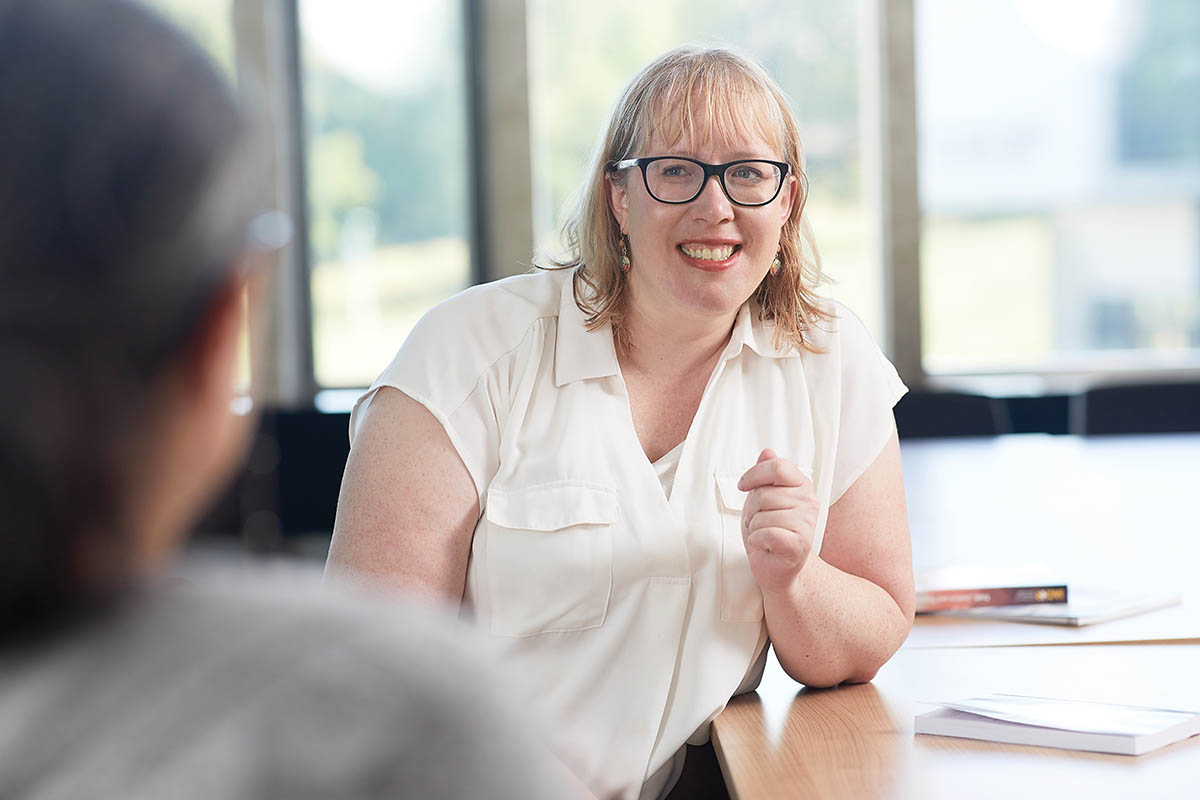 "The Principles on Reconstruction in Syria is perhaps the most important thing I've done so far, and may be the most important thing I ever do. We know that conflict is cyclical and that the reconstruction process in a place like Syria can either institutionalize past war crimes and create the conditions for new conflicts, or it can institutionalize respect for human rights and set conditions for long-term sustainable peace. Unfortunately, in situations like Syria, leaders tend to take the former path. It can be easier and quicker and it lets those in power move on quickly. We were able to ensure those who fund the reconstruction understand they have legal obligations that require them to take the latter path instead, and that in doing so they will help create the conditions for a more sustainable peace. It's an important win, but I know it's one we will have to fight for time and again."
Biography: Dr. Tara Van Ho is a lecturer at the University of Essex's School of Law and Human Rights Centre (UK). After graduating from Marietta, she studied law at the University of Cincinnati. She also has an LL.M. in International Human Rights Law and a Ph.D. in Law from the University of Essex. She is the co-President of the Global Business and Human Rights Journal, and one of the leaders of the Essex and Human Rights Project. Dr. Van Ho has served on several panels at the United Nations Forum on Business and Human Rights. This year, she was recognized by the University for her work to ensure the reconstruction efforts being made in Syria comply with human rights laws.
---