The curriculum at Marietta College is evolving to meet the needs of the growing demands of numerous fields.
This fall, students can factor in Musical Theatre, Music Therapy, Actuarial Science, Computer Science and Environmental Engineering to their choice of majors, as well as enter a new 3+2 program that results in a Sports Medicine undergraduate degree and a Master in Athletic Training degree in five years.
The Curriculum Committee and faculty reviewed and voted last fall to approve the new programs.
Dr. Robert Van Camp, who teaches in the Mathematics, Computing & Information Systems Department, says the College previously offered Computer Science, Computer Information Systems and Management Information Systems, but opted to combine those topics into one degree: Information Systems.
When President Bill Ruud visited with the department shortly after his arrival at Marietta, he asked the faculty what they thought would improve what they had to offer current and prospective students. "We got administrative permission to create a Computer Science major, but we also wanted to retain Information Systems because they are different," Van Camp says. "Computer Science has more math classes, and there's more of an emphasis on business for the Information Systems side. The Computer Science and Information Systems majors have several courses in common, so it would be easy for a student to start in one major and switch to the other."
Computer Science jobs include programming, software engineering, cybersecurity, web development, database, networking, big data, artificial intelligence, game development and software development.
"We're finding that prospective students are interested in Computer Science. They know there's a growing demand for graduates with this degree. With technology rapidly evolving, every industry has a need for employees with a background in computing," says Dr. Matt Williamson '07, who teaches in the department and also majored in Computer Science and Mathematics at Marietta. "They're asking about it. We've found, over the past five years, enrollments for Computer Science majors have increased."
Associate Professor David Makuch noticed, when faculty would attend state thespian festivals and conferences, many colleges and universities would use those opportunities to hold auditions for acceptance to their programs and scholarships.
"What we found is that the majority of the students auditioning were looking for Musical Theatre programs," Makuch says. "I think it's mostly because that is what a lot of high schools do for their theatre classes. When I went to the Ohio Thespian Conference in January, I would say 70 percent of the students who attended wanted Musical Theatre."
Marietta will offer a Bachelor of Arts in Musical Theatre, which is rare among academic institutions because most offer a Bachelor of Fine Arts. "The musical theatre degree is a bachelor of arts, and that's not very common. A lot of programs are BFAs because that's sort of considered to be the end of the road for them in terms of college, and then they go out and start working," Makuch says. "There aren't really that many master's degrees in musical theatre. BFAs are what the NAST (National Association of Schools of Theatre) accreditation standards are based on. We aren't accredited through NAST because we have a different path we are taking."
When they researched the BA in Musical Theatre, they learned that there weren't many colleges near Marietta that offered that degree. Marietta's previous BFA in Musical Theatre required 91 or 92 hours out of 120.  The BA major is now 61 hours.
"When we move into the new (General Education Curriculum), it's designed so that students have a secondary concentration," Makuch says. "Students can either do a double major or a minor, which would help complement their Musical Theatre degree."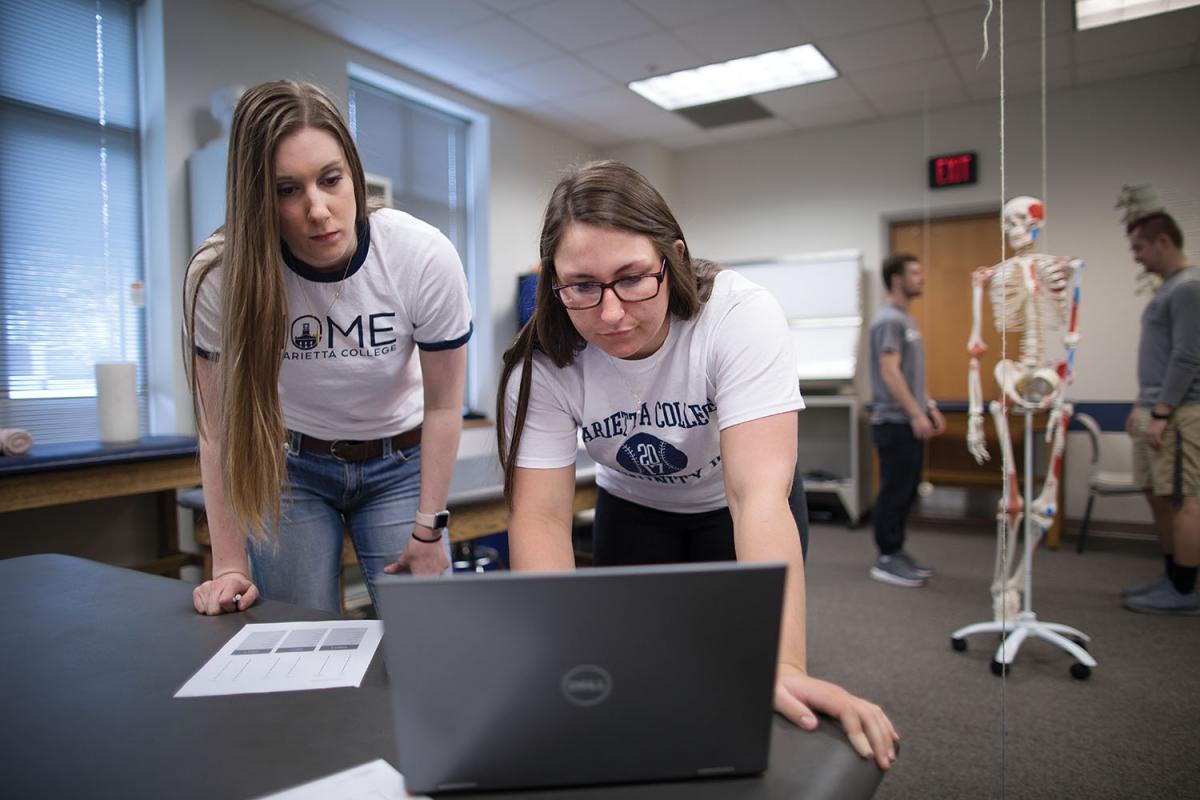 > Erin Miller '20 (right) and Alexis Enochs '20 work on a project during Associate Professor Jaclyn Schwieterman's Biomechanics class.
Associate Professor Andy Felt adds that in the academic world there is a major need for doctorates in Musical Theatre.
"Those people are very hard to find, but there are a lot of schools looking for people to come in and teach Musical Theatre in colleges," Felt says. "That path doesn't really exist very often with the BFA track because they typically earn their degree and then find work, rather than enter a graduate and doctorate program. With a BA in Musical Theatre, I think it's going to lend itself more to that sort of thing."
Through the new Music Therapy program, Marietta College will also be able to fill a specific need. "There is one practicing music therapist in Southeast Ohio," says Professor Marshall Kimball. "With this major, there are a lot of eyes on the College. Starting with (Don and Leslie Ritter's) gift, the Music Therapy major has brought a lot of publicity and good news to the College."
The two other new majors — Actuarial Science and Environmental Engineering — advance the College's STEM offerings and give students who earn degrees in those majors an opportunity to stand out in their industries because of their liberal arts education.
"Historically, graduates of actuarial science programs worked in the insurance industry," says Holly Menzel, who teaches in the Math Department. "Now, they are sought after by any company that may have to encounter risks or risk assessments. Actuaries decide whether an investment or product is worth the risk or not worth the risk, or how much to invest in it."
She says students who love and excel in math but who do not want to teach can take this career path.
"In 2018, it was the second best business job and the third best in STEM," she says. "It is very marketable, and it's less than a 1 percent unemployment rate for people who have this degree. U.S. News & World Report was projecting there were 4,400 jobs available and the median salary is $97,000. It pays well and is not going away."
Environmental Engineering is another field in high demand worldwide.
"Environmental engineering is the design and oversight of remediation projects to remediate pollution, protection projects to mitigate against pollution and ecosystem disruptions, and so on, and basically the overall system analysis of what impacts are expected from any project," says Professor Ben Ebenhack, Chair of the Petroleum Engineering & Geology Department.
Dr. Tej Gautam, who teaches in the department, says as humans interact with the environment, there is a need to use engineering design to solve problems that are caused by those interactions.
"The market for an environmental engineer is ever-growing and is never going to be up-and-down, or cyclical in nature like the petroleum engineering field," Gautam says. "This is a discipline that has been emerging, and it is coming up front in research, in problem-solving and in dealing with sustainability."
Ebenhack says the Marietta College-educated environmental engineer will stand out because they will also have exposure to a top-notch petroleum engineering program and they will benefit from having a liberal arts education offered at a teaching college.
"In interesting ways, environmental engineering and petroleum engineering complement one another," Ebenhack says. "There is a lot of attention going to the environmental impacts that come with oil and gas operations, and I would say there is a real paucity of people who understand both oil and gas operations and environmental systems. If we can graduate somebody with a major in one, a minor in the other, that graduate is really going to make an impact in the industry."
The Sports Medicine major is designed to be a dual degree for students interested in pursuing the Master in Athletic Training degree, says Chyrsten Gessel, an Assistant Professor in the Sports Medicine Department. "Students who pursue the Sports Medicine degree and maintain requirements will be able to apply and be notified of acceptance for the Master in Athletic Training program during the fall of their junior year," Gessel says. "This major represents an important part of our curriculum because it is designed to give students a strong basis of knowledge for success in the Master in Athletic Training program, as well as meet all prerequisites for acceptance into the program."
- Gi Smith