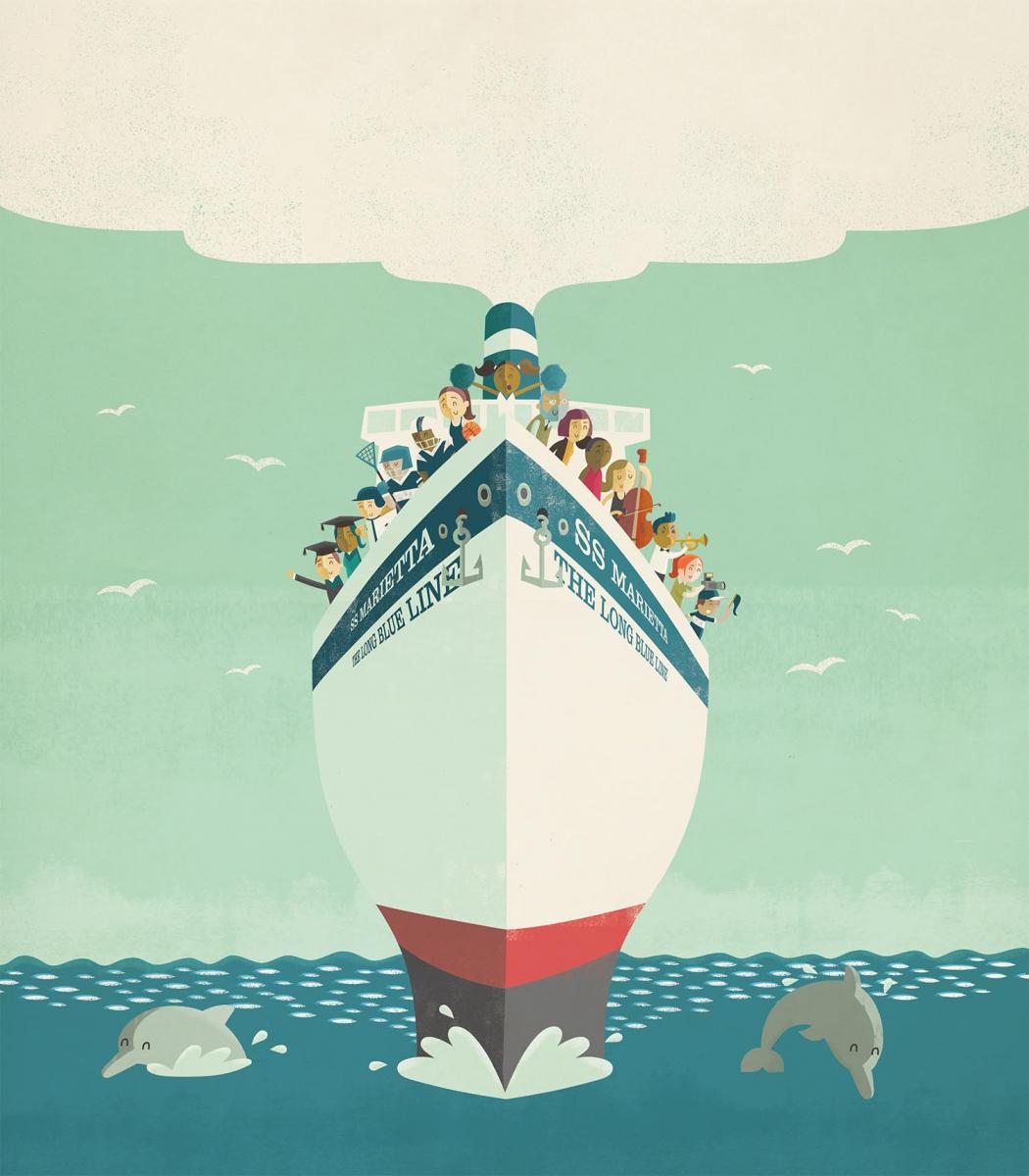 Spring 2018
For many generations, young adults choose Marietta College as the place to receive a quality liberal arts education. What they may not have realized was that the moment they matriculated to Marietta, they joined a community of Pioneers — past, present and future — for life. Regardless of when they graduate, members of The Long Blue Line share memories of a very special college that became their second home.
This edition of Marietta Magazine celebrates the power of The Long Blue Line and how alumni find ways to reconnect with each other and their alma mater to rekindle old friendships, make new ones and help the newest Pioneers find their footing after graduation.
This issue also highlights Marietta's revamped General Education Curriculum, which strengthens the focus on the liberal arts for every major throughout all four years of a student's undergraduate education.
As always, if you have an exciting story to share or would like to submit a class note for future publications, please send us an email at marketing@marietta.edu.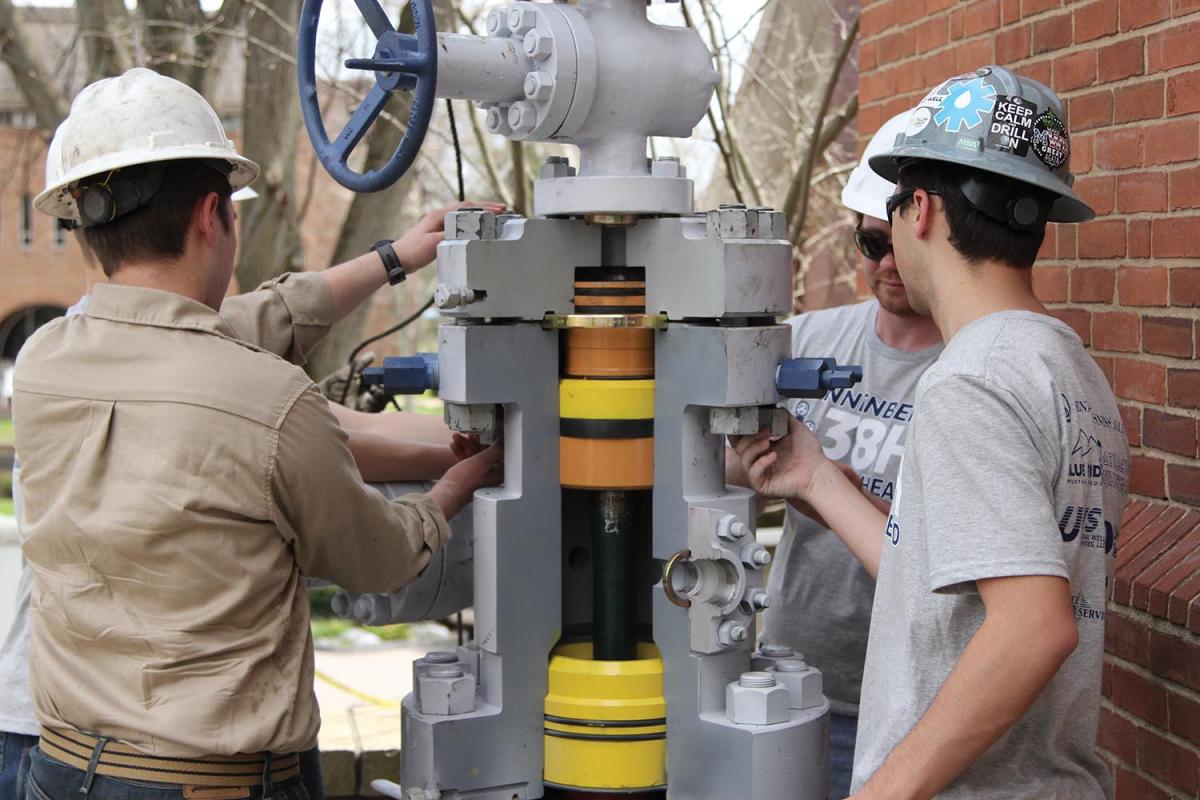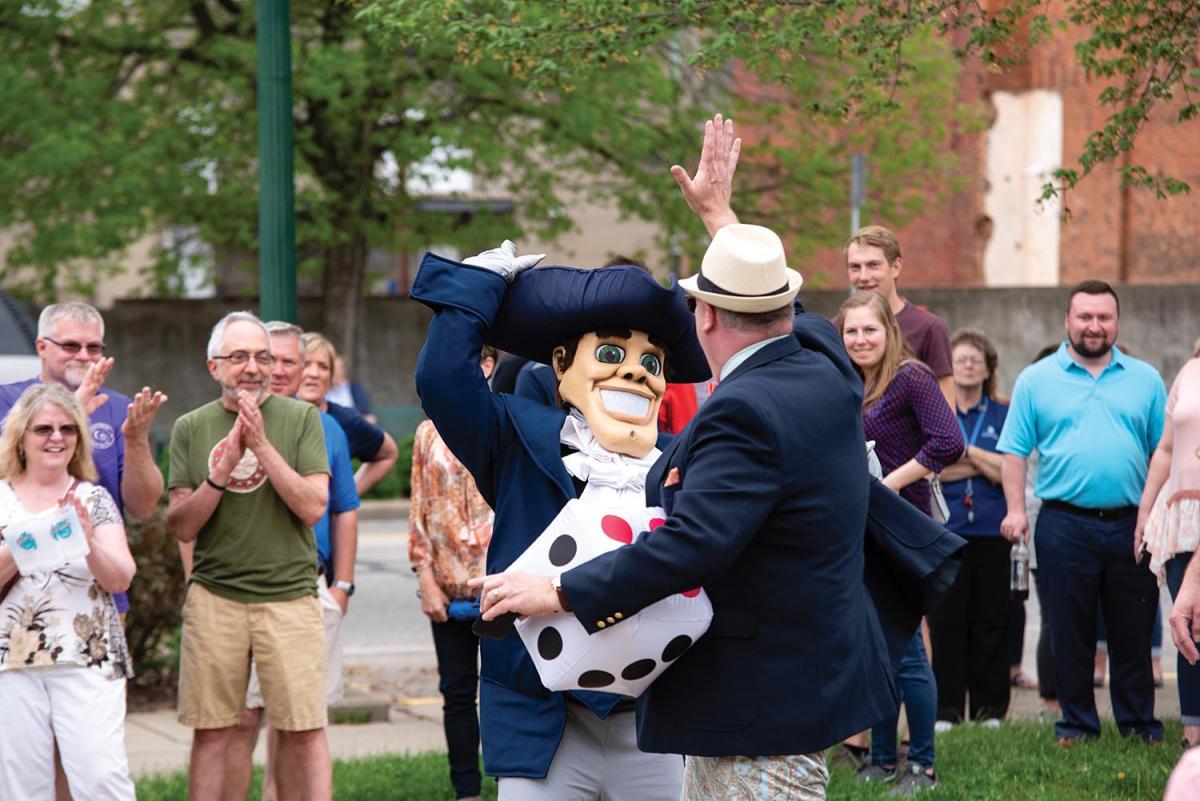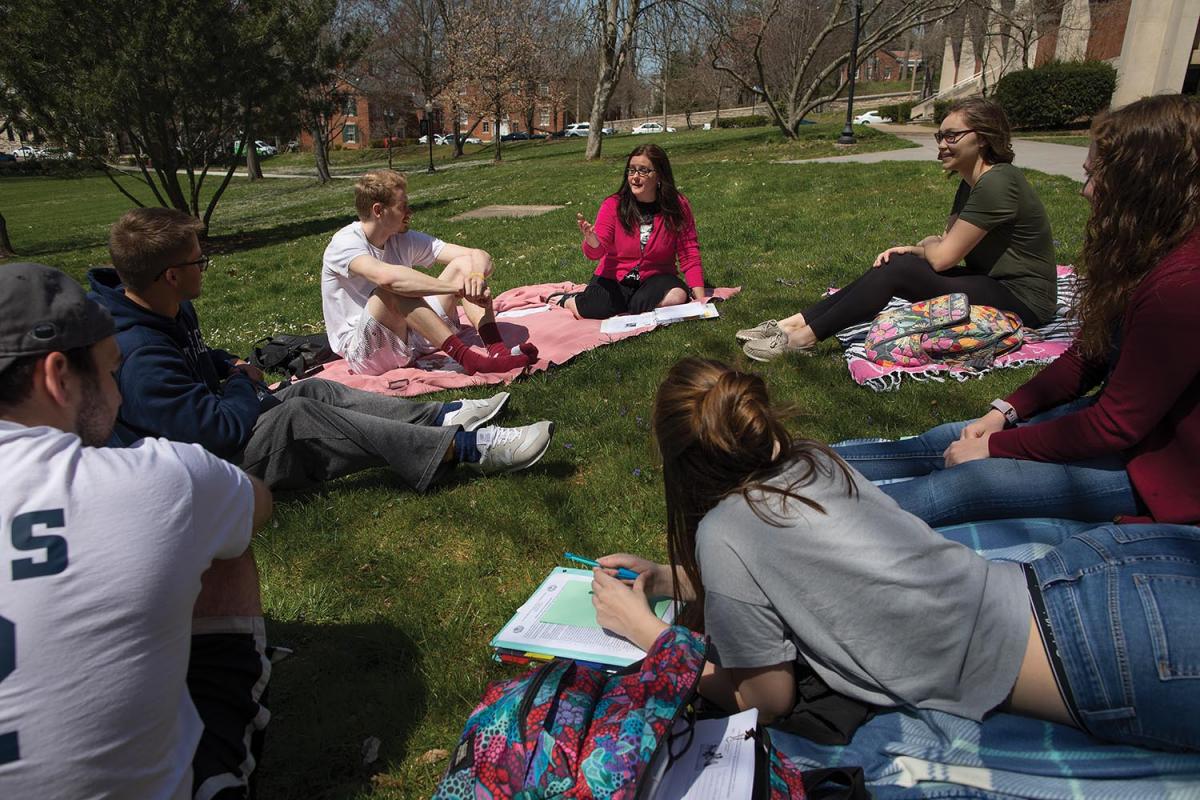 > (Above left) The Etta Express made it to the NCAA Division III Mideast Regionals this year and finished with a 27-18 overall season
> (Above right) The Wunnenberg 38H wellhead was installed and dedicated during a mid-April ceremony on campus. Derek Krieg '19 and fellow members of the Energy Business Alliance secured donations and help with installation of the Marcellus-style wellhead, which was dedicated in memory of the late Joel Wunnenberg '20
> (Bottom left) Putnam the Pio helped raise money to support Harvest of Hope during May's First Friday event in downtown Marietta
> (Bottom right) Instructor Ann Kaufman found the perfect place to conduct her Education class earlier this spring — on the lawn in front of Erwin Hall
---
Feature
The Power of the Long Blue Line
There is something special about being a part of the Marietta College community. From professors who offer their students tremendous support to established alumni who help young graduates get their first job, the shared experiences that transcend generations create unbreakable bonds that last a lifetime.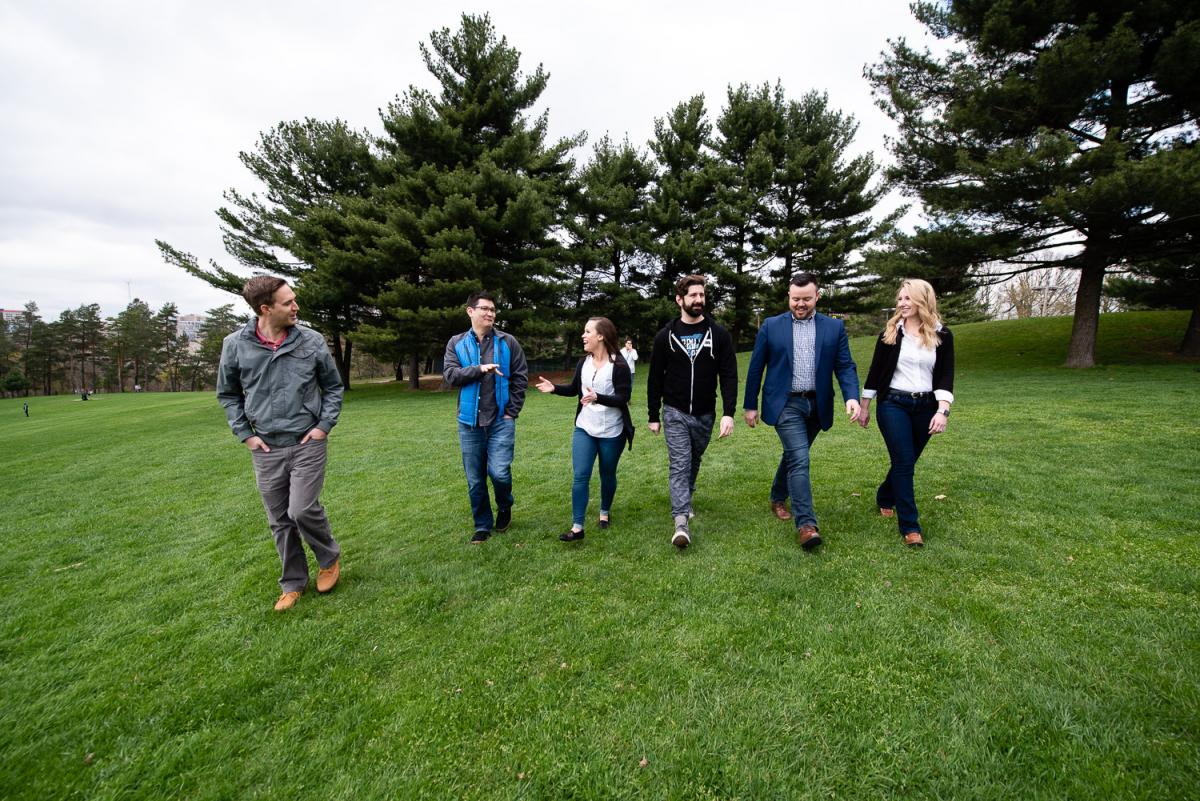 ---
Transitions
Class of 2018 excited, ready for what comes next!
He put in the hard work and was ready for life's next challenges, but Evan Hensel '18 couldn't resist getting a little nostalgic as he prepared for Marietta College's 181st Commencement.
"I've fallen in love with the Marietta College community," says the Strasburg, Ohio, native. "There are endless opportunities for involvement and leadership if one is willing to put in the work to pursue them."
Hensel was one of 252 undergraduates to receive a diploma on May 6, while an additional five master's degrees were awarded. It was also the first class to wear navy blue caps and gowns with a white stole — something the MCAA has been requesting for years.
There were also two Doctor of Humane Letters degrees handed out to Don '81 and Leslie Ritter '85. They also received the first Bachelor of Arts degrees in Music Therapy — a program they helped start with a $1 million investment in December 2016.
"You all have a tremendous foundation of knowledge freshly acquired from Marietta," says Don, who was the 2018 Commencement speaker. "It will serve you well as it has for myself and many others who have sat in your chairs previously."
Another graduate was Ghana-native Baffour Nkrumah-Ababio '18, who delivered the first-place Jewett Oration.
"Graduation is all about celebrating stories. Right from the moment we stepped foot in Marietta, we all took different paths, and at graduation we get to celebrate how our different paths merged at that moment," he says. "Perhaps the most exciting thing about commencement is that it's all about celebration, whether one was the best in class or not. On graduation day, every one of us is celebrated and that feeling is one that I will be carrying with me for a while."
Both Hensel and Nkrumah-Ababio earned degrees in Petroleum Engineering. Hensel will soon begin his career starting as an offshore production engineer with Anadarko Petroleum, while Nkrumah-Ababio is hoping to find employment in the U.S. for a year before attending graduate school.
"Marietta has had a big impact on my future," Nkrumah-Ababio says. "I came here wanting to leave as a petroleum engineer. I left with a petroleum engineering degree but a burning desire to want to help others realize their potential. Marietta helped me find my passion and because of that I am certain the rest of my life is going to be rich and fulfilling, and I cannot be thankful enough."
---
Marietta Scene
Letter from the editor, and letters from readers
---
More Marietta
Pioneers: Athletic News
Developments: News from our Advancement Office
Marietta Moment
The Long Blue Line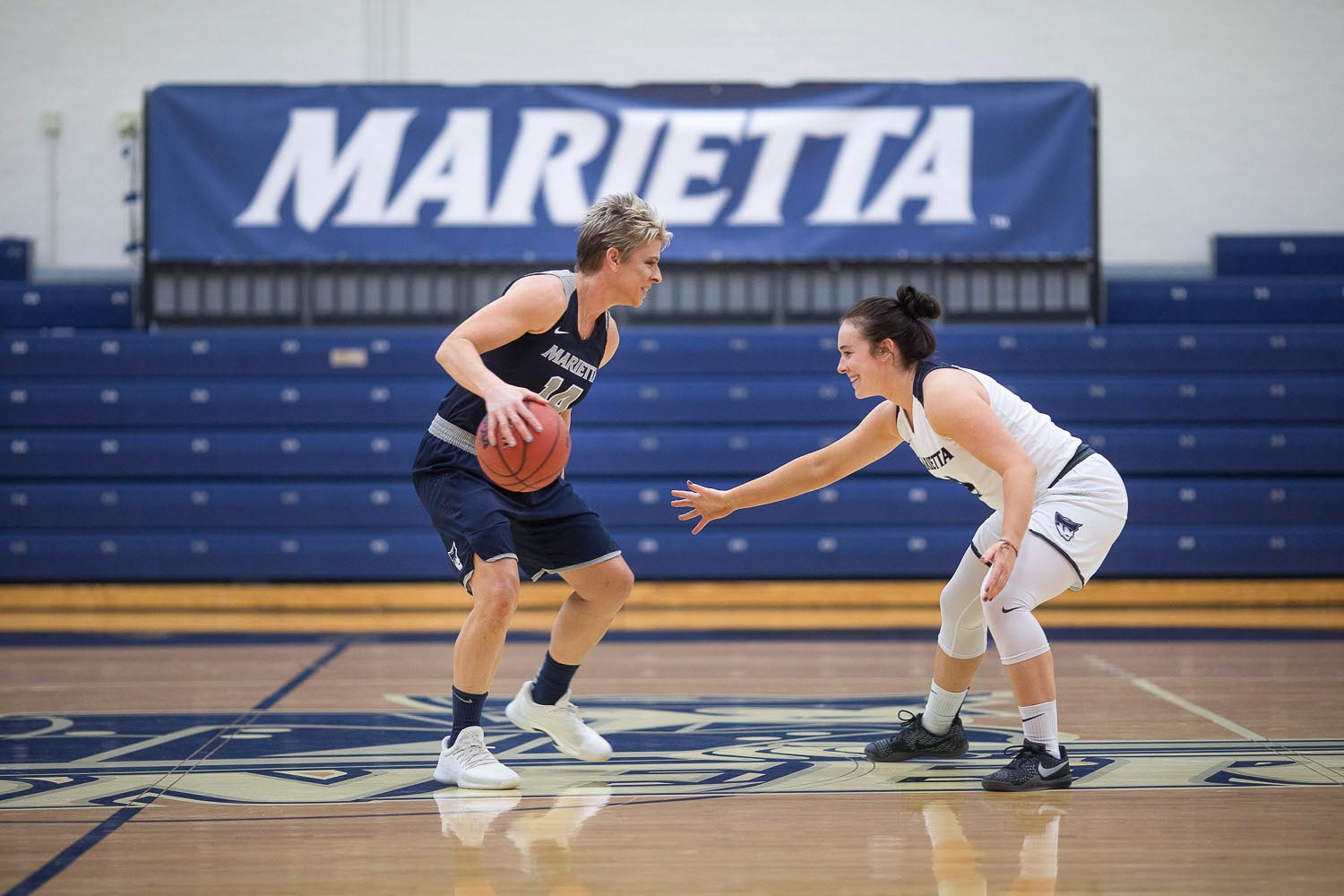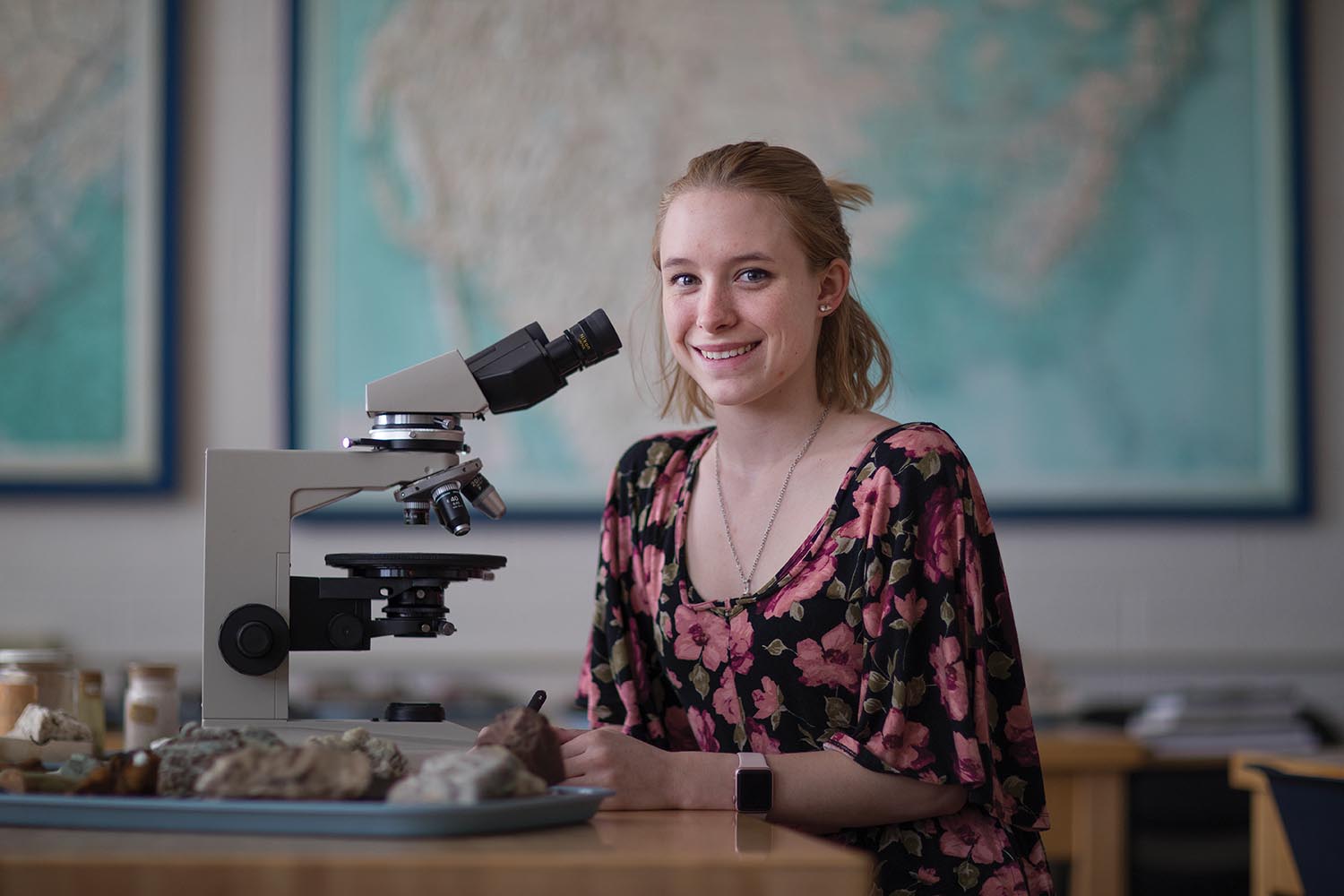 ---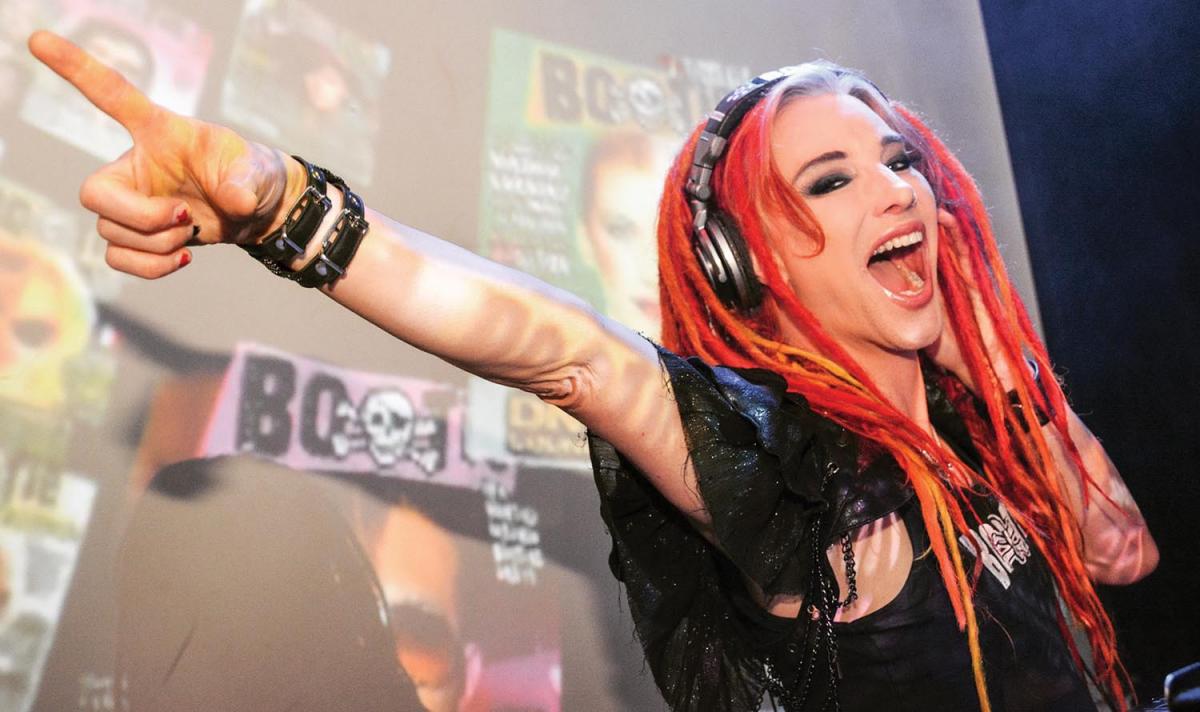 "Anyone who knew me at Marietta College in the late '80s probably remembers that I was always a pretty androgynous person, back before there were words like 'genderqueer' and 'trans.' When the term 'non-binary' started becoming a thing a few years ago, it was a total 'ah-ha!' moment, as I realized that was exactly what I had been all along — a person whose gender identity falls outside the overly-simplified norms of 'masculine' or 'feminine.' As a transgender activist, I helped lobby for California's recent Gender Recognition Act, a landmark piece of legislation that enables one to choose a third gender option on state driver's licenses. I'm a working DJ who travels frequently, and airport security checks can sometimes be a bit frustrating, since the letter on my ID doesn't really match my gender presentation. But starting next January, a non-binary 'X' as my gender marker will immediately explain everything that a TSA agent needs to know. I also feel it starts to legitimize transgender identities in the eyes of the government, as well as society in general. I am 'other' and proud of it!"
Biography: Adrian A. Roberts '90, who earned a degree in Radio/TV and a minor in Art, recently became the sole owner and CEO of Bootie Mashup, Inc., the San Francisco-based music and nightlife event brand specializing in mashup culture, which they co-founded in 2003. For several years now, their Bootie Mashup events in San Francisco and Los Angeles have won various nightlife awards such as "Best Dance Party." In addition to DJing and producing Bootie Mashup events around the globe, Adrian — who is also transgender — recently became one of the first people in the United States to legally change their gender to "non-binary" in the state of California.
---