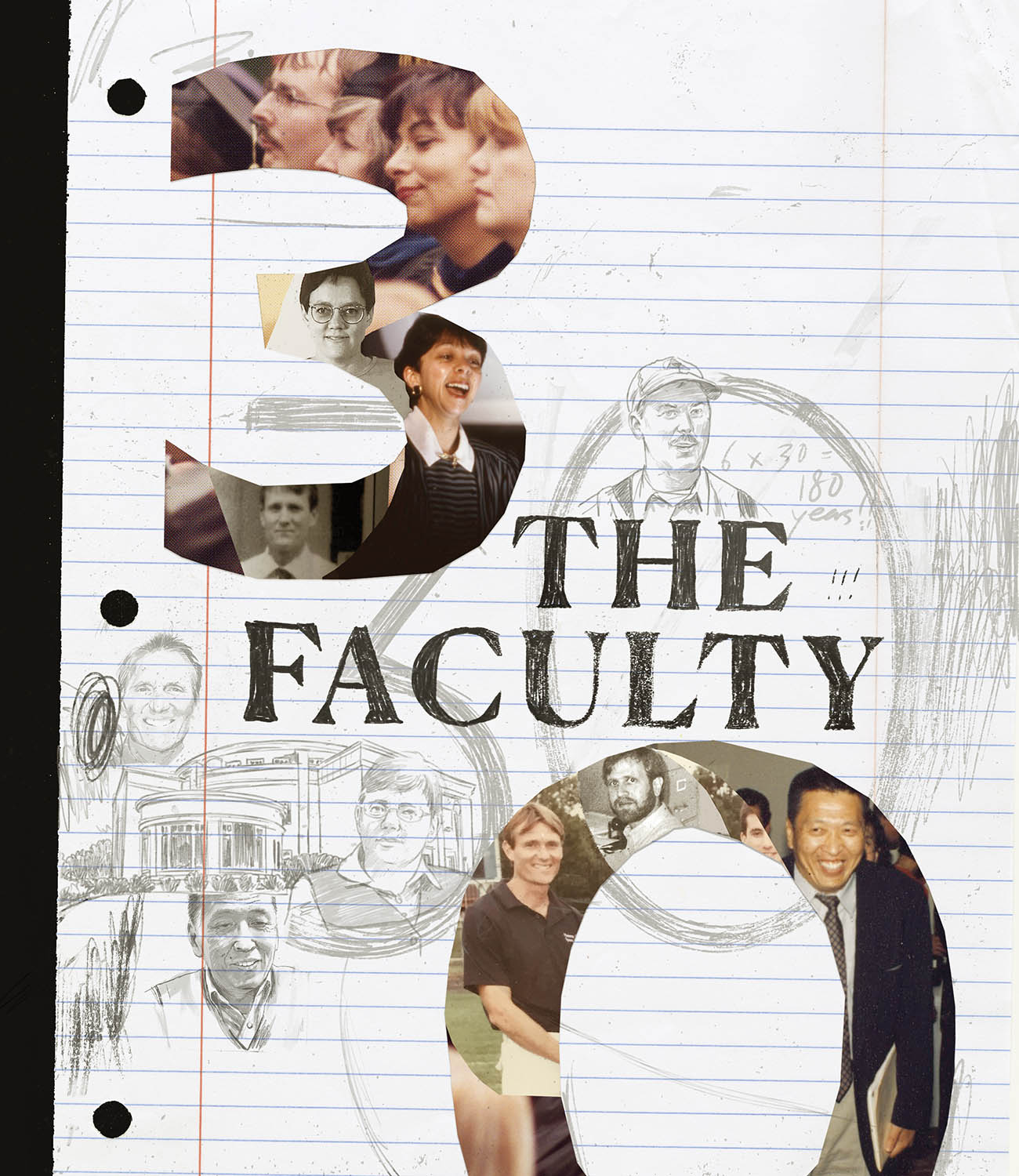 If the hiring process were the lottery, Marietta College drew the right six and hit the proverbial jackpot of good hires in 1989.
Fall semester of that year welcomed a diverse group of young faculty members who, from that moment on, dedicated their lives to the education of generations of students in the tradition of the liberal arts.
At the end of spring semester, Grace Johnson, Xiaoxiong Yi, Ken Itzkowitz, Debbie Egolf, Dave McShaffrey and Sam Crowther completed their 30th year at Marietta College. They've spent decades honing their teaching and leadership skills, and have, in their own way, helped to transform the educational experience that Marietta has to offer to students, the community and the world.
Dr. Gwendolyn Jensen, Wilson College President Emerita, was the Provost and Dean of the Faculty when the Class of 1989 faculty was hired to fill open positions in Accounting, Political Science, Philosophy, Chemistry, Biology and Sports Medicine.
"I'll take maybe 1 percent of the credit," Jensen says. "I think most of the credit goes to the College itself and the way the faculty handle their searches."
Jensen says she trusted the academic departments with their opinions of each candidate.
"My role, as I saw it, was to make sure the candidates really knew what they were in for. … What looks good on paper sometimes doesn't really live up to expectations, so I wanted to make sure the candidates knew beforehand what was to be expected of them."
Intrinsic to a small, liberal arts college is the need for everyone involved to have strong interpersonal skills within academic departments and throughout campus.
"It's a small place and a high-quality place, so everyone has to get along well in order to make this work," Jensen says. "And fundamentally, Marietta College is a teaching college, so I talked about the importance of teaching and made sure they were not afraid of that."
Jensen encouraged the new faculty to remain professionally active in what they were teaching and to involve themselves in areas of campus outside of their department. That advice was perfectly timed as construction was completed for the McDonough Center for Leadership and Business building the same year the new professors arrived.
In 1991, Jensen left her position at Marietta to become president of Wilson College, and became a poet after retiring in 2001.
"Marietta was my second job, so in some ways, I was still a newbie myself," Jensen says. "It's really astonishing that the six of them are still there. … Please tell them how proud I am of them."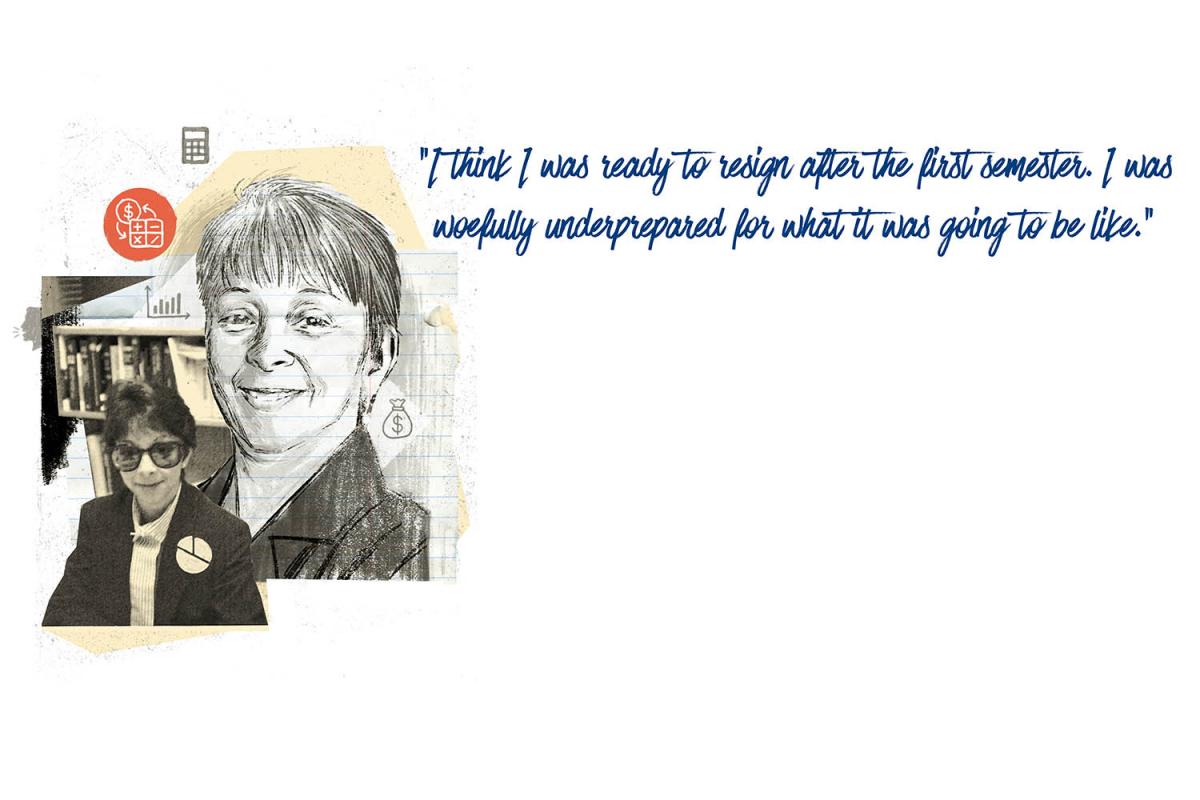 Grace Johnson, CPA
McCoy Professor of Management and Accounting
"Terrifying and nauseating," Grace Johnson describes teaching her first class at Marietta College. "I think I was ready to resign after the first semester. I was woefully underprepared for what it was going to be like."
Johnson is proof that you never step into the same classroom twice. Since those first harrowing moments as head of the class, the three-time research award winner has also earned the McCoy Teaching Professorship, the Harness Teaching Fellowship and the Outstanding Teaching Award. She's taught in Finland, South Korea, and Brazil, and in various institutions in China.
She came to higher education from an industry background. She was living in Florida while working and finishing her master's degree when she decided to change directions professionally, partly inspired by observing how an engineering professor at her university interacted with students. A master's degree would limit her options in terms of teaching in higher education, so she decided to pursue a Certified Management Accountant Certification and CPA licensure. Those qualifications plus her 11-year industry experience made her a good candidate to join Marietta's then-Economics, Management and Accounting Department, which still featured two of the "Big 3" — Jack Prince and Frank Cheng — actively teaching. Bert Glaze was still in the area but had recently retired.
"I had entered as the last of the new, younger faculty," Johnson says. Though her first experiences in the classroom were daunting, she sought every opportunity to develop her skills. "Through wonderful mentorship by Fraser MacHaffie, Ed Osborne, Mike Taylor and Sid Potash — they worked with me because it's not easy to take someone from industry, who has never, ever taught, and expect them to be a good teacher right out of the gate."
Early on, she was approached by Provost Jensen to be a part of a small delegation visiting Stillman College in Tuscaloosa, Alabama, to try to develop potential exchanges or partnerships. Johnson represented the EMA Department, joining faculty from Education and Petroleum Engineering. She credits three provosts — Jensen, Dr. Sue DeWine and Dr. Rita Kipp — among her strongest mentors.
"Gwen could have chosen any other of the seven people in the department to go, and perhaps someone from my department put my name out there, but either way, somebody gave me that chance and that inspired me to do more," Johnson says.
In 1999, she served on the committee charged with developing the strategic plan, To Thrive in the Floodplain, which focused primarily on student enrollment.
DeWine was among the consultants brought in from Ohio University's School of Communication to help the committee with the plan.
Johnson interacted with DeWine on various administrative projects until DeWine left Marietta to become President of Hanover College in 2007. Johnson credits Kipp, who succeeded DeWine as Provost, with introducing her to an organization that she's been passionate about ever since.
"Rita was the person in 2008 who got me involved in ASIANetwork, which is a nationwide consortium of liberal arts colleges promoting Asian Studies in the liberal arts," Johnson says. She was recently elected to serve a three-year board term with the organization. Johnson has been involved with the College's China program since fall 1989.
Johnson credits her international experiences, her research opportunities and her desire to incorporate new material and new classes into her teaching load as the things that keep her professional life fresh and interesting after 30 years. She is teaching fewer Accounting courses and more Management courses, but she still requires all of her students to subscribe to and read The Wall Street Journal.
"We talk about it for five minutes at the start of every class period. And we try to connect something they're reading with the content we are currently covering in the textbook. I can think of alums who would come back saying, 'I hated reading it, but now I'm out five, six years, I still read it.' " Johnson says.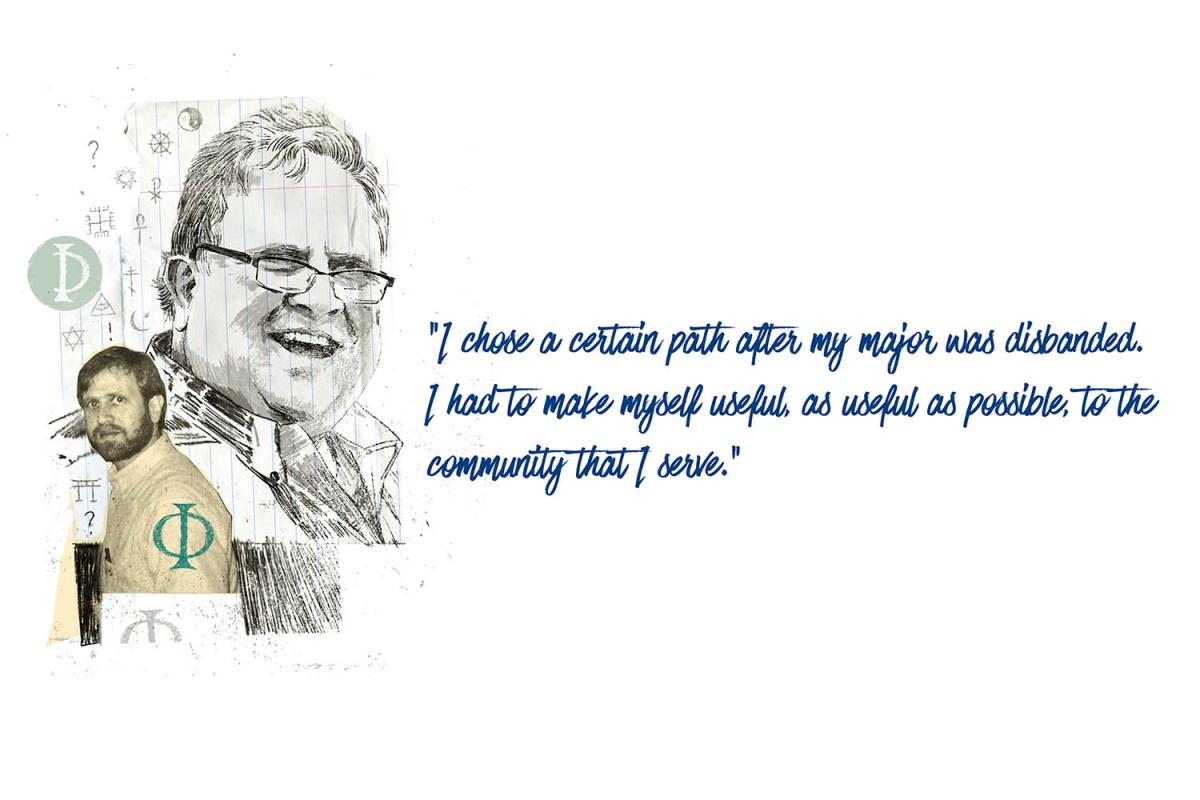 Ken Itzkowitz, Ph.D.
Henderson Professor of Philosophy
"I could have been a butcher," says Ken Itzkowitz, Henderson Professor of Philosophy, describing one path his life could have taken.
His father owned a butcher shop — W. Wertheimer & Son — and the building it was in, which sat at the corner of First Avenue and 20th Street in Manhattan. Itzkowitz had worked at the shop since he was 3 and was able to make change for a $20 when he was 4.
"I remember when my father called me and told me he sold it," Itzkowitz says. "It was my first year in graduate school."
Born in Brooklyn and raised in Queens, Itzkowitz attended Vassar College.
"I had never heard of philosophy when I started there," he says. "I was very much into science and math, but I just sort of ended up exploring. I found my passions. I was very into problems of knowledge and truth, and I started getting into issues in the philosophies of science, and that led me to the theory of knowledge, and that led me to the history of philosophy, and that led me to where I ended up."
Itzkowitz continued his studies at the State University of New York, and worked various jobs during graduate school, including delivering The New York Times, and managing the campus's dorm refrigerator rental program. In 1988, after he earned his doctorate, he spent a year working at Texas A&M with its visiting assistant professorship program.
"They essentially brought on board new college professors and gave them an opportunity to teach and apply for jobs," he says. "I applied for 80-something jobs when I was there."
When Itzkowitz was hired, there was another Philosophy professor on staff in what was then the Department of History, Religion, Philosophy, Political Science and Sociology.
"Philosophy was a major until 2004," he says. "The College decided that some cuts needed to be made at that time, and Philosophy probably took it harder than just about anyone else."
Itzkowitz knew that Philosophy and what he had to offer could serve the broader campus.
"I chose a certain path after my major was disbanded," he says. "I had to make myself useful, as useful as possible, to the community that I serve. My job is to understand who I serve. I could be the greatest person in the world for some other community, but I made the choice to serve this community. In the sense that I love teaching, I think in some ways I'm suited for a community of students who are not especially oriented toward the humanities. There's a liberal arts expectation here that is meaningful, and I think I am good at serving a community of students where there are liberal arts."
He has also served as the ethics person for the Physician Assistant Studies, Psychology and Education graduate programs. And being the only Philosophy professor allows him to teach four different courses each semester and reach students in a variety of majors.
"Even though you can't really make money with philosophy, you also can't really buy it," Itzkowitz says. "And now they're going to have this with them for the rest of their life, and it's a great companion."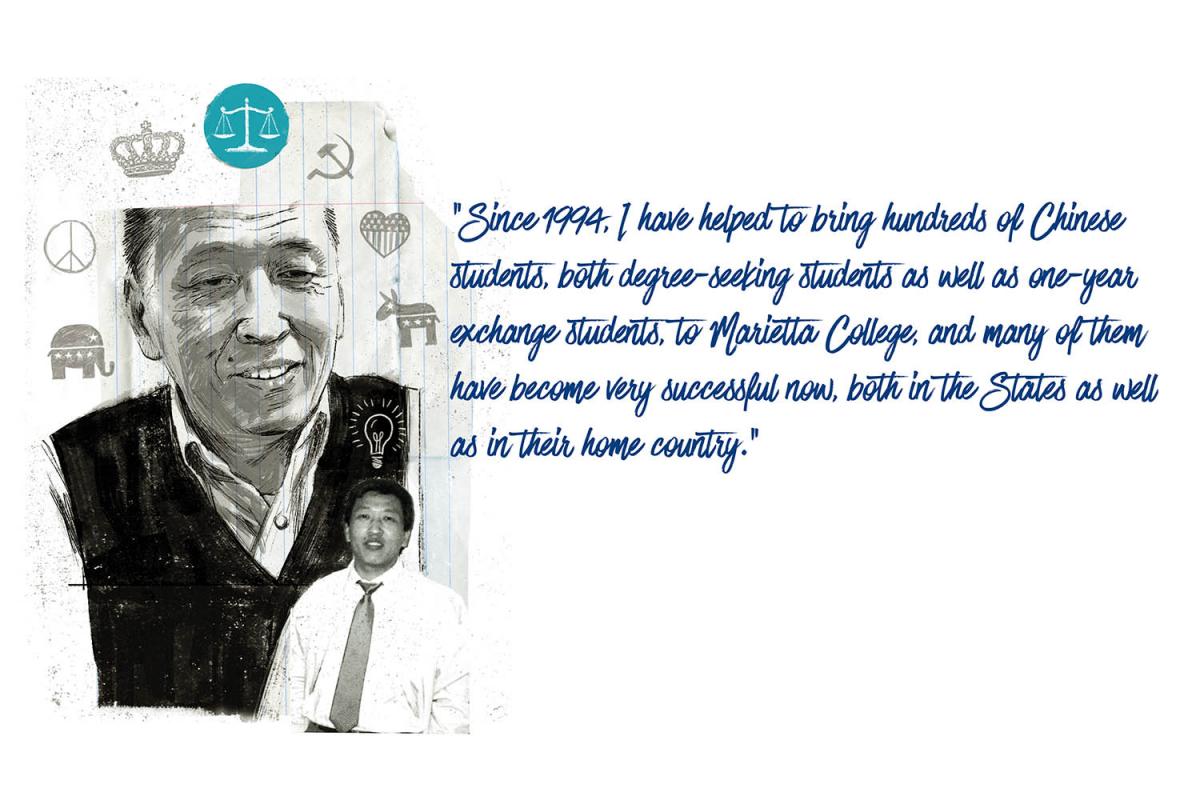 Xiaoxiong Yi, Ph.D.
Associate Professor of Political Science, Director of International Programs
"My first visit to the College, as well as the city, firmed up my decision to apply for the position," says Associate Professor of Political Science Xiaoxiong Yi, who came to Marietta College after being in a non-tenure track position at Dickinson College in Carlisle, Pennsylvania.
He attended undergraduate school in China before coming to the United States to study Political Science at Pennsylvania State University in the early 1980s. He was still working on his dissertation to earn his doctorate from American University in Washington, D.C., when he applied to Marietta.
"I was hired to teach both Chinese as well as political science courses under a Department of Education grant before I became a full-time political science instructor," he says. His mentors in the Department of History, Religion, Philosophy, Political Science and Sociology were Drs. Jim O'Donnell, Mike Smith, Barbara MacHaffie and the late Jackie DeLaat.
His career began taking a different direction in 1995 after he took some advice from his best friend and mentor, Dr. Mike Taylor.
"One day after classes, we were standing in my office talking," Yi says. "Mike, I remembered, said, 'In terms of your teaching and publication, you are doing good, but what about community services, what can you do more in this area?' I thought about it, and decided to open the China front: bring Chinese students on campus, developing academic ties with Chinese institutions, introducing China to our students and faculty, etc."
Marietta had previously developed a relationship with Chinese universities in the 1980s, but those ties were affected in 1989 with the political unrest in China. Yi worked to develop ties with new sister institutions and eventually left teaching full time to serve as Marietta's Director of East Asia Initiatives. He returns to campus three to four times per year, but his primary office is in China.
"Since 1994, I have helped to bring hundreds of Chinese students, both degree-seeking students as well as one-year exchange students, to Marietta College," Yi says, "and many of them have become very successful now, both in the States as well as in their home country."
Yi has also helped develop pathways for Marietta College faculty to present and teach in China. This summer, four professors will teach in China and Provost Janet Bland will be the keynote speaker in an international conference in China.
"In the summer of 2000, 17 Marietta faculty members, along with President (Jean) Scott and Provost DeWine, visited China — Beijing, Inner Mongolia, etc. It was truly a highlight of our China initiatives," Yi says.
Yi describes the most rewarding part of his service as being able to help so many Chinese students gain a Marietta College education, adding that one student from Chengdu, China, eventually earned her Ph.D. from Cal Tech and now works at Northwestern University, and another is an Assistant Professor at San Diego State University.
"In March (this year), Mr. Tong Zhang '97 approached me and informed me of his decision to donate $50,000 to his alma mater to set up the Xiaoxiong Yi Scholarship," Yi says. "He said he wishes his action 'would inspire more MC Chinese alumni and families to do the same.' "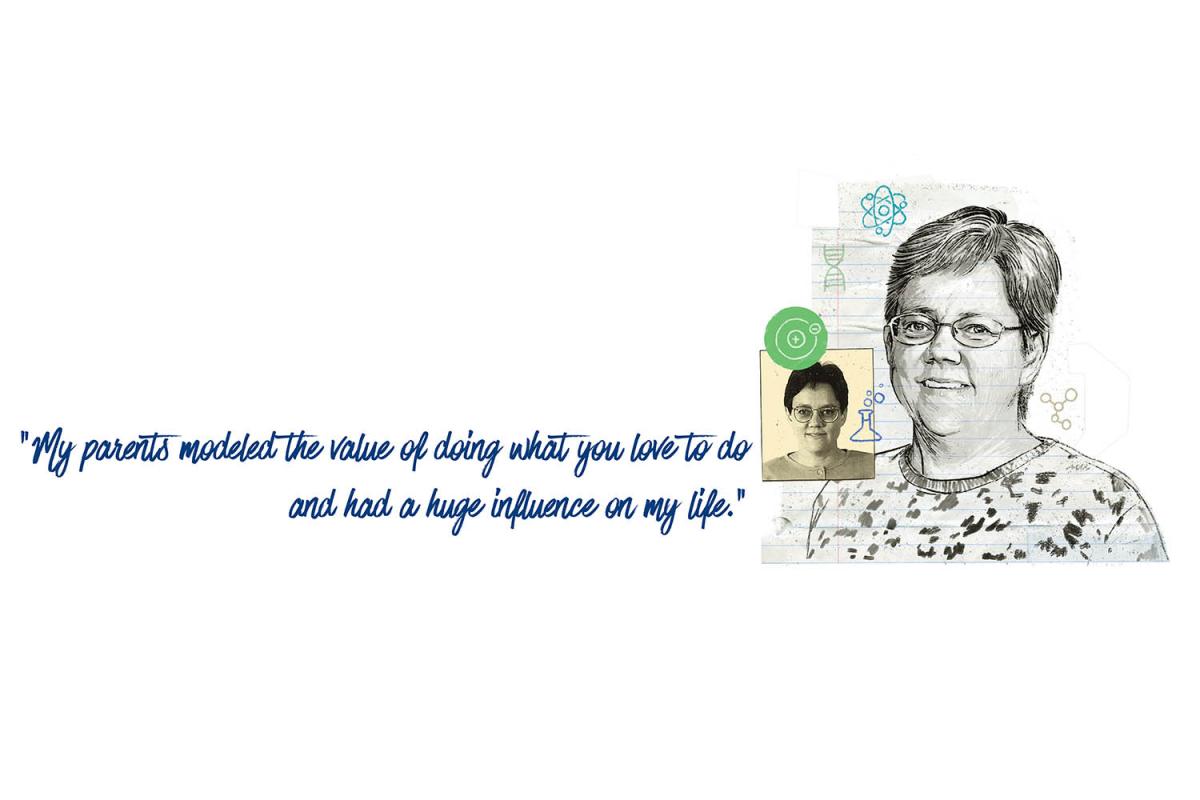 Debra Egolf, Ph.D.
Erwin Professor of Chemistry, Director of the Worthington Center for Teaching Excellence
"My dad loved to do science experiments with us," says Debbie Egolf, Professor of Chemistry, about her father, Kenneth who was a high school chemistry teacher.
Growing up in Pennsylvania, Egolf and her sister and brother developed a deep appreciation for the sciences through their father's passion and their mother June's encouragement to be curious about the natural world. She and her sister both followed in her father's footsteps by becoming chemists, though their brother chose physics.
"My parents modeled the value of doing what you love to do and had a huge influence on my life," she says.
Egolf was working at Dickinson College in the late 1980s — coincidentally at the same time as Xiaoxiong Yi — when she was hired to join Marietta's Chemistry Department. Her early mentor, Dr. Hans Gilde, got her involved in the important work of grant writing soon after she arrived. One of the first grants she wrote was for a gas chromatograph mass spectrometer (GC-MS) — a piece of equipment that combines two different instruments. The two professors first took a course together to learn how they could use the GC-MS with their students and then they wrote the grant proposal.
"That was a pretty significant grant to be applying for because it was a piece of equipment that cost around $50,000, and the NSF (National Science Foundation) was going to give us half of that if we got the grant. The other half was going to have to come from either our department or from the College," she says. "The College was very supportive. They were willing to give us matching funds if we got NSF grants."
During her first few years at Marietta, Egolf refrained from getting to know her students on a personal level because she felt she was too close to their age. But in her fifth year of teaching, she had a group of students who changed her perspective.
"Michele Hodge Stallings '94 and Kara Johnson Pearson '94 were in that class together. They were very good friends, very competitive students, and a lot of fun. Michele, Kara, Peter Harris '95 and I took a road trip to a conference in Atlanta. That experience was life changing! Getting to know those students more personally loosened me up, helped me to relate better to students in general. I think that made a big difference towards my getting tenure a few years later."
Egolf ended up being a mentor to Stallings for quite a while after she graduated.
"She was an excellent student, so we assumed she'd go on to graduate school. But she didn't know if she wanted forensic science or pre-med, so she kind of dabbled and she was still trying to decide which path she would choose. Then one day I saw a sign for Teach for America and I contacted her about that."
Stallings pursued the teaching path and is now a principal. "Michele works with young people every day, which is truly her passion."
Egolf has held many different roles on campus, including department chair and Chair of the Curriculum Committee during the most recent updates to the General Education curriculum. She is completing her first year of a three-year term as Director of the Worthington Center for Teaching Excellence, a half-time position in addition to her teaching. One of her main duties in the Chemistry Department focuses on instrumentation — teaching about it and maintaining the instruments.
When looking back at some of the people who have impacted her life, Egolf looks first at her department, including mentors and friends such as Gilde, Dr. Bob Walker, Dr. Bill Hohman and the late Judy Dunn, but also to the late Dr. Fred Voner, of the Geology Department, who sought out the new female chemist early on.
"He and I taught in the Women in the Sciences summer program," she says. "For years we would partner on a session called 'Environmental Geochemistry.' He came up with that topic. … Fred was a friend in a way that nobody else was. Maybe we wouldn't talk for months and then we would get together and just be so comfortable. He was my main influence from outside the department."
And though she's been teaching for 30 years, every semester is different.
"It's different students, and that's what makes it fun for me," she says. "I still get nervous at the beginning of every semester. I hope this feeling of anticipation never gets old!"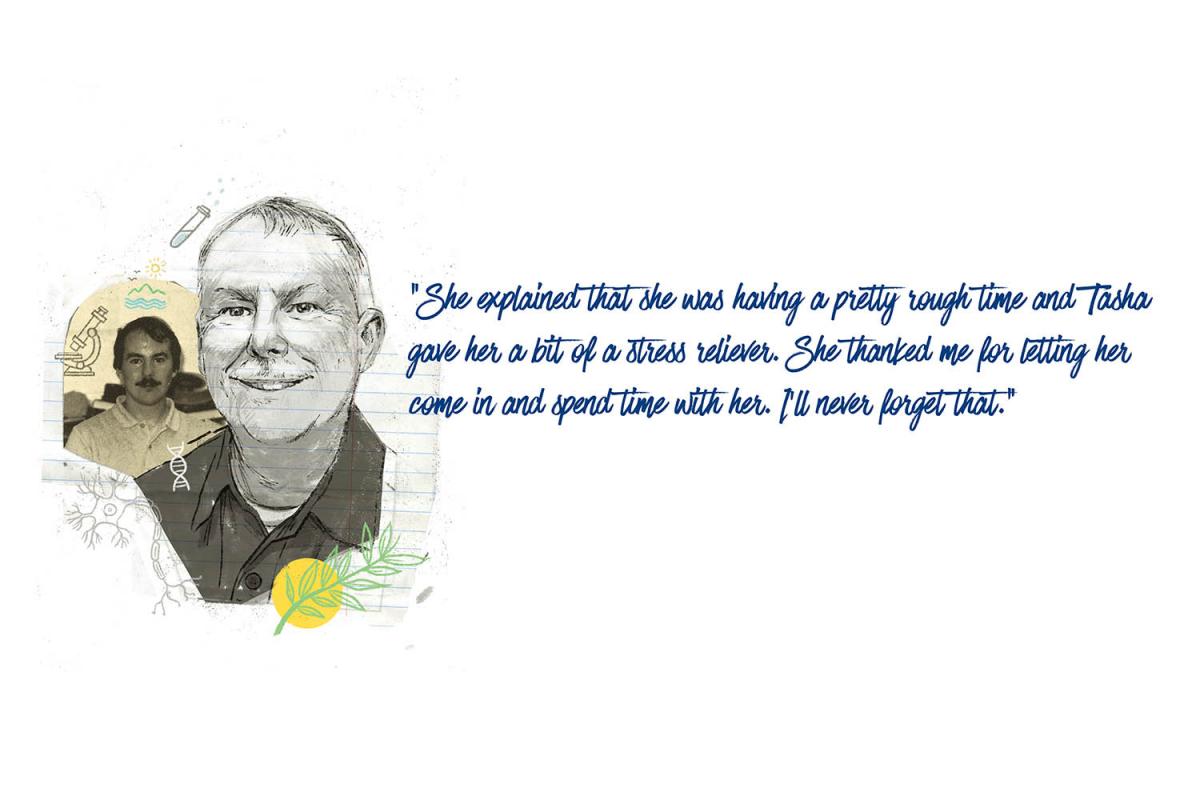 Dave McShaffrey, Ph.D.
Ebenezer Baldwin Andrews Chair of Natural Sciences, Professor of Biology, Environmental Science and Leadership
"When I was at Purdue, I was standing at the door with my suitcase getting ready to walk over to the airport, and my wife was saying, 'I need to call these people out in California about this job; what should I do?' I said, 'You better take it. I've got this interview in Marietta but nothing's going to come out of that.' "
Professor Dave McShaffrey knew he wanted to study biology in college and was inspired to pursue teaching after watching the graduate assistants in his lab at the University of Akron. As he progressed through his doctoral studies at Purdue University, he knew his career was in higher education. When the job opened in Marietta's Biology Department, he was hopeful to try his hand at a small, liberal arts college closer to his Malvern, Ohio, hometown, but he wasn't sure if he would get the job. By the middle of the next week, he had a job in Marietta and his wife, Ann, had a job in California.
"It took a little bit of getting used to," McShaffrey says. "Pete Hogan was here. This is scary, but I realized the other day that I've been here longer now than Pete Hogan had been when I got here; and I thought Pete Hogan had been here forever. He had been hired in 1972 or something like that. Steve Spilatro was hired the year before me, and Almuth Tschunko the year before that. There were four of us, and three of us were brand new, essentially."
Spilatro and McShaffrey began the arduous process of adding technology to the department in the form of much-needed computer and, eventually, internet access.
"That was one of the things Steve and I really pushed for: trying to make the education more numerate, using more numbers, using more spreadsheets. Both of us wrote a lot of software to do that."
All the while, the two remembered the advice Provost Jensen gave them about integrating with their new jobs by doing one of several things: conducting student/faculty research, teaching outside of their department, and getting involved in the Freshman Program.
"Steve and I both had the same response, which was to do all of them," he says. "So, I got involved in the Leadership Program because I came here the year McDonough opened. … Bill Hartel and Fred Voner were doing a lot with the Freshman Year Program, and they brought in people like John Gardner '65 to teach the model, which was different at the time. It was interesting working with people well outside of my department."
In the mid-1990s, McShaffrey teamed up with a statewide group studying dragonflies, which would allow his students to access local fieldwork opportunities. Recently, he encouraged one of his former students, MaLisa Spring '14, to take on the role as State Coordinator of the Ohio Dragonfly Survey. The two are currently working on a book on the state's dragonfly population with another author and naturalist, Jim McCormac.
McShaffrey says the multi-million gift from David Rickey '78 helped to change the department completely because it allowed for the hiring of Dr. Dave Brown, who could cover more modern molecular topics and also play a lead role in organizing international research experiences for students.
It's nearly impossible to describe McShaffrey without at least a mention of his golden retrievers, Tasha, who died in 2013, and Canyon and Mesa, who sometimes visit his office.
"I had a student walk into my office while I was working at my desk," he says. "She didn't really say anything to me but she was knelt down beside (Tasha) for maybe 10 or 15 minutes. And when she left, the dog came over to me and she was wet. This student had been crying over her."
A few days later, McShaffrey saw the same student in the hallway of Rickey.
"She explained that she was having a pretty rough time and Tasha gave her a bit of a stress reliever," he says. "She thanked me for letting her come in and spend time with her. I'll never forget that."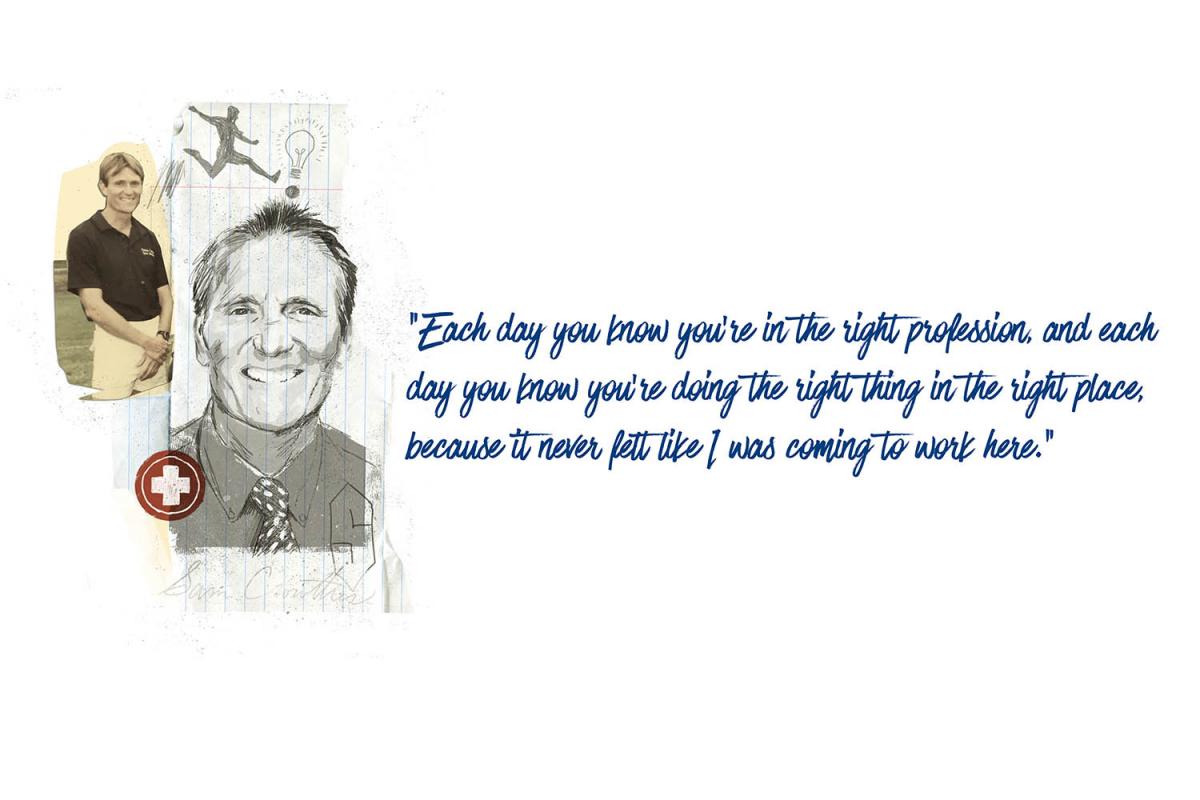 Sam Crowther, M.S A.T.
Associate Professor of Athletic Training
"I remember when I first got hired here, I got interviewed by Paul Spear, and he said, 'I'd like for you to at least commit for a couple of years because we've always had high turnover here,' " says Sam Crowther, Associate Professor of Athletic Training. "So, we'd like for you to commit two years. I said, 'OK, we'll see how it goes.' Now all of sudden, it's 30 years later."
Marietta College was Crowther's fifth job — his fourth in higher education and the second Marietta he called home. He previously worked in a clinic outreach facility just outside of Marietta, Georgia, when he learned about the position in what was then the Department of Sports Medicine.
"Back then with the NATA (National Athletic Training Association) job service, you'd pick up the phone, call the number and you'd push 2 for college jobs, push 4 for district 4, listen to all the jobs, then you'd hear, 'Marietta College' and you'd have to repeat everything so you could write down everything," he says. "When I first came, we worked out of the basement of Fayerweather. It was me, Paul Spear and Jackie Buell. Back then, Paul just did baseball, so it was me and Jackie doing the athletic training coverage and then also teaching."
The curriculum, which was developed by Spear, his mentor, was academically rigorous.
"When I came here and looked at the curriculum and saw just how far advanced it was, I was impressed at how challenging it was — and that's what we expected our students to learn. What we taught our students back in 1989, it has stood the test of time as far as being challenging — it was well in advance of every other program in the country and it's been a strong program since that time. Paul developed it. He was an RN and he brought that background in nursing to the program."
After Spear left, the College was transitioning from Sports Medicine to Athletic Training, and the entire program was in the process of accreditation. Crowther took over as program director in 2003 when a faculty member hired to replace Spear left after one year.
"Originally, the position required a Ph.D. but Provost Sue DeWine changed her mind and allowed me to apply for it," he says. "I had that for 15 years and two accreditation cycles. I turned it over to the younger people so they can take it through its next phase."
During his time, the program moved from Fayerweather to the lower level of Russell Hall, and from there to its current location in Dyson Baudo Recreation Center.
Crowther says his students gain a unique perspective because they learn from him in class and they also see him in action in clinical situations when he covers various sports. In the first part of his career at Marietta, he covered football for 15 years, and baseball for 10 years, and currently he works with tennis, golf and fall lacrosse.
"Now we have eight athletic trainers full time, which is fantastic," he says. "Two are graduate assistants. They go to school at Ohio University, and they help us out with clinical coverage. Then we have two full-time athletic trainers who don't teach but do the full clinical, and then we have four who teach and also help out with sports coverage."
He still enjoys the rigors of being part of the dynamic Athletic Training program — from keeping up with the changes in the profession to sharing that knowledge with his students and meeting them as professionals during national conferences.
"Each day you know you're in the right profession, and each day you know you're doing the right thing in the right place, because it never felt like I was coming to work here," he says.