With each rep on the bench press, you start to notice T.J. King's tattoo. Etched on his muscular right arm is the following:
I am my
brother's
keeper
Tyree King #14
The words are with T.J., a freshman running back on Marietta's football team, every day to remind him of the brother he lost on June 10, 2015, when he was struck and killed by a drunk driver while walking home from a convenience store.
"I haven't told a lot of people this, not even my family, but that night, when I couldn't sleep, I returned to where Tyree was hit and I picked up his teeth that were still on the road," says T.J., who also has the image of his brother tattooed on his arm. "He ran to the store before we were getting ready to work out. I was about to walk with him, but instead, I stayed behind to set everything up for the workout."
When his brother hadn't returned in 10 minutes, T.J. ran outside and saw his 13-year-old brother lying on the side of the road.
"The last thing we were going to do was work out, and he told me he wanted to be just like me," T.J. says.
The memory of his brother is what motivates T.J. today in the classroom, on the football field and in the weight room. He's made a name for himself in powerlifting, including back-to-back Ohio high school state championships in 2017 and 2018.
At the 2019 Arnold Classic Worlds in Columbus, Ohio, T.J. made a huge splash as he won the amateur welterweight class with a total of 1,285 pounds — nearly eight times his 158-pound body weight. He hit 500 pounds on both the squat and deadlift to go with 285 pounds on the pause bench.
"I was one of the youngest competitors at the Arnold Classic Worlds," he says. "I only weigh 158 pounds and I was seeing all kinds of guys who were 200 and 300 pounds. I was competing against people from all around the world. It was an amazing experience and I hit the most weight of any event I have competed in so far."
Offensive coordinator Alan Estep says T.J. has been a great addition to the Pioneer football program.
"When you look at what he does as a competitive powerlifter, you are able to get a glimpse at the determination and work ethic that will ultimately lead him to excel at Marietta and beyond," Estep says. "We are proud of who he is and who he will become."
T.J. was a late addition to the football program. He originally enrolled at Alcorn State, a Division I program in Mississippi, but after a few practices, T.J. realized he wanted to be closer to his home in Springfield, Ohio.
After a phone call with head football coach Andy Waddle, T.J. was back in Ohio and joining the Pioneers.
"When he called and said he was interested in leaving Alcorn State and coming to Marietta, I was very excited because I knew he was an outstanding player who could help our program," Waddle says. "What I didn't know was how great of a young man he was. Once he was here, he fit in great with the team and the guys really embraced him."
Despite the late start, T.J. managed to make the traveling roster and contributed on special teams this past fall. After a strong spring and working hard in the weight room, the 5-foot-7-inch T.J. could see his playing time
increase in 2019.
"He got to camp after the majority our offensive install had ended, he arrived behind an All-American running back in Tanner Clark and two other promising young running backs who had the chance to learn our system in camp," Estep says. "He did whatever we asked of him to help the team, including scout team running back, returning kicks, and brought a great attitude daily."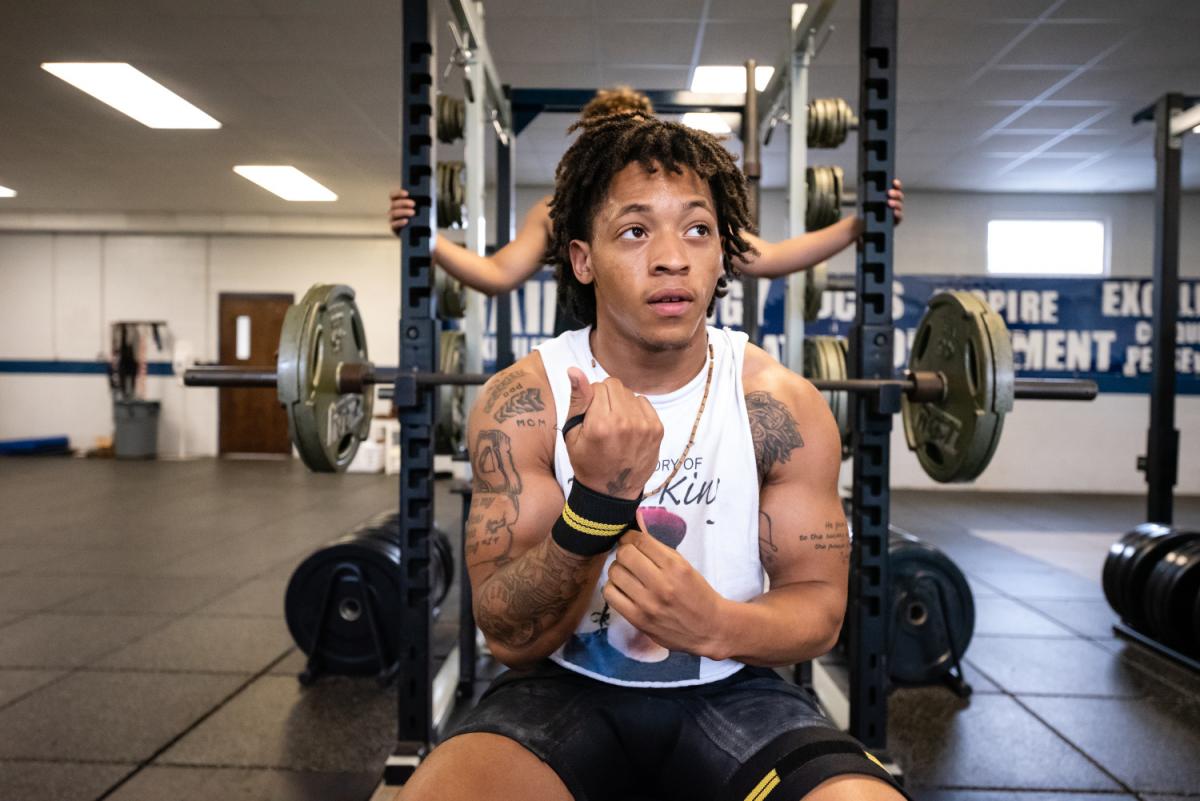 Estep sees a bright future for the oldest son of Todd King Sr. and Ebony Baker.
"T.J. will make an impact in our program as a running back and as a returner in the future, and we're excited to watch him grow into a bigger role within our program," he says. "His story and background are so powerful that it will allow him to lead others to overcome much smaller challenges that have been placed in front of them."
T.J. says being part of a team has helped him adjust to college life, but every day is still a challenge as he copes with the loss of his brother. However, Waddle and the one-on-one attention he's received through counseling from the Dr. J. Michael Harding Health & Wellness Center have been a boost of confidence he never expected.
"I think Coach Waddle could see it on my face some days that I was struggling," says T.J., who hasn't decided on a major. "He told me to skip practice and go speak with someone at the Health & Wellness Center. I had to tell them everything I saw the day my brother was killed. They let me know it was OK how I was feeling — that it was more than someone that age should have to handle."
Waddle and T.J. had a connection before they even met. Both are from Springfield, Ohio, and T.J. went to the same high school as Waddle's niece before transferring to Springfield High School. The unexpected loss of a family member is something else the duo share.
In 2014, Waddle and his wife, Kerry Jean, tragically lost their first daughter, Arlee Grace, due to a pregnancy complication — vasa previa.
"The images of his brother's death both haunt and motivate him daily. He would come to my office just to talk sometimes, and I think that really helped me to help him," Waddle says. "We would share our story of heartache and how to cope with hard times. I was also able to get T.J. in contact with the Health & Wellness Center and they dropped everything to make sure he was getting what he needed."
Nothing T.J. accomplishes surprises his coach.
"I know T.J. wishes he had his brother with him here on Earth. But he is driven to honor him," Waddle says. "Watching someone you love die in your arms in the gruesome manner he did will test him forever, especially when you feel like it could have or should have been prevented. His brother is a huge part of T.J.'s motivation to be special. I am not surprised by his accomplishments in powerlifting. T.J. is very strong naturally, but he has the motivation to be great. I expect him to bring that motivation to the field next fall and be a big part of our offensive and team success."
Before Waddle intervened and directed him to seek counseling, T.J. says he kept his emotions locked deep inside.
"I never thought a coach would care more about how I was feeling emotionally, but Coach Waddle just knew I needed help," T.J. says. "The coaches are always checking up on me, and this is what has made me feel closer to this team. Marietta feels like a second home."
- Tom Perry