Virginia "Jinny" McCoy vividly recalls the day her parents made a "sizable" donation to an organization and the unexpected reaction of her friend.
"She said, 'Aren't you sad your dad gave all that money away? That's part of your inheritance,'" Jinny says. "I didn't look at it that way. It wasn't my money, I didn't work hard for it and I always believed my mother and father could do whatever they wanted with their money."
Her outlook has never wavered, and Jinny is proud to follow in her parents' footsteps by pledging $2 million to establish the Virginia McCoy Scholarship at Marietta College. She plans to have it fully funded in time to award the first scholarship — which will provide tuition, fees, room and board, and will be renewable for four years — to an incoming freshman in the fall of 2019. The total standard cost to attend Marietta this fall is $47,360 before applying scholarships and other forms of financial aid.
There are two other scholarships established at Marietta in the McCoy name — Jane McCoy Peterson Memorial Scholarship and the John B. and Jane T. McCoy Endowed Scholarship in Honor of Jane McCoy Peterson.
Currently, Marietta College has 201 endowed scholarships and 34 endowed awards totaling $2.89 million to fund scholarships. Jinny and her brother, John B. McCoy, agreed it would be nice to have a second McCoy Scholarship program established at a place their father, John G. McCoy '35, cherished.
"My dad would be so proud (of the scholarship)," Jinny said. "Education in our family has always been very important. We've always believed it is important for everyone to have an opportunity to get an education, and that doesn't always mean a four-year college."
In 1998, John G. fully endowed the John G. and Jeanne B. McCoy Scholarship Program at Marietta College to promote and recognize outstanding academic ability and achievement in an incoming freshman student. John and Jeanne also established the McCoy Teaching Excellence Professorship in 1993.
"There are no better friends to the students of Marietta College than the McCoy family, and everyone at Marietta College is incredibly grateful for the generous gift that Jinny McCoy has made," says Dr. William N. Ruud, President and Professor of Management. "A Marietta College education is more than going to class for four years. The students who receive this scholarship in the future will be mentored and advised by some of the finest faculty in the nation. We have witnessed the amazing impact of her parents' scholarship, and now she is making it possible for us to impact two new lives every year."
Jinny hopes to connect with the scholarship winners in the future, so they can see that there is a story behind the scholarship.
"When my parents were still alive, they would meet with the new scholarship winners as well as the McCoy Professors each year," Jinny says. "My brother and I would like to renew that tradition with the students and faculty of Marietta College. The College and city were special to my parents."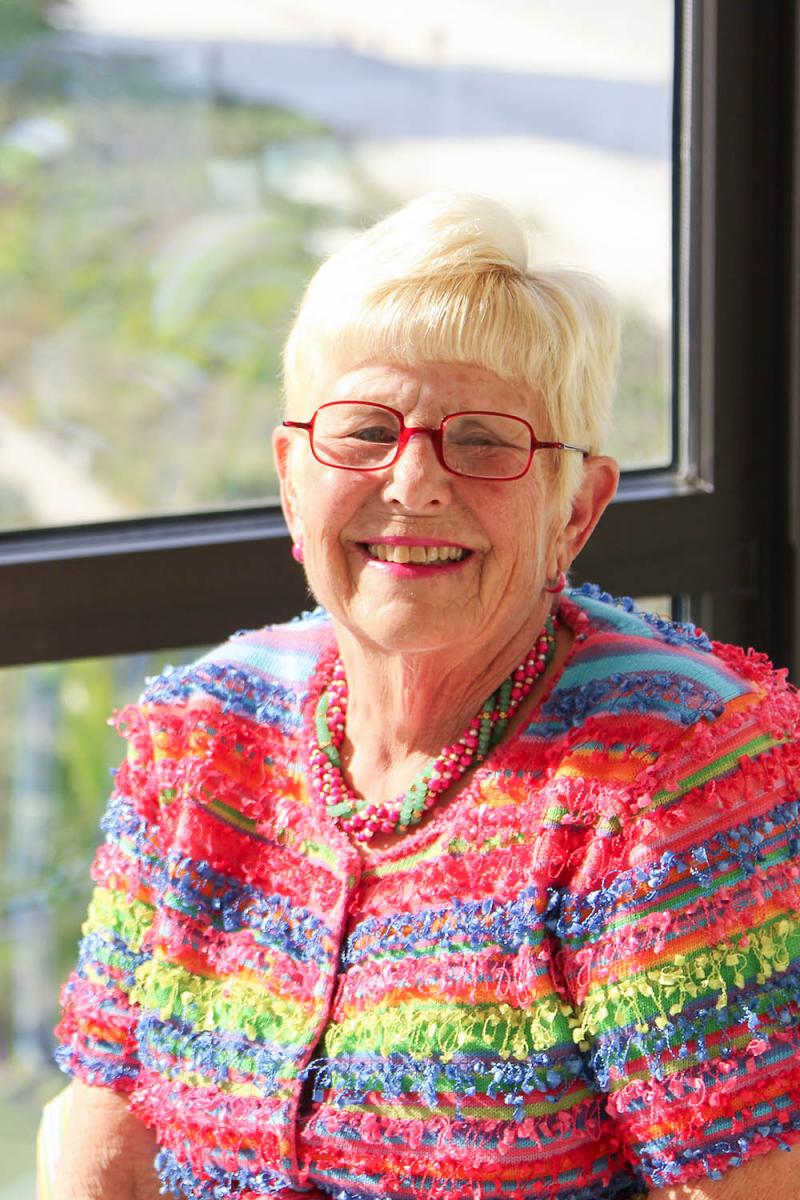 Virginia "Jinny" McCoy served on Marietta College's Board of Trustees from 1996 to 2006, and was given honorary alumna status in 2009. She is also a member of the Erwin Academy and has supported many College funding priorities, including the Legacy Library, The Marietta Fund and the Jean Scott Endowment. Jinny is the daughter of John G. '35 and Jeanne B. McCoy, as well as the niece of Charles W. McCoy '42. She earned an associate's degree from Endicott College in 1966 and her bachelor's degree from the University of Arizona in 1969. She started her career with B.C. Christopher & Company in 1969, and by the time she left in 1978, Jinny was a licensed stockbroker. She also worked at Northwestern Mutual Life Insurance Co. from 1978 to 1988, then started her own business, Credits and Debits Plus, in 1988, and sold it in 1992.
​
Growing up, Jinny visited Marietta regularly with her parents, and after two years at Endicott College in the Boston area, she had every intention of finishing her elementary education degree at Marietta College. But a six-week unpaid internship with her kindergarten teacher in Columbus altered her plans.
"She said to me after the second year of working with her that I wasn't going to make it as a teacher," Jinny says. "She said I didn't have the patience for it, and she encouraged me to go to business school."
Jinny chose the University of Arizona and earned a Bachelor of Science degree in Business and Public Administration in 1969.
"I really wanted to go to Marietta, but back then they didn't have a business course," she says.
Now, though, she's making sure future students can attend.
"I'm excited and proud to be able to do this for Marietta College," Jinny says. "I wanted to make it so you didn't have to have a high grade-point average. I actually was not the best student, but it's important for everyone to get some type of education."
Angela Anderson, Vice President for Advancement, hopes alumni and friends of the College understand that all endowed scholarships help students make tuition more affordable.
"Jinny's generosity to her father's alma mater will have an impact on generations of Marietta College students and their families," Anderson says. "This gift shows her confidence in Marietta College, President Ruud and our faculty. Jinny understands that by investing in Marietta College students, she is also investing in their futures and the future of the entire Marietta College community. There is a long line of McCoys who have given generously of their time, talent and treasure, providing amazing opportunities for students to attend Marietta College for free."
- Tom Perry
How to Create an Endowed Scholarship
When you endow a scholarship, you create a permanent fund that will benefit students for generations. The principal is invested as part of the college endowment at all times. Earnings from the endowment, in accordance with policies and procedures established by our Board of Trustees, generate scholarship dollars to be awarded to students based on the donor established guidelines.
The minimum amount needed to start an endowed fund is $25,000. Pledges are accepted to work toward creating an endowment, typically in one to three years. The amount of the endowed fund coupled with the earnings of the endowment and policies established by the Board determine the amount of the scholarship that is awarded to students.
The Office of Advancement will guide you step by step on how to successfully endow a fund.
As the donor, you decide the parameters of the fund, including the name, who qualifies for it, if it's renewable each year and any other requirements.
The Advancement Office can discuss how your donation can be made — whether it's in cash, stock, property or a combination of giving modes.
Once your gift is made, it is invested and will remain a permanent asset for Marietta College. One year after it's invested, your generous gift will begin assisting today's Pioneers.
Your endowed scholarship will impact a lifetime of students.
Contact the office at 740.376.4711 to speak with an Advancement representative or click here for additional information.