From classes to writing papers, conditioning and competing in the Ohio Athletic Conference, Marietta College's student-athletes have pretty tight schedules — but that doesn't stop many of them from being a part of the Pioneer Pipeline.
"They seem to find the time," says Mary Ella Bauer, who teaches in Marietta's Education Department and helps coordinate mentors and mentees within the Pioneer Pipeline, a program that helps high school students and young adults with intellectual disabilities improve their academic, social and employment skills. "It's really amazing to me to see how many athletes we have as mentors in the Pipeline."
Connor McCreary '18, a member of the men's basketball team, has mentored in the program since the fall semester of his sophomore year. The Intervention Specialist major is wrapping up his athletic and academic career at Marietta and currently interviewing for teaching positions. Over the years, he has forged a close friendship with mentee Noah Hilverding, a student from Warren High School who has taken classes on campus for two years and is also a trusted team manager for men's basketball.
"One of the first things I talk about is the Pioneer Pipeline and how much of an influence being a mentor has had on me," McCreary says.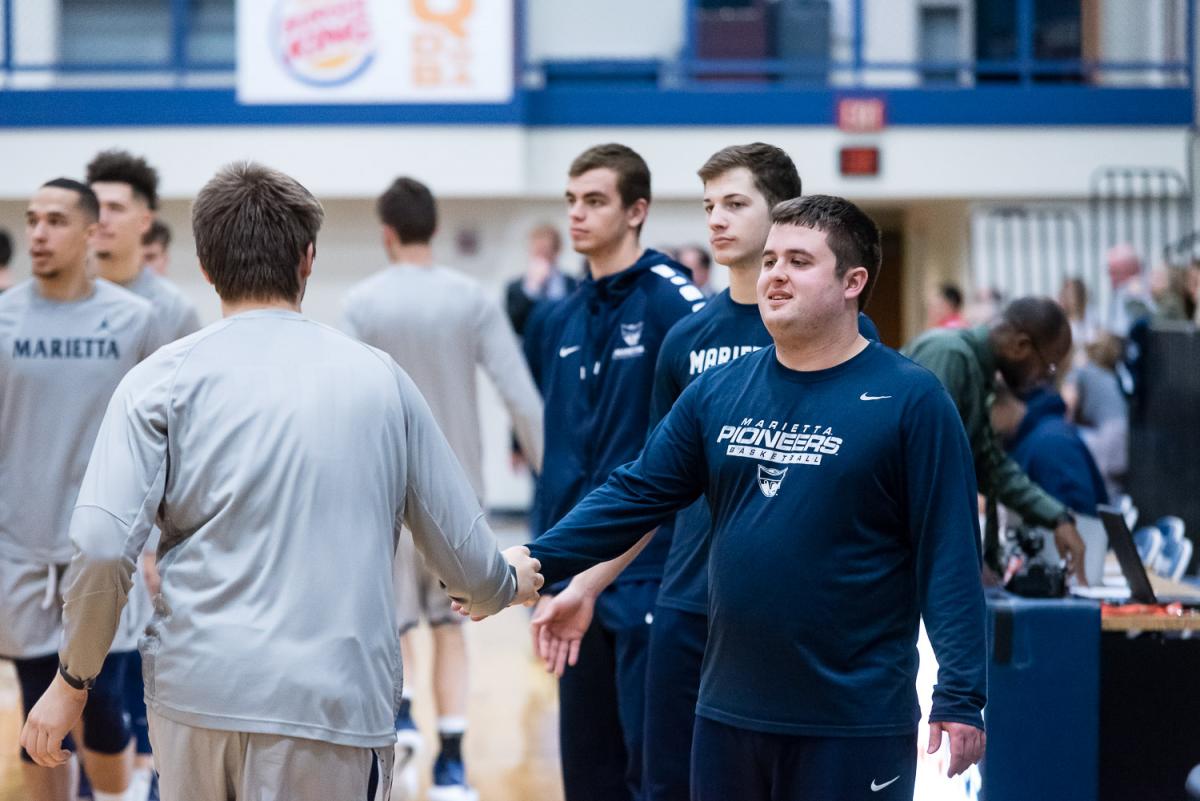 Six years ago, the College received a grant from The Ohio State University to help fund the program. Ohio State's funding for Marietta's program has since ended, but Bauer says a Washington County collaborative has been developed and will be led by the Warren Local Schools Administration. That agreement also includes Marietta City and Wolf Creek Local Schools districts for the high school program.
Bauer says, "After having a background check, the mentors act as job, academic and recreational coaches."
Over the past five years, more than 100 Marietta College students have participated in the Pipeline — of which, 43 were student-athletes, including eight soccer players, three softball and baseball players, five basketball players, two from track and tennis, and one volleyball player. The football program has provided 19 of those students as well as many job opportunities.
"Marietta College students, and therefore our student-athletes, are different than any place I've ever been," says head football coach Andy Waddle. "There's a deep-seated sense of community here, and those relationships don't end or begin with just the other Marietta students."
Bauer says the Marietta students who participate in Pioneer Pipeline can choose to get a stipend or service hours for the Leadership Program.
"Some of them get neither — they give their time because it's important to them," she says.
Mary Ella's husband, Dr. Bill Bauer, McCoy Professor of Education and Pioneer Pipeline co-coordinator (along with McCoy Associate Professor of Psychology Dr. Christopher Klein), says there are a dozen high school students and young adults taking courses and working on campus this academic year. The courses include acting, drawing, children's literature, music, sports management and fundraising, applied nutrition, education topics, American government and media. One mentee is working with the Marietta College Police Department.
"I know I've been a small part of Noah's life at Marietta, but Noah has been a huge part of my life."
— Connor McCreary '18
"Warren (Local Schools) has been a part of the program from the beginning," Mary Ella says. "Also added to the program are students from Shenandoah High School and young adults with ID (intellectual disabilities)."
Mentees take courses, work and socialize with Marietta College students, faculty and staff. Mentors may also attend classes with mentees. Thirteen faculty members have allowed Pipeline students to gain access to their courses.
Men's coach Jon VanderWal says the team's Pioneer Pipeline connection first began after McCreary and Dillon Young '18 became mentors.
"We have great young men in our program, and despite their busy schedules, they often find ways to give back," VanderWal says. "Our players are very appreciative of the support they receive from our campus and community, and they try to find ways to return the favor."
McCreary met with Hilverding and his mother, Vickie, to determine if their personalities fit with Hilverding's goals in the program.
"And I knew a lot of players on the team — Jack (Thome '17), A.J. (Edwards '17) and Nate (Walker '17). We formed a really good friendship through the season, and it kind of grew from there," Hilverding says.
By chance, the team was in need of a little help.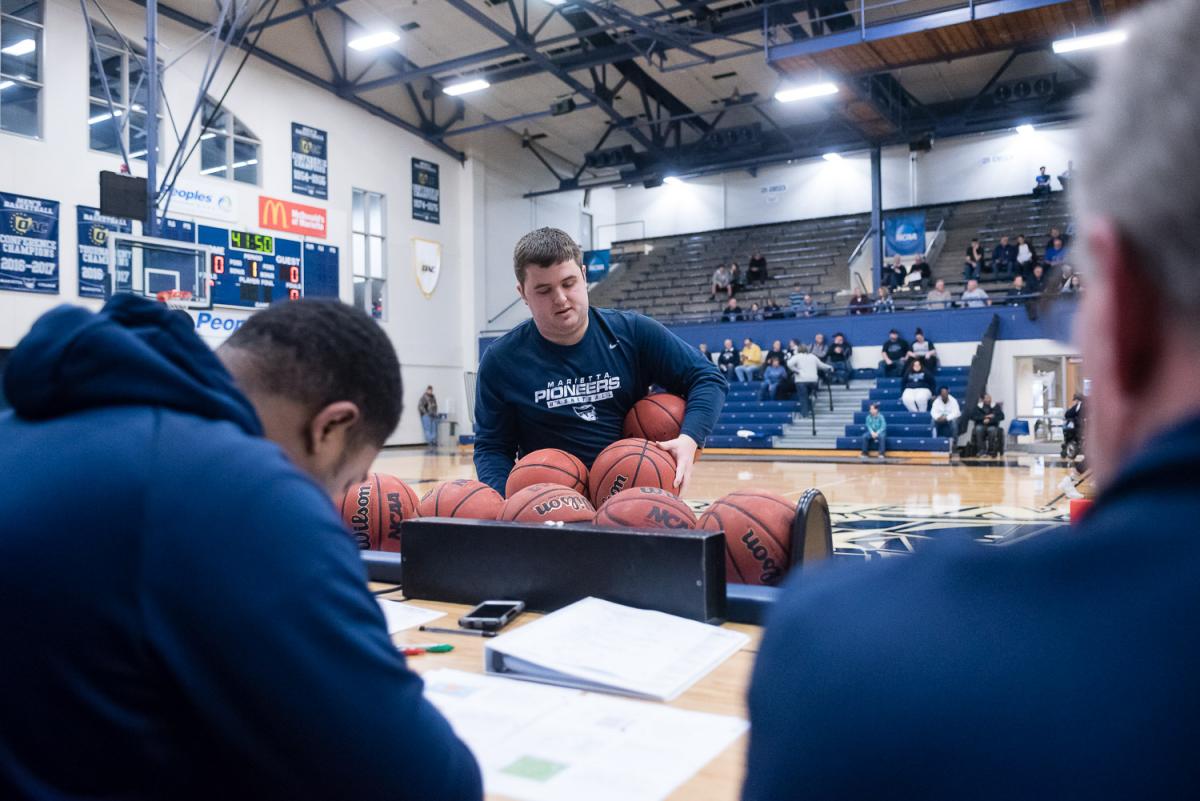 "After getting to know Noah, we decided to ask him if he wanted to be a manager for our basketball team," VanderWal says.
Hilverding helps run the clock, films games and cleans the floor during halftime.
"Noah is a sports junky and knows the game of basketball," VanderWal says. "He's made a positive impact on our entire program, and we absolutely love having him as part of our basketball family. While we all get stressed with the demands of the season, Noah always seems to bring a smile to our face with his infectious personality. We feel very fortunate to have him involved."
McCreary is thankful for the opportunity to be a part of the Pioneer Pipeline, and he's grateful for the friendship he's developed with Hilverding.
"I know I've been a small part of Noah's life at Marietta," McCreary says, "but Noah has been a huge part of my life."
- Gi Smith