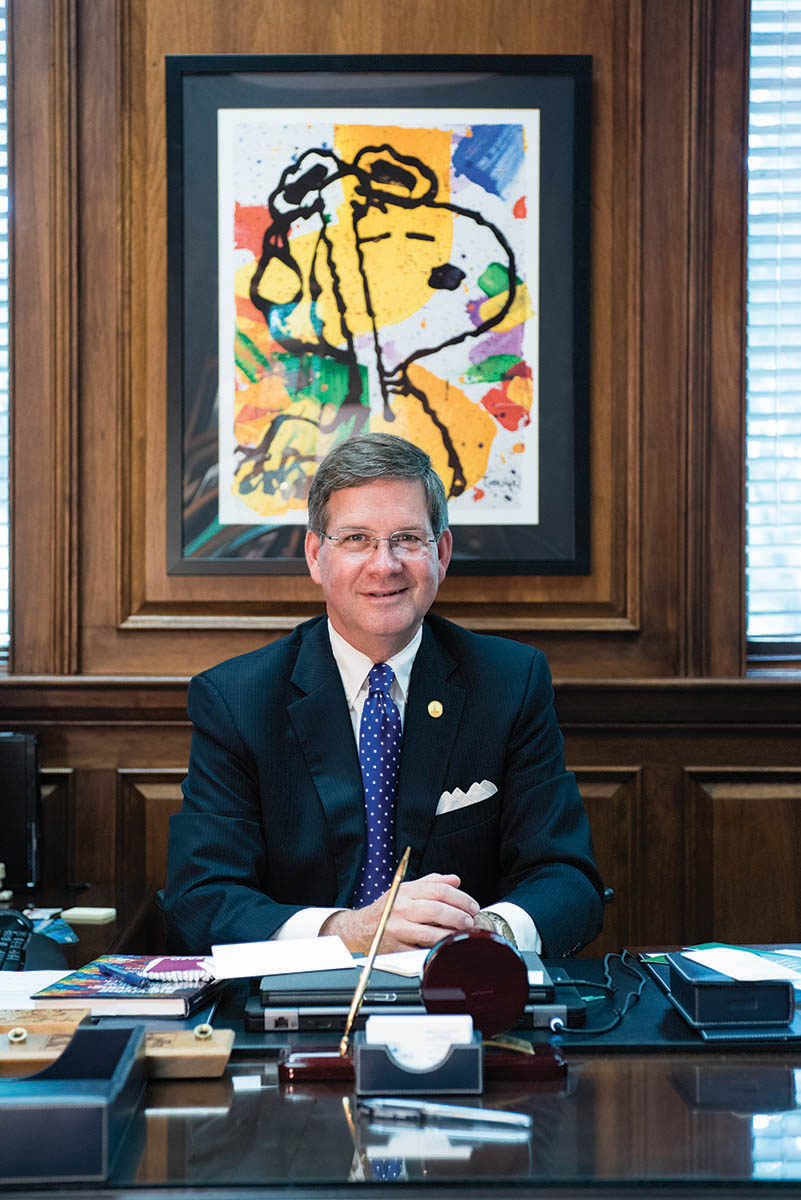 While making omelets during the Late Night Breakfast in December, I took a moment to watch our students as they laughed, ate and enjoyed the late-night conversation. A lot of the excitement was generated by the raffle prizes, but there was also the typical pre-finals banter that we hear every year.
The energy in the room was exciting and reminded me why I wanted to be and continue to enjoy being Marietta College's 19th president. What an awesome opportunity! Reviving campus spirit has been a critical part of our success. Gilman Dining Hall may have been hopping on this cool Sunday night, but you can sense a real change in the campus dynamic every day.
We owe a lot of our success to good old-fashioned hard work. From our groundskeepers blowing and raking up countless leaves each fall to faculty members who join us on weekends to welcome prospective students to campus, we are a place that students are excited to join. 
Another reason why Marietta College is successful is because we came together as a campus to create a comprehensive strategic plan in late 2016. Before the Planning Committee put that plan into place, we received valuable feedback from campus partners and we have had buy-in across the board. As we approach the last two years of that plan, we are hard at work developing a new five-year strategic plan — 2021-2025 — one that will guide us to reach even loftier goals.
It is as important as ever to make sure we have a calculated approach to recruiting, marketing, academics, financial stability and the overall student experience. We have all heard the discussions in Washington, D.C., about debt-free college, and all of us in higher education are well aware of a pending decline in college-age students, so this is the right time to be having a conversation about Marietta College's future — and make it a bright one.
Once again, we are involving students, faculty, staff, administration, board members, alumni and the community in the discussion. This semester, we are working with Dr. Alane Sanders and our student-run Fifth Street Consulting Group. The students conducted a mind-mapping workshop in late February that will help us know what students would like to see included in our plan and how they envision 2025.
We will also gather more feedback from the Board of Trustees as they participate in facilitated discussions in the spring and during our summer retreat. Soon after that, the College's senior leadership team and I will pull everything together and prepare an exhaustive draft of the strategic plan that will be shared across multiple constituent groups. And, by January 1, 2021, we will have an approved roadmap for our bright future. 
Marietta College has thrived for 185 years because of our ability to adapt in a world that is always transforming and adjusting. Our spirit and desire are why we will Bring Forth a Pioneer again and secure the future of this beloved institution.
Thanks!!

---
Follow the President Online
twitter.com/President_Ruud
instagram.com/presidentruud
facebook.com/MariettaCollegePresident