Marietta, The Magazine of Marietta College, is published three times a year by the Office of  Communication & Brand Management for Marietta College's alumni, donors, faculty, staff, students and friends. 
Address changes, news items or class notes should be sent to:
Communication & Brand Management
Marietta College
215 Fifth St.
Marietta OH 45750
or
---
Current Issue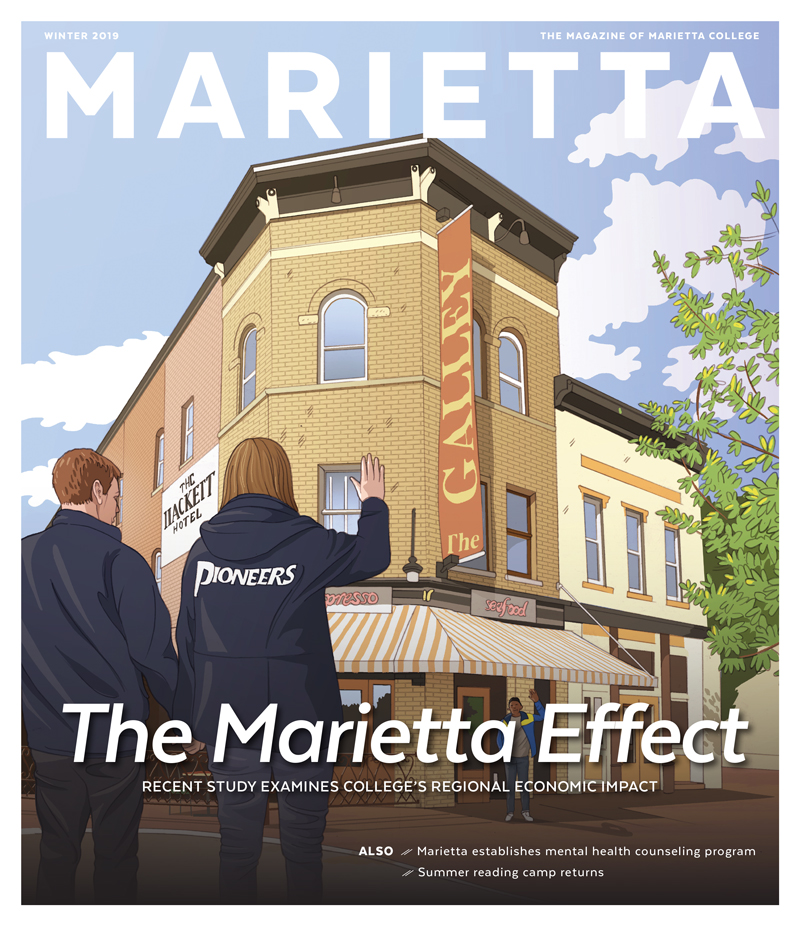 Winter 2019
Not only has Marietta College been a beacon for higher education since gaining its charter in 1835, it has grown into a major economic driver for the region.
During the 2017 fiscal year, the College had a $55 million overall economic impact on Washington County, Ohio, and Wood County, West Virginia, based on a recent study conducted by Ohio University's Voinovich School of Leadership and Public Affairs last year. Researchers found that the College's direct impact reached nearly $33.3 million from June 30, 2017, until July 1, 2017.
This edition of Marietta Magazine looks at how the College helps boost the local economy through student, employee and alumni spending, and through its day-to-day operations — from construction projects to the beautiful banners that adorn campus.
Also in this issue, readers are introduced to one of the captains of the women's lacrosse team, as well as two of men's basketball coach Jon VanderWal's biggest fans — his parents.
The winter edition is packed with a variety of stories of students, alumni and faculty. We invite you to share your Pioneer stories, class notes or letters to the editor with us by emailing marketing@marietta.edu.