Marietta, The Magazine of Marietta College, is published three times a year by the Office of  Communication & Brand Management for Marietta College's alumni, donors, faculty, staff, students and friends. 
Address changes, news items or class notes should be sent to:
Communication & Brand Management
Marietta College
215 Fifth St.
Marietta OH 45750
or
---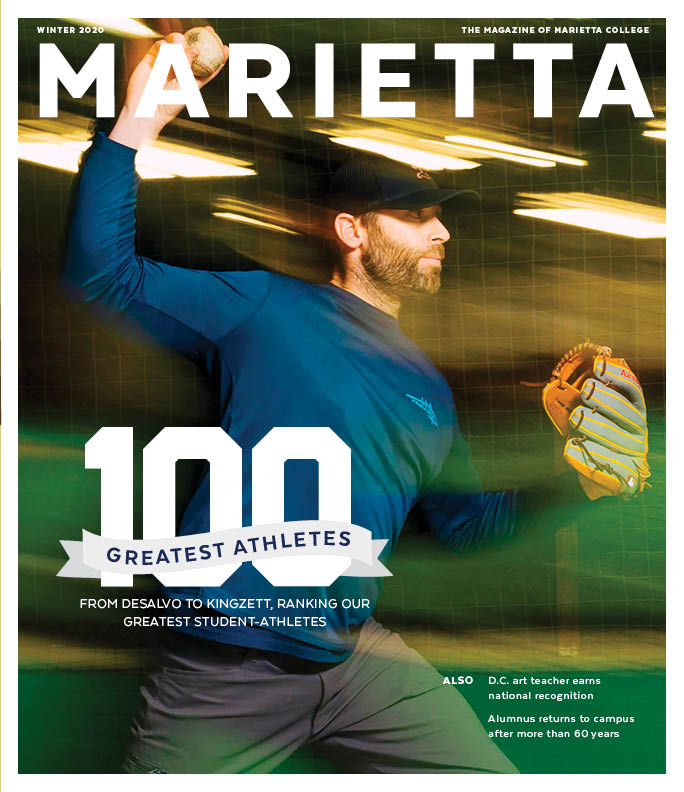 Winter 2020
Whether they donned the pinstripes for the Etta Express or they rowed for one of the College's historic Varsity 8+ boats, Marietta College's student-athletes have provided countless memorable moments for Pioneer fans. In this edition of Marietta Magazine, we rank the top 100 student-athletes of all time.
These former student-athletes achieved milestones at Marietta — including winning championships, setting OAC records and dominating their sport — and some continued their athletic achievements at the professional level.
This edition also highlights alumni such as Ashley Thomas '12, Dan May '03, MCM'09 and Claire Reintgen Smullen '08 for the impact they've made on students in their communities.
As always, the Class Notes section is where you can share your news — whether you are retiring, having impromptu reunions with classmates or switching jobs. You may submit your note or a story idea at marketing@marietta.edu.