Round 1 (Problem-Solution)
October 17, 2019
On Thursday, October 17, 2019, twenty-two ideas were presented in Round 1 of the PioBiz Competition at Marietta College. Round 1 consists of identifying a problem that is worth solving and describing the solution. The proposed solution must potentially lead to the establishment of a for-profit or non-profit business organization. On the day of competition, a stand was provided to each team where they displayed a 3 ft. by 4 ft. poster to describe the problem and their proposed solution. The team members stood next to their posters, described their products or services to the judges and the other members of the community, and answered questions.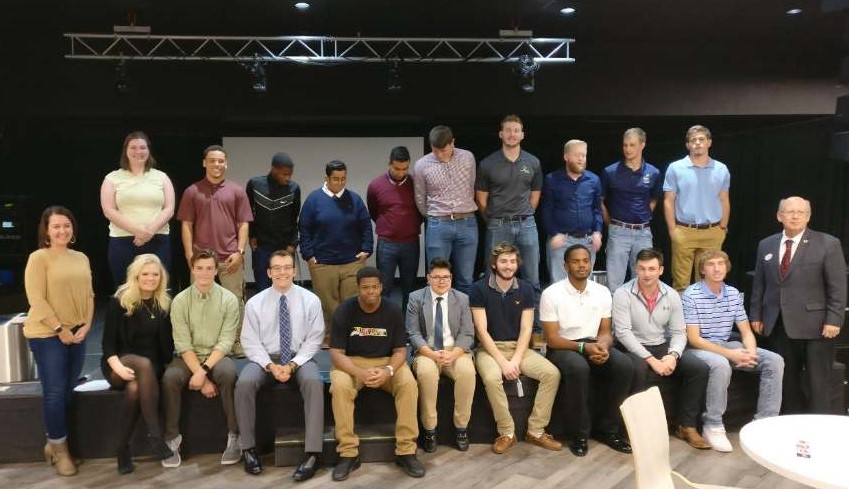 Picture Above: Winner and Judges 
Winners:
Hidden Talent by Karson Snyder ($140 award)
DAWS  Deep Analytical Well Solutions by William Bates, Alex Petrovski, Dustin Hale, & Seth Legraen ($130 award)
Valentini Apparel by Luis Chao & Abdulaziz Boyabis ($120 award)
MC WCA Campaign by Elijah Balek, Rebekah Finn, Ty'Reik Martin ($110 award)
Pio-Platters by  Bryan Washington Jr., Michael Trent, Dylan Kern ($100 award)
Poppa- Cold-One by Kelly Brumbaugh, Steven George, Cullen Zaferopolos, & Josh Kay ($90 award)
Water Harvesting by Joe Tucker ($80 award)
Marietta College Athletic Inclusion Program by Jacob Montgomery, McKenzie Dorr, Jimmy Border & Willem Kern ($70 award)
The Plywood Floor Company by Nathan Hanning ($60 award)
Home in the MOV by  Shawnte Watson ($50 award)
Judges:
Chase Chovan, Owner of Monkey's Uncle Tattoo and a finalist in 2019 Mid-Ohio Valley Entrepreneur of the Year Award, Andy Francis, Professor of Music at Marietta College, Andrea Shirey, Owner of One Nine Design and the recipient of the 2019  Mid-Ohio Valley Entrepreneur of the Year award, and David Williams,  Cofounder of Managers Resource Group, Inc.
---
Round 2 (Proof of Concept)
February 6, 2020
On Thursday, February 6, 2020, eight business ideas were presented in Round 2 of the PioBiz Competition entitled "Proof of Concept". During competition, students used up to 5 slides and took up to 5 minutes to prove that their business ideas were feasible. The top 5 business ideas were then determined by adding up the judges' scores to the number of votes that each idea had received from the members of the audience.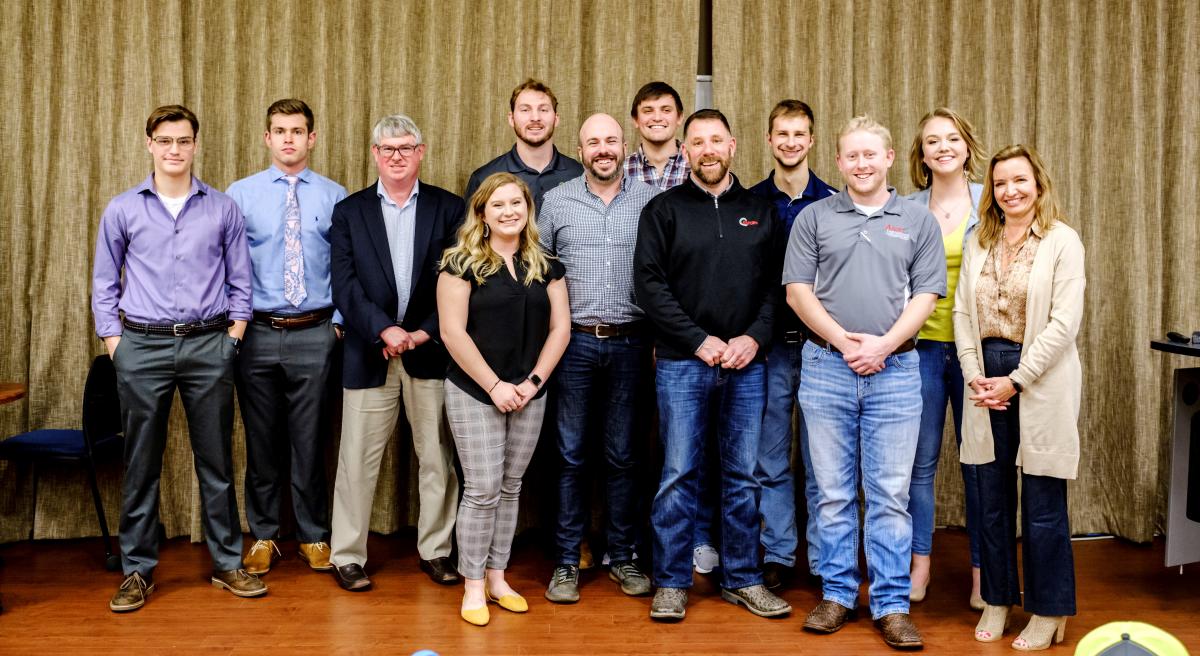 Pictured Above: Winners and Judges
Winners:
First Place: Leah Seamn (Communication and Studio Art, Junior)  "Artsy Apparel", $230
Tied for the Second Place: William Bates (Petroleum Engineering, Senior), Dustin Hale (Petroleum Engineer), Alex Petrovski (Petroleum Engineer), and Seth Legraen (Petroleum Engineer), " Deep Analytical Well Services (DAWS)", $200
Tied for the Second Place: Chloe Burianek (Strategic Communications and Graphic Design, Freshman), "Rolling Scotty Photo Services", $200.
Fourth Place: Karson Snyder (Finance, Junior), "Hidden Talents", $170
Fifth Place:  Nathan Hanning (Management, Junior), "Plywood Floor Company", $150
Judges:
Michael Bond, Founder of Spoken, Wendy Myers, Founder and Owner, Mitcham Group Apartments and Superior Rent-to-Own, Chris Pfeiffer, Founder and President, Sourdough LLC., and Tres Ross, Executive Director, The Ross Foundation
---
PioBiz Round 3 (Business Plan)
Round 3 Scheduled for Thursday, April 16, 2020 has been postponed until fall 2020.