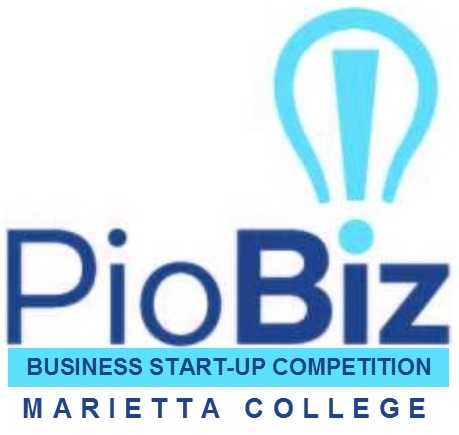 PioBiz 2021-22 
December 2, 2021  4:00 p.m. - 6:00 p.m. In-Person Competition Round 3
On Thursday, December 2, 2021, five Marietta College students pitched three business ideas in Round 3 of the PioBiz Competition: Business Plan.  PioBiz is a 3-Round Business Start-Up Competition open to all Marietta College students and their partners.  Round 3 of the PioBiz Competition consists of submitting and presenting a fully developed business plan. The competitors were given up to 20 minutes to present their business plans, followed by a 15-minute Q&A with four judges. Upon the conclusion of the last presentation each member of the audience voted electronically for their favorite business.
The key components of the presentations are listed below.
A clear description of the problem that the proposed product or service will solve and the reason this problem is worth solving. Who is this product or service for?
What qualifies the applicant to produce the proposed product or service? What are the resources/expertise that the applicant already has, and what are the resources that the applicant needs? 
The nature of similar products or services that are currently available on the market, and the reasons the applicant's proposed product or service is better. 
How do the applicants know that their business idea is feasible?
How did the applicants arrive at their financial plan? Specifically, where did the cost and revenue numbers come from? When do they expect to make a profit or cover their total cost? 
A description of their next steps: What The table below includes information on the award winners and their services. will happen if they don't win the PioBiz award? What will they do if they win the award? 
The judges were instructed to allocate up to (but not necessarily equal to) $10,000 among the top 3 business ideas. Awards exceeding $1000 will be distributed over time depending on the progress the winners make implementing their business plan. 
The competition judges were:
Bret Allphin '01, Director of Community Development, Sixmo Architects + Engineers     
Michael Fleak, Vice President Business Development, Williamstown Bank 
Wendy Keenan Myers '92 (Head Judge), Founder and Owner of Mitcham Group Apartments and Superior Rent-to-Own.   
Mike Williams, President/Owner at iTech/Advance Alarm Tech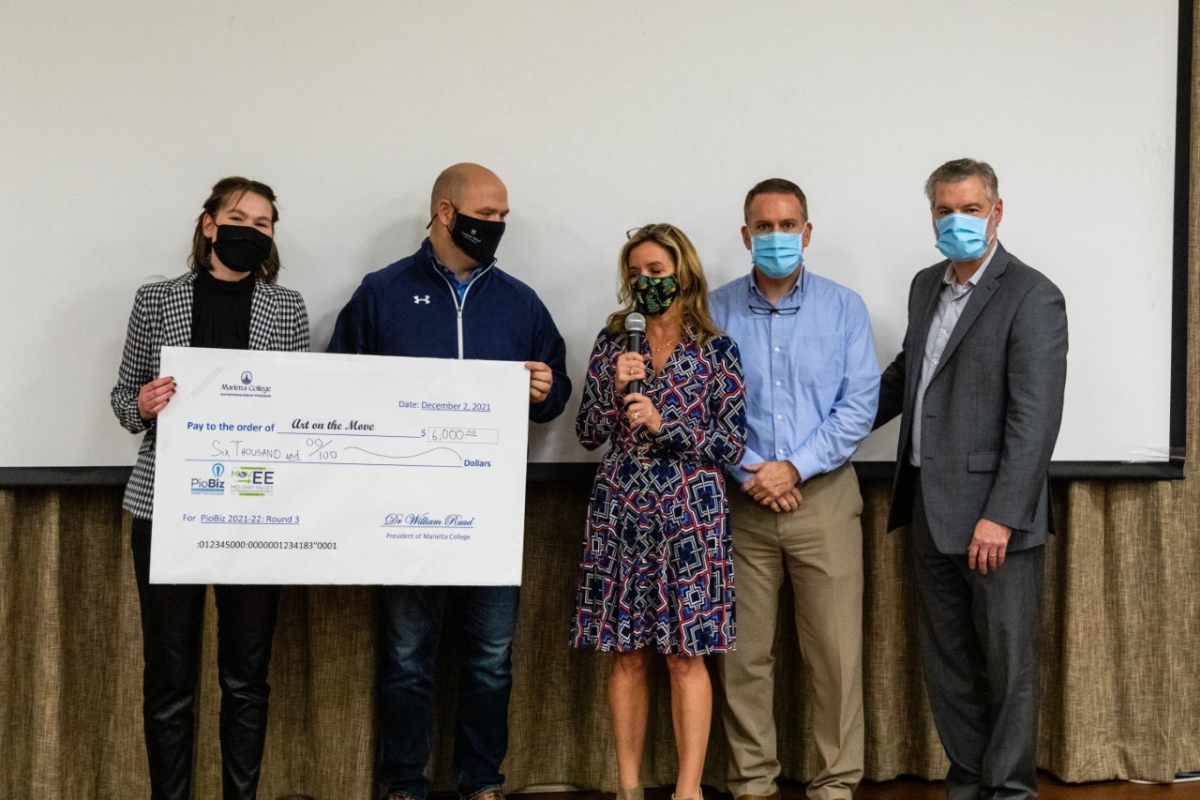 Pictured Above: First Place Winner of $6.000. Allison Barnes '22 Major: Entrepreneurship for Art on the Move. Judges: Bret Allphin, Wendy Myers, Michael Fleak, and Mike Williams.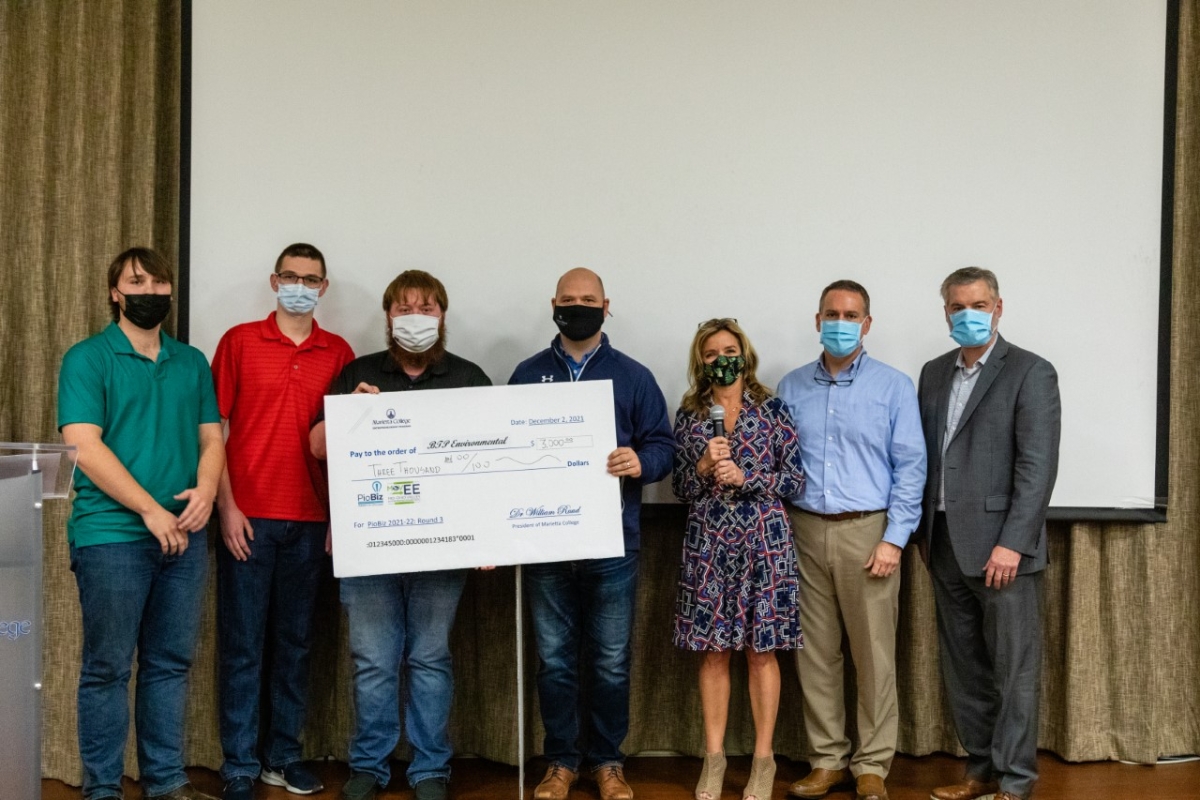 Pictured Above: Second Place Winners of $3.000. Caleb Bradford '22, Major: Petroleum Engineering,  Jacob Parsil '22 Major: Petroleum Engineering & Orv Taylor '22 Major: Finance/Petroleum Engineering for BTP Environmental. Judges: Bret Allphin, Wendy Myers, Michael Fleak, and Mike Williams.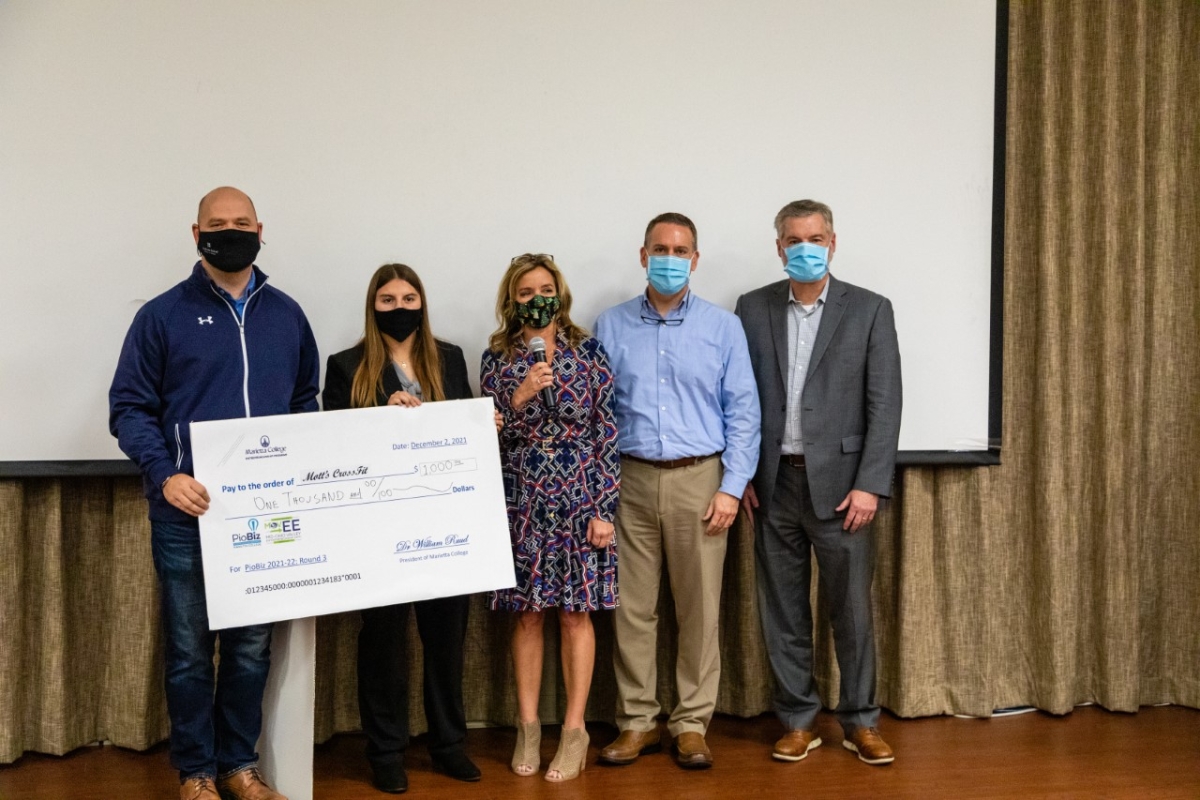 Pictured Above: Third Place Winner of $1,000. Haylee Mott '23 Major: Entrepreneurship/Marketing for Mott's CrossFit. Judges: Bret Allphin, Wendy Myers, Michael Fleak, and Mike Williams.
March 3, 2022  4:00 p.m. – 6:00 p.m. PioBiz Competition: Round 1 
On Thursday, March 3,2022, eight business ideas were presented in Round 1 of the PioBiz Competition in the Gathering Place on the Marietta College campus.
The PioBiz Competition is supported in-part by the Riverview Credit Union Mid-Ohio Valley Entrepreneurship Expo. Round 1 of the PioBiz Competition consists of identifying a problem that is worth solving and describing a new product or service that solves the problem. The proposed solution must potentially lead to the establishment of a for-profit or non-profit organization.  This year's competition was delivered in poster format. 
The key components of the posters were as follows.
Problem: A clear description of the problem
Customer Segment:  Who has this problem? Define the characteristics of your typical customer. 
Why is the problem worth solving?
Existing Alternatives:  How do your target customers currently solve the problem? Describe the nature of the competing products or services.  
Solution: A clear description of your product or service and how it solves the problem.
Unique Value Proposition: What is the advantage of your product or service over the alternatives? Why should people buy your product?
The winners of the competition were jointly determined by four judges and over forty-five members of the community.  Each judge assigned a score between 0 to 100 points to each project.  Each member of the community received 100 PioBiz dollars to invest in their favorite projects. The projects with the highest total points won the competition.
The competition judges were as follows:
John Bokat (MC Class of 2007): President, Compliance Services
Nikki Butler (MC Class of 1999) Artist and Founder, Nikki Butler Design
Alex Hogan (MC Class of 2018): Sales Manager, Malta Dynamics
Faith Knutson: Director, Social Innovation & Entrepreneurship at Ohio University Voinovich School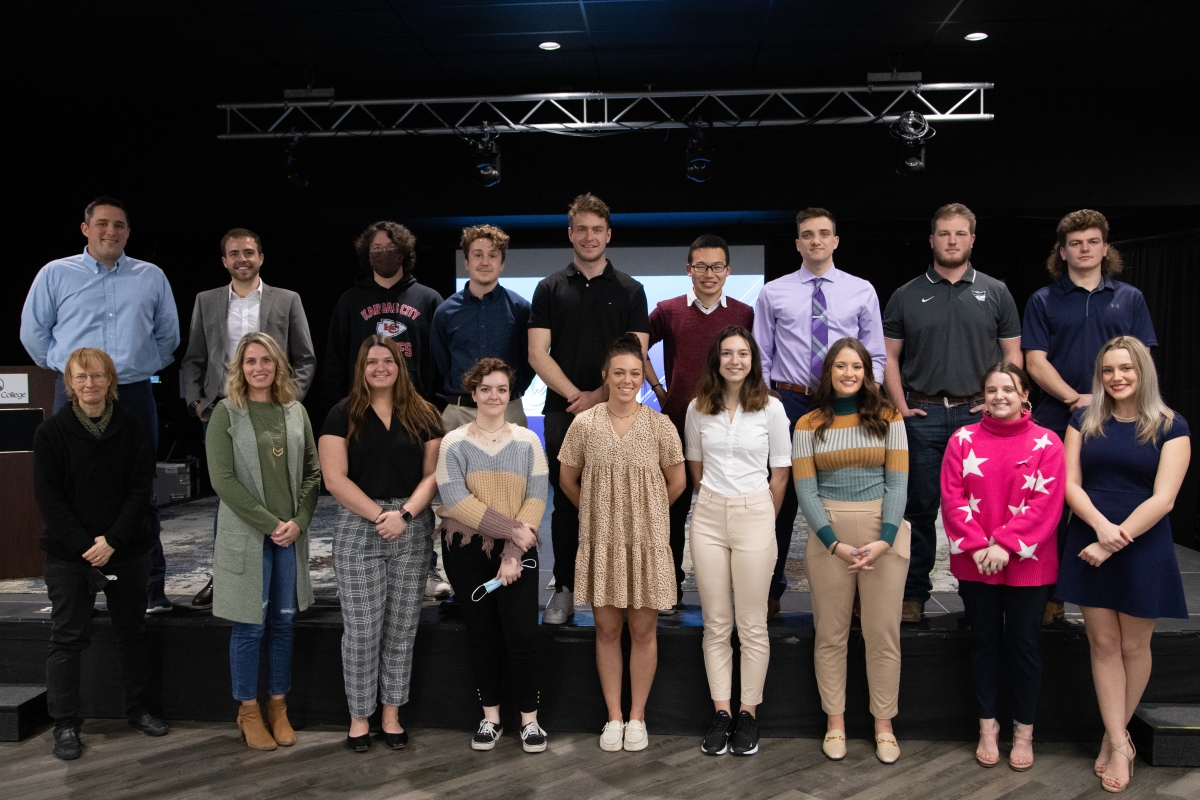 Winners and Judges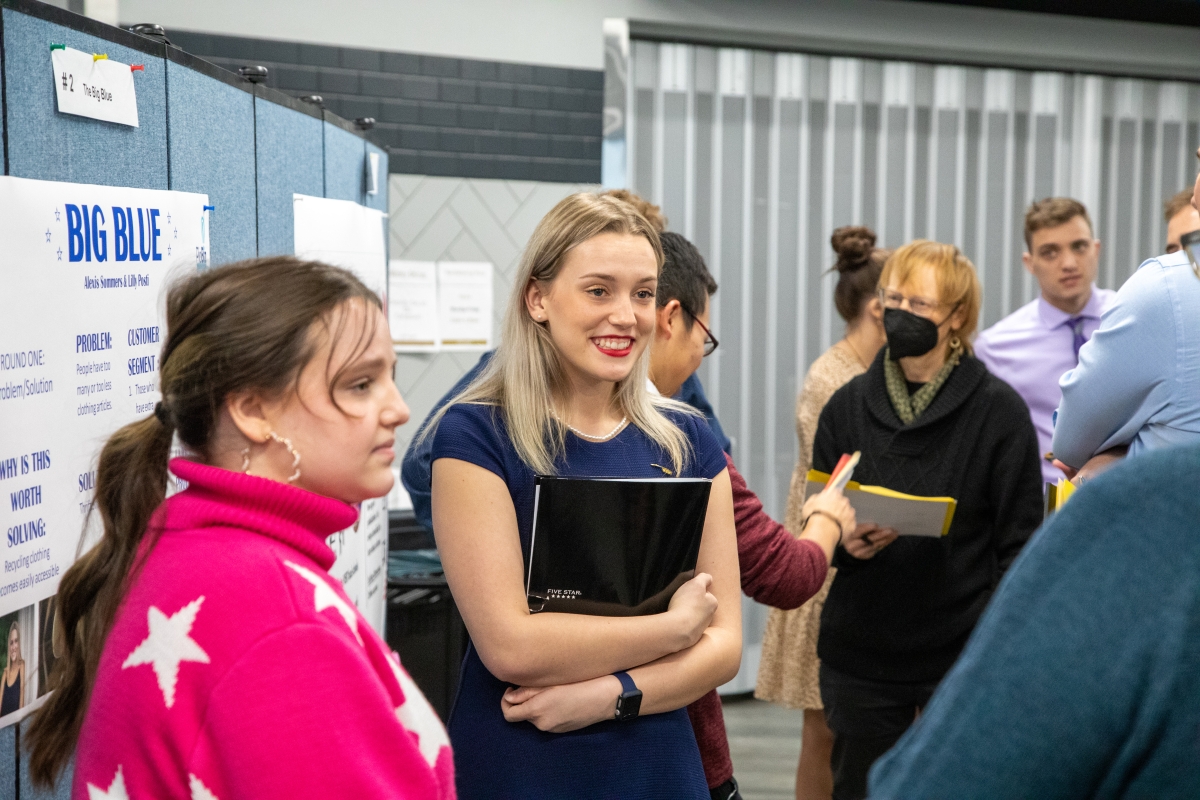 First Place winners Lilly Posti and Alexis Sommers for The Big Blue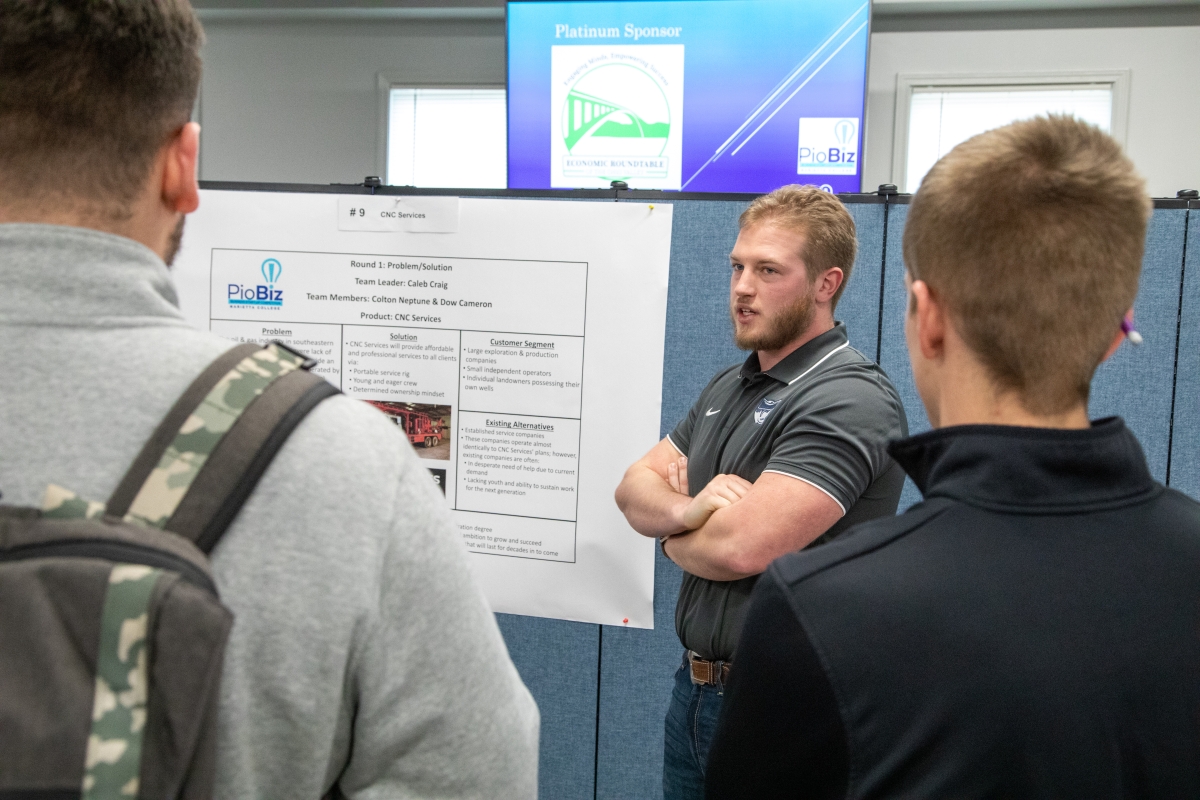 Second Place winners Caleb Craig, Colton Neptune and Dow Cameron  for CNC Services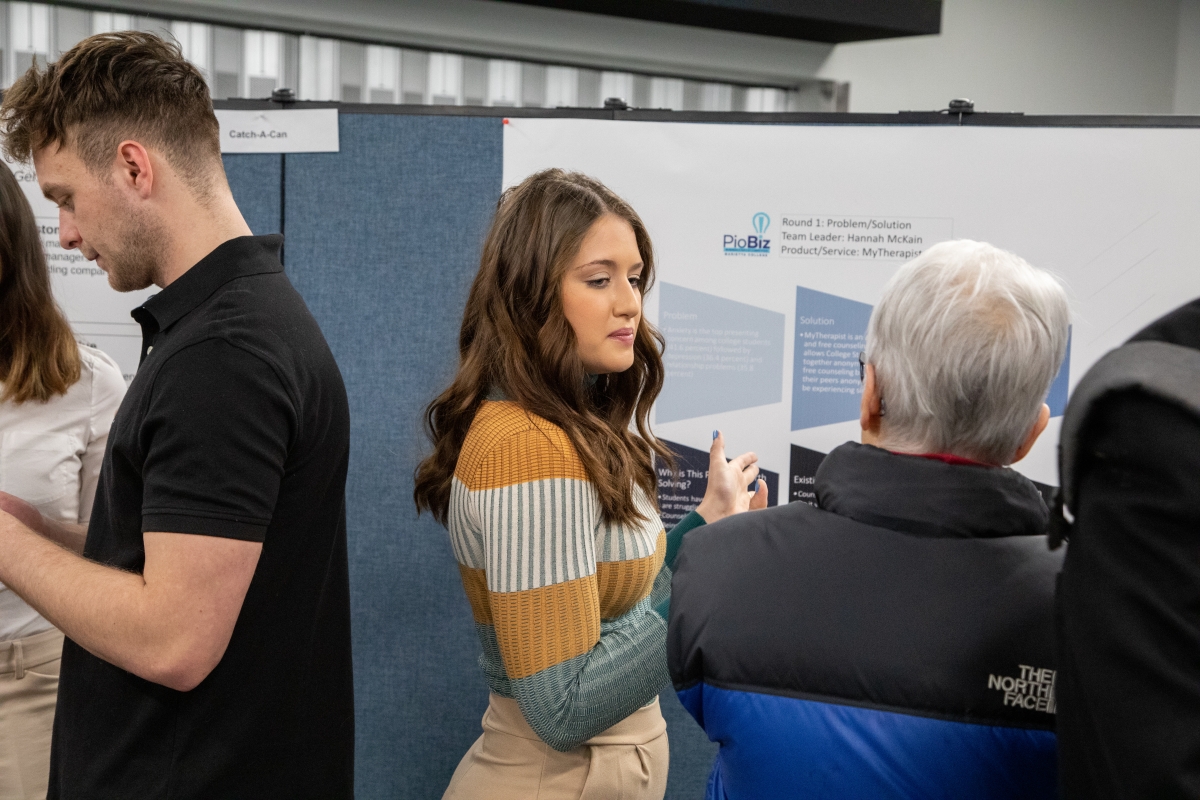 Third Place winner Hannah McKain for MyTherapist
Fourth Place winners Noah Coleman, Bastion Gehrer, Haille Rogers, and Karsen Dye for Catch-A-Can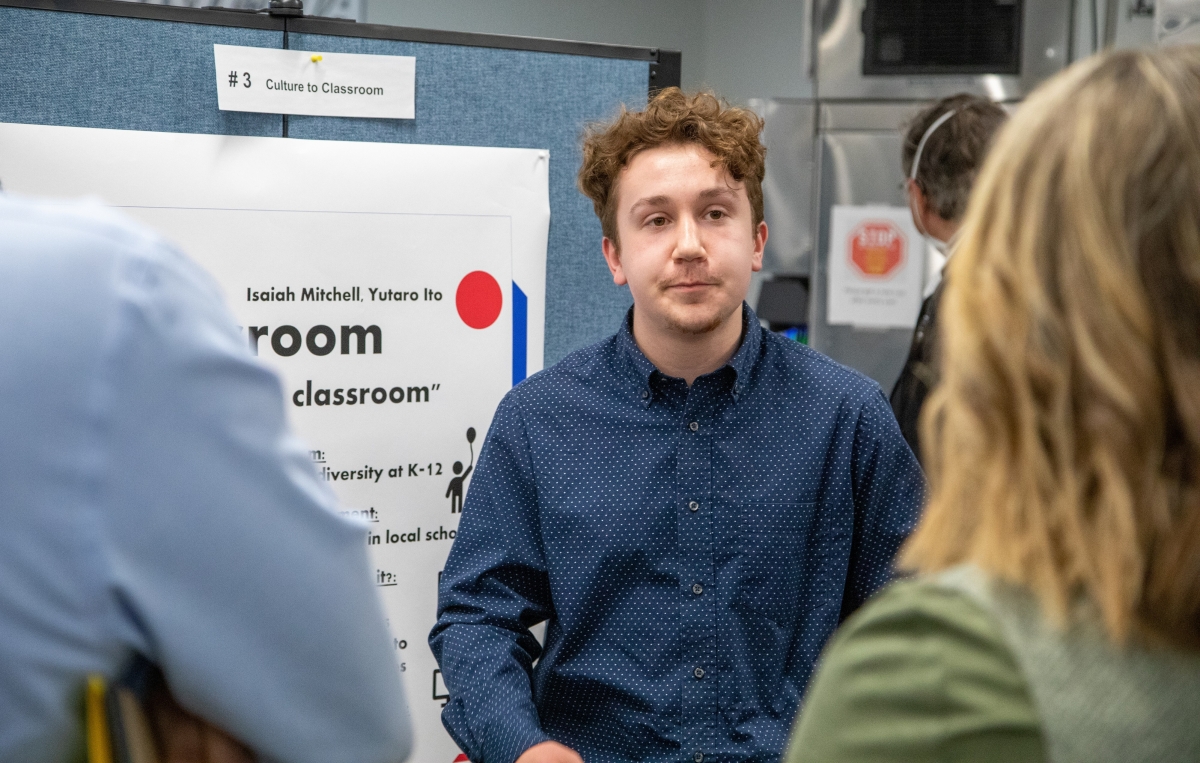 Fifth place winners Yutaro Ito and Isaiah Mitchell for Culture to Classroom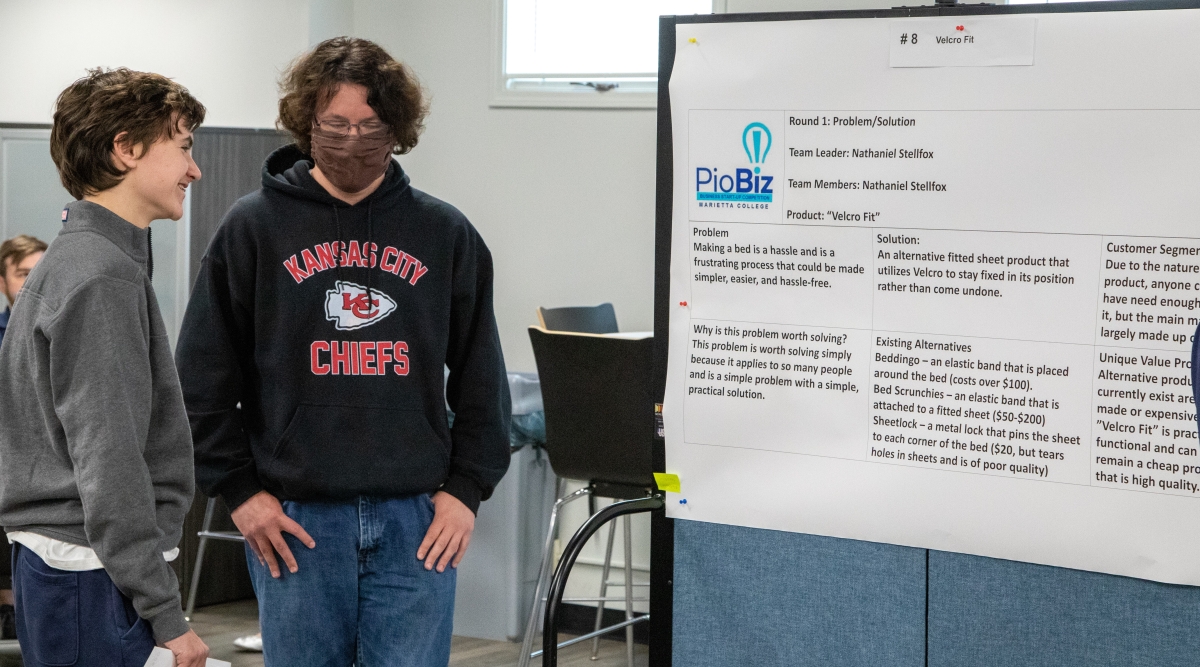 Sixth place winner Nathaniel Stellfox for Velcro Fit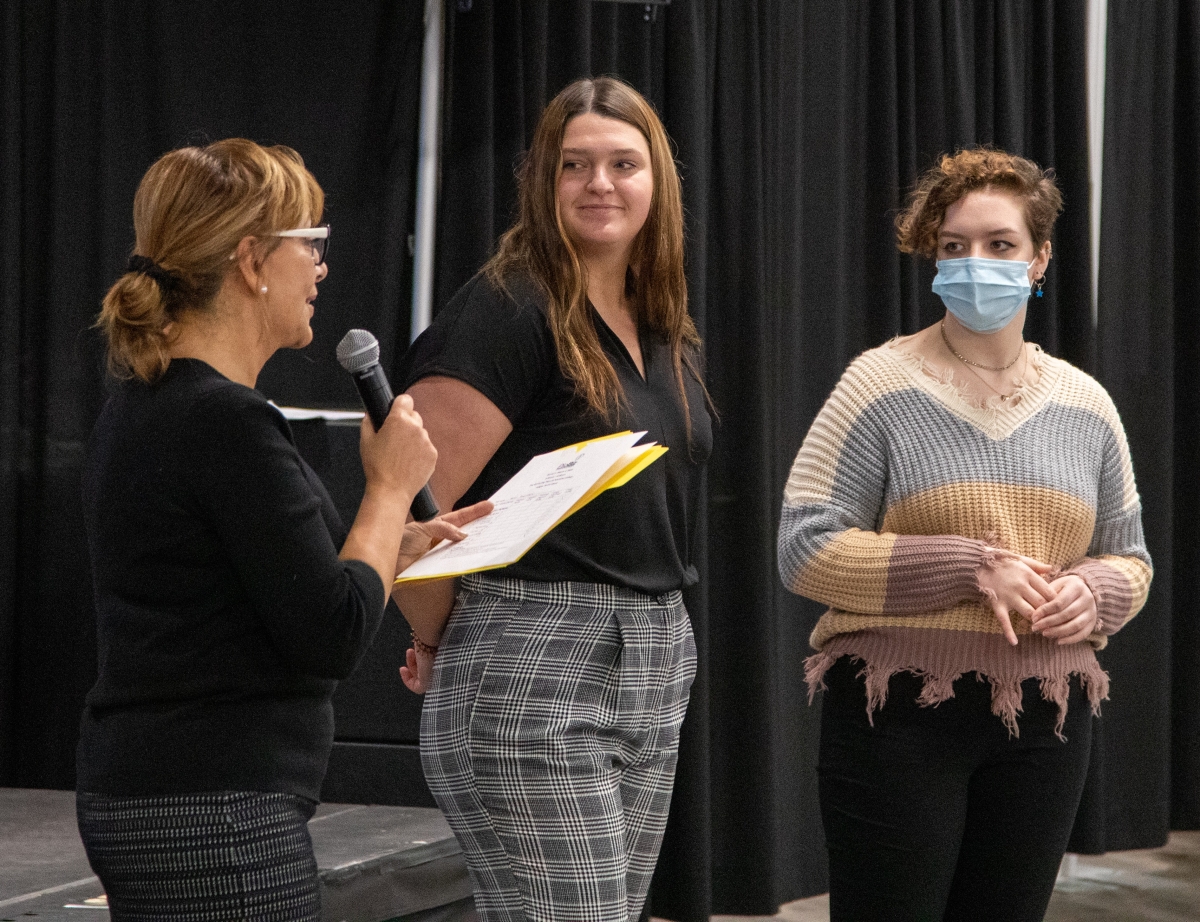 Entrepreneurship Program Director, Dr. Jacqueline Khorassani announces the winners. Pictured above Eight place winners Lauren Giles and Alyssa for Car Pals.
2021-22 PioBiz Round 1 Winners: