PioPitch: Empowering Citizens to Live in the Communities of Their Choice 
March 2, 2023
In this session of PioPitch, Marietta College students, faculty, alumni, and other members of the community provided their input on how to find new employees for agencies that help the aging, disabled, or chronically ill population to live a fulfilling life in their familiar environments.
Meet the Presenters: Barry Backus, Shelby Rhodes and Liz Ford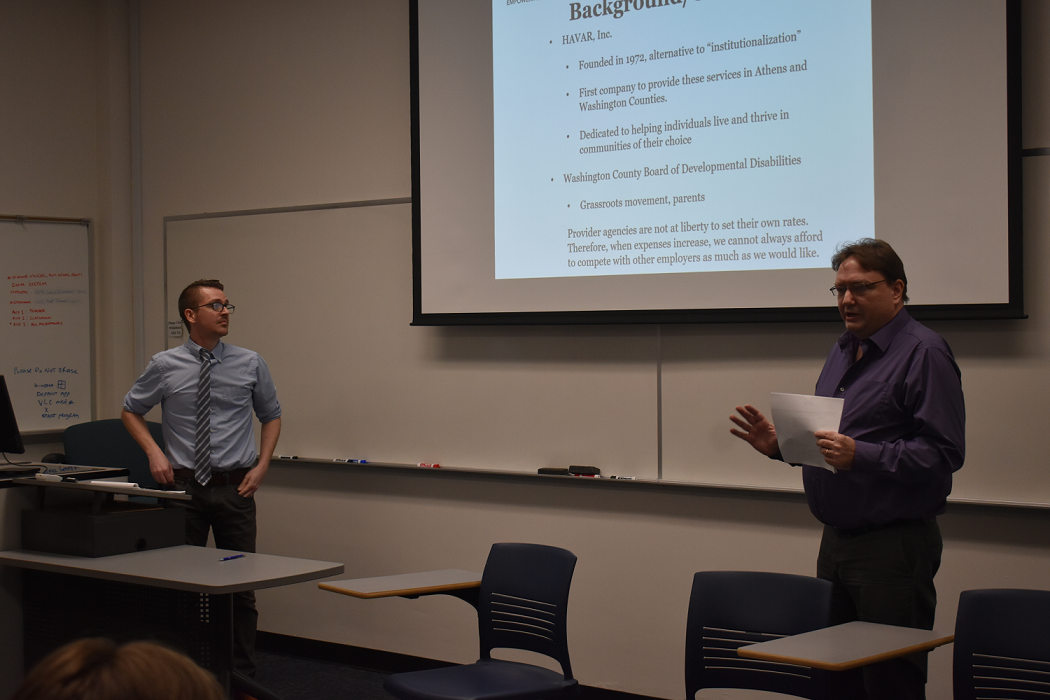 Barry Backus (above left) 
Shelby Rhodes (above right) Executive Director, HAVAR, Inc.
Barry Backus has more than 15 years experience working with individuals living with developmental disabilities in Athens and Washington County. Prior to becoming Community Outreach Coordinator for the Washington County Board of Developmental Disabilities he was a case manager for individuals served by the WCBDD. A graduate of Ohio University and a Belpre High School Alumni, he has spent most of his life living in Washington County and is passionate about his community's continued receptiveness to inclusive and integrative practices. 
Shelby Rhodes began his career in the field of disabilities thirty-seven years ago. Initially, he served as a personal aide for college students with physical disabilities and also as a test proctor for college students with learning disabilities. He then worked in sheltered workshops in various counties in Ohio, has provided job coaching and service coordination for persons with disabilities, and was the Waiver Services Manager in Washington County for several years. He has participated in numerous committees seeking to improve the lives of persons with disabilities. Currently, he serves as Executive Director for HAVAR, Inc..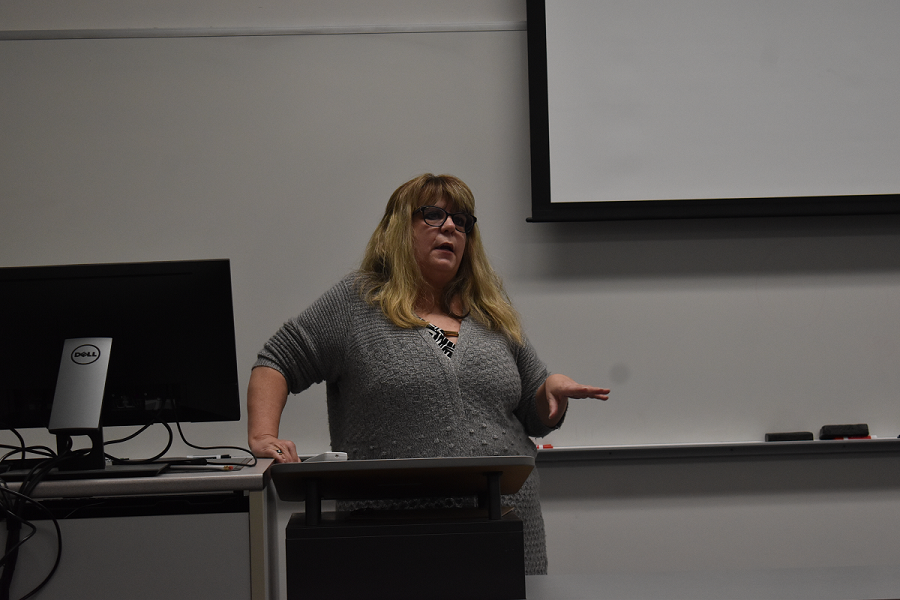 Liz Ford (above) Recruitment and Engagement Specialist, Public Consulting Group
As the Recruitment and Engagement Specialist with PCG, Liz Ford's task is to improve the delivery of Home and Community-based Waiver Services and increase the number of providers in Ohio. Ford has nearly 25 years experience advocating and supporting people with cognitive, intellectual, and developmental disabilities starting with direct care and continuing through Executive Director of The ARC of West Virginia. She held the role of Stigma Reduction Coordinator at a behavioral health center, advocating for people with mental health, developmental disability, and substance use challenges. 
PioPitch: Homecoming Edition
Saturday, October 15, 2022
Entrepreneurship Students Need Your Feedback
In this session of PioPitch, entrepreneurship students described their services and sought feedback on how to improve how they produce, promote, and deliver these services.  
Meet the Presenters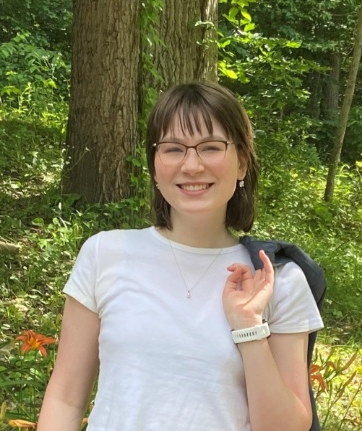 Allison Barnes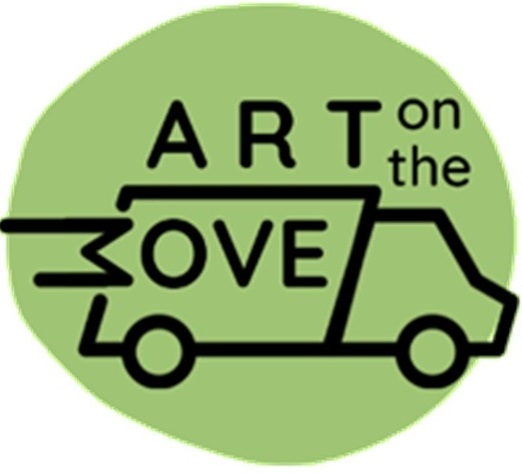 Allison Barnes is a student, entrepreneur, and artist.  At Marietta College, Barnes studies entrepreneurship and leadership and also serves as a member of the National Society of Leadership and Success and Entrepreneurship Advisory Board. In December 2021, Barnes won the top prize in Round 3 (Business Plan) of the PioBiz Competition.  Barnes' business, Art on the Move, is an accessible space for non-artists, hobbyists, and beginners to incubate their creativity. As a lifelong artist, Barnes recognizes the significance of having access to art, especially through hard times, and wanted to give others the opportunity to create art and build new skills.  Art on the Move opened for business in June 2022.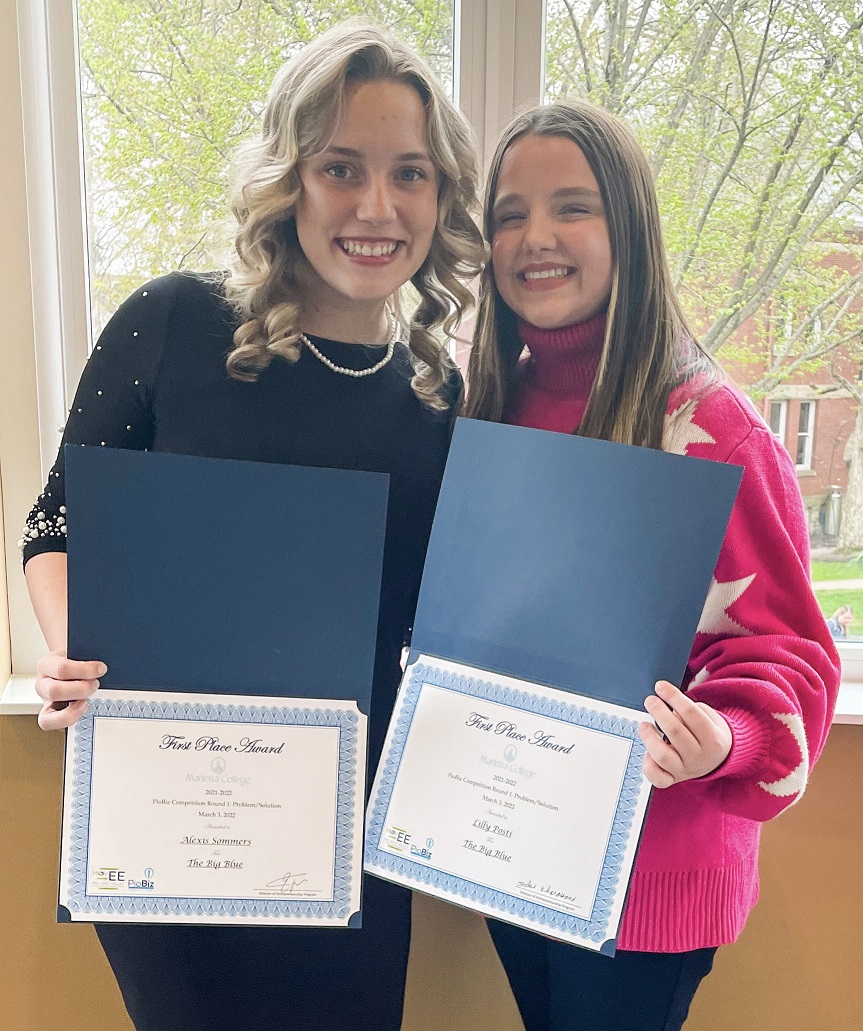 Alexis Sommers and Lilly Posti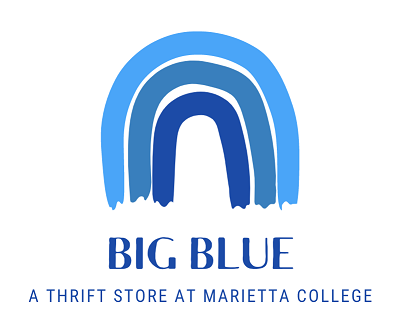 In Fall 2021, Alexis and Lilly were assigned to work on a pitch project in their first entrepreneurship class, the Entrepreneurial Mindset. After Lilly came across a thrift shop on Otterbein University's campus, she suggested that they use the same concept as their pitch project in class. The idea was to open a non-profit thrift shop named the "Big Blue" on the Marietta College campus. Initially, the mission of Big Blue was to create an alternative shopping opportunity for Marietta College students that was trendy and affordable while resulting in less waste and less clutter in small dorm closets. After their final class presentation, Lilly and Alexis pitched the same idea in Round One of the PioBiz Competition and claimed first place.  Just a few weeks later, Big Blue hosted its first pop-up thrifting event. This successful event encouraged the duo to continue working on this project throughout the summer months and look for a permanent location for their business.  
March 31, 2022: Creating Community
4-5 p.m.

Tonya Davis and Jared Wittekind from BB2C Makerspace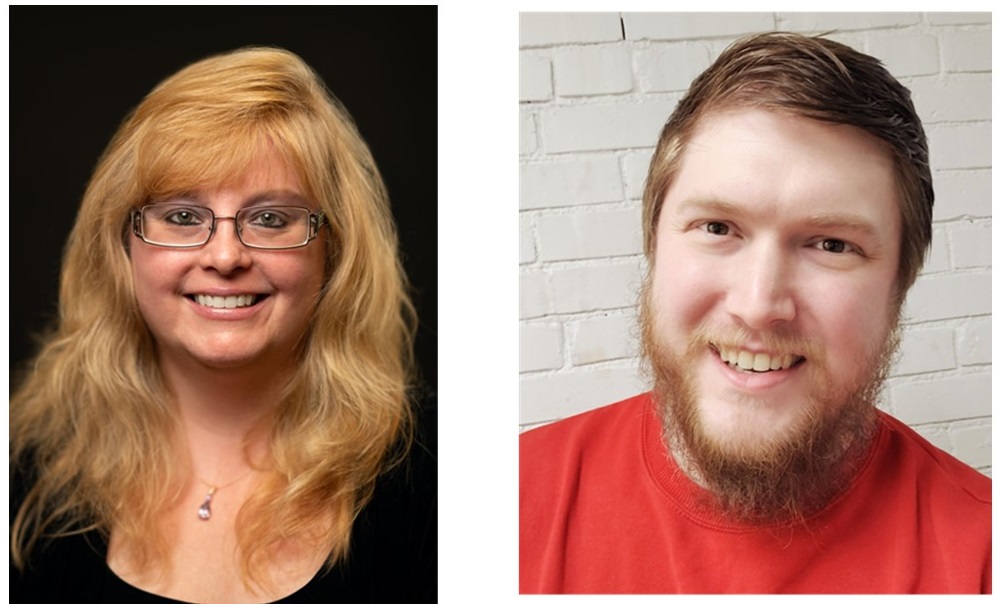 Creating Community:  Using social entrepreneurship to build skills & create jobs for vulnerable populations  
In this session of PioPitch, Representatives Dr. Nicole Johnson from ReFrame Community, LLC and Tonya Davis and Jared Wittekind from BB2C Makerspace described their products and services. Seeking feedback on how to best engage their stakeholders, including their customers, clients, and communities.
January 23, 2020: Social Entrepreneurs
4-5 p.m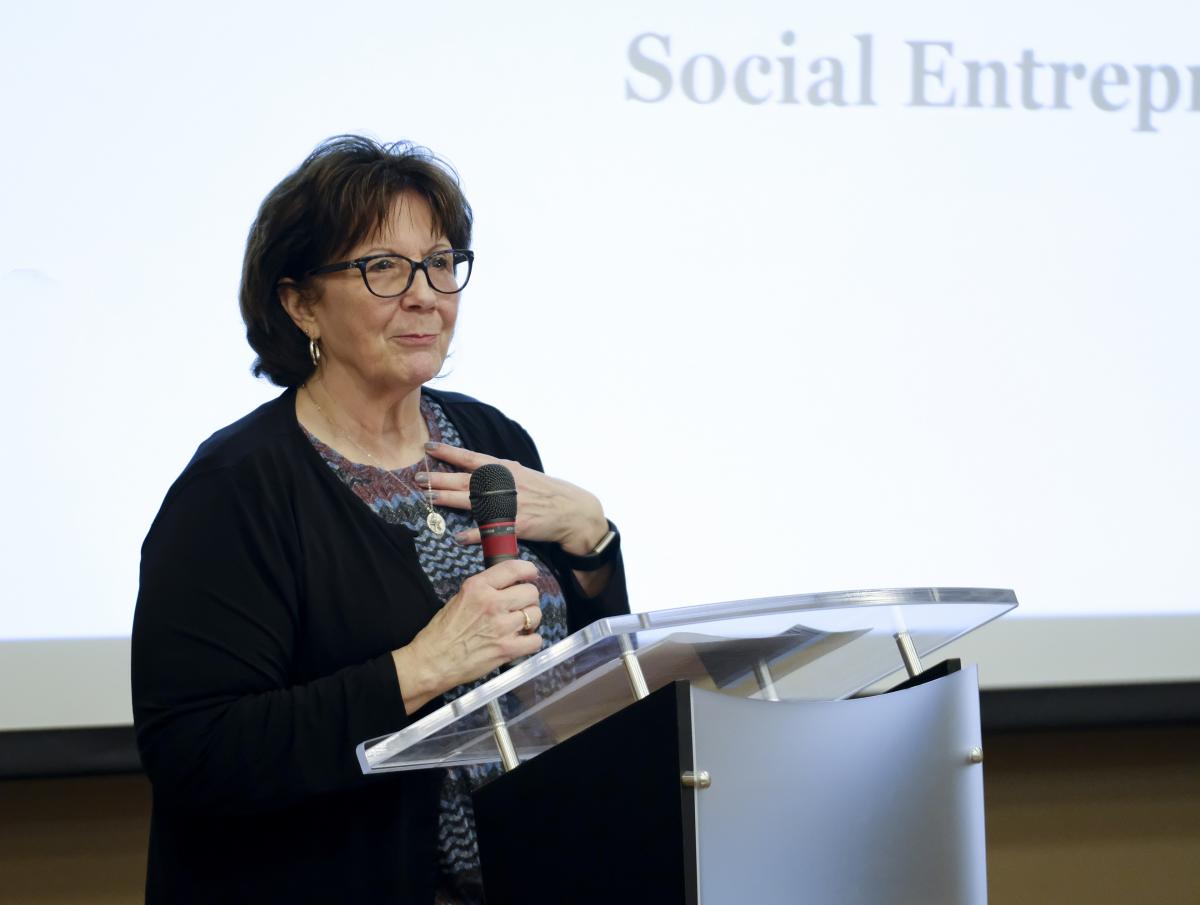 Bea Corra and Charlotte Owens are Co-Presidents of Mid-Ohio Valley Multicultural Festival. The MOV Multi-Cultural Festival is a family-friendly outdoor event at Parkersburg City Park that is free to the public and celebrates diversity with a smorgasbord of artists and performers. In 1995, Bea partnered with Eugene Donaway, to start the Mid-Ohio Valley Multi-Cultural Festival organization. The first Festival was held in June 1996. In 2011, Bea, with the MOVMCF, was awarded the Celtic Spirit Award by the Ancient Order of Hibernians.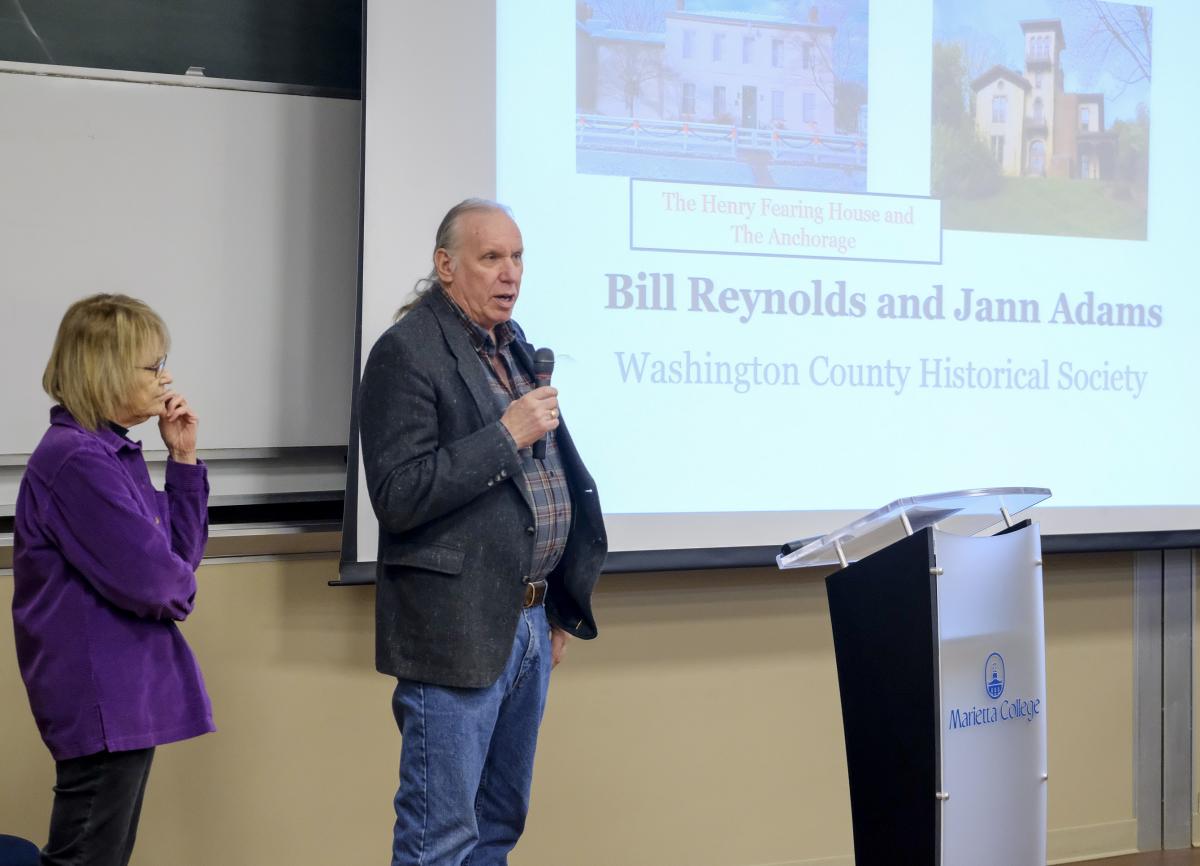 William Reynolds serves as President of the Washington County Historical Society. He also serves as Chairman of the Sons and Daughters of Pioneer Rivermen Museum Committee and a Board member of the Friends of the  Joseph Barker House. Most recently, he has worked as a research assistant for David McCullough on the "Pioneers". Jann Adams, holds a MA degree from Marietta College. Following a career as a social studies teacher with Marietta City Schools, she pursued her interest in the local history of Marietta. The purpose of the WCHS is to promote an understanding of the history of Washington County, Ohio by collecting, preserving, and making available to the public, that history, and its relationship to the region beyond Washington County.
November 21, 2019: Foreign-Born entrepreneurs
4-5 p.m.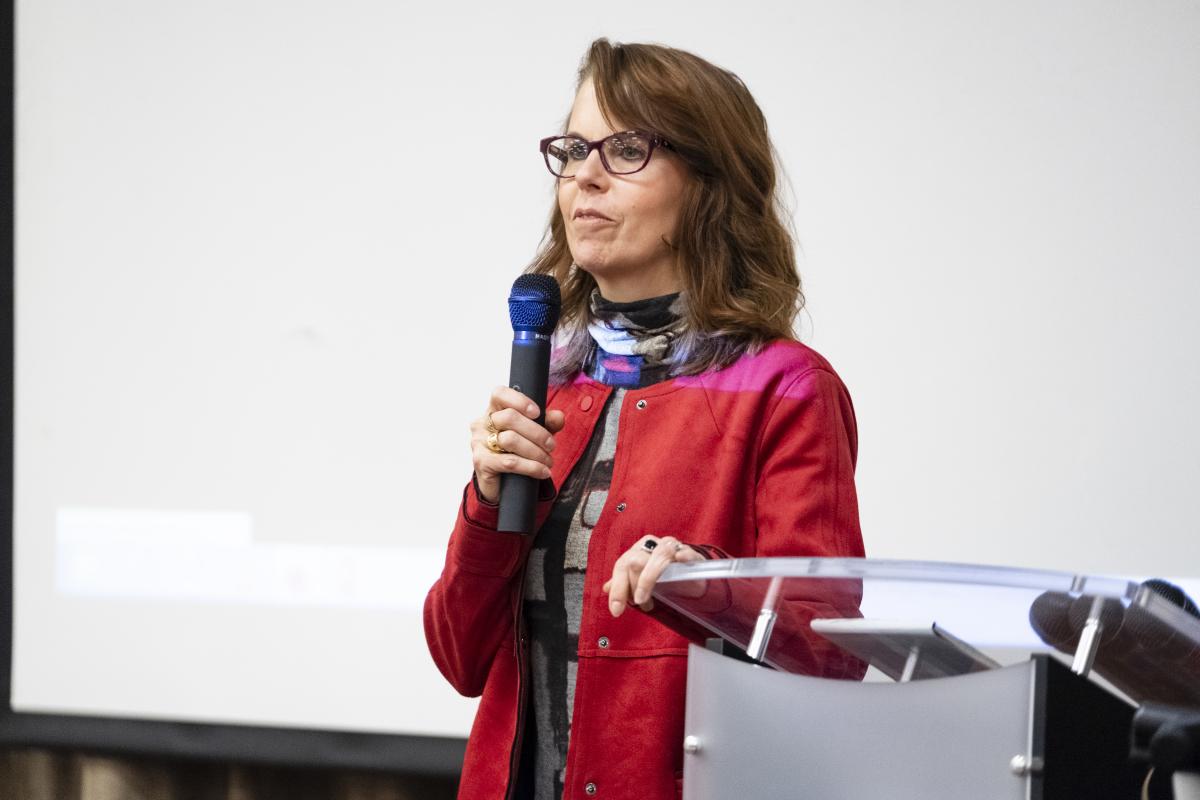 Hilles is the Deputy Director at Washington County Board of Behavioral Health. She has served in this position for over a year.  Before that, Hilles served as the Director of Career Center at Marietta College for over 11 years. She holds a B.A. in Cultural Area Studies from The College of Wooster and a M.A. in Counseling & Human Services from John Carroll University. Master Chef Emad Almasri is renowned for his eclectic and artistic culinary skills. Before opening The Buckley House Restaurant in 2008, Emad supervised culinary-trained chefs at Sfuzzi, a contemporary bistro in Cleveland. He also operated his own restaurant called The Middle Feast in North Naples, Florida. Emad's cuisine stretches from Northern Italy to Lebanon to Morocco, but his menu ingredients are mostly local. Emad combines the highest quality ingredients with his creative artistry and eclectic background to produce exquisitely crafted dishes with a cultural flair.

Moh Basir was born in Cepu and studied at Bali Tourism University.  He is a former hibachi chef turned businessman, partnering with Bambang Sutanto to provide authentic Asian food in several states. Bambang Sutanto was born in Madiun and studied in Malang, Indonesia.  He has traveled extensively to learn and master his expertise on food from different regions. Bambang is a veteran in restaurant business owning several restaurants in Ohio, West Virginia, Virginia, and North Carolina.
october 24, 2019: resilience and Recovery
4-5 p.m.
Patrice M. Pooler: Executive Director, Mid-Ohio Valley Fellowship Home

Patrice is the Executive Director of the Mid-Ohio Valley Fellowship Home, Inc. She oversees the operations of five residential facilities offering long-term recovery programs for men and women with/without their dependent children. Originally, from New England, Patrice has worked in the substance use disorder field since 1995. Patrice holds a master's degree from West Virginia University.  As a Certified Addictions Counselor, she has worked in Residential and Outpatient settings with both Adolescents & Adults. She is currently the Immediate Past-President of the West Virginia Association of Alcoholism and Drug Abuse Counselors, a statewide association whose focus is promoting excellence in care for the addictions field. Patrice is passionate about helping people loosen the grips of addiction within their lives.

Shay is the founder of From Prison to Purpose. Shay describes herself as a previous prisoner to addiction, depression, anxiety, self-hate, and eventually a prisoner in an actual prison. Shay has found her purpose today. She is in long-term recovery.  her passion is to help others overcome addiction, see their worth, bring families back together, spread hope, and be the voice for the ones who aren't usually heard. Rich travels the United States speaking to people about the vicious cycle of drug addiction and alcoholism. He speaks to men and women who suffer from substance use disorder. He also delivers his message to schools, hospitals, treatment centers, and detox centers. Rich also conducts seminars for businesses and the law enforcement. Rich says that he was strung out for 21 years.  He was stuck in constant chaos, abuse, violence, and crime. On April 28, 2014 his life changed.  He finally got sober. Since that time, Rich has made it his mission to help as many people as possible. Rich and Shay plan to make From Prison To Purpose a non-profit that changes lives across the United States.
March 7, 2019: Health and Wellness
4-5 p.m.
Brent DeWees and Barbara Adkins: Rest Studio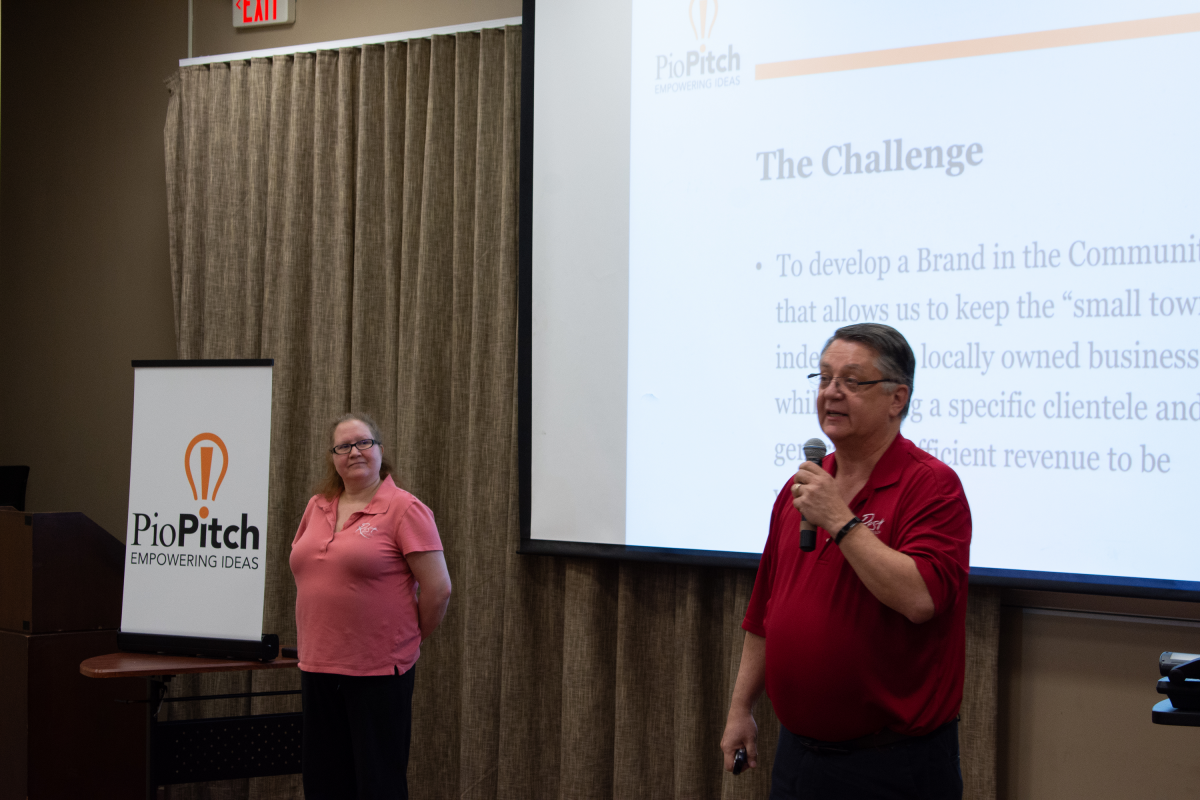 Founded in 2015, Rest Studio began as a chiropractic office with holistic leanings. Two years ago, following the departure of the chiropractor, it became a massage and spa establishment. Rest Studios is owned by Brent DeWees and managed by Barbara Adkins. Brent serves as the coordinator of Massage Therapy at Washington State Community College and has been a Licensed Massage Therapist since 2000. Brent has also been a Minster for 30+ years and holds bachelor's and master's degrees. Barb is a graduate of WSCC and has been associated with Rest for nearly 4 years. She is the full-time manager and oversees all of Rest day to day business activities.
Amanda Brush: THRIVEfitt, LLC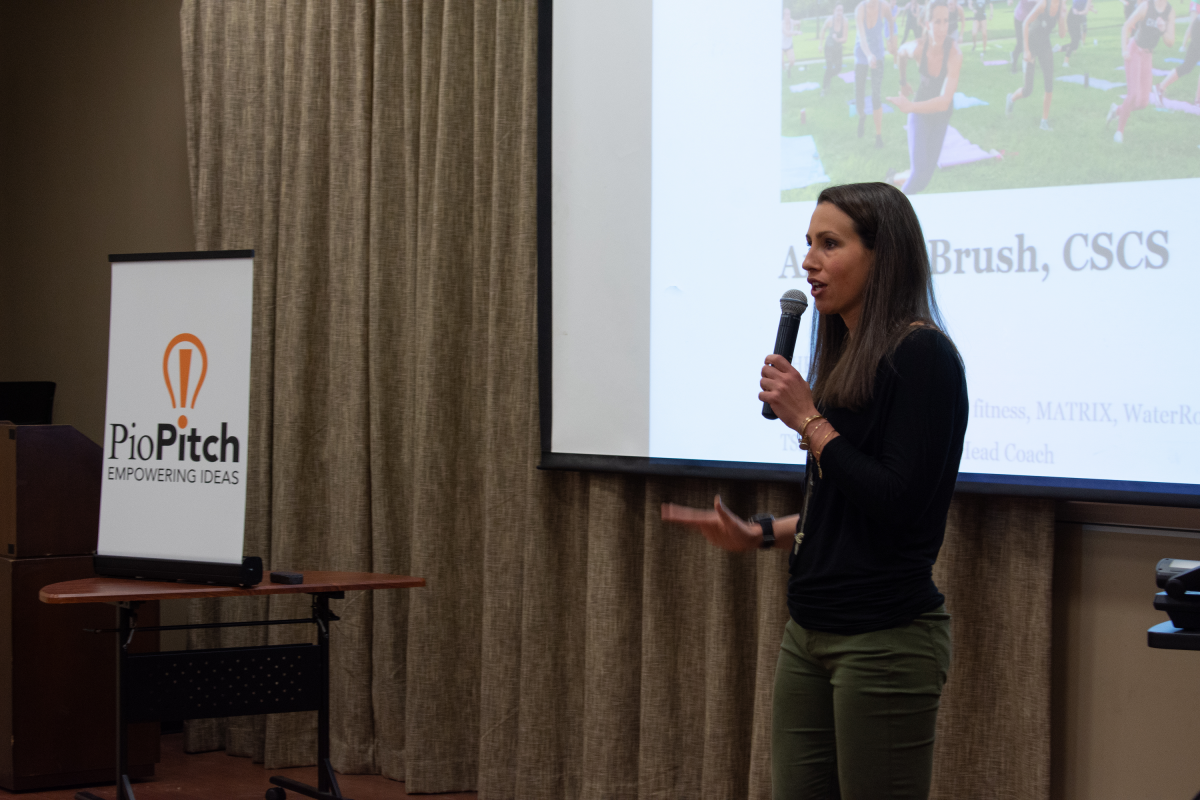 Amanda is a former collegiate water polo player with a B.S. in Exercise Science, specializes in female athlete strength and condition, personal training, endurance sport coaching, and holistic health coaching.  She is a Master Instructor for START® Fitness, a unique tactical fitness program that has been used to train both the military and civilian populations, for WATER ROWER®, and for MATRIX® Ride. Her mission is to coach people to thrive, in all areas of health, that they may not only be physically fit, but also have complete wellness, leading strong lives with strong bodies.
February 7, 2019: Creativity and Innovation
4-5 p.m.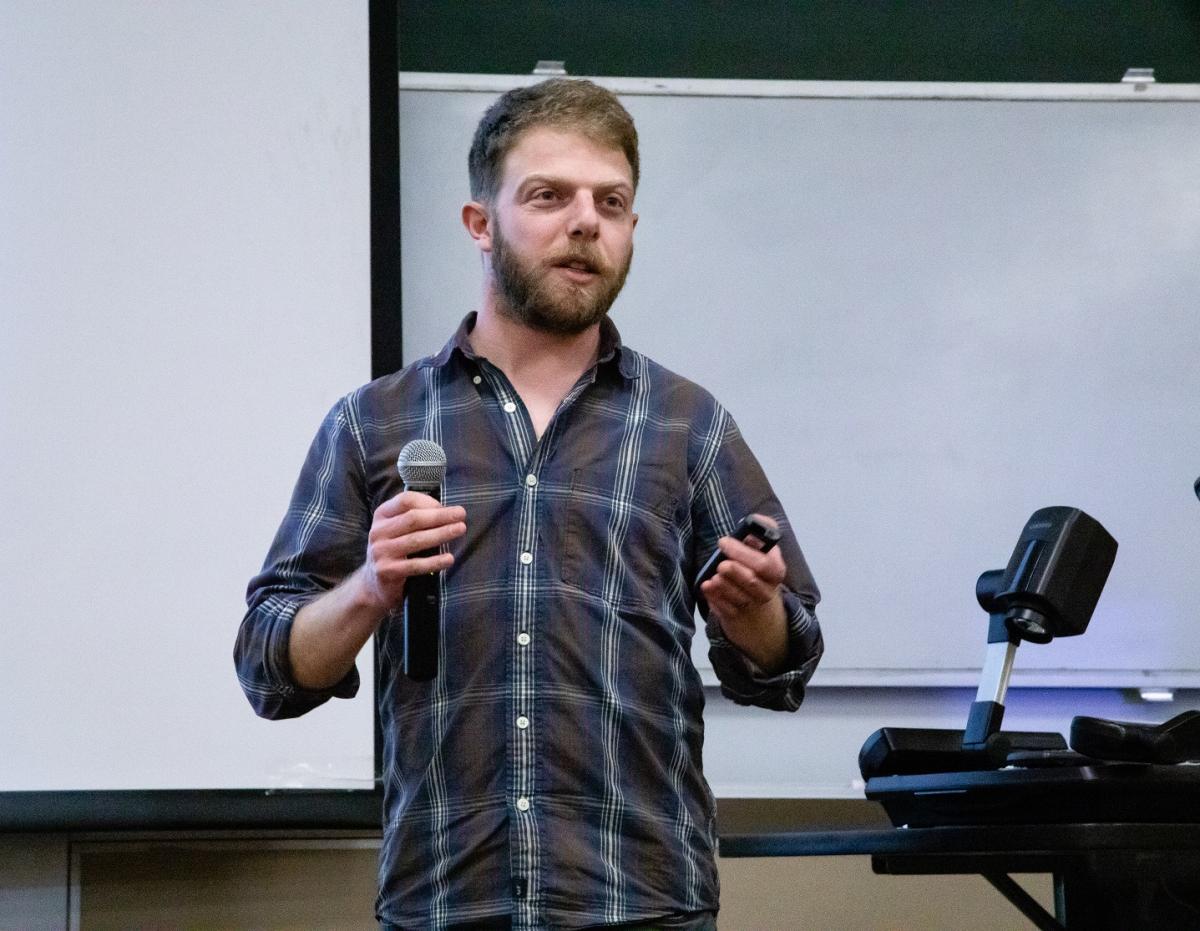 Bobby is the co-owner of justAjar Design Press, a letterpress, printmaking and design shop with operations and a store front on Front Street in Marietta. justAjar uses old technology and new to create unique work, including everything from web design and logos to customer illustration, woodcuts and letterpress printing for any project.

Tiffany is the owner of Dapper Dachshund Photography a new small business located on Front St. in Marietta. She lives in the area with her husband, Zak, and their three dachshunds. She became interested in photography in high school, but it didn't become a real    passion until she started working as a professional photographer almost five years ago. Her favorite subjects to   photograph are newborns, children, and high school seniors.
November 8, 2018: Social Entrepreneurship
4-5 p.m.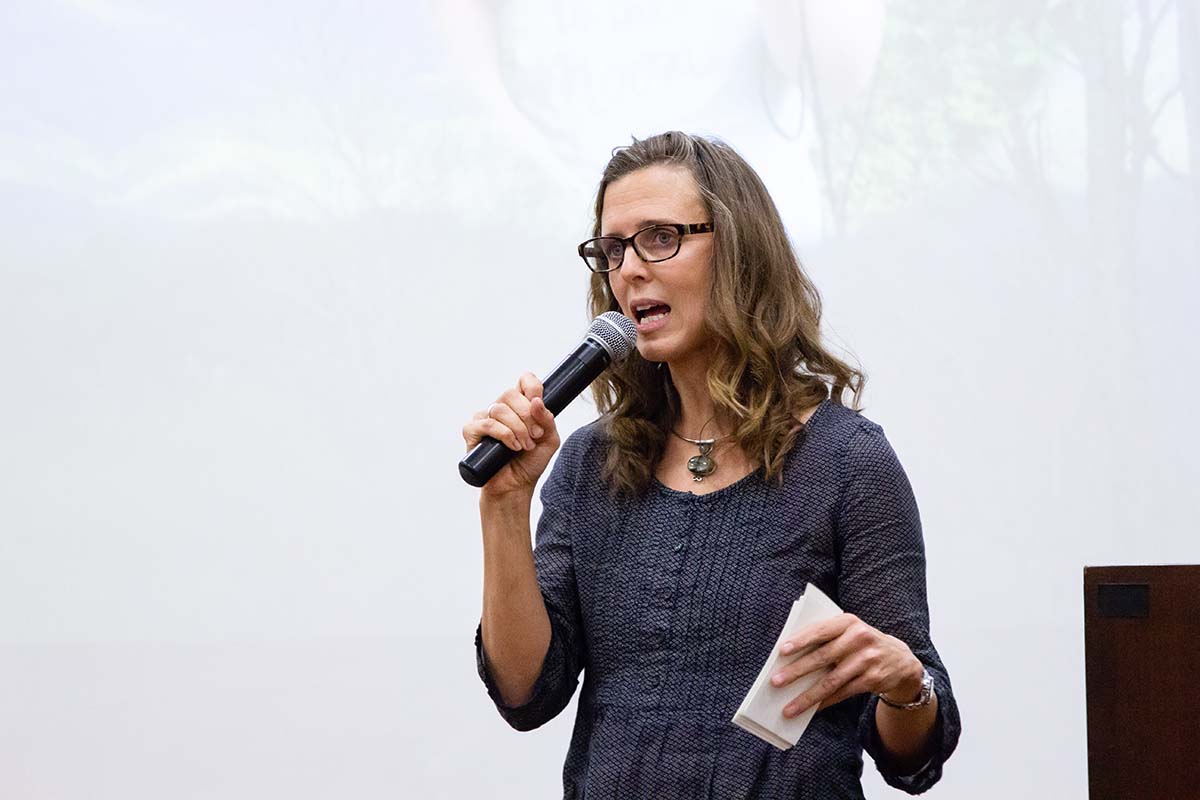 The Yew Mountain Center is a non-profit educational organization providing programs that explore Appalachian ecology, culture and arts while promoting community and personal wellness. Erica participated in PioPitch seeking input on ways to bring new energy and ideas to her area.
The Yew Mountain Center is on a 500-acre nature preserve among the forests and farms of West Virginia.  Created and run by the local community, it is a place for learning about the rich natural and cultural heritage of this Appalachian region, and about a prosperous and sustainable future in these mountains and beyond.
Jeff Totten and Kirk McCall: Belpre Area Chamber of Commerce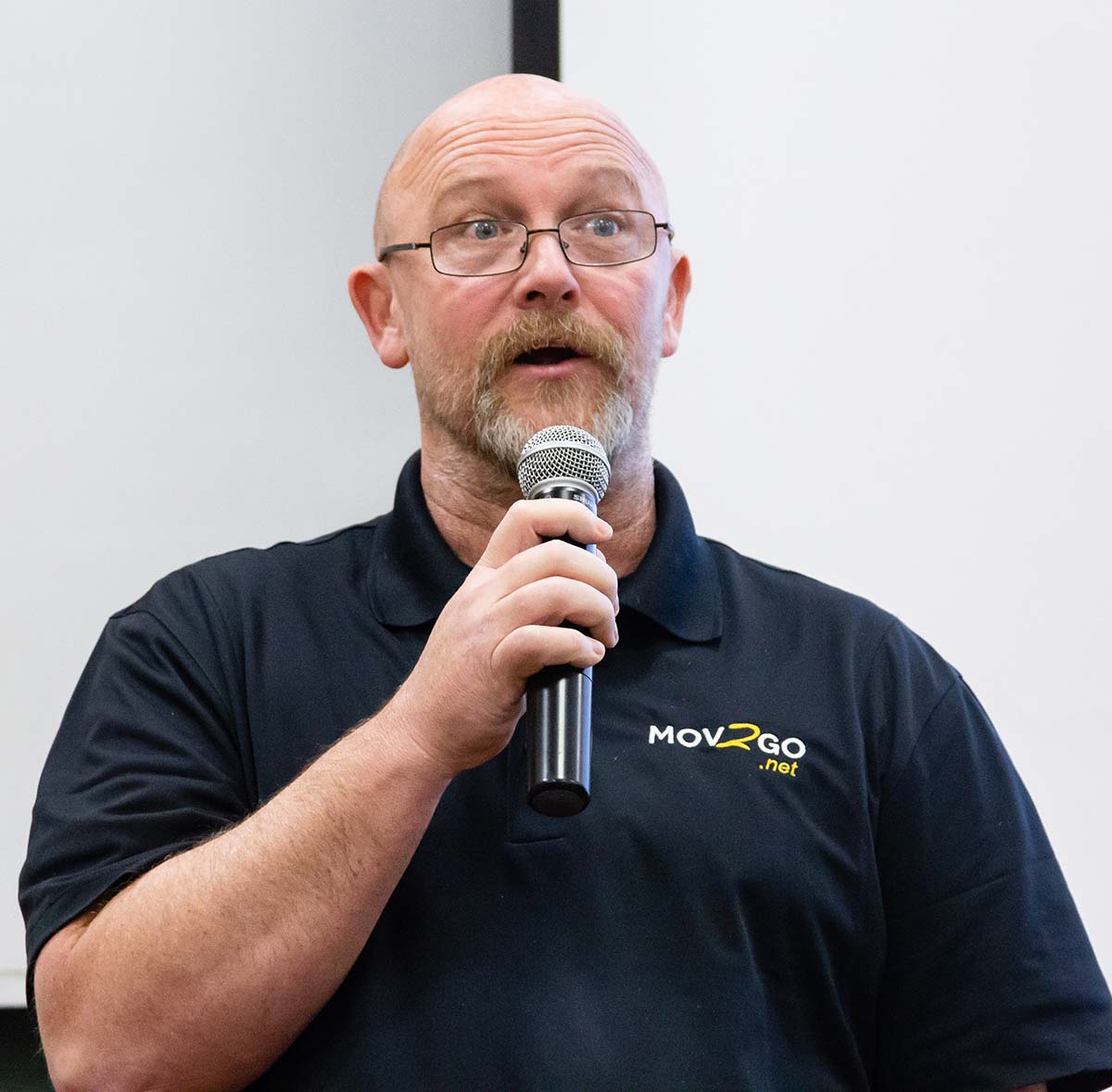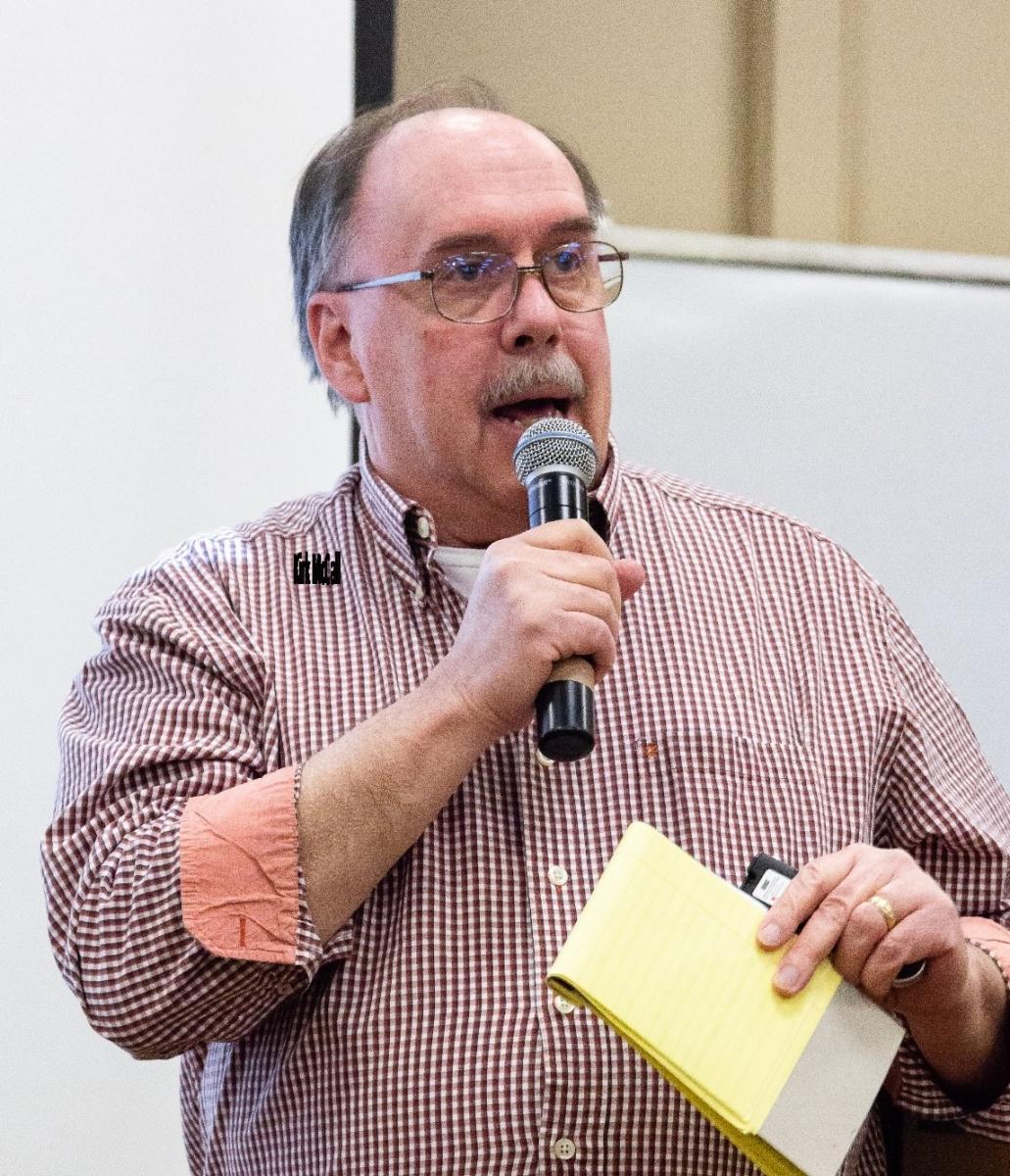 ​
Jeff Totten and Kirk McCall, active members of Belpre Area Chamber of Commerce, visited PioPitch to brainstorm on way to increase the visibility of the City of Belpre.
October 11, 2018: Alumni Spotlight
4-5 p.m.
Tiesha Anderson '14: Owner, Pioneer Recruitment Solutions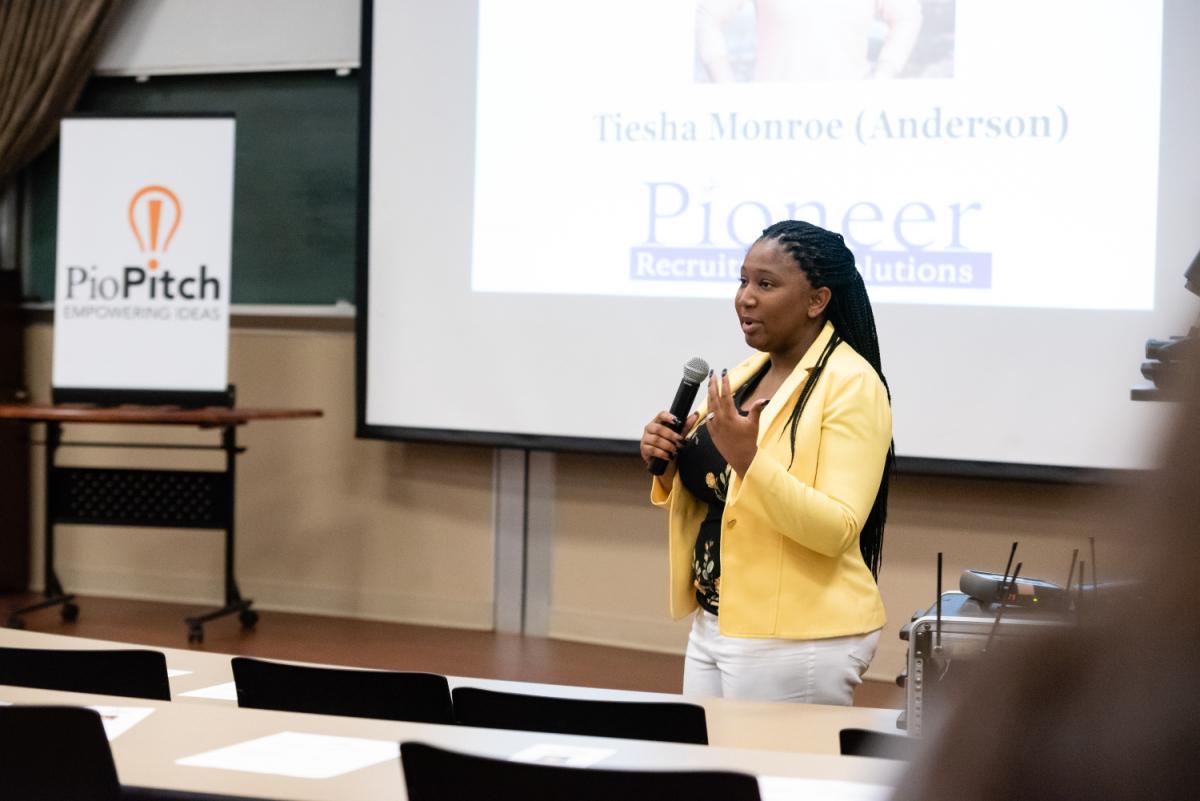 Tiesha is the owner of Pioneer Recruitment Solutions, an organization dedicated to matching great companies with exceptional employees. Tiesha came to PioPitch to seek feedback about the sustainability of her company and its current offerings.
Micalyn Harris '02: President/CEO,  ELPRO U.S. Division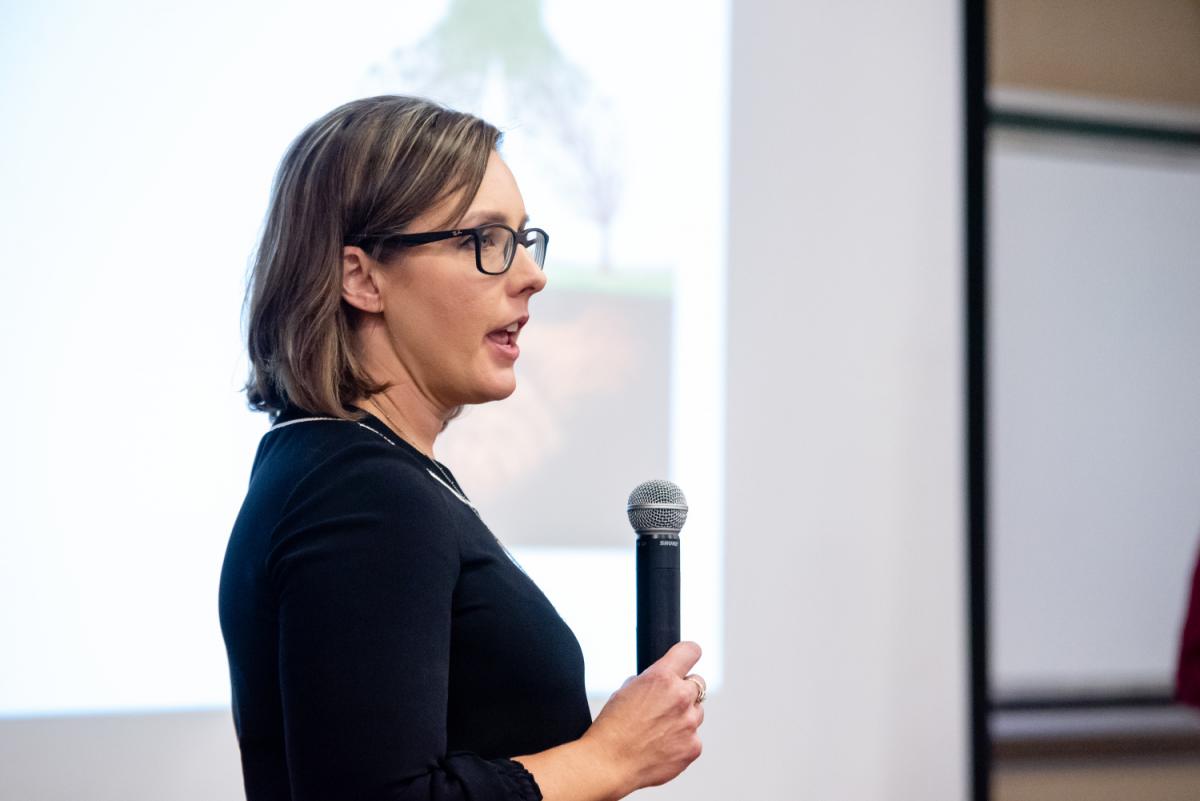 Micalyn and her colleague, Leah Harris, came to PioPitch to seek feedback on their vision for a new international networking and advisory platform for professional women called Arrow Path.
September 27, 2018: Special MOVEE Edition 
3:20-4:20 p.m.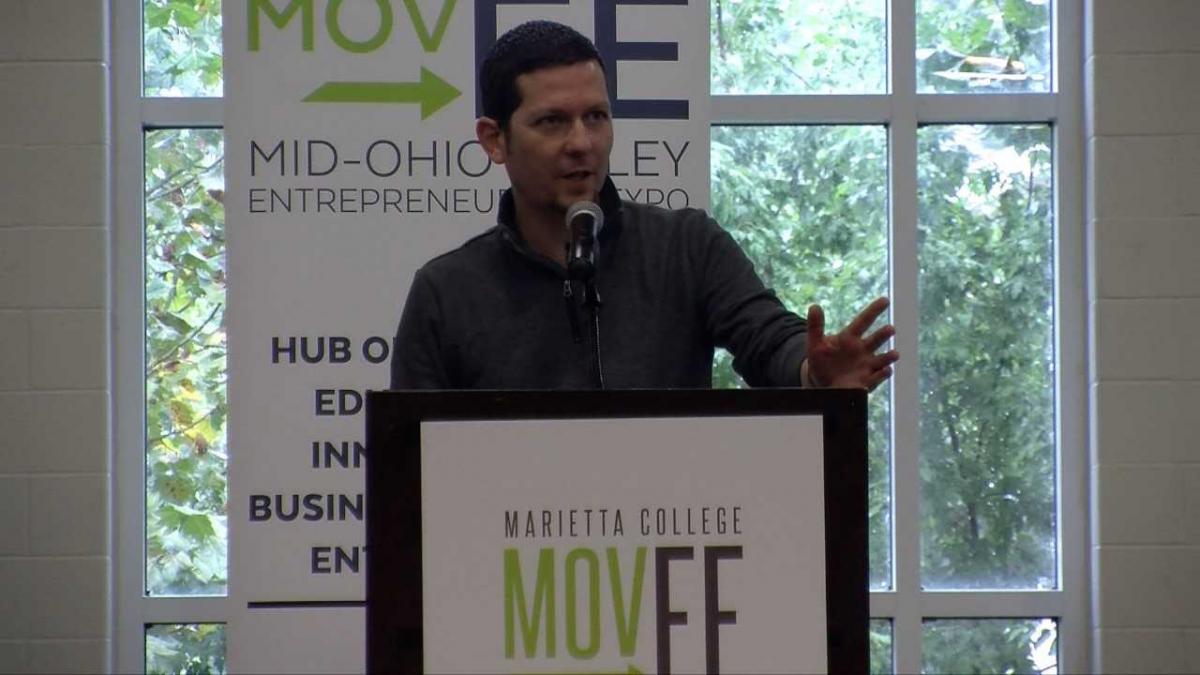 Prior to his work at the theatre, Drew worked in a variety of roles in community-based nonprofit and media organizations, including The Pocahontas Times, Allegheny Mountain Radio, The Pocahontas County Opera House, West Virginia Press Association, and the West Virginia Nonprofit Association. He has worked as a freelance photographer, writer, web developer and marketing consultant. He is currently on the Board of Marietta Main Street, where he has been active with the organization's Public Art Committee.
At PioPitch, Drew represented the entrepreneurial spirit of Peoples Bank Theatre as he sought input on the types of experiences and activities currently missing in downtown Marietta that could prove complementary to a night out at the theatre. While his question related to the entire downtown area, Drew was particularly interested in ideas for "The Stage Door," a new venue offered by the theatre on Putnam Street.
Jackson Patterson & Geoffrey Schenkel: Main Street West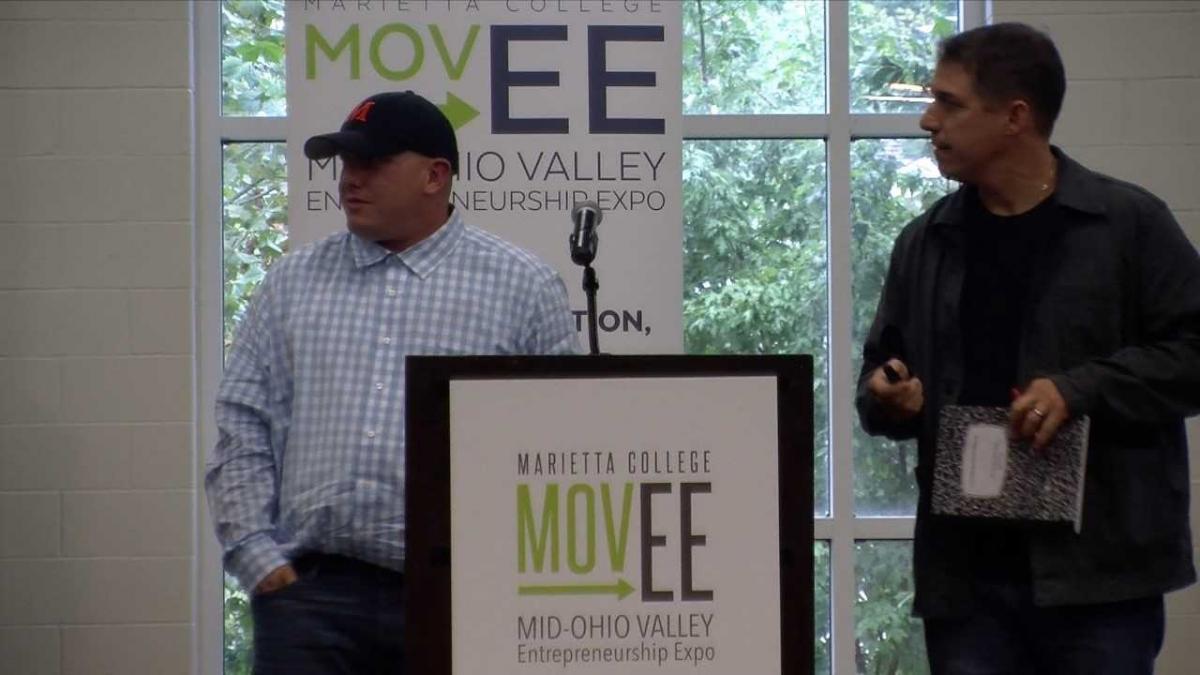 As active members of Main Street West, a branch of Marietta Main Street focused on the Harmar community, Geoff Schenkel and Jackson sought feedback on ways to maximize community involvement.
March 1, 2018:  History and Art
4–5 p.m.
Jessica Wielitzka: Co-Owner of Hidden Marietta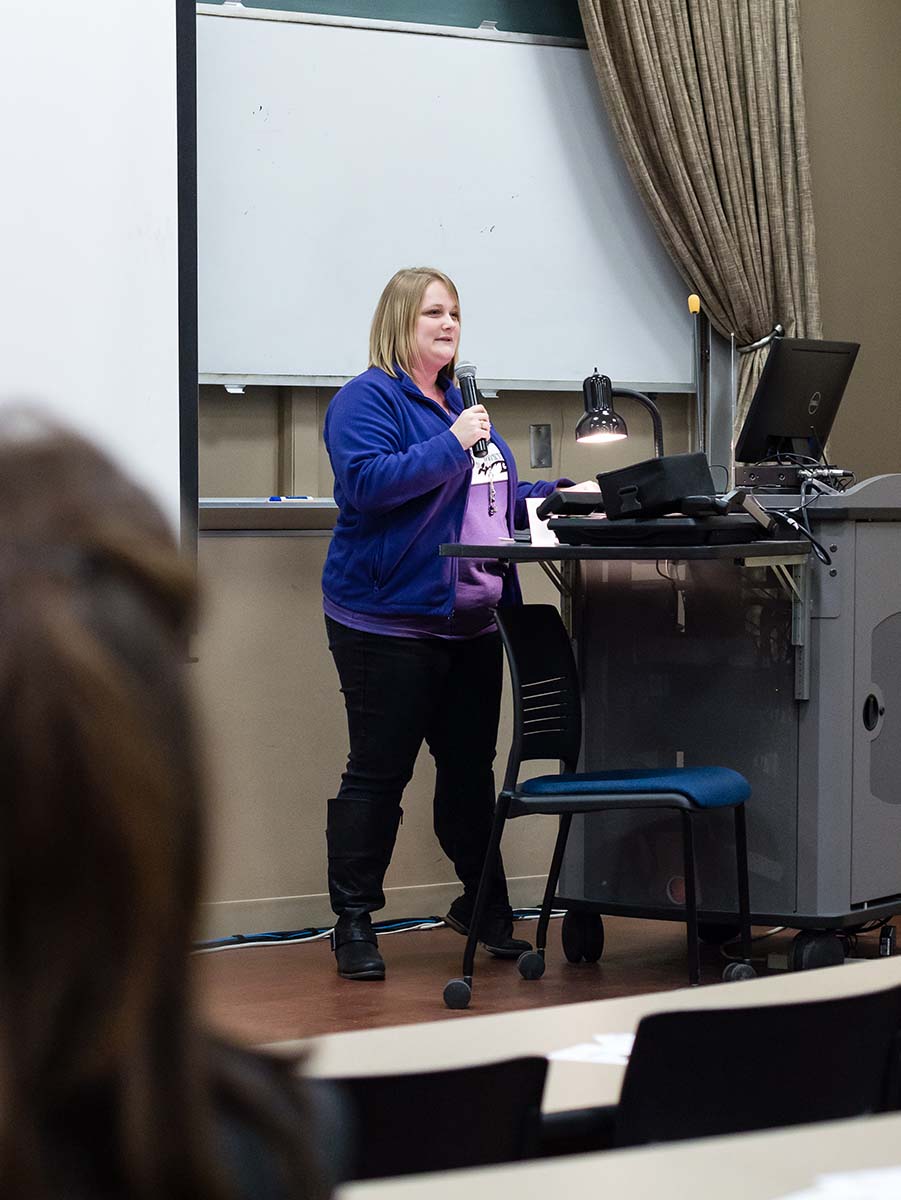 Hidden Marietta is a company that is dedicated to uncovering the hidden history of the town. Jessica is active in locally promoting historic preservation and local tourism.  She is also involved in the community by serving on the Board of Trustees for the Washington County Historical Society.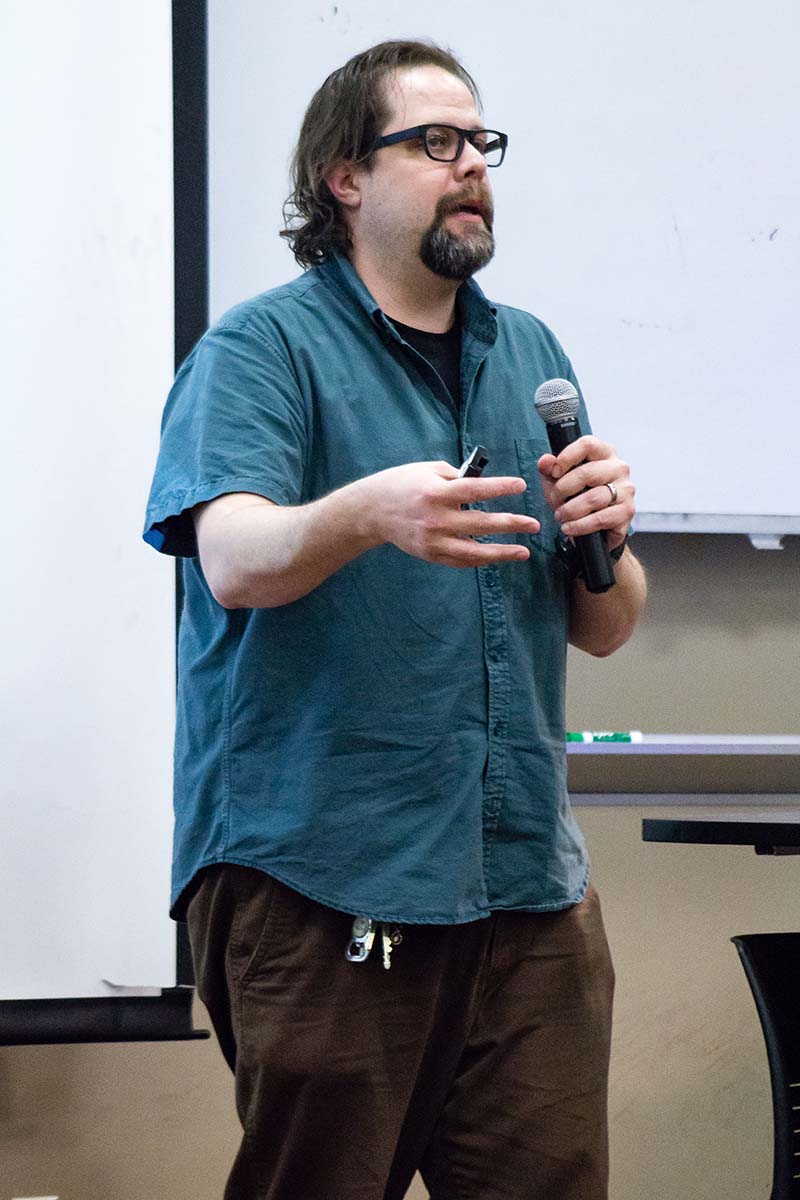 Andy Felt is a founding member of the Shakespeare by the River Festival in Marietta, where he has directed A Midsummer Night's Dream, Taming of the Shrew, and last year's The Merchant of Venice. Currently he is an Associate Professor, as well as the Artistic Director of the Theatre, at Marietta College.
February 8, 2018: Creativity and Innovation
4-5 p.m.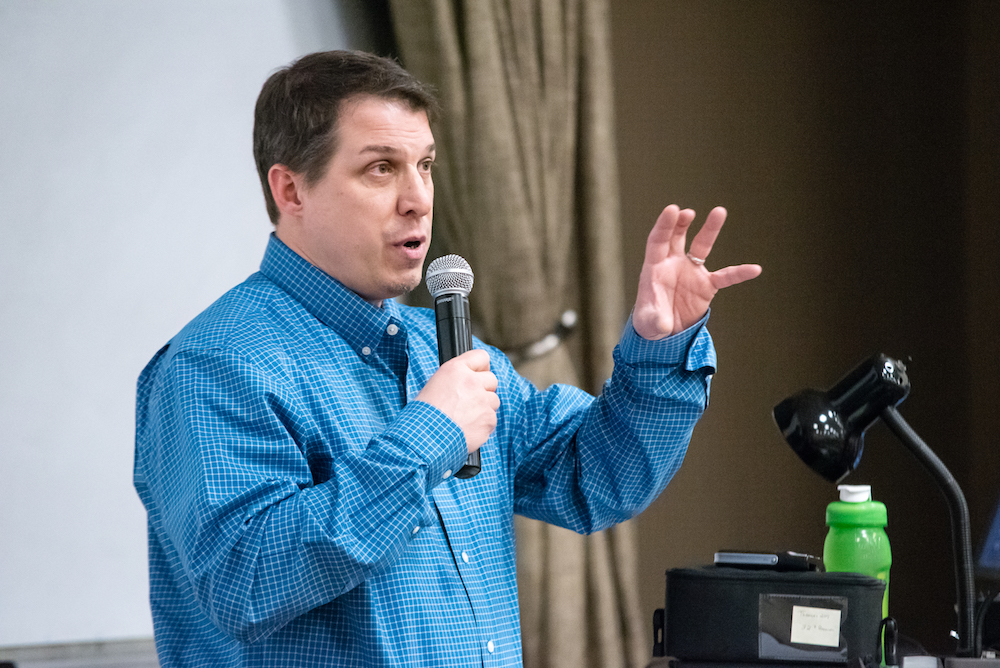 Geoff Schenkel is an artist, muralist, and co-founder of Resolve Studios, located in Marietta, OH. A Marietta native and Marietta College alumnus, his love for the inclusion of others in the creation of art has led him to work with a variety of people from all backgrounds, for which he has received multiple awards.
His PioPitch presentation focused on how he could use a book filled with stories from individuals that he has met that each have an individual story.
Misti Sims: Founder, Little Black Dress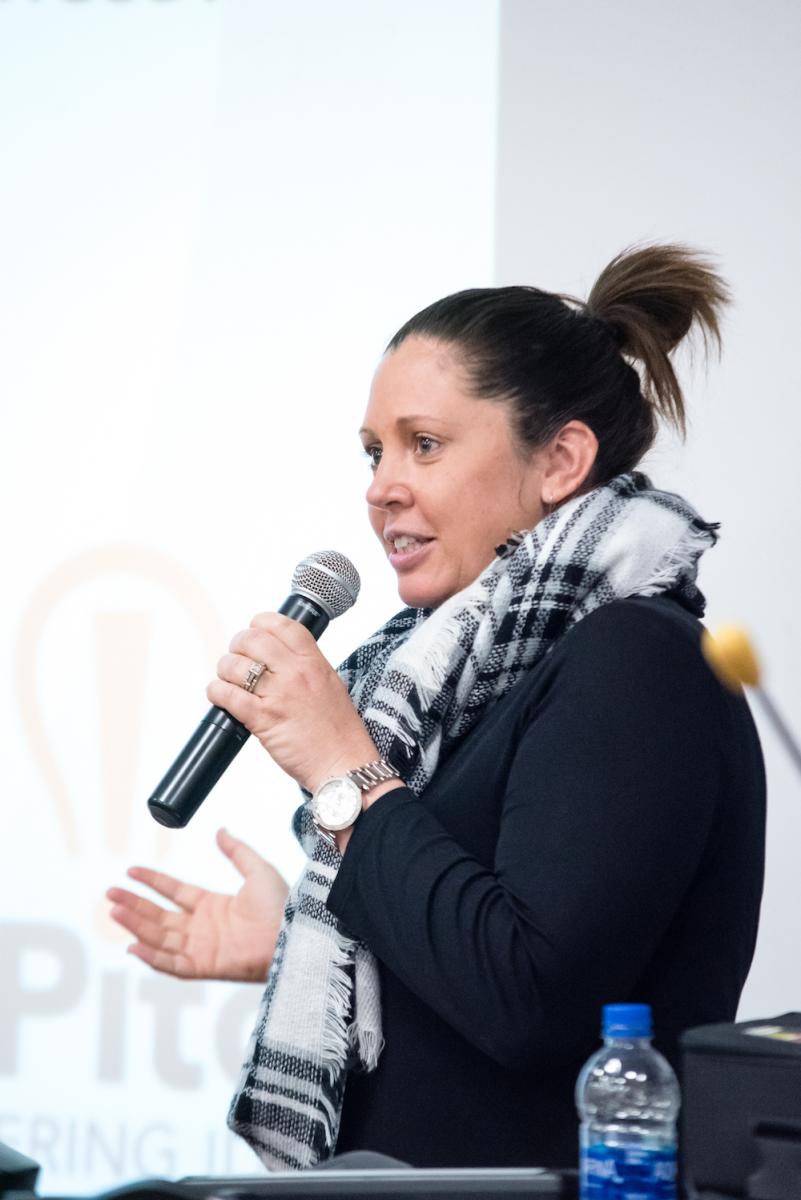 Misti Sims is the founder of Little Black Dress Events, a creative event planning and boutique rental company located in the Mid-Ohio Valley. She reinvents her style and creates a new concept for each client while interpreting every trend and, in turn, allowing each venue her distinct point-of-view.
Her PioPitch presentation focused on ways to incorporate her services into different and unique aspects, catering to all individuals.
November 16, 2017: Global and Social Entrepreneurship
4-5 p.m.
Chip Pickering is a local and global entrepreneur who is involved in various businesses and non-profit organizations in the Mid-Ohio Valley. He is a Professional Engineer, Project Management Professional and holds a LEED Certification for Building Design & Construction.
Meike Schleiff: Founder, Grow Project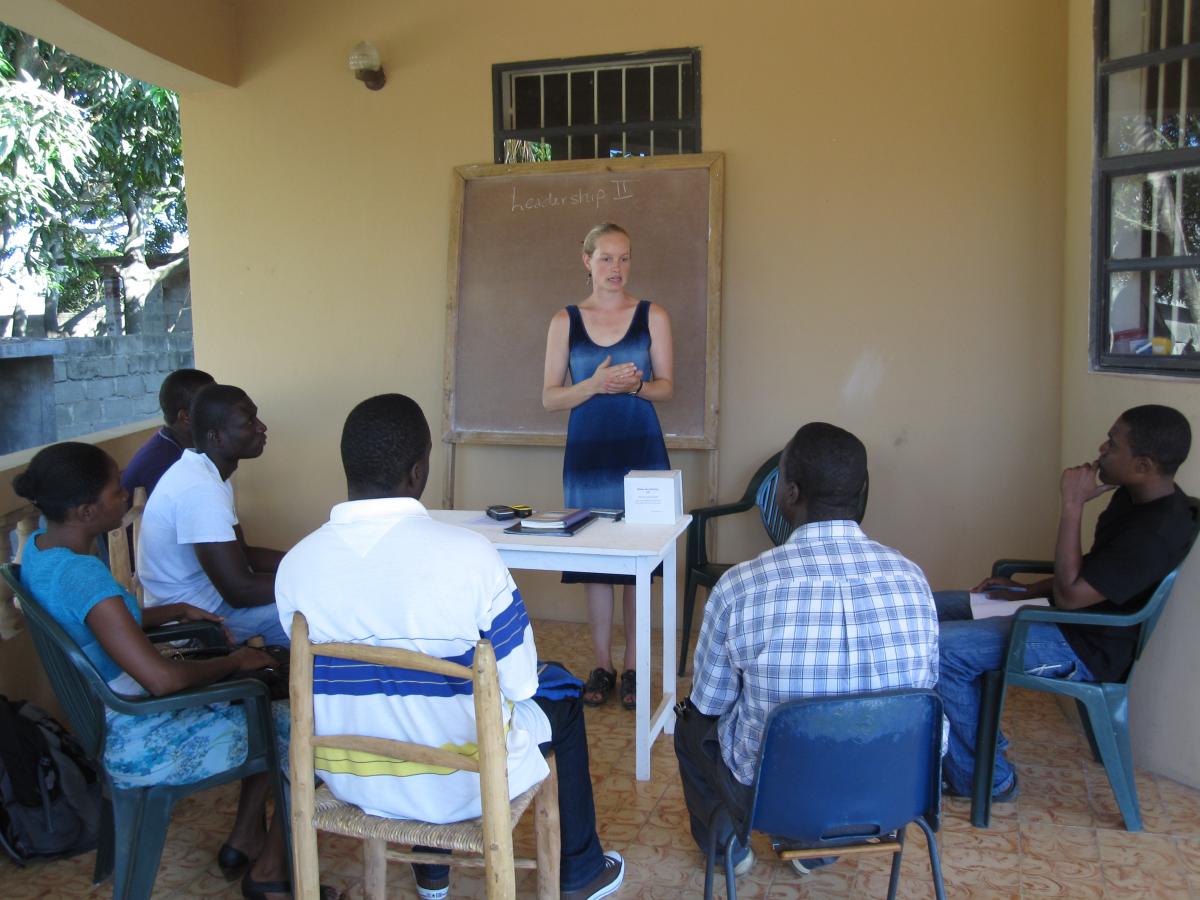 Dr. Schleiff is the founder of the Grow Project and Assistant Professor and Director of Research for Future Generations University. She is interested in building the global capacity for community health issues in Haiti, West Virginia, and other locations across the world.
October 19, 2017: Special Homecoming Edition
4-5 p.m.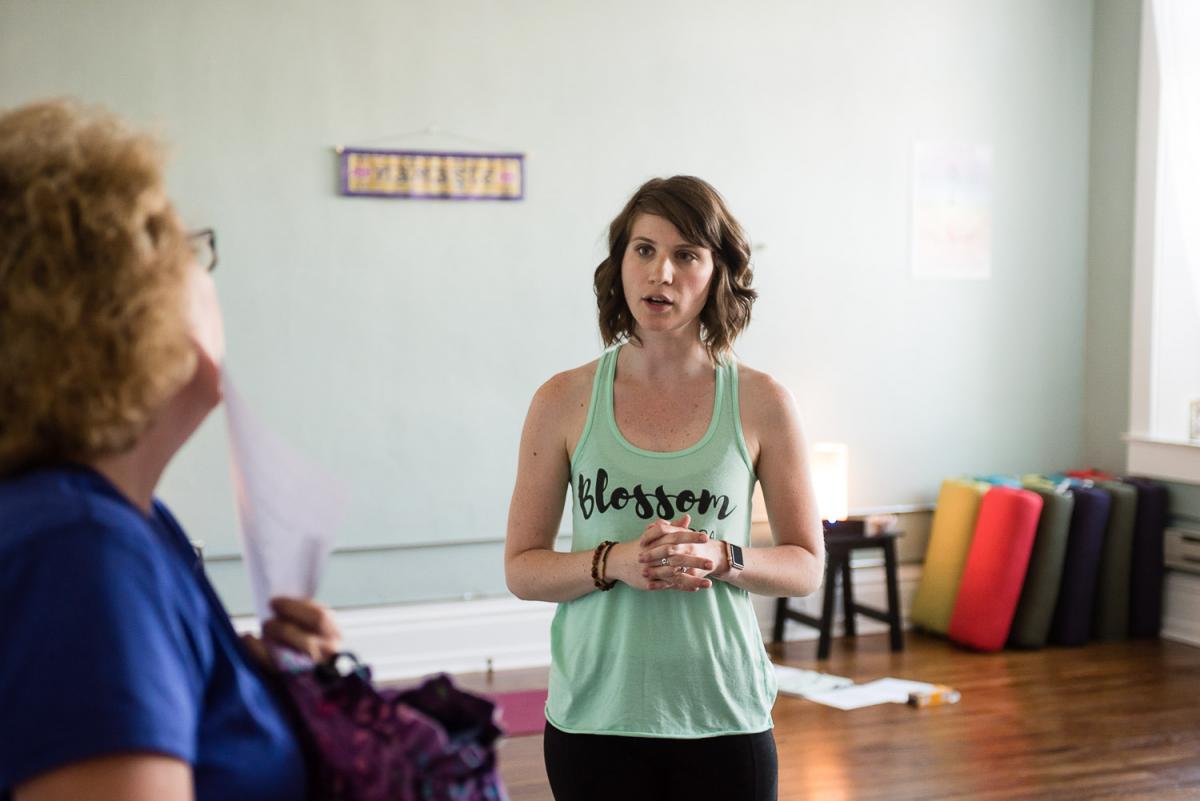 Megan Dowler is the owner/instructor of Blossom Yoga, a yoga studio a Marietta, OH. They focus on providing gentle yoga classes with a center on connecting mind and body through the breath. Megan has gained training through completing her 200 hour YTT at Full Circle Yoga in Vienna, WV.
Fifth Street Consulting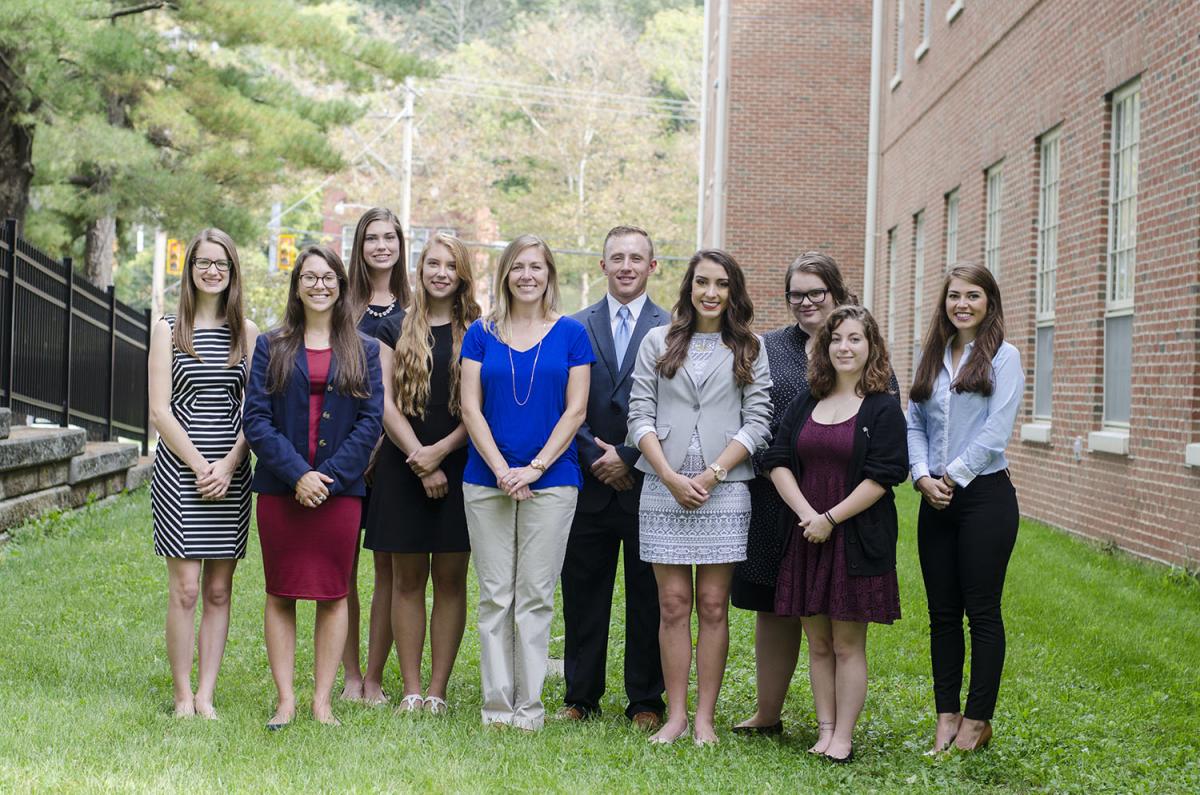 Fifth Street Consulting is a student-led, facultyadvised consulting firm through Marietta College that specializes in communication and media consulting. They primarily work on semester-long engagements to provide clients with meaningful, high-impact solutions based on trusted techniques and research. Clients receive well-rounded feedback to help improve their organizations.
September 14, 2017: Small Business Focus
4-5 p.m.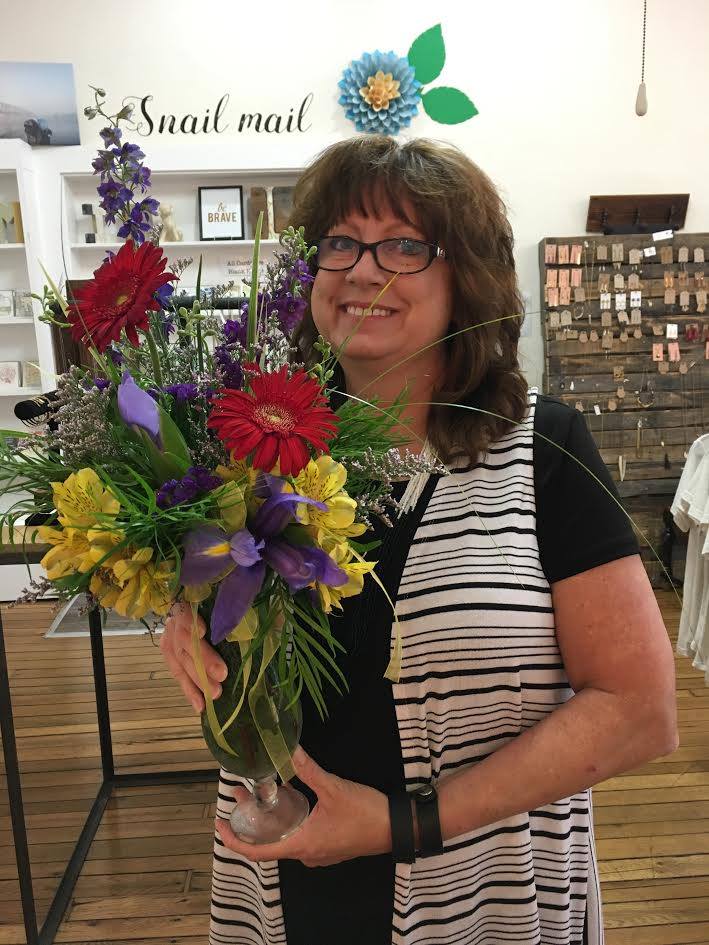 One year after following her dream of opening Wit & Whimzy, Laura returns to PioPitch to share her journey, as well as to ask for feedback about new challenges. Laura's mission is to showcase USA-made and artisan-crafted products while offering "uncommon goods for your lifestyle."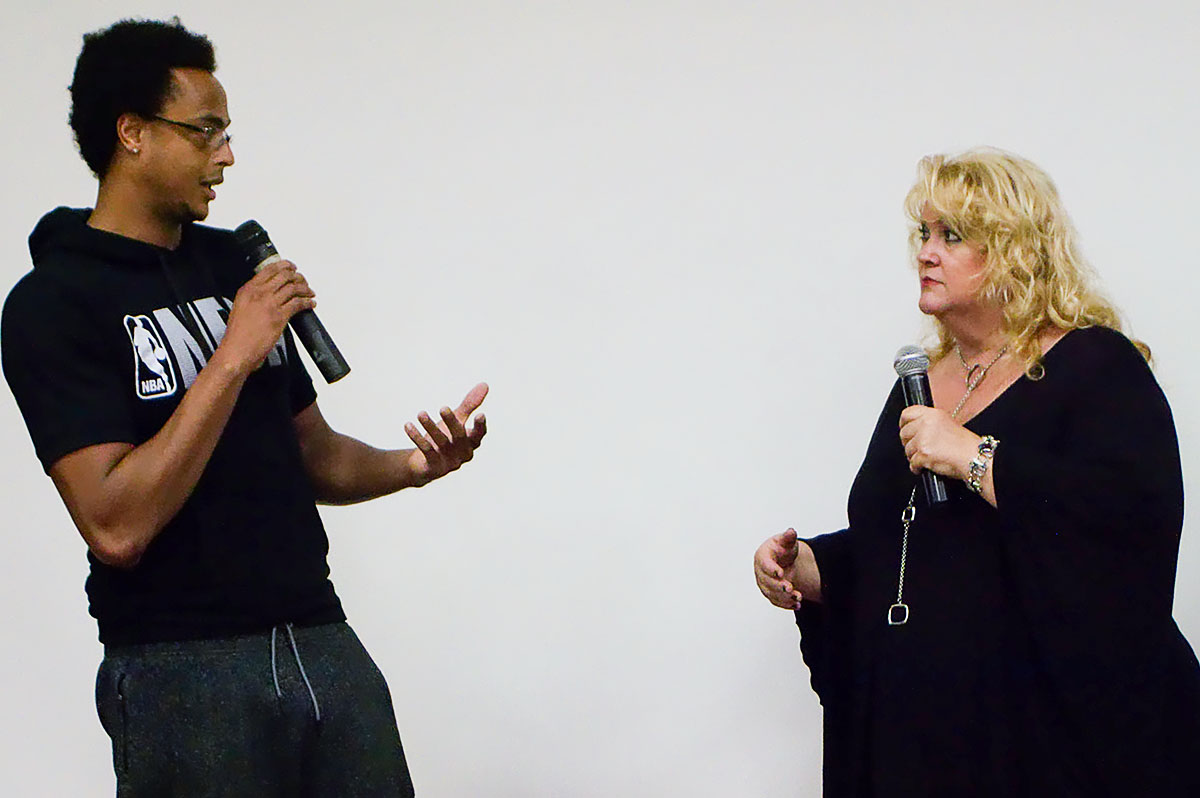 Jennifer describes herself as a "city girl born and bred" who moved to Marietta from the San Francisco Bay area. In looking for a fresh start, she loaded a box car full of treasures and crossed the country to Marietta. These treasures can now be found at Green Acres of Marietta, which in September is celebrating its one-year anniversary.
April 27, 2017: Junior PioPitch
4-5 p.m.
Junior PioPitch: Marietta High School and Ely Chapman Middle School Students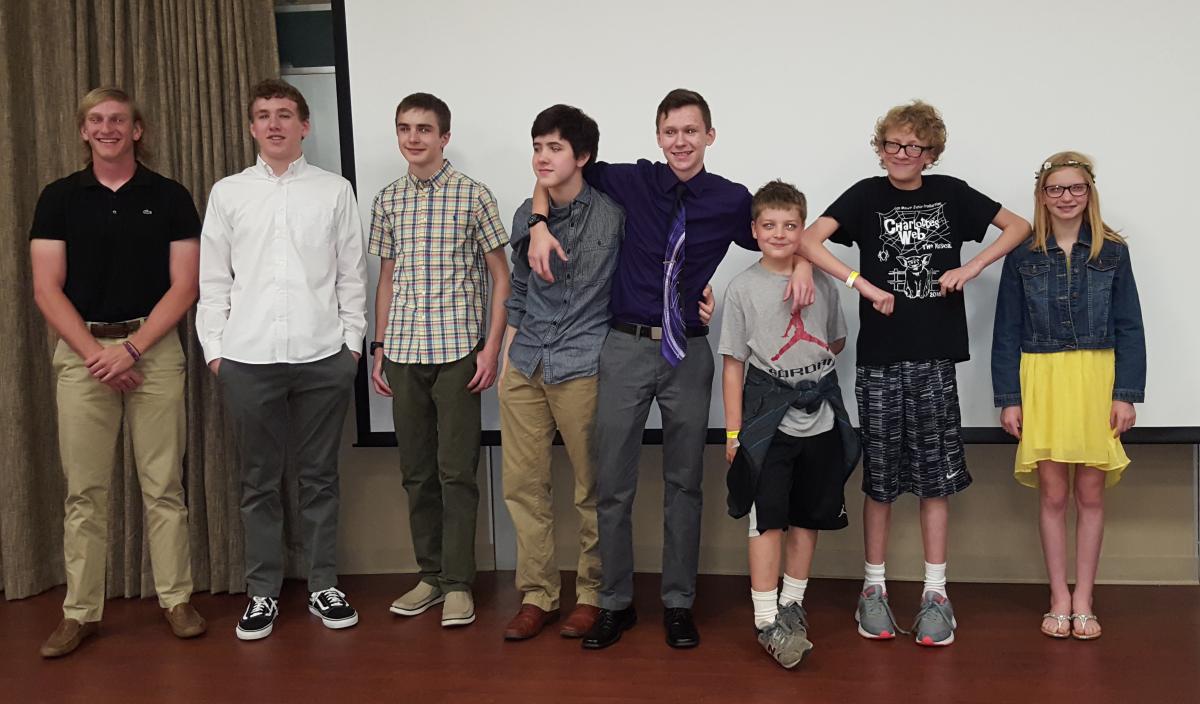 From left to right: Zach Deskins, Cyrus Rhodes, Spencer Tenney, Greyson Turner, Brandon Ologeanu., D.J.West, Caden Bourdon, and Elizabeth Haller. Please check the videos below to learn more about these aspiring entrepreneurs and their ideas.
Junior PioPitch Program, April 27, 2017- Part One  
Junior PioPitch Program, April 27, 2017- Part Two
March 2, 2017 Program
4-5 p.m.
Bill and Janet Stacy: Founders, Stacy Family Farm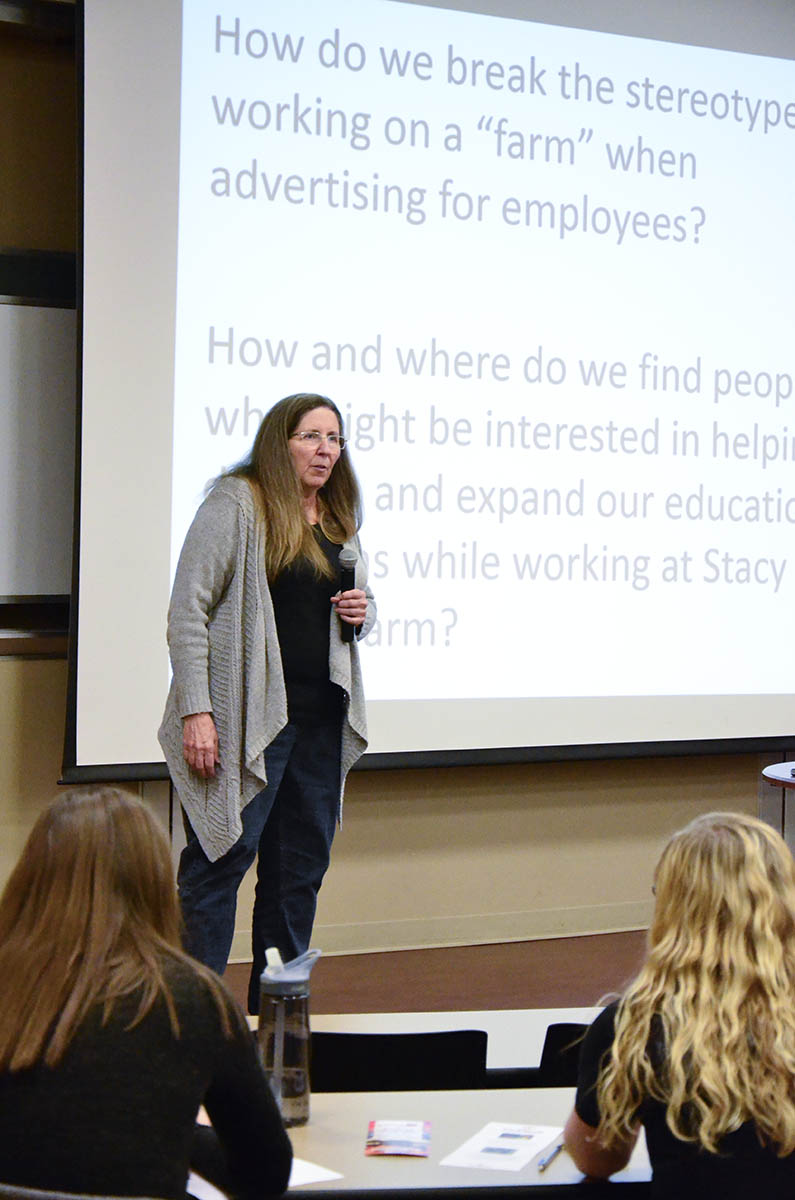 Since 1899 and over five generations, Stacy Family Farm has served the local community in a variety of ways, including dairy, truck farming and in-season U-pick strawberries. After expanding into the Reno area in 2012, the organization now seeks to partner with the community and offer year-round educational opportunities for children.
Aaron Dillon and Jon Hinson: Founders, Thunder Resources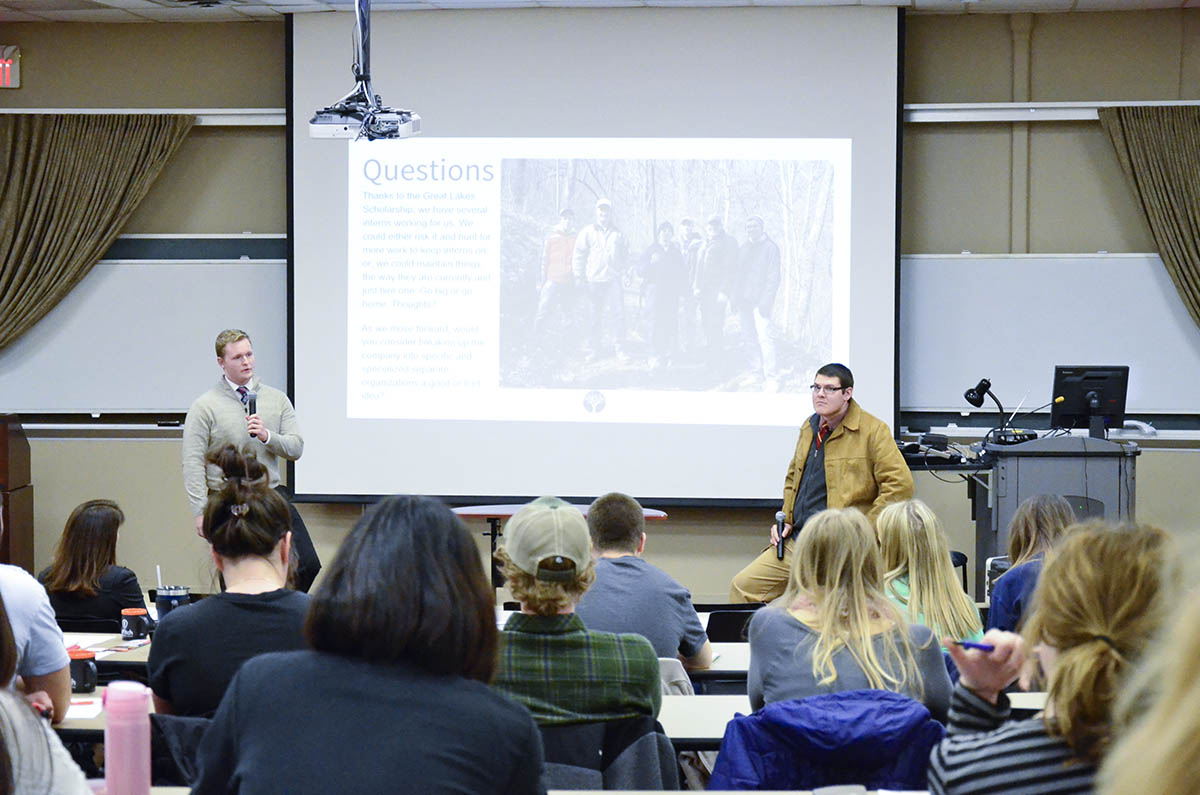 Last year, Aaron Dillon and Jon Hinson started Thunder Resources after winning $10,000 as part of the Marietta College PioBiz business plan competition. Not quite one year later, they will attend PioPitch to share more about their incredibly successful first year and to ask for input and feedback about how the company can continue to grow.
PioPitch Program, March 2, 2017, Part One: Bill and Janey Stacy  
PioPitch Program, March 2, 2017, Part Two: Aaron Dillon and Jon Hinson
February 2, 2017 Program
4-5 p.m.
Courtney Knoch: Owner, Silver Linings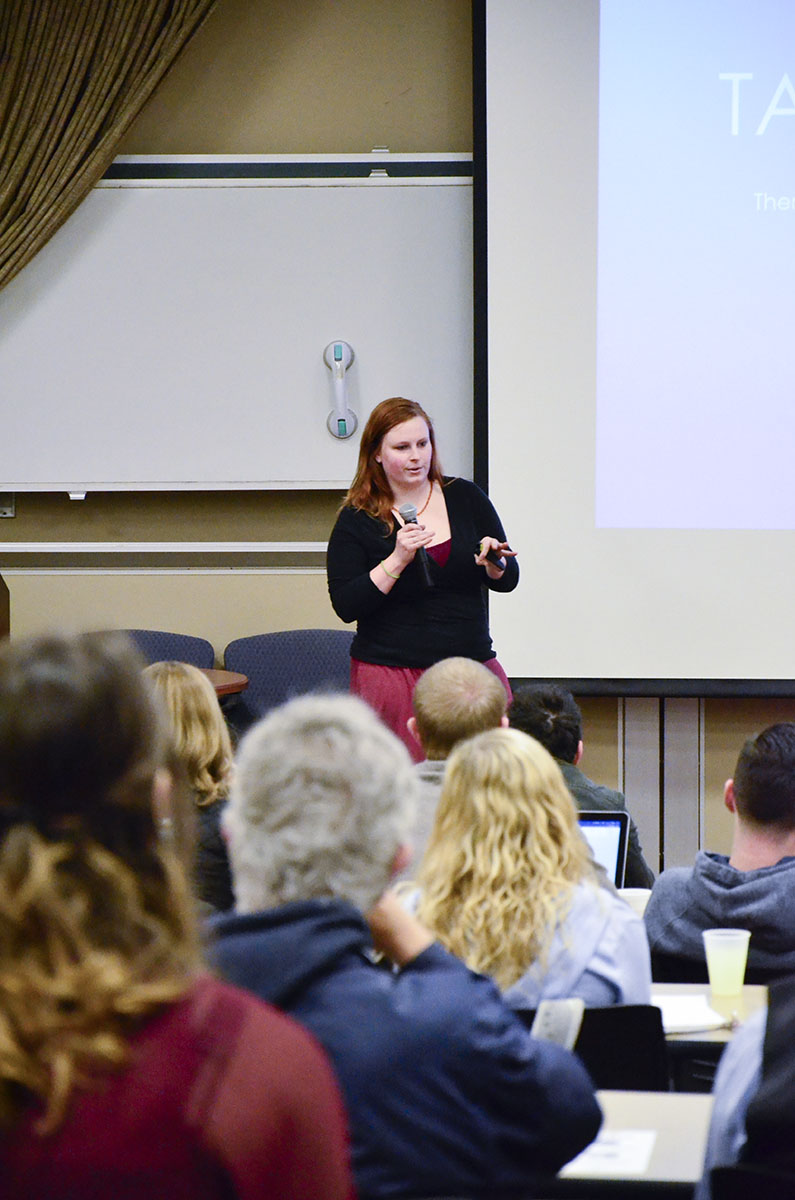 Courtney is a Marietta native with a love for all things downtown. Having lived in the area most of her life, she has seen the transitions and growth of the area, and always wanted to be a part of it. She opened her own business on Front Street in 2015 and has been adapting to her demographic ever since. She sits on the board of Marietta Main Street, and is constantly involved with events and activities downtown.
Michael Bond: Founder, Spoken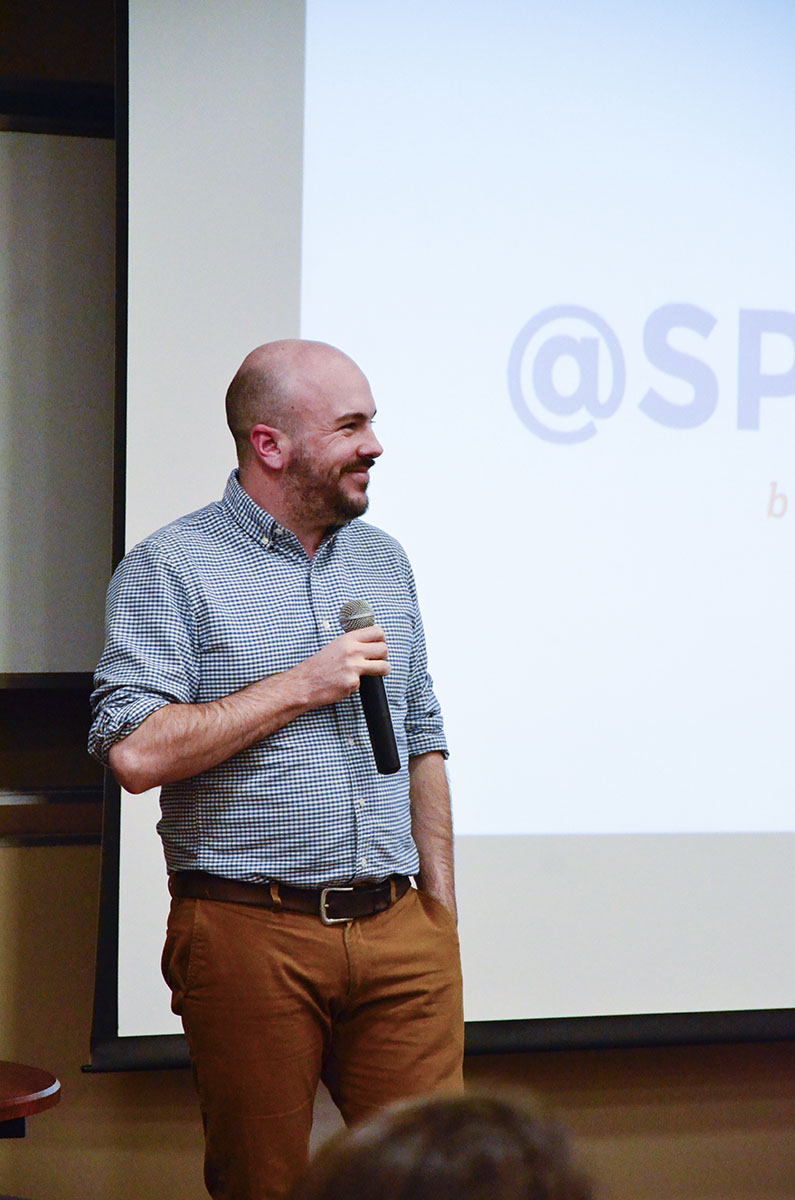 Michael Bond has spent the last decade working as a designer and developer for global agencies, living and working from Costa Rica, Australia, Chile, and now Marietta. Most recently, he's the founder of Spoken, an app that helps people speak again using big data, machine learning, and user-based design.
PioPitch Program-February 2, 2017-Part One: Courtney Knoch & Michael Bond  
PioPitch Program-February 2, 2017-Part Two: Michael Bond
November 17, 2016 Program
4-5 p.m.
Martha Jones: Owner, Faces By Design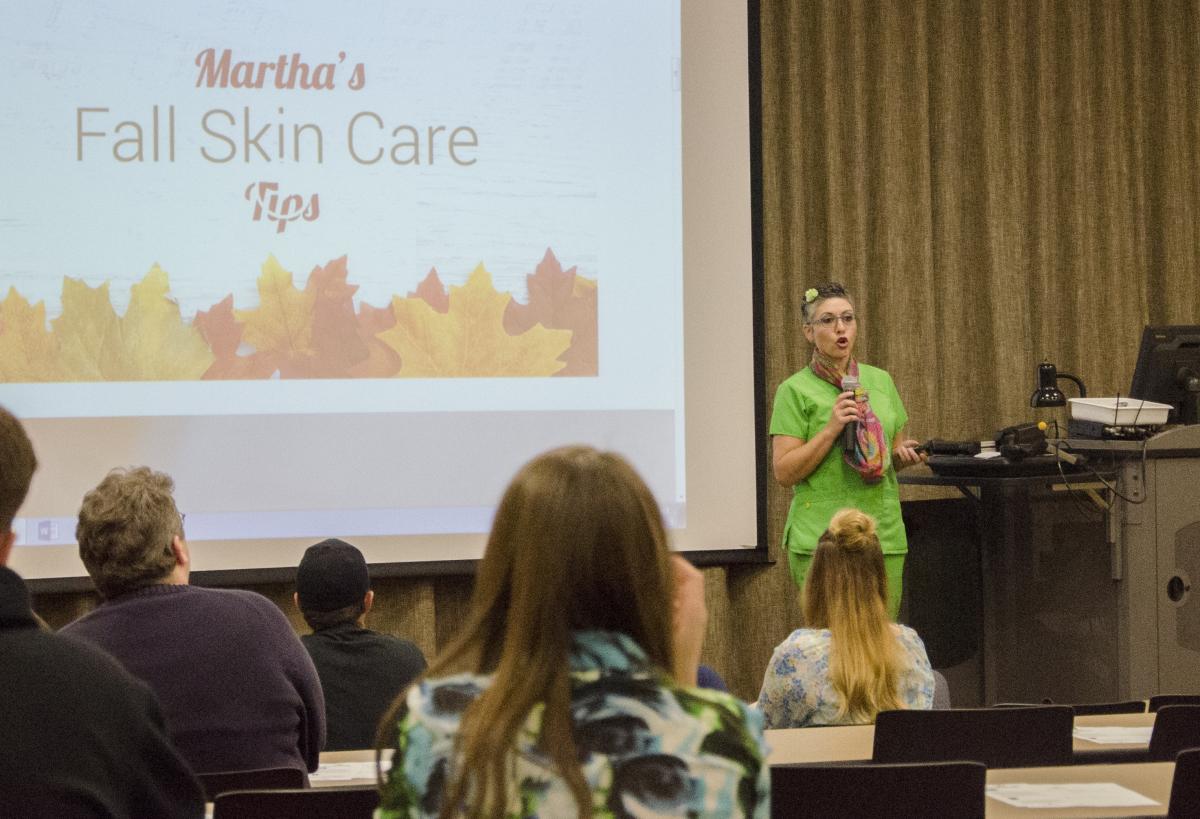 Originally from Colombia, Martha Jones brought her many years of skin care  
experience and expertise to the U.S. more than 20 years ago. Through her business,  
Faces By Design, Martha has pioneered the artistry of Permanent Makeup in the  
Mid-Ohio Valley and has set the standard for excellence in master aesthetics.  
Martha has now commenced a new chapter in her life with FBD The Academy, a  
location through which she will share her knowledge and skills with others as she  
attempts to help empower women through entrepreneurship in the art of  
permanent makeup.
Bill Grizer: Owner, Grizer Castle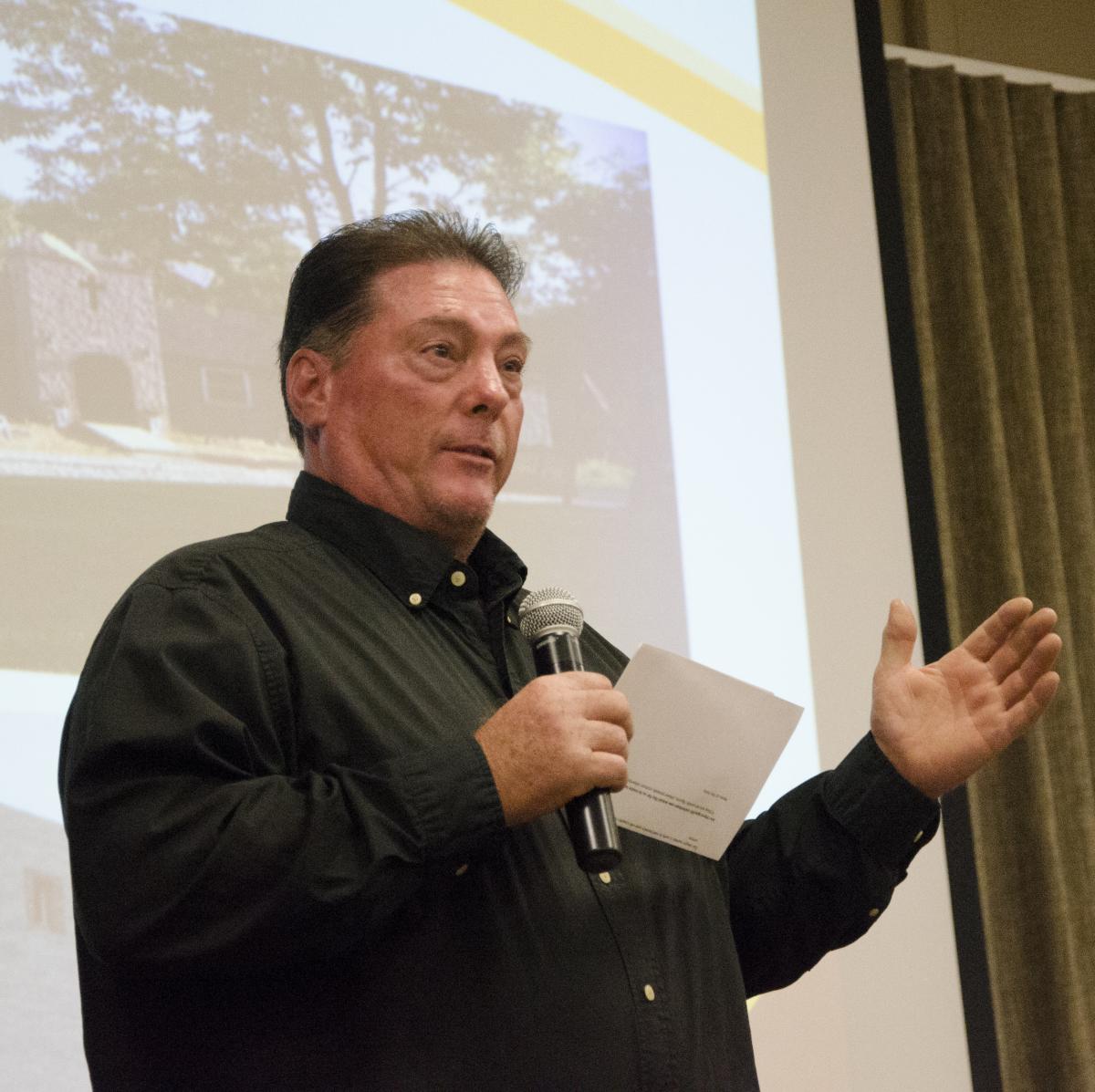 Bill Grizer introduced the Grizer Castle, a medieval style castle under construction  
30 minutes north of Marietta. The castle will boast 10 guestrooms, dining hall,  
kitchen, living room and library and will be available for parties and events. With  
expected completion in 2017, the castle will serve as a place where everyone can  
experience the enhanced medieval ages.
PioPitch Program, November 17, 2016, Part One: Martha Jones & Bill Grizer  
PioPitch Program, November 17, 2016, Part Two: Bill Grizer
September 22, 2016 Program
4-5 p.m.
Jennifer Simon: Executive Director of the Regional Innovation Network, Ohio University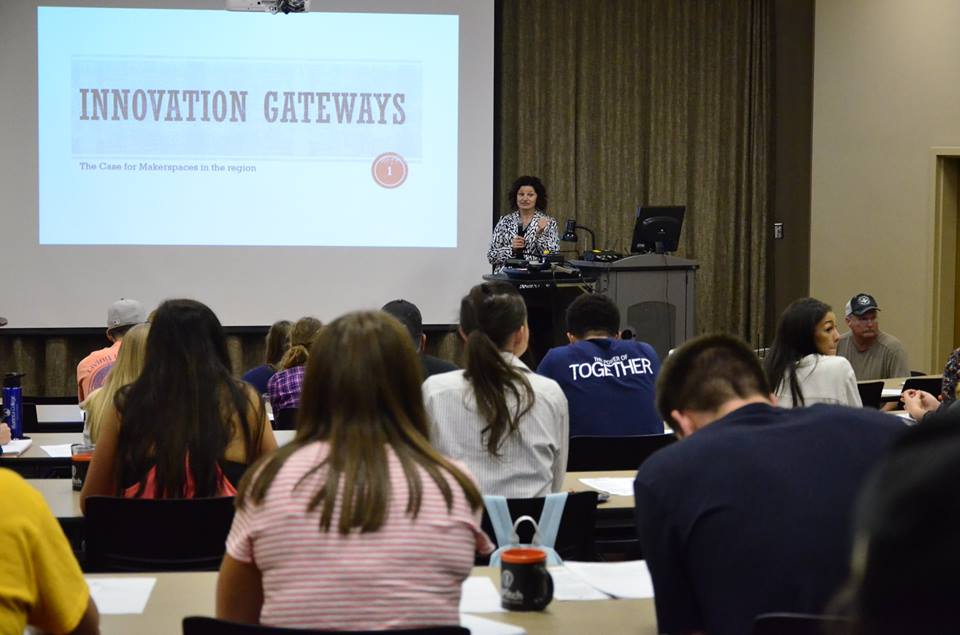 After serving as Director of the Ohio University Innovation Center (IC) since 2009, Jennifer was recently promoted to her current position. During her tenure at IC, the incubator client base has increased from 3 to 25 and she has raised over $6.5 million in grants expanding services and facility improvements. She facilitates (a) client access to capital through angel investors, venture capital and traditional lending institutions; (b) business services such as planning, budgeting and business model creation; and (c) training opportunities.
Alice Ely Chapman: Founder, Ely Chapman Education Foundation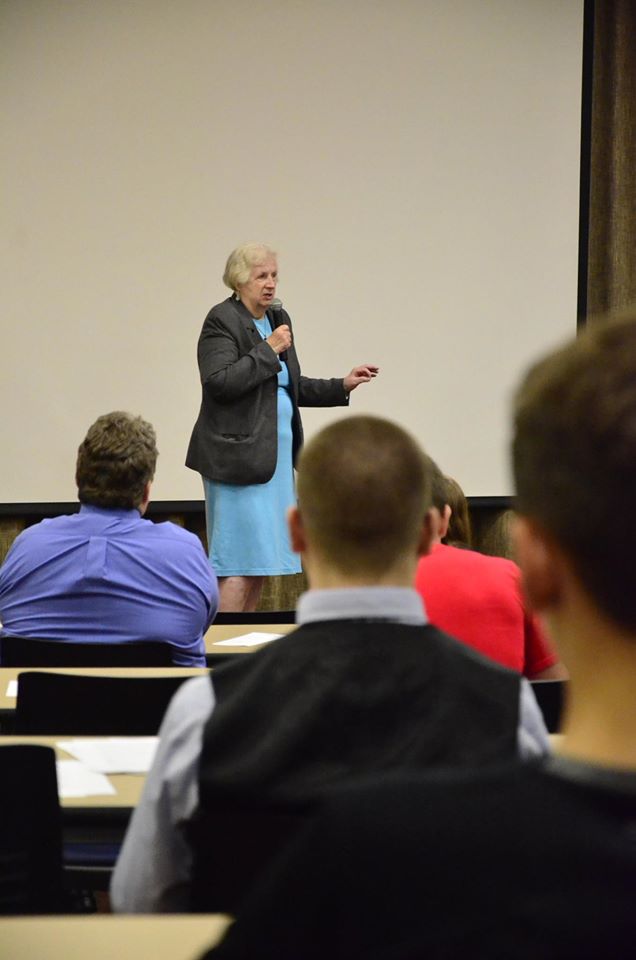 Alice Ely Chapman has spent a lifetime helping children, especially children with special needs. One year after moving to the MOV in 1996, Mrs. C., as she is affectionately known, helped start a small after-school program at a local church. She officially incorporated the ECEF in 1999, since which time ECEF has grown to include four major programs serving approximately 80 students, a Boy Scout troop, 25 full-and part-time employees, and a licensed kitchen that provides food for the O'Neill Adult Daycare Center.
PioPitch Program - September 22, 2016 - Part One: Jennifer Simon  
PioPitch Program - September 22, 2016 - Part Two: Jennifer Simon and Alice Ely Chapman
February 25, 2016 Program
4-5 p.m.
Suzy Zumwalde: CEO of Marietta family YMCA
Suzy graduated from Marietta College with degrees in Behavioral Biology and Psychology. Upon graduation she began working at a YMCA in Cincinnati for a year. She then moved to Keene, New Hampshire and continued working for the Keene Family YMCA. Eight years later, she relocated to Port Lavaca, TX to advance her career as a Branch Executive Director for a new YMCA. After eight years in south Texas, she decided to move back to Ohio to be closer to family. She served as the CEO of the Union County Family YMCA in Marysville, OH for five years, and then moved to Marietta, OH where she has lived for the past five years, serving as the CEO for the Marietta Family YMCA.
Tasha Werry: Founding Member and Facilitator of Washington County's Building Bridges to Careers
Tasha has been employed with Marietta City Schools since 1999. After teaching for 12 years, she moved into a district administrative position and is now the Director of Career Resources and Outreach. Tasha is also a founding member and facilitator of Washington County's Building Bridges to Careers. Tasha works through classroom and administrative lenses, having taught elementary and middle school grade levels, managed three federal grants, and worked to implement multiple school reform initiatives legislated at the state level. Tasha has earned her Master's in Education from The Ohio State University and is working toward her Educational Doctorate at Ohio University.
PioPitch Program - February 25, 2016 - Part One: Zumwalde & Werry  
PioPitch Program – February 25, 2016 – Part Two: Werry
January 28, 2016 Program
4-5 p.m.
Laura Pytlik: Founder of Marietta Market Place
Laura works as the Administrative Coordinator for the Department of Petroleum Engineering and Geology at Marietta College. In 2014, Laura created Marietta Marketplace as a way to bring artists and artisans together with visitors and shoppers in the heart of downtown Marietta. The curated outdoor events showcase local and regional products while offering another reason to spend time in this historic city. In an effort to become more involved with the city and its merchants, Laura would like to transition Marietta Marketplace into a unique retail shop in the heart of downtown Marietta while still promoting artists and coordinating special events.
Jack Moberg: Owner of Juice Plus+ Franchise
Jack's serial entrepreneurial activities began with a shoe-shining business before the age of 6, followed by collecting soda bottles, distributing newspapers, and directing parking lot traffic. After graduating from college, Jack briefly held a salary job. He then became a distributer of self-improvement materials. Later, Jack became active in oil and gas industry. He then founded MotorCare (the first quick lube oil change facility in South East Ohio), and Harmar Station (a model railroad museum). Not too long ago, Jack became interested in the concept of concentrated whole food in capsules. That interest led him to purchase a franchise of Juice Plus+. Jack's goal is to bring healthy products to people of all ages.
PioPitch Program - January 28, 2016 - Part One: Pytlik  
PioPitch Program – January 28, 2016 – Part Two: Pytlik & Moberg  
PioPitch Program – January 28, 2016 - Part Three: Moberg
Nov. 12, 2015 Program
4-5 p.m.
Sarah Arnold: Founder of Clutch MOV
Sarah Arnold is an Architectural Designer who graduated from Miami University of Ohio and briefly became a Cincinnatian before moving back to Marietta to design her parents' home. Inspired by the growing creative community here in the Mid-Ohio Valley, Sarah launched Clutch MOV in March of 2014. Clutch MOV is a free online publication that delivers creative coverage of the Mid-Ohio Valley's rich culture and local flavor through the eyes of young professionals. The magazine aims to bring light to our communities' hidden gems, offer a fresh perspective on old favorites, provide networking opportunities for new and long-time residents alike, and publish positive, current content each week.
Laurie & Mike McKain: Owners of Kase's Candies
Laurie and Mike opened Kase's Candies in September 2015 in Grand Central Mall in Parkersburg. WV. Born out of their desire to provide the finest chocolates, bulk candies for every sweet tooth and novelty items including old fashioned candy favorites, they created Kase's Candies. Their goal is to listen to their customers to provide the best selection.
PioPitch Program - Nov. 12, 2015- Part One: Arnold & McKains  
PioPitch Program - Nov. 12, 2015- Part Two: McKains  
PioPitch Program - Nov. 12, 2015- Part Three: McKains
Oct. 15, 2015 Program
4-5 p.m.
Sylvain Riendeau: President and CEO of North American branch of Elpro, Board member of Berlinger USA, Founder and Partner of Marietta Sensors, Owner and Managing Director of EF Scientific
Sylvain Riendeau started ELPRO Services in June 2003 in Marietta Ohio. in a partnership with ELPRO Services, a leading Swiss manufacturer of innovative monitoring solutions and data loggers for documenting environmental conditions. Riendeau moved from Montreal, Quebec to Marietta, Ohio in August of 1988 to join Forma Scientific Technical Department. In 2011, Riendeau co-founded a wireless technology company called Marietta Sensors.
Jim Couts & Lori Cook: Jubilee Organic Gardens
In 2011, Jim Couts and his wife, Cherie, created Jubilee Organic Gardens, a company dedicated to providing rich, sustainable soils to gardeners and farmers. Lori Crook, a Marietta College alumnus, inspired by the ground-breaking and innovative method that Jubilee was using to produce high quality, organic topsoil while diverting hundreds of thousands of pounds of post-consumer food waste, officially joined the Jubilee team in early 2015.
PioPitch Program - Oct. 15, 2015- Part One: Riendeau  
PioPitch Program - Oct. 15, 2015- Part Two: Riendeau & Couts and Crook  
PioPitch Program - Oct. 15, 2015- Part Three: Couts and Crook
Sept. 17, 2015 Program
4-5 p.m.
Dr. Jane Cases: Founder of Wellness 360
Dr. Jane Cases is a board certified endocrinologist and leader in regenerative medicine. Her work focuses on endocrinology, diabetes and metabolism as well as stem cell therapy, platelet-rich plasma (PRP) therapy, aesthetics and much more. Her passion for total wellness and weight management led her to start Wellness 360 Comprehensive Lifestyle Center in Marietta, Ohio, where she serves as Chief Medical Officer. The development of Healing Saint™ products came from her passion for regenerative medicine to help patients who want to fully address or prevent lifestyle diseases. After a horrific road bike accident, Dr. Jane was left with terrible scars on her face and arm. Unwilling to settle for the traditional approach to wound care which would have had less-than-desirable results, Dr. Jane was driven to learn even more about wound healing technology and to better understand its ability to enhance the body's self-repair and self-renewal potentials. The result was the Healing Saint Luminosity Skin Serum, a proprietary formula to better heal damaged and aging skin. A leading researcher on cell medicine, Dr. Jane offers American Medical Association approved training courses for fellow physicians and has authored dozens of peer-reviewed articles and studies in numerous scientific and medical journals. She holds active professional memberships with the American Board of Internal Medicine, Endocrine Society USA, American Thyroid Association, American Association of Clinical Endocrinologists, European Association for the Study of Diabetes, American Academy of Anti-aging Medicine and the International Cell Medicine Society. In addition, she has served as an Assistant Professor at Ohio University's School of Osteopathic Medicine.
Brad Keller: Co-founder of MyUniversityListings
Brad Keller is a student at the University of Mount Union, studying Marketing and Entrepreneurship. As a student with Mount Union, Brad has completed five internships with the Timken Company and the Cooper Tire & Rubber Company, and is also a member of the track and field team. Most recently, Brad and his roommate Mitch Kalning have started their own business, named MyUniversityListings, LLC. MyUniversityListings, LLC provides a safe and convenient community for college students and faculty to buy and sell items to one another. MyUniversityListings, LLC is a rapidly growing classified listings service, and is currently being implemented in multiple universities throughout Ohio and New York. Brad spoke on his experience as a student entrepreneur, and gave more insight on how MyUniversityListings, LLC was started and its future plans for growth.
PioPitch Program - Sept. 17, 2015- Part One: Introduction & Cases  
PioPitch Program - Sept. 17, 2015- Part Two: Cases & Keller  
PioPitch Program - Sept. 17, 2015- Part Three: Keller & Conclusions
April 9, 2015 Program
4-5 p.m.
Melanie Preston: Founder of Preston's Beauty Academy
Melanie is the founder of Preston's Beauty Academy in Marietta Ohio, Melanie's Design Specialists I & II in Marietta Ohio and Vienna West Virginia, and the Rejuvenation Laser & Skin Center in Vienna West Virginia. This highly motivated entrepreneur has managed to establish all of the above organizations in a period of seven years. These days, Melanie is really excited to be using her newly purchased laser machines to serve her customers and to train her students.
Ryan Smith: Founder of Marietta Adventure Company
Ryan Smith is the founder of Marietta Adventure Company. He returned to Marietta 10 years ago after spending several years living out of a creek-side RV in California. Having lived in a vibrant outdoor community in California, he saw possibility for growth in his hometown of Marietta and returned to set some groundwork. Ryan began the initiative for the Marietta City Trail System 10 years ago, and since then it has grown into a network of single-track mountain bike trails over 20 miles long, all located within the city of Marietta.
PioPitch Program - April 9, 2015- Part One: Introduction & Preston  
PioPitch Program - April 9, 2015- Part Two: Preston & Smith  
PioPitch Program - April 9, 2015 - Part Three: Smith  
PioPitch Program - April 9, 2015-Part Four: Smith & Conclusion
March 19, 2015 Program
4-5 p.m.
Doug Kreinik: Owner, Kreinik Manufacturing Company
Doug joined the family business in 1983. Kreinik Mfg Co Inc was established by his parents, Estelle and Jerry Kreinik, in 1971 in Parkersburg, West Virginia. Kreinik manufacturers metallic braids, silk and carry all sorts of embellishments used by many textile enthusiasts in needlepoint, weaving, sewing, quilting, scrap booking, crocheting, cross stitching, costuming, knitting and even fly fishing. His philosophy is "Threads Visualize Thoughts." Doug will be presenting about marketing challenges for an established business, as well as methods of attracting a younger consumer market.
Tyler Baltzell & Alina Kielbasa: "Pull Out" Energy Conservation Initiative
Tyler Baltzell and Alina Kielbasa are seniors at Marietta College, majoring in International Leadership Studies and Political Science, as well as pursuing a certificate in Teaching English as a Foreign Language (Alina) and Advertising and Public Relations with a minor in Graphic Design (Tyler). Alina and Tyler will pitch their "Pull Out" Program. This program aims to reduce the cost of electricity at colleges and universities and increase student awareness of their usage through updated meters and innovative technology.
PioPitch Program - March 19, 2015 - Part One: Introduction & Kreinik  
PioPitch Program – March 19, 2015 – Part Two: Baltzell & Kielbasa  
PioPitch Program – March 19, 2015 – Part Three: Baltzell & Kielbasa and Conclusion