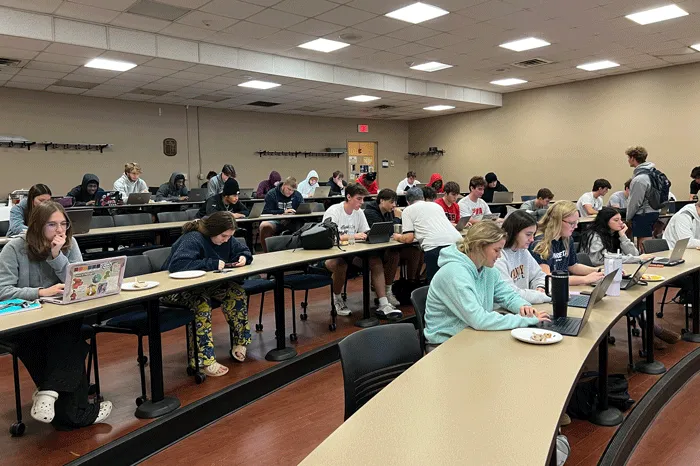 Like many first-year students, Addison Heath '27 (Weston, West Virginia) was anxious about registering for spring courses since it was her first time doing it without the assistance of an advisor.
"I was trying to figure out the right classes, along with making sure it ends at a good time that it would not interfere with my sport," said Heath, who plays softball and is majoring in Marketing.
Heath's angst was reduced when Rick Smith, her PIO 101 professor, shared that he and some other faculty offer a special breakfast for new students on the first day they can register for classes — Thursday, November 9. The event was a success as nearly 40 students arrived at 6:30 a.m. for breakfast and to register for classes at 7:00 a.m.
"He said there would be an event that offered breakfast, and there would be professors there to help with scheduling," she said. "I did not get into one class that I wanted to be in, but I was able to talk with one of the professors about what I should do. They helped me navigate, along with other students, what to do if we got waitlisted or if the course was closed. I highly recommend this event! It was more beneficial than I originally thought it would have been, and it is very comforting for a first-year student to be able to go to an event that helped me plan out my future."
This is exactly why Smith and Linda Roesch, who also teaches a PIO 101 course, started offering "Breakfast and Advice" a few years ago. Smith said they would get up at 4:30 a.m. and prepare the food and meet with the students.
"It's exciting to see 30+ freshmen join us for our registration breakfast," said Smith, who is the Chair of Business and Economics. "By having students gather with us, we can help navigate when classes fill, help students choose more courses to fill their schedule, etc. Plus, it cuts down on the number of calls and emails we'll get throughout the day since we took care of nearly 10% of the entire freshman class this morning all at one time."
Candace Walters '27 (Powell, Ohio) enjoyed a donut and the breakfast casserole, but having faculty available to assist her with registering was a huge relief for the Sports Medicine major.
"I was nervous coming in as a freshman and never making my schedule on my own," Walters said. "Having support and people there made registering way less stressful. After submitting my classes, there were some I didn't get, and they instantly gave me other options that I could take."
Dr. Linda Lockhart, Director of PIO 101, loved the concept and asked Smith and Roesch if it could be expanded to include all first-time freshmen. Lockhart and Dr. Greg Delemeester, Professor of Economics, joined this year's registration event.
"The 'highlight' of the morning was for every student to have their Self-Service registration page open and promptly at 7:00 a.m., when their registration period officially opened, to click the REGISTER button," Lockhart said. "The early morning registration breakfast helps to alleviate some of that stress because advisors are on hand to help and because students are facing the challenge together."
Lockhart said most registrations went smoothly, but class registration sometimes doesn't process.
"It may be because the class seats are filled before a student's registration is processed, resulting in them having to replace that class with a different section at another time. Or, they may have tried to register for a class that requires a prerequisite they haven't yet completed, so they need to choose another class," Lockhart said. "Being able to troubleshoot these and other surprises immediately not only minimizes stress but helps the student learn the system and feel more confident in completing the process on their own — a process they will repeat several times before graduation."