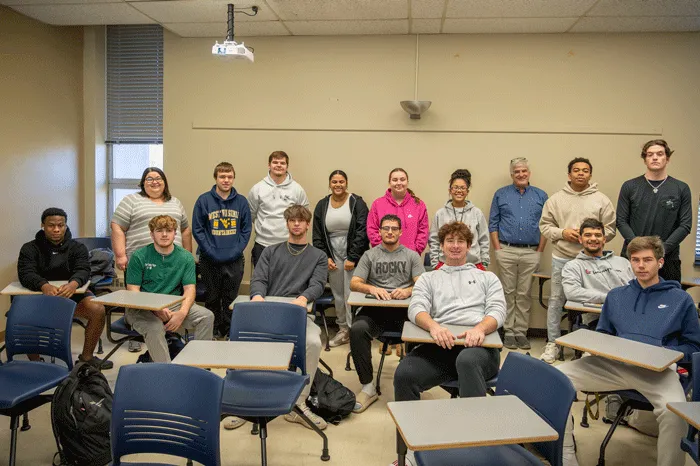 A day after a gas explosion caused the elderly residents of a low-income housing complex to leave their homes, Marietta College students in the Resilient Mindset Learning Community who were volunteering at the local Gospel Mission Food Pantry met two of the displaced residents.
"We were wrapping these little boxes filled with gifts for children to open on Christmas when two women came in and talked to our whole class. They said their apartment had burned down and they came in to try to get an outfit because they lost everything they had," said Ronnie Hess '27 (Fredericktown, Ohio), a Special Education Elementary Education major. Though the first-year student was sad that so many elderly people were impacted by the explosion, she was proud to be a part of a community that stood ready to help others in need.
The students in the learning community are all taking the same PIO 101, Writing 101 and PIO 102 classes — which are being taught by Academic Resource Center Director Amanda Haney-Cech, Professor Tim Catalano, and Athletics Director Larry Hiser. The three instructors designed the community to integrate content and promote connections that engage students with each other, the College, and the greater Marietta community. For the Writing 101 section, students focused on The Other Wes Moore by Wes Moore.
"In the story, Wes focuses on some key areas of family, team, and community/culture," Haney-Cech said. "With these themes, we have engaged the group in out-of-class activities to enhance their experience and learning. For the team theme, we hosted a tailgate for half the class to cheer on the other half of our class who played in the football game. To celebrate the family theme, we hosted a family dinner night at (my family's) home to have a home-cooked meal outside of campus. The final activity was volunteering at the Gospel Mission to understand the culture better and to serve the community by wrapping Operation Christmas shoeboxes for local children."
Dr. Linda Lockhart, Associate Professor and Director of the PIO 101 First-Year Program, said there is an intentionality with which these activities are designed to extend learning and engagement beyond the classroom from the students' very first semester at Marietta.
"PIO 101 and 102 classes are often considered by prospects and students as 'unnecessary,' but this type of integration across classes to form communities of learning promotes deeper understanding of content and provide added value through engagement with their college and its community," Lockhart said. "…The Resilient Mindset Learning Community is one of 10 learning communities created among first-year classes. National research has found that participating in a learning community is positively linked with student academic performance, attendance, and engagement with educational activities. such as academic integration and interaction with faculty members, and overall satisfaction with the college experience."
Kyan Barnes '27 (Twinsburg, Ohio) never expected to have such varied out-of-class experiences during his first year at Marietta, but found them to be educational, engaging and thought-provoking.
"Listening to the women talk, it made me feel fortunate for what I have because some people have a life much different from mine," Barnes said. "They (the instructors) brought us out to these activities and let us have these experiences. They all connect back to the book."