Studying a second language at Marietta College means more than just learning how to speak in proper tense — it also means learning about the culture and history of that language. Studying a language opens up a world of possibilities to students who want to study abroad, work abroad, or provide educational support to those who speak English as a second language.
Areas to support you while you learn a second language are embedded within multiple support centers and additional valuable support is available. This page compiles a list of resources available to support you as you learn or grow in a new language at Marietta College.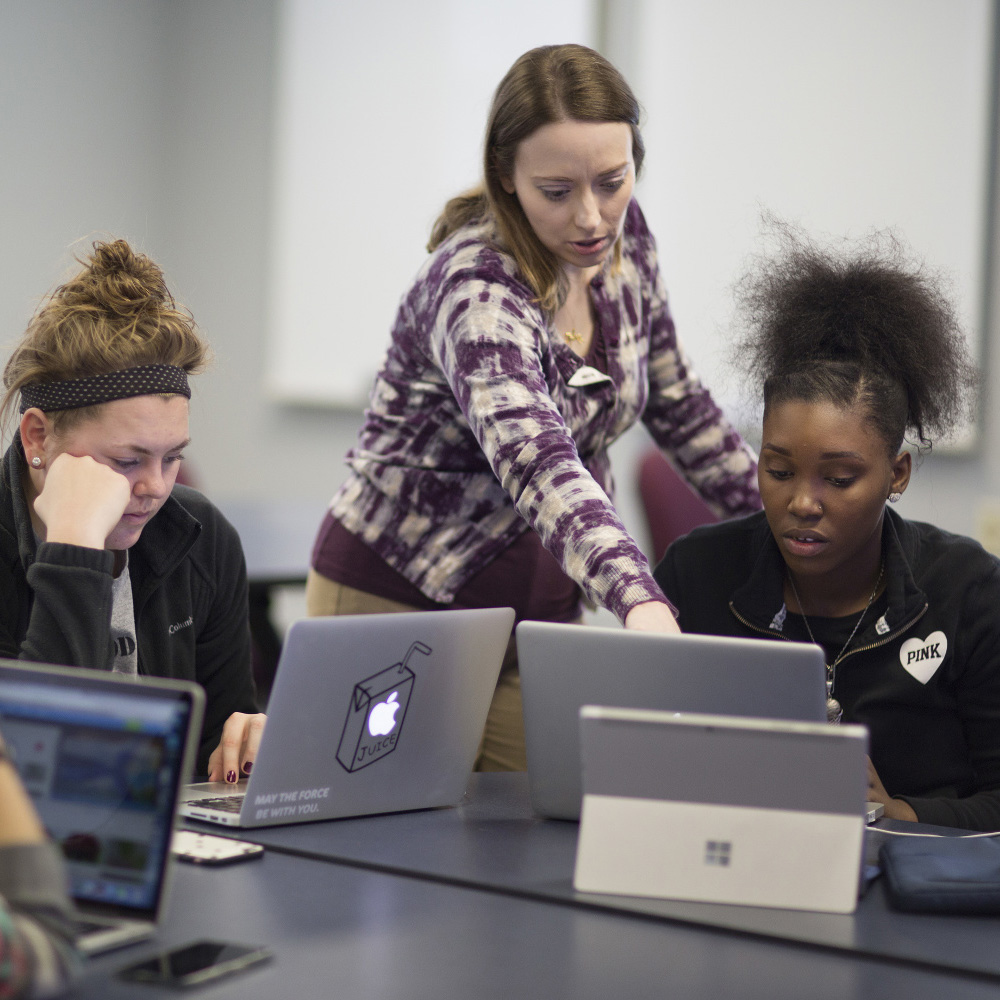 Peer Tutoring and English Conversation
Communicating in any language is in an interactive pursuit! Work with our peer tutors and consultants, who are Marietta College students recommended by faculty members and who have completed training to provide effective assistance!
Peer tutors/consultants are available for:
One-to-one tutoring at the Tutoring & Learning Center, Bartlett 370
Writing consultation at the Writing Center, Thomas 222
Presentation/Speech consultation at the Communication Center, Mills 205
English Conversation Partners sessions at the Communication Center, Mills 205
How to schedule an appointment
Go to mywco.com/Marietta
Register for an account using your MC email (first visit only)
Log in and select the Center indicated above for the service you want to schedule
If you are scheduling one-to-one tutoring, use the "Limit to:" dropdown list to see only schedules of peer consultants tutoring your subject
Scroll down and review available times for tutoring (white slots are available, blue slots are taken, and dark blue slots are not available)
Click on a white time slot and complete the appointment form
Meet with your tutor in person at the center
Resources & Help
The value of learning a second language
The study of a second language is important for a number of reasons:
The ability to communicate with people from another culture is valuable.
Learning other languages vastly increases one's own understanding of his or her native language and of language in general. Our culture is flooded with examples of people trying to persuade or mislead by taking advantage of the weak understanding people have of their own language.
The study of languages provides insight into other cultures and cultural differences, which is very valuable in political and economic terms on a global scale.
Within a more immediate framework, languages require structured learning that will improve study skills. In the longer term and in a more profound sense, it can result in a deeper understanding of vocabulary and meaning. It can lead to rigorous studies of topics such as those of texts in the original language throughout many disciplines, and thus form a foundation and a touchstone for the liberal arts as a whole.
Employers value candidates who have knowledge of foreign languages; language study will give our graduates an advantage in the international job pool.
Events
Spanish Conversation Nights at Tampico, 221 2nd St.
Practice your Spanish-speaking skills with native speakers during 1-hour weekly group sessions at Tampico Mexican Restaurant. Students and community members of all fluency levels are welcome to join in these hour-long conversations, which focus on Spanish, and range from large group to small group chats.
Sponsored by the Spanish Program and Physician Assistant Program
Watch for announcement of dates and time early in the semester.
Please note: these will not be instructional sessions. Participants will be responsible for purchasing individual dinners and drinks.
MORE INFORMATION: Dr. Sam Cruz, sc011@marietta.edu
Contact
ARC Tutoring & Learning Center | tutoring@marietta.edu | Claire Crane, director
ARC Writing Center | tutoring@marietta.edu | Claire Crane, director
Communication Center | CRCenter@marietta.edu | Dr. Linda Lockhart, director
Chinese | Jenni Zhang, director Asian Studies Program, nz002@marietta.edu
ESL – English as Second Language | Leanne Price, director
ESL and TEFL, lmp001@marietta.edu
Spanish | Dr. Samuel Cruz, sc011@marietta.edu