2019 MOVEE Keynote Speaker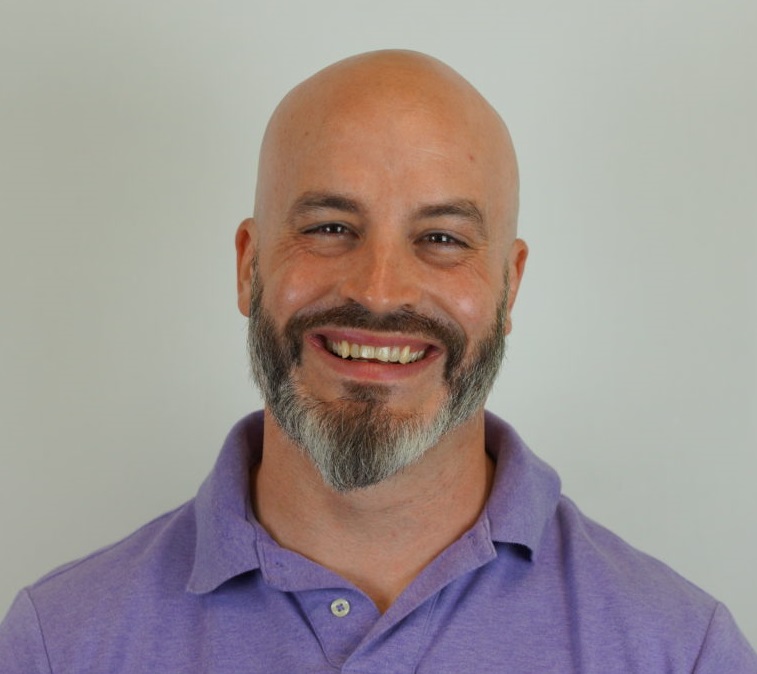 Dale King
Dale is a family man, an entrepreneur, a veteran, a coach, and a proud son of Portsmouth, Ohio. Born and raised in Portsmouth, Dale moved away to attend college at Capital University and later serve in the US Army. Dale served as an Intelligence Officer supporting 10th Special Forces Group with multiple deployments to Iraq. Upon leaving the military, he returned home to open PSKC CrossFit in 2010 in order to build a stronger community that had been ravaged by a depressed economy and opioid addiction.
Dale would later go onto co-founding Team Some Assembly Required with his longtime friend Derick Carver. Team SAR uses and displays the relentless spirit of the American adaptive athlete to promote and instill, in ALL Americans, a fundamental belief that athletics, camaraderie and competition organically grow a sense of confidence, independence and purpose.
From there Dale along with Renee Wallace would later open Doc Spartan, an all natural grooming and skincare company in 2015. Doc Spartan made its way to national TV by appearing in season 8 of ABC's Shark Tank eventually landing a deal with Robert Herjavec. A year after airing Robert named Doc Spartan one of his best deals in the history of the show.
In 2019, Dale and the staff at PSKC partnered with The Counseling Center to pioneer an experimental program that incorporates fitness as a force multiplier to addiction treatment. This program has given clients the confidence and capability necessary for recovery and sobriety.
Dale has a passion for helping others through fitness and business development. He believes through the persistent conquering of challenges a more successful and strong person is built.
2019 Concurrent Workshops
10:10 a.m. - 10:50 a.m.

Concurrent Sessions 1

Session 1A
Joy, Passion & Profit: Empowering Entrepreneurs Cooper Auditorium to Build Companies That Change the World
Michael Taylor
Entrepreneur, author, and motivational speaker, Coach Michael Taylor makes the case there has never been a better time to be an entrepreneur.
Session 1B
You Have an Idea for a Venture to Serve People: Should You Pursue it as a For Profit or Not-for-Profit?​
Ben Ebenhack
What are the pros and cons of choosing to pursue an idea that serves people either on a profit-making basis or non-profit basis
Session 1C
Intellectual Property: What is it, and How to Protect I​t
Monika Jaensson
This workshop will help to gain an understanding of the different types of intellectual property - patents, trademarks, copyrights and trade secrets, and how to protect innovation, brands, and creative expressions. We will also discuss third party intellectual property, and how to avoid infringerment and misappropriation thereof.
Session 1D
Financial Balancing Acts: Managing Your Personal and Business Finance​
Shelene Shrewsbury
This session will provide you with valuable tips to managing your personal finances separate from your business's finances. Managing these two entities separately matters to the legal protection and brand reputation of your business.
Session 1E
Employee Performance Appraisals: From Accountability to Learning and Development
Dr. John Fazio
This presentation will compare employee performance evaluation techniques proven inadequate and effective toward execution of organizational goals.
Session 1F
Brand Mechanics: Crafting Your Company's Brand​
Eric Rickabaugh
Eric Rickabaugh, owner and Creative Director at Rickabaugh Graphics, his presentation will take you through the best practices for creating a new company brand image.

11:00 a.m. - 11:40 a.m.

Concurrent Sessions 2

Session 2A
Joy, Passion & Profit: Empowering Entrepreneurs Cooper Auditorium to Build Companies That Change the World
Michael Taylor
Entrepreneur, author, and motivational speaker, Coach Michael Taylor makes the case there has never been a better time to be an entrepreneur.
Session 2B
You Can't Be All Things to All People: How to Create Value for Your Target Customer​
Julie Harding
Successful organizations recognize that sustainable growth depends on their ability to create value for customers in a way that keeps them coming back for a lifetime of patronage.
Session 2C
Accidental Entrepreneur
Julie Jeffries
Sometimes your greatest idea is not something that you train your whole life to do, nor is it something that you find after an exhaustive search for the perfect business plan. Sometimes, you stumble into an opportunity, never even having considered it to be something you could develop into your life's work.
Session 2D
The Entrepreneurial Equation​
Kim Luft
Learn how to put banking, retirement and insurance tools to work to keep more of what you earn and protect your business.
Session 2E
Effects of Student Loans on Entrepreneurial Activities After Graduation​
Daniel Germain
Student debt has grown rapidly in the past thirty years but at what cost? We will look at the effects of student debt on entrepreneurial activities after graduation along with some of the opportunity costs of attending college. Possible solutions and their effects will also be explored.
Session 2F
Capacity for Diversity & Inclusion
Cassandra A. Cooper
This session will provide a foundational analysis on the significant role diversity training has on organizational climate and employee engagement while also including additional policies needed for organizations to maximize potential and innovation through cultural assessment and methods for recruiting and retaining diverse identities and populations.

1:40 p.m. - 2:50 p.m.

Concurrent Sessions 3

Session 3A
Setting Yourself Apart: How to Stand Out in a Crowd​
Sarah Arnold & Cristie Thomas
In a sea of brick and mortar small businesses and e-commerce driven start-ups, it can be overwhelming for an entrepreneur to identify strategies that separate your business from the pack. There is hope, though, and this workshop will equip participants with key strategies, best practices, and core questions to ensure your small business is engaging your target customer, honing your competitive advantage, and reaping the benefits for your bottom line.
Session 3B
Leverage Your Passion by Finding Your "Why?​"​
Jeremy Turner
In the words of Mark Twain, the two most important days in your life are the day you were born and the day you find out why. But how can you discover your real purpose in life so that you might focus your skills towards making a lasting impact? Tap into the wisdom of contemporary thought leaders like Simon Sinek and learn the secret formula for crafting your own purpose-driven story by discovering your "why."
Session 3C
I Started a Business to Support My Bad Habit: A Guide to Small Business Start-ups
John Voorhies
This session is designed for retired, displaced or underemployed individuals who have a passion or skill set and would like to take those passions and turn them into profits by starting their own business.
Session 3D
Learning from Failures​
John Glazer
Stories of entrepreneurial failures are rarely explored. However, these are often the most lesson-rich and insightful in shedding light on real-world entrepreneurship and "what it takes" to succeed. We have interesting, enlightening, delightful, and scary stories to share. "Ah-Ha" and "Oh-Duh" experiences abound.
Session 3E
Uncertainty Enlightenment: How You can Benefit by Adding Monte Carlo Simulation to Excel-Based Forecasts
Susan Peterson
Do you use Microsoft Excel? It is undeniably a commonly-utilized tool for planning, budgeting, and forecasting. If you do (or will) use Excel in your entrepreneurial endeavor, you should consider the insights to be gained by also utilizing Monte Carlo simulation. This session will introduce you to Monte Carlo simulation, and illustrate how uncertainty enlightenment can be a valuable assistant for incorporating, communicating, and managing your risks.

3:00 p.m. - 4:10 p.m.

Concurrent Sessions 4

Session 4A
Market Smarter, Not Harder​
Sarah Arnold & Cristie Thomas
Did you know that it costs five times as much to attract a new customer than to keep an existing one? Investing in customer loyalty is one of the smartest investments you can make as a business or organization. This workshop will go through Audience Development and Engagement Strategies for sustained customer growth and increased loyalty.
Session 4B
Becoming Human-Focused & Empathy-Driven to Solve Wicked Problems​
Jeremy Turner and Olen York
The world of entrepreneurship is littered with the remains of failed products and services that never gained traction with their intended customers. So, what went so terribly wrong? By applying the Design Thinking methodology used by innovation leaders like Intuit and IDEO, it is possible to see the world through the eyes of others to create human-focused solutions to the world's most wicked problems.
Session 4C
The Knows of Entrepreneurship​
Tiesha Monroe
Choosing to be an entrepreneur can be a difficult decision for many. If you have fears of starting a business or you have a business but have lost sight of your goals, then this interactive session is for you. Prepare for an engaging session of interactive learning, self-discoveries, and overall fun!
Session 4D
Hide-and-Go-Seek: The Art of Finding the Right Employee​s
Kelly Campbell
In this session you will learn how to design a position, write an engaging and informative job description, use your network to find prospects, conduct a positive and productive interview, make offers, and negotiate terms. The session will include interactive exercises designed to refine your skills as an interviewer.
Session 4E
"Canvas" Your Innovative Concept!
Faith Knutsen
Participants will hear a brief overview of a well-known one-page venture planning tool (based on Business Model Canvas and modified for use with any new start or new program). Three to four-member small groups will use the tool in a simulated start-up session to create new (or modify existing) businesses, social enterprises, non-profits or projects of their choice. Participants will receive the experience necessary to implement the tool in their professional or volunteer workplace, plus a digital and hardcopy of the Canvas. Participants are encouraged, but not required, to come with their own ideas; if they don't have one, they can share in others' plans.
PLUS Lunch, Keynote Address, and presentation of Clutch MOV Entrepreneur of the Year Award: 11:45 AM - 1:30 pm
AND Resource Fair & Networking Reception 4:15pm - 5:30 pm