Riverview Credit Union Proudly Presents
The 2021-2022 Mid-Ohio Valley Entrepreneurship Expo At Marietta College
Energizing Small Business
Thursday, September 23, 2021
12:00 p.m. - 7:00 p.m.
In-Person Conference on the Campus of Marietta College
Cost: $40
Register
Featuring the Keynote Speaker: Dr. Heidi Neck, Ph.D., an award-winning educator and author.
Event Program
The conference starts at noon and ends at 7:00 pm. The general sessions are scheduled for 12:00 p.m. to 2:00 p.m. and 5:00 p.m. to 7:00 p.m. Depending on your interest, between 2:00 p.m. to 5:00 p.m., you may choose to participate in one of the five tracks (described below) or switch between tracks.
Find the locations of various sessions on the campus map
11:30 a.m. - 12:00 p.m.
Registration (DBRC)
12:00 p.m. - 1:50 p.m.
Luncheon Opening Ceremonies
Keynote Address: Dr. Heidi Neck, Entrepreneurial Energy (DBRC)
Entrepreneurial Energy: What it feels like to think and act entrepreneurially and all the things you can do with that!
The ability to think and act entrepreneurially is today's greatest life skill. It is way of thinking, acting, and being that combines the ability to find or create new opportunities with the courage to act on them. There is no single "entrepreneurial mindset" – rather it's about starting where you are and shifting your mindset toward a more entrepreneurial view of the world. When this shift happens, you feel the entrepreneurial energy!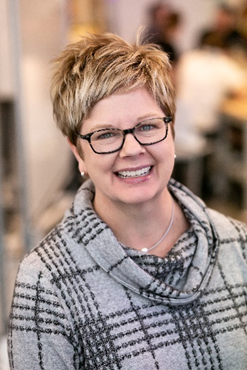 About Dr. Heidi Neck

Heidi Neck, Ph.D., is a Babson College Professor and the Jeffry A. Timmons Professor of Entrepreneurial Studies. She is the Academic Director of the Babson Academy – a dedicated unit within Babson that inspires change in the way universities teach entrepreneurship and build entrepreneurship education ecosystems. The Babson Academy builds on Neck's work starting the Babson Collaborative, a global institutional membership organization for colleges and universities seeking to increase their capability and capacity in entrepreneurship education, and her leadership of Babson's Symposia for Entrepreneurship Educators (SEE) – programs designed to further develop faculty from around the world in the of art and craft of teaching entrepreneurship and building entrepreneurship programs.

An award-winning educator and author, her textbook Entrepreneurship: The Practice & Mindset (2017) was awarded the Breakthrough Book of 2017 by Sage Publishing and the 2018 Most Promising New Textbook Award by the Textbook & Academic Authors Association (TAA) and is currently in its second edition (2020). Neck is the co-author of Teaching Entrepreneurship: A Practice-Based Approach, Volume 1 and 2 (Elgar Publishing) – books

written to help educators teach entrepreneurship in more experiential and engaging ways. Her most recent book, The IDEATE Method (Sage 2020), helps nascent entrepreneurs identify high-potential business ideas. She has been recognized by international organizations, the Academy of Management and USASBE, for excellence in pedagogy and course design. For pushing the frontiers of entrepreneurship education in higher education, The Schulze Foundation and the Entrepreneur and Innovation Exchange awarded her "Entrepreneurship Educator of the Year" 2016.

Neck is a Past President of the United States Association of Small Business & Entrepreneurship (USASBE), an academic organization dedicated to the advancement of entrepreneurship education. She speaks and teaches internationally on cultivating the entrepreneurial mindset and espousing the positive force of entrepreneurship as a societal change agent. In addition to her academic responsibilities, she is a consultant, entrepreneur, board member, and investor. Heidi earned her Ph.D. in Strategic Management and Entrepreneurship from the University of Colorado at Boulder. She holds a B.S. in Marketing from Louisiana State University and an MBA from the University of Colorado, Boulder.

Click here to watch Dr. Neck's TedX talk on Entrepreneurial Intelligence
2:00 p.m. - 5:00 p.m.
Individual Sessions
On the day of the event, depending on your interest,  you may choose to participate in one of the five tracks or switch between tracks. Note: You do not have to make that choice at the time of registration. 
Use the dropdowns below to explore the five tracks
Track 1: Growth & Expansion (Thomas 223)

Track 2: Management & Strategy (Thomas 209)

Track 3: Stand Out & Speak Up (Thomas 124)

Track 4: Social Entrepreneurship & Non-Profits (McDonough Gallery)

Track 5: Law & Order (Thomas 113)
5:00 p.m. - 7:00 p.m.
Business After Hours & Networking (DBRC)
In collaboration with Belpre Area Chamber of Commerce, Chamber of Commerce of the Mid-Ohio Valley, and Marietta Area Chamber of Commerce