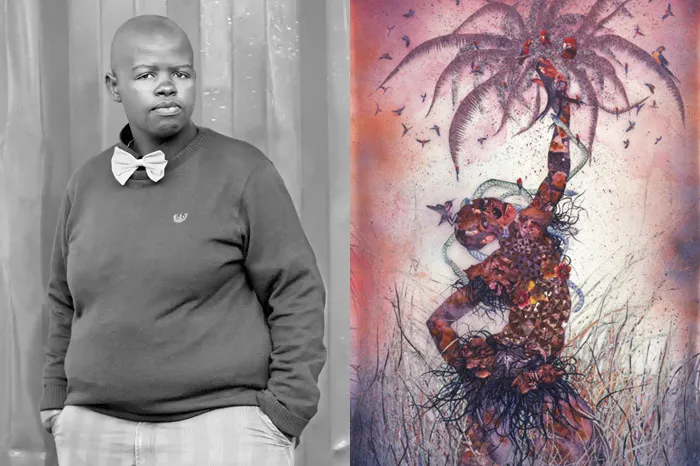 For three days in April, Marietta College will show two Art21 videos on the work of Zanele Muholi and Wangechi Mutu from 9:00 a.m.-9:00 p.m. in Gallery 310 (third floor of the Hermann Fine Arts Building).
The videos will be on a continuous loop starting at 9:00 a.m., Tuesday, April 18th, and will continue each day through the College's All Scholars Day on Thursday, April 20th. The video showings are free and open to the public.
Art21 is a PBS documentary series focused on art in the 21st century. Art21's mission is to inspire a more creative and inclusive world through the works and words of contemporary artists.
Zanele Muholi was born in Umlazi, a township southwest of Durban, South Africa, in 1972. From self-portraiture to photographs of Black lesbian, gay, bisexual, transgender, and intersex people living in South Africa, Muholi creates work that asserts the presence of South Africa's historically marginalized and discriminated LGBTQIA+ community.
Both joyful and courageous, Muholi self-identifies as a visual activist driven by a dedication to owning their voice, identity, and history and providing space for others in their community to do the same.
Wangechi Mutu was born in 1972 in Nairobi, Kenya. In her collages, drawings, sculptures, and films, Mutu centers the female body to create powerful and self-possessed figures that are hybrids of human, plant, animal, and machine forms.
Sampling from a diverse array of sources — from natural materials to fashion magazines, medical diagrams, and traditional African arts — the artist creates otherworldly realms that examine cultural identity, the feminine, colonial history, and global consumption.
Both videos discuss sexual violence, so viewer discretion is advised.