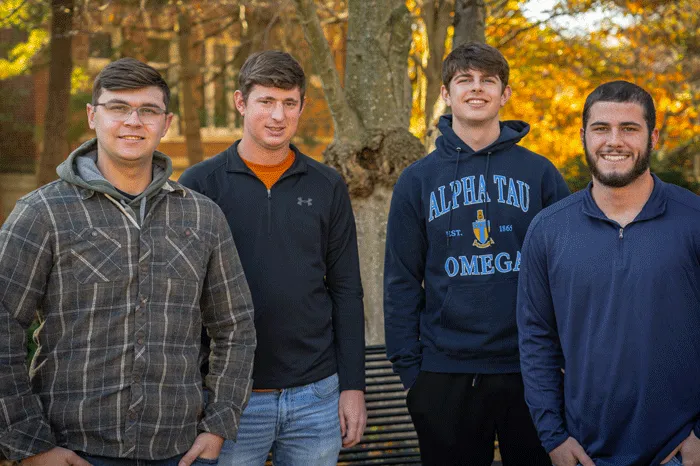 At the beginning of his internship, Gabe Tingle '26 (West Lafayette, Ohio) was admittedly overwhelmed.
"I felt I was consuming too much information too quickly," said Tingle, who is majoring in Accounting at Marietta College. "I started to become stressed, but the more I worked at my internship, the better it was for me."
Tingle, who assisted the district's treasurer in daily tasks related to accounts payable, vendor management and payroll for the Indian Valley School District in Gnadenhutten, Ohio, was one of four Marietta College students who gained hands-on experience in governmental accounting through internships with state and federal agencies last summer.
Their stories, along with perspectives from alumni currently working in government, showcase the rewarding opportunities a career in public service can provide for accounting professionals.
"By the time I ended my internship, I was happy to show up and work every day," he said. "I loved learning new ideas, methods, concepts, and vocabulary about the treasurer's role and the tasks that come along with the job. My time during my internship has made me very excited for the future and excited to pursue my dream of becoming a treasurer one day."
Ethan Brooker '24 (Beverly, Ohio) interned with the Ohio Auditor of State, auditing cities, counties, and townships across the state. He gained insight into how tax dollars are used to benefit local communities.
"I had a great time developing knowledge of government and fund accounting rules as well as meeting many new people from different government entities," said Brooker, who is majoring in Public Accounting and Finance.
Brooker added that interning in a government accounting position helped him more deeply understand how state taxes are used to improve Ohio communities.
"I believe that this organization is providing a great service to the entire state," Brooker said. "Government accounting is a very important service job, and I would recommend the Ohio Auditor of State to anyone who believes there is more to a career than just drawing a paycheck."
Logan Burns '24 (Sheffield Lake, Ohio) also interned with the Ohio Auditor of State in the Northeast Region, conducting financial audits and gaining skills he anticipates using in a full-time role after graduation.
"On these financial audits, I worked on multiple different sections, including financial statement balances, notes to financial statements, trial balances, payroll, and internal controls," Burns said. "I reviewed meeting minutes and subsequent events. During my internship, I learned a lot of very valuable information that I will use in my career after school."
Burns' internship evaluation went well, and he received an offer of full-time employment after he graduates in May 2024. He's excited about his future in governmental accounting.
"I really like the fact that the Auditor of State has a specific unit that deals with fraud investigations, the Special Investigations Unit," he said. "If I could work in this unit in the future, maybe I could help find fraud and save the taxpayers' money."
Hayden Wiggers '25 (Marietta, Ohio) interned with the Defense Finance Accounting Service in Columbus, ensuring military contractors and vendors were paid properly. He was proud to contribute to the compensation of service members. The Public Accounting major worked with accounts that were incomplete or missing data when submitted to the Department of Defense (DoD) and undertook research to fill in the missing details for proper accounting.
"They also provide DoD decision makers with business intelligence, finance, and accounting information," Wiggers said. "People in my unit also attended meetings with directors from around DFAS Columbus where we got to learn about all the moving parts within DFAS."
All four students valued the chance to work in the government accounting sector and gain purpose from serving their communities and country. Their internships confirmed governmental accounting as a worthwhile career path.
This sense of fulfillment has resonated with alumni currently working in government agencies.
Alyssa Boggs Chevalier '04, a Supervisory Accountant for the Summary Debt Accounting Branch, Debt Assurance Reconciliation Team at Fiscal Service in Parkersburg, West Virginia, recalled the importance her professors placed on exploring options like governmental accounting. She has found deep meaning over her 18-year career handling the accounting for the national debt.
"I am privileged to work closely with the daily accounting, reporting, and reconciling of the $32 trillion public debt outstanding and its associated interest expense," she said. "My team is heavily involved in the audit work for the Schedules of Federal Debt, as well as internal audit deliverables. We test system upgrades and migrations, participate in project work, and update 26 standard operating procedures each year." 
Tekla Szelong Colón '02 is the Director of Mission Support Audits in NASA's Office of Inspector General in Leesburg, Virginia. She didn't plan to enter government service after graduation.
"My plan simply included finding a job. Luckily, I was hired a few months later by the Defense Contract Audit Agency right outside of Washington, D.C., and was able to spend four years auditing companies that had government contracts with the Department of Defense," Colón said. "After gaining a few years of auditing experience, I have spent the last 16 years with the National Aeronautics and Space Administration. Yes, NASA, like rocket scientists and going to the moon, NASA. It has been an amazing experience."   
Jason Gandee '95 is a Senior Analyst for the Director of Field Operations in the Southern Area of the Criminal Investigation Division for the IRS. He has served for 28 years, including 18 as a Special Agent, conducting financial investigations. He then stepped into a Supervisory Special Agent role, where he managed a group of Special Agents for seven years.
"This required personnel management and case management skills, as well as the ability to influence third-party stakeholders, such as various U.S. Attorney's Offices," he said. "I am also the direct link between the Dallas, Houston, and the Washington, D.C., field offices to the Director of Field Operations." 
McCoy Professor Grace Johnson said the faculty in Marietta's Accounting program have encouraged students to explore career opportunities at the Big 4 accounting firms, corporate accounting offices, family-owned businesses, and governmental accounting.
"Every student has different goals and different skills," Johnson said. "For those who are driven by service and purpose, governmental accounting offers a chance to apply expertise for the greater good. This is evidenced by both our recent student interns and alumni who are thriving in their careers. It can be a uniquely inspiring career path."