Why Should I Major in Accounting?
It's more than learning how to crunch numbers and create spreadsheets. 
Accounting and Public Accounting majors at Marietta College forge lasting relationships with professors who challenge students to work outside their comfort zones and actively participate in their education. These close relationships with professors, plus the experience gained through independent and faculty-led research, internships with industry leaders, and networking connections made through the College's 25,000-plus alumni, are what Marietta's Accounting and Public Accounting majors expect.
At Marietta College, you'll learn from faculty who are certified public accountants, and you will gain a foundation in business as well as the technical aspects of accounting. You'll enjoy opportunities that you won't find in many other undergraduate programs, such as working with outside practitioners as you conduct an independent research project; many of our students have presented and published their work. Our close ties to universities in China and Brazil also allow you to study and work in a major emerging market for up to a year.
 
Requirements
In addition to a liberal arts core curriculum, Accounting majors prepare for careers by completing a rigorous course load. Marietta's Accounting program is led by talented and respected certified public accountants who are passionate about teaching and sharing.
Major
Requirements for a major in Accounting.
Minor
Requirements for a minor in Accounting.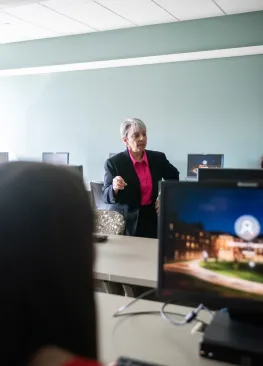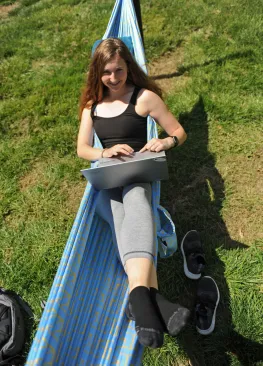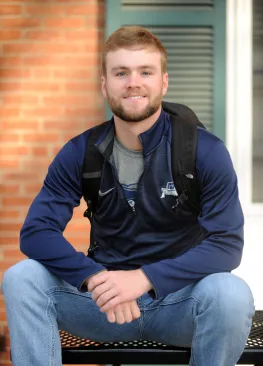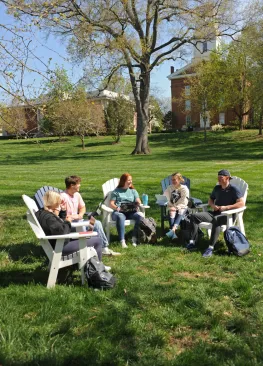 What Can You Do With an Accounting Degree?
Earning an Accounting degree from Marietta College opens doors to careers in auditing, tax accounting, cost accounting, managerial accounting, public accounting, and government and corporate work. 
There are many internship opportunities for students in the accounting major and even more job possibilities. Marietta's faculty have strong connections in the industry. Faculty help students with introductions and provide references. The College also offers the Robert Evans Internship Endowment, which awards one student every summer $5,000 to one qualified rising junior or senior who participates in an approved internship in a for-profit organization, specifically a major national or global organization.
More Info
Our graduates have many options and opportunities for post-graduate work and professional experiences.
Outcomes — Graduate Programs

Baylor University
Capital University
Duke University
The Ohio State University
University of Michigan
University of Maryland
West Virginia University
Ohio University

Outcomes — Professions

Plante Moran, Partner
Peoples Bank, Chief Financial Officer
U.S. Department of Treasury, Accountant
U.S. Postal Service — Deputy Assistant Inspector General for IT & Data Analytics
Sherwin-Williams, Financial Analyst
XPO Logistics, Director of Tax
KPMG, Manager of Advisory Services
The Wendy's Corporation — Director of Internal Audit
PricewaterhouseCoopers (PWC), Accountant
FAQs
Are there specific scholarships for Business-related majors?

Yes! However, the majority of the scholarships are awarded to students after their first year at Marietta College.

The Jules Bourmorck and Julia Bourmorck Staats Memorial Scholarship provides support to a junior or senior majoring in economics, management, or accounting.
The Douglas C. Greene Scholarship is awarded annually to students majoring in the Business & Economics Department.
The Dean's Choice Scholarship is given by the Business & Economics Department and the Dean of the College to a senior accounting major planning to enter the University of Ohio's MBA program in the School of Accountancy. The scholarship is a full-tuition waiver for three quarters in the program.
The Economics, Management, and Accounting Department Scholarship recognizes outstanding scholarship in those fields. Recipients are juniors and seniors who have declared majors within the Business & Economics department and whose academic performance meets the department's requirements.
The Bert T. Glaze Scholarship is awarded to a junior or senior Business & Economics major showing pre-professional achievement.

Can I study abroad as an Accounting major?

Yes! We encourage our Accounting majors to have a well-rounded undergraduate education experience, including study abroad. Given the high course load associated with the accounting major, students planning to study abroad should make a plan for graduating with the necessary credits.

Will I be required to complete an internship to graduate?

No, but we highly encourage all our students to complete at least one internship before graduation. The staff in our Career Center are here to help you explore internship possibilities.

Are CPAs and Accountants the same thing?

No. Not all accountants are CPAs (certified public accountants), but all CPAs are accountants. Typically, an accountant has achieved a bachelor's degree in accounting. A certified public accountant earns this designation after completing specific educational and work requirements and passing a CPA exam.

What resources are available on campus if I am having difficulties in a class?

This is a great question. Almost every student struggles with a class at some point during their college career. First, we encourage you to speak with your professor during the posted office hours. Marietta College also has a number of academic success centers available to every student.