Lifelong friendship inspires gift of rowing fleet
It was an inspired, spontaneous moment.
In their summer planning for the fall, with the likelihood of being limited to single rowing shells due to pandemic mitigation, Marietta's head rowing coaches, Greg Myhr and Abby Klicker '13 were working out a plan to get a fleet of singles to Marietta which, hopefully, would allow the rowers to continue training should the fall racing schedule be canceled.
As fate would have it, alumnus rower Brent Haney '76 happened to be on the phone with Myhr about some other rowing-related topics when the coach mentioned in the conversation that he was presenting the financial plan to the College leadership the next day. The coaches had found a top-flight boat manufacturer, FluidDesign, that offered a program to lease a fleet of singles that would be available for fall rowing.
"My wife, Christine, and I were listening to Greg's plan on speakerphone," Haney says. "And we knew it was going to be a tough sell to the College with the financial impact of COVID-19 on the institution, and it would also detract from the rowing endowment established by Jeff Hugel '77 that we were trying to grow."
The couple looked at each other, and each knew what the other was thinking.
"We told Greg that we wanted to fund the fleet," Haney says.
"I was floored," Myhr says. "Brent mentioned how much he personally had gotten out of small boats rowing when he was in high school, and then in the next sentence said he and Christine would like to cover the cost of the boats and oars — dedicating the fleet in memory of his friend and teammate Garth Griffin (class of 1976), who passed this January."
"Garth was my closest friend, and I'm sure Christine would say he was one of her closest friends as well," Haney says. "We both thought, 'what better tribute could we make in his honor?' "
By mid-August, the Garth Griffin Small Boats Fleet — 18 singles and 2 doubles built by FluidDesign Composites, along with 18 sets of Concept 2 sculling oars — had a new home at the Lindamood-Van Voorhis Boathouse.
"The addition of the Garth Griffin Small Boats Fleet immediately sets us apart from the other programs in our conference," Klicker says.
"Top of the line equipment," Myhr says, "and the envy of every rowing program in the country. Pretty stunning."
Since the boats have arrived, it has been no surprise that many former rowing alums, including Bob Dufour '76 and Fred Elliott '76, have contributed to the fleet — and others have given generously to support the Marietta rowing endowment in celebration of the program's 150th anniversary.
"Jeff Hugel's unprecedented endowment gift in 2019 has inspired many Marietta alumni to support the program," Haney says. "Our goal is to raise $5 million by the Dad Vail Regatta in 2021."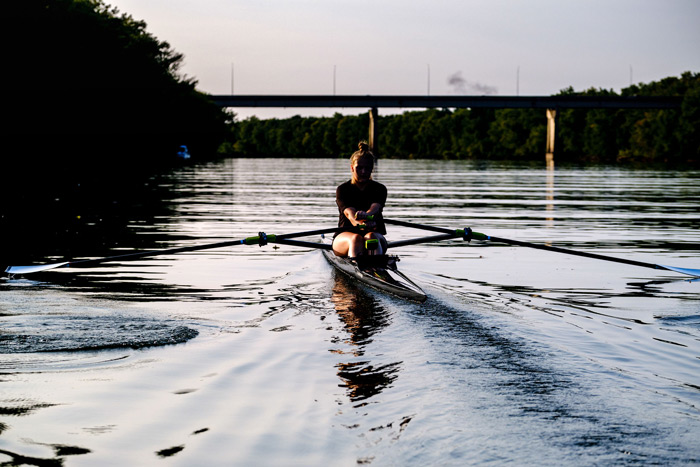 According to the coaches, not only have the singles been invaluable in allowing the athletes to train and race while maintaining physical distancing, but they are also important to a rower's individual development.
"Just like basketball players will work alone or one-on-one to improve a certain part of their game," Haney says, "rowing in singles helps the athletes to work on their technique and endurance without having to match pace with other rowers."
Klicker agrees.
"Even under normal circumstances, singles are a fantastic tool," she says. "Already, I can see the women improving technically. The singles highlight each athlete's efficiency on the water and give them a clear understanding of how they stack up against their teammates. Every day has a level of competition."
Named for 1972-1973 Marietta rower, Garth Griffin, the fleet is also particularly special as a culmination of a lifelong friendship between four oarsmen — Griffin, Haney, Fred Elliott '76 and Bob Dufour '76 — that began decades earlier on the Muskingum River.
Prior to coming to Marietta, Elliott and Griffin were roommates and teammates at Kent School in Connecticut, where, they won the 1972 Princess Elizabeth Cup at the Henley Royal Regatta in Henley-on-the Thames during their senior year — the pinnacle achievement of high school rowing to this day.
According to Elliott, their boat's dream was shattered when, a week before the race, one of their strongest rowers had to bow out with a heart-related condition. Suddenly, the attention focused on the spare, who happened to be Garth.
"Our coach and all of us never thought Garth would need to row," Elliott says. "He hadn't done any training for weeks; he was named our spare because he was well-liked by all as the Commodore (Captain) of the team and the stroke of the 2nd Varsity. Suddenly, he was thrust into the four seat of a crew that had been undefeated, had won the Stotesbury Cup and New England Championships and was the top seed at Henley among all international entries.
"I often think about the position he was in … the pressure," he continues. "And it says so much about his character that he didn't flinch. You could tell he was going to do his best job, and he did and we won the Princess Elizabeth Cup by a 'deck' in the finals."
Less than a year later, Elliott and Griffin would win the prestigious Dad Vail Regatta as members of the Marietta Freshman Heavyweight 8 — this time accompanied by Haney. While Dufour was also a freshman, he was elevated to the Varsity Lightweight crew, who also won Dad Vail Gold that year.
"With those accomplishments, there is no one who ever had a better year in rowing than Garth and Fred," Haney says.
"He'd tell people: 'I never lost a race with Freddy,'" Elliott says. "And it was true. I was so proud of the person he'd become along the way."
Although Griffin left Marietta College after his freshman year, the friends agree that he blossomed during that one year as a Pioneer. Starting off shy and introverted, he gained confidence and transformed into an outgoing and energetic person.
"Without question, Garth took off as an individual at Marietta College," Elliott says. "He had a great year, he found himself and he was that person the rest of his life … warm, caring, generous and fun-loving."
"At Marietta, Garth and I hit it off when we first shook hands," Dufour says. "We went everywhere together.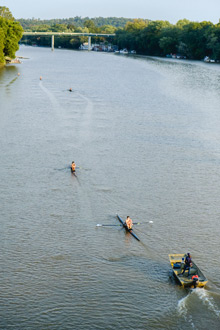 "That spring, we came back to school early because we knew we wouldn't be able to drink once the rowing season started," Dufour recounts. "One of those nights, we were walking back from town and decided it would be a good idea to steal a bench from the Sigma Kappa house and deliver it to the TKE's, just to start a little good-natured trouble.
"We were walking through the middle of campus with the bench when suddenly a security officer came walking around the corner. Without a thought we both sat down on the bench," he says. "We ended up having a 10-minute conversation with the officer before he finally moved along and we got out of there — leaving the bench right there by the flag pole."
After the 1973 season, Griffin moved to Shelter Island, New York, where his parents had relocated, eventually earning a degree in business and public management from Southampton College, where he graduated magna cum laude. While in college, Griffin started the Shelter Island School volleyball program, an action that would set the stage for his life's work as an active, caring member of the Shelter Island community.
"Garth really found his calling at Shelter Island," says Haney, who joined Griffin in buying property there in 2015. "He held a lot of different positions on the island. You name it, he was involved."
In addition to coaching volleyball, Griffin also coached the golf team. He started his own painting company, became a fireman, served as a policeman and was named director of the island's recreation department in 1981, a position he held until he retired in 2017. He volunteered as an EMT, and was also known to drive the bus for seniors, so they could go on shopping excursions or attend other events.
"He became the unofficial Mayor of Shelter Island," Elliott says.
Through the years, the four men remained fast friends, finding time each year to get together, participating in each other's weddings and serving as Godparents to each other's children. When they turned 60, they went on a bucket-list trip to England to attend the Henley Regatta.
"We ended up getting tickets to Wimbledon and the opportunity to watch the finish line of the England stage of the Tour de France from the broadcast booth on the mall at Buckingham Palace," Dufour says. "It was an incredible experience."
Griffin passed away suddenly in January this year, and the friends are still feeling the loss.
"I can't believe he's gone," Dufour says. "He was the most amazing friend. No matter how much time elapsed between get-togethers or conversations, whenever we got together it was like we had just seen each other yesterday. It was a big hug and we started where we left off."
"We could be away from each other for six months and get together, and nobody would miss a beat," Elliott says.
Klicker, who has two Dad Vail wins to her credit as a Marietta oarswoman, had a similar experience.
"There is something truly special about a friend who was also your teammate," she says. "Through the long hours of training, through the losses and the wins and everything in between, you build a high level of trust. While I don't see my friends from the team very often, we are there for each other — never missing the big moments in each other's lives."
"It is nice when you win," says Haney, musing on the friends' early successes on the water. "But when you make lifelong friends to re-live those moments with, there is truly nothing better."
The Marietta College community will have an opportunity to see the Garth Griffin Small Boats Fleet in action during Stay HOMEcoming 2020 on Saturday, October 17. The MC Intramural Sculling Championship, featuring beginning rowers from the faculty, staff and student body will take place at 8:00 a.m., followed by class races with the current men's and women's teams at 9:00 a.m.
Alumni volunteers have organized a fundraising campaign to celebrate the 150th anniversary of the rowing program. If you would like to learn more or are interested in adding a gift or legacy intention to the rowing endowment to support the excellence of the program for the next 150 years and beyond, please click here.