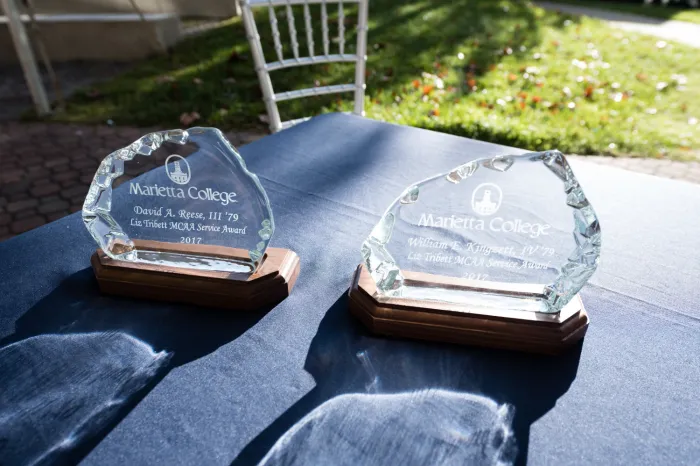 They stand out among the crowd and make a difference in the lives of others. Each year, alumni nominate a special group of peers who embody what it means to be a true Pioneer.
These Marietta College Alumni Association Award winners are honored during a ceremony at Homecoming. This year, the College will honor the following Pioneers:
Hall of Honor — Eileen Bowser '50
Eileen Bowser helped pioneer the emerging field of film curation while serving as the curator of the film archive at the Museum of Modern Art in New York City, and is a leader in the international film archive movement.
Bowser earned a Bachelor of Arts in English and a minor in Art from Marietta College, where she met her late husband, William Bowser '49. After graduating from Marietta, she earned a Master of Arts degree in Art History from the University of North Carolina, Chapel Hill, and was hired to work for the Museum of Modern Art Film Library, serving as secretary to the library's second curator of film. By 1966, she was named the Associate Curator of Archive after the library was renamed the Department of Film.
Bowser joined the International Federation of Film Archives (FIAF) Executive Committee in 1969, serving as Vice President from 1977-85, and as President of FIAF Documentation Commission from 1972-81.
"As the curator of the film archive at the Museum of Modern Art, she inherited the responsibility of managing one of the world's most influential film collections, and experienced the special circumstances of running a film archive in an art museum," according to a review summary of Bowser's work provided to the MCAA Nominations Committee. "She served on the executive committee of the International Federation of Film Archives at the time that the organization was developing its standard-setting system of commissions and publications. Her personal interests as a historian led her to pursue collaborations between archives and academia that aided in the reformulation of early film studies that began in the 1970s. In effect, her testimony bears witness to the maturing of the moving image archive profession."
Distinguished Alumna — Margaret Barker '81
After earning a Bachelor of Arts in Political Science/History and being named to Phi Beta Kappa at Marietta College, Margaret Barker went on to earn her juris doctor in 1985 from the University of Akron School of Law and began practicing family law in New Mexico. She practiced law, offered pro bono work to the Cherokee Nation and was well on her way to becoming a judge when Barker was diagnosed with multiple sclerosis.
Instead of withdrawing completely from helping others, Barker took another path: she started teaching a local young man how to read. Seeing how New Mexico's school model had failed a large number of adults, she founded Reading Works, an Albuquerque-based literacy program that empowers adults with the literacy and language skills they need to work and to contribute to their communities. The training programs and curriculum Barker has created to help adults in New Mexico have garnered recognition by the state's governor and the Library of Congress.
Distinguished Alumnus — C. Brent McCurdy '68
From the moment Brent McCurdy earned a Bachelor of Arts in Accounting and Business Administration, he became a rising star in the Fortune 500 company Ernst & Young, excelling with every opportunity throughout the Midwest markets. He retired in 2005 as a partner from the Indianapolis office of EY (formerly Ernst & Young), where he led the firm's real estate client practice for Indiana, Ohio and Kentucky.
McCurdy also shares his talents to help his community, his church and his alma mater. In addition to serving as a tax preparation site coordinator for the free AARP Foundation Tax-Aide program in Mount Pleasant, South Carolina, he also chairs the audit committee of Seacoast Church and is a founding member, Board Chair and Treasurer of the nonprofit organization, Dream Center Clinic, Inc. McCurdy has remained connected to Marietta College throughout his professional life, serving on the Board of Trustees from 2006-17, chairing the Finance Committee and leading one of Marietta's Presidential Search Committees. He earned Emeritus Trustee status in 2017, and he and his wife are members of the College's Cotton, Adkins, Legacy and Sinclair societies, Erwin Academy and President's Circle. A member of the Alpha Tau Omega fraternity as an undergraduate, McCurdy continues to support the national and Marietta's local Beta Rho Chapter.
Young Alumna — Toka Akiyama '09
Toka Akiyama has proven to be a trusted voice for career advice to her colleagues and current Marietta College students.
Her impressive career trajectory has led her to work for Google as an Agency Business Development Manager in New York City. Prior to that, she worked for Audible, Inc. as a Senior Manager for the Acquisition Marketing Amazon Channel; McDonald's, as a Regional Marketing Director; and as a Senior Account Executive for Moroch Partners, where she also interned as an undergraduate student.
Some of her more notable accomplishments include earning the McDonald's President's Award in 2016, which is awarded to the top 1 percent of employees globally, and overseeing a $50-million creative and event budget for Moroch.
Akiyama earned a Bachelor of Arts in Marketing/Marketing Management from Marietta, and earned a Digital Marketing nanodegree online from Udacity. She has returned to campus to engage with current students and to speak with Marketing and International Marketing classes about her experiences and to offer advice to future marketing professionals.
Young Alumnus — Ashley Wollam '08
As the Director of Learning and Leadership Strategy at Macy's, Ashley Wollam is making an impact on his company, as well as staying involved in higher education and the Greek community.
Wollam earned Bachelor of Arts degrees in Communication, English and Leadership Studies from Marietta, and began working as a program manager at the International Leadership Association (ILA) in 2010, where became immersed in the field of leadership and built strong connections with individuals and organizations working in leadership development across the globe. 
In 2012, Ashley transitioned to Linkage, a global leadership consulting firm, where he became Director of the Global Institute for Leadership Development, which was consistently ranked the #1 leadership program in the world by Leadership Excellence. He began working for Macy's in 2014 as the Director of Leadership Development, and transitioned to his current leadership role in 2018, where he and his team lead Learning & Leadership strategy across the enterprise. 
In higher education, Ashley is a valued member of the McDonough Leadership Advisory Board at Marietta College, sits on the board of directors for Delta Tau Delta International Fraternity, and taught leadership at the University of Maryland.
Liz Tribett Service Award — Gene Haynes '53
The driving force behind Wood County Day and a lifelong supporter of Pioneer Athletics, Gene Haynes has remained committed to keeping local alumni engaged in the College. What began as a small, alumni get together before football games has grown into a full-fledged tailgate and fundraiser known as Wood County Day.
Haynes is a valued member of the Mid-Ohio Valley Regional Association, the President's Circle, the Legacy Society and Waddle's Coaches Circle. His efforts have helped to raise thousands of dollars in support of Marietta College Athletics — particularly the football program — and he has also inspired fellow alumni to give back to their alma mater.