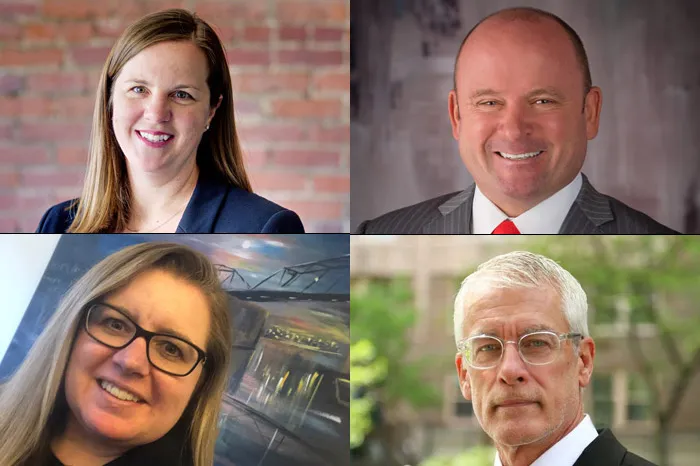 On July 1st, Marietta College welcomed four new members to the Board of Trustees.
"On behalf of the Board of Trustees, I am honored to announce our new trustees," said Matt Weekley '81, Chair of the Board. "All four have distinguished themselves in their careers and have made meaningful contributions to their communities and many organizations. I can't wait to work side-by-side with each of them as we help shape the future of Marietta College."
Kathryn Moriarty Bailey '05, Fred Bentley, Danielle Cisler '05, and David G. Hill '84 have been elected to serve five-year terms.
"The College is fortunate to have four such talented individuals joining the Board," said Dr. William N. Ruud, Marietta College's 19th President. "With backgrounds in finance, energy, entrepreneurship, and technology, they will offer Marietta's leadership with insight and experience that will only make us stronger."
Bailey is the Executive Vice President, Chief Financial Officer and Treasurer of Peoples Bank in Marietta. She was promoted to this position in October 2020 after serving as Senior Vice President, Director of Finance, for Peoples Bank from January 2019-September 2020. She has been with Peoples Bank since May 2011.
Before Peoples Bank, Bailey spent five years in public accounting with PricewaterhouseCoopers LLP. She is a Certified Public Accountant and holds a Bachelor of Arts degree in Accounting from Marietta College and a Master of Accounting degree from The Ohio State University.
Bailey serves on the Board of Directors for the West Virginia Bankers Association, and she coaches the St. Marys, West Virginia 8U softball team. She resides in St. Marys, with her husband, Jamie, and their two children, Lilly and Jase.
 Bentley has held the position of President and Chief Executive Officer of DexKo Global since January 2016. He oversees the Dexter Axle and AL-KO VT global operations. Additionally, he has served on Dexter's Board of Directors since 2014.
Bentley has significant experience running global operations and growing businesses while working with world-class companies. Before joining DexKo, he was the CEO of Maxion Wheels, a $2.4 billion global automotive equipment supplier and the world's largest wheel company. He oversaw the $1.2 billion European operation and lived in Germany for three years prior to becoming CEO of Maxion. He held the position of COO and President of International Operations of Hayes Lemmerz, leading the company's sale process (to Maxion) and the divestitures of non-core businesses while significantly globalizing the core business.
He has a Bachelor of Science degree in Industrial Engineering from the University of Cincinnati and attended the Harvard Business School Advanced Management Program.
Cisler is a Principal Consultant with INSIGHT2PROFIT, and she leads price and profit engagements with a technology- and team-centered approach to drive lasting and sustainable client impact. Prior to joining INSIGHT2PROFIT, Cisler spent seven years with Simonton Windows, where she developed an analytical approach to revenue forecasting and established the process of data-driven analysis within the sales organization.
She has a Master of Arts in Quantitative Psychology from the University of Notre Dame, an MBA from Fisher School of Business at Ohio State University, and a Bachelor of Science in Mathematics and a Bachelor of Arts in Psychology from Marietta.
Hill is the former Executive Vice President of Exploration and Business Development for Ovintiv Inc. (formerly Encana Corporation). He enjoyed a distinguished and diversified career of 36 years in the oil and natural gas industry, including being president of TICORA Geosciences Inc. in the early 2000s. He also worked for Halliburton Services and GTI (formerly Gas Research Institute).
Hill earned an MBA from Northwestern University and a Bachelor of Science in Petroleum Engineering from Marietta. He retired in July 2020 and now splits his time between Florida and Colorado. He and his wife, Jennifer, have four children. Hill and his wife enjoy traveling, camping, reading, boating and skiing.
The College also recognized seven members — Jan Dils '90, Harry "Hap" Esbenshade, Susan Hayes '98, Jason Rebrook '96, Chuck Sulerzyski, Jo Ellen Yeary '76, and Patti Zecchi '71 — who have concluded their time on the Board.