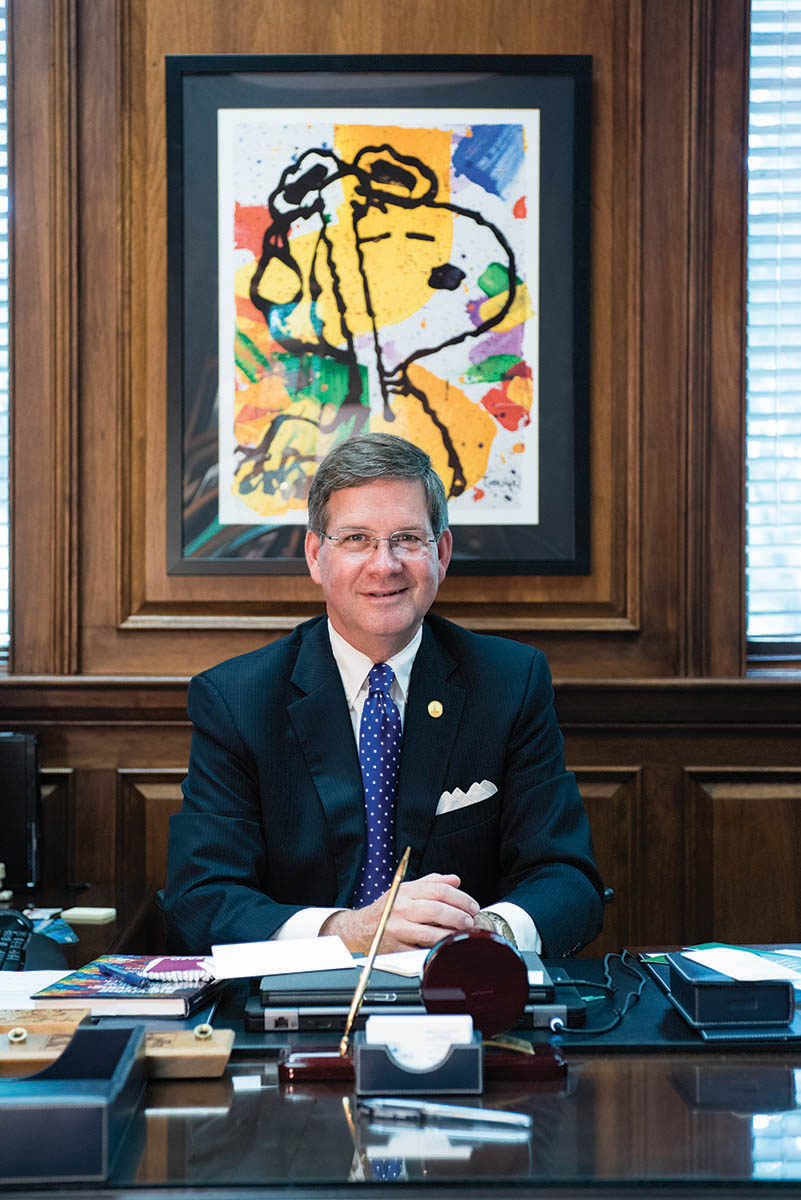 Whenever I meet with prospective students, families or alumni, I always share the Marietta College story. I should actually say that I am sharing STORIES! We have so many remarkable things going on at the College and around the world as our alumni represent us so well in their communities and their places of work.
Since I don't personally interact with every one of you, I thought it would be a great idea to share some of the impressive things that are taking place here on our beautiful campus.
For the first time in nearly a decade, the College welcomed nearly 400 new students this fall. It is an impressive group. Their average high school GPA is 3.41, their average ACT is 22.8, and they come from 26 states and five countries. They have also embraced being Pioneers. At the first home football game, more than 150 students created a student section (something no one currently on campus had ever seen) that cheered the Pioneers to a 35-24 victory over Geneva in the season opener.
Another first for Marietta College was the recent recognition as a Great College to Work For by The Chronicle of Higher Education. I am proud of the cultural shift on campus that has made such a positive impact on our talented and dedicated employees.
Through very sound financial planning, an increase in donations and a surge in enrollment over the past two years, we have been fortunate to be able to heavily reinvest in our physical plant, as well as our employees, and in our students.
Over the past six months, we made an important investment — in excess of $3 million — to our campus. Included in these upgrades have been the highly visible playing surfaces at Don Drumm Stadium and Marietta Field (impacting nearly 300 student-athletes). But it is so much more than this.  We have repaired roofs, updated boilers and coolers in residence halls, added new sod to Don Schaly Stadium, added a new patio in front of the Irvine Administration Building, upgraded the Band Hall, and purchased furniture for classrooms and living spaces.
I am also delighted that we were able to provide our employees with across-the-board 3-percent raises, as well as a 2-percent increase to our retirement plan — that is now up to a 7-percent College contribution that matches a 5-percent employee contribution.
This is just a sampling of the great stories that we don't typically share, but I thought that they are important for each of you to know.
Please, continue to share the Marietta College story with your friends, family and more importantly, with a high school student and their family in your community. Tell them about your amazing experience and the impact that your professors, fraternity brothers, sorority sisters and teammates had on your life. Together, we can do anything because The Long Blue Line is limitless.
Bring forth a Pioneer!

---
Follow the President Online
twitter.com/President_Ruud
instagram.com/presidentruud
facebook.com/MariettaCollegePresident