"I'm so proud of what we accomplished and I feel like we have a special place in the program's history. But I don't want this to be the end. I want this to be the beginning of many great seasons to come."
— Jordanna Rauch '17
Jordanna Rauch '17 shifts her weight in her seat, and her eyes begin to water as she tries to talk about the 2016-17 women's basketball season.
Rauch knows she was part of something bigger than herself … and she hopes the beginning of something even greater.
"This is the start of it," she says, wiping a few tears away. "I know it is. Unfortunately I don't feel like my first three years were; but I think with the people in this program, women's basketball at Marietta is on the verge of something great."
Under first-year coach Kole Vivian, the program definitely reached new heights. After 21 straight seasons with a losing record — averaging 7.4 wins and 18.4 losses — the Pioneers finished fourth this year in the Ohio Athletic Conference and reached 16 victories.
It was the first winning season since the 1994-95 team went 13-12. To put that into perspective, Rauch was born a few weeks into that season. Marietta's 16-11 record is tied for second most wins in program history with the 1986-87 team. The 1989-90 team, which was led by All-American Cathy Clark '90, has the school mark at 20-7.
"This was by far the most fun of any season I've had playing basketball at Marietta College," says Brooke Borich '18, daughter of Cathy (Clark) Borich. "Our chemistry was amazing, and we all just wanted to win that bad."
Following a 79-65 loss to Ohio Northern on Jan. 7, the Pioneers' record had dropped to 7-6 overall and 1-5 in the OAC. Instead of fulfilling the promise and expectations that the coaching staff saw in the preseason, Marietta was playing uninspired.
That's when Vivian did some of his best coaching and Marietta went on an 8-4 winning streak to close out the regular season. The run included five consecutive victories from Feb. 1-15 over Mount Union (76-62), Heidelberg (76-71), Capital (64-48), Wilmington (57-42) and Muskingum (74-67).
"The big on-the-court turnaround was at Mount Union," Vivian says. "We were down nine with five minutes to play and we had a big rally to win. … After that Mount Union win, we started to believe a little more. We played really well in February and I think the teams in the OAC started to take notice."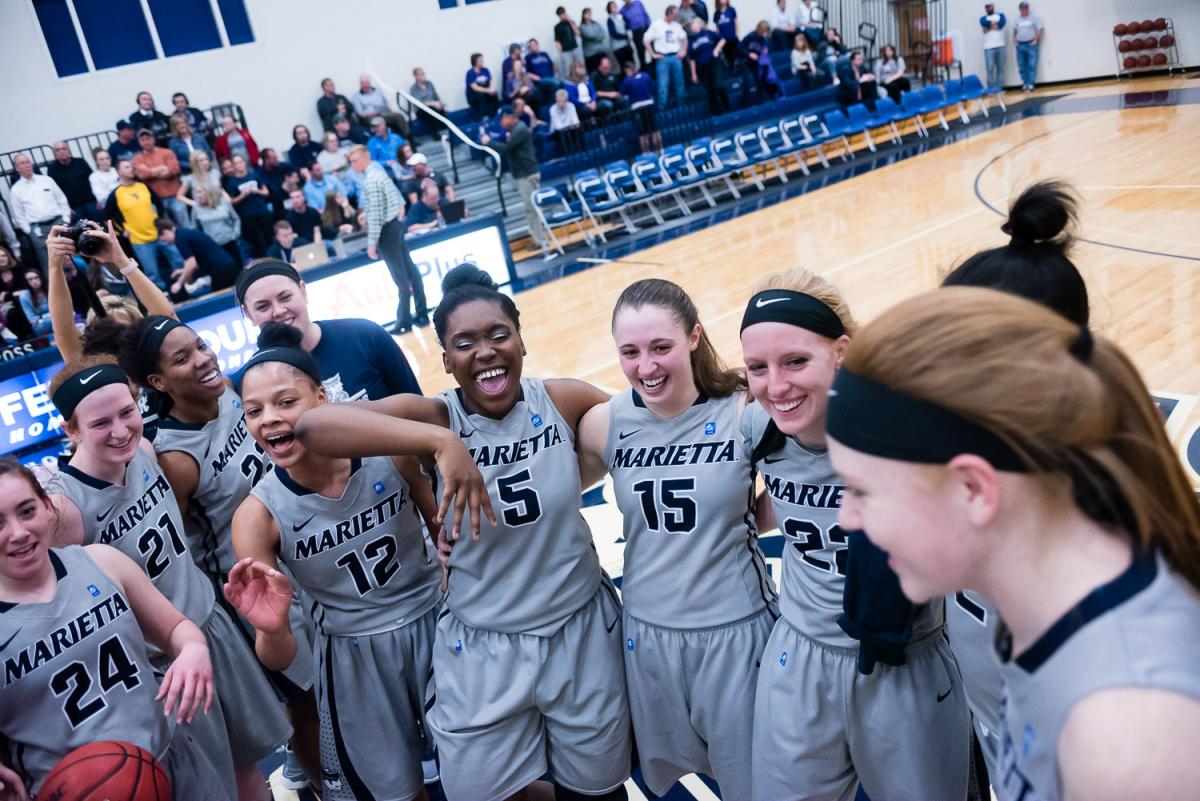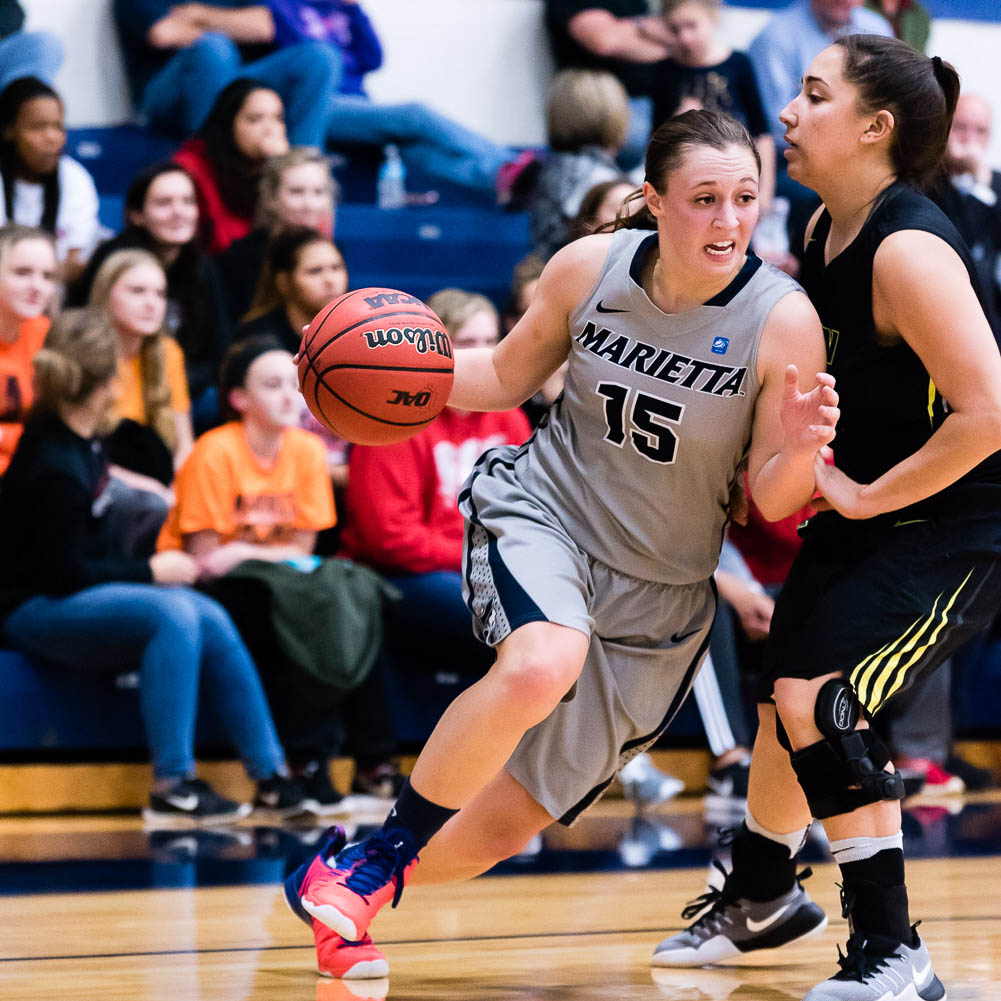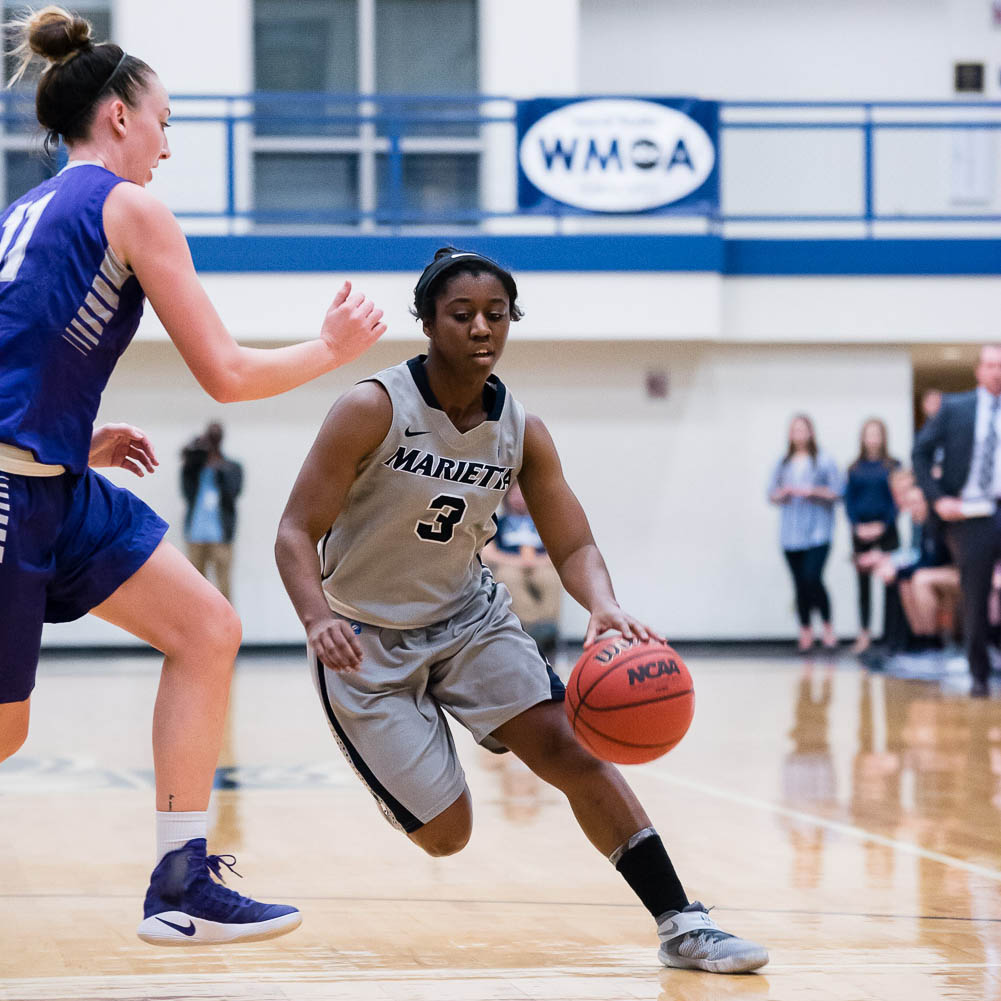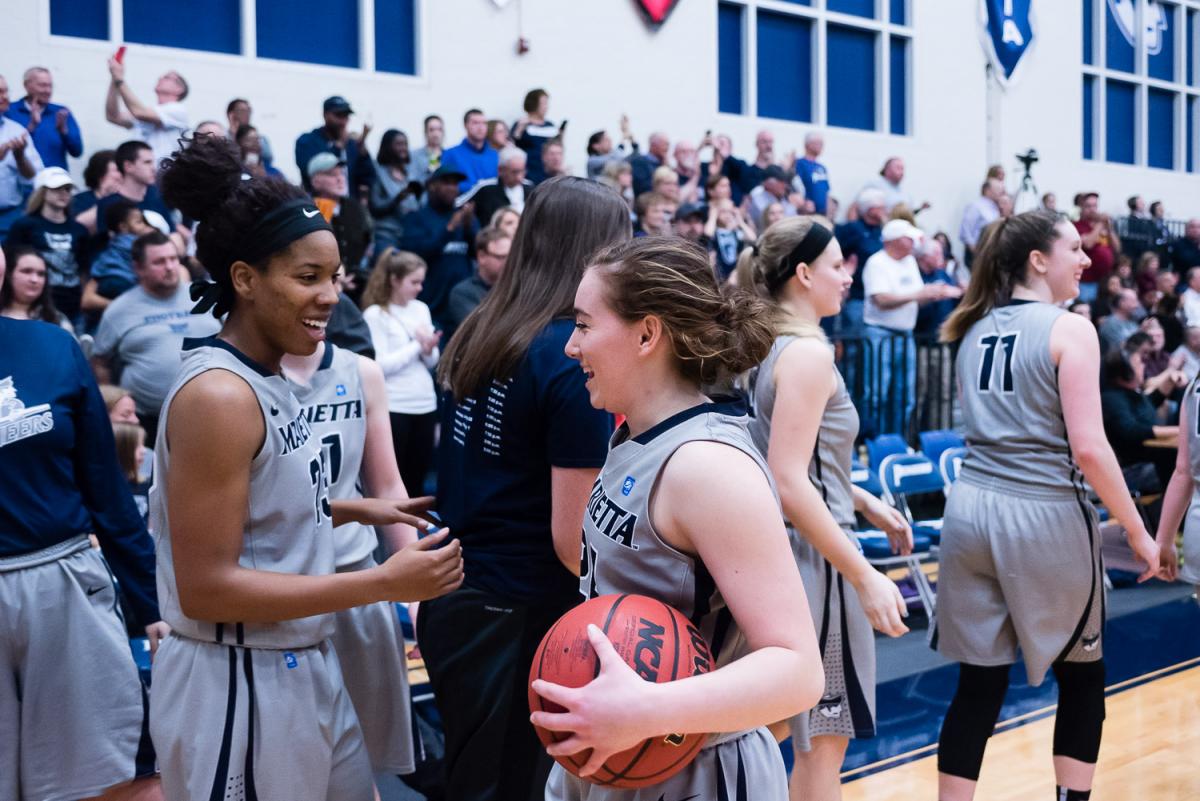 ​
The season took a tragic turn during winter break when star point guard Amisha Herd's brother, Shey, 22, was killed in a car accident. Herd '18 missed a few games, but her teammates and coaches helped her cope. Herd and her cousin, Jo Herd-Middlebrooks '19, also added the "Shey Way" on their shoes to remind them to put the team first.
"The whole team contacted me and helped me get through it," says Herd, an Athletic Training major. "He would be so mad at me if I quit basketball or didn't work hard. Coming back to the team gave me some sense of normalcy."
It also seemed to bond the team as it closed out the season on a hot streak, and earned a first-round bye in the OAC Tournament. In the quarterfinals, Marietta dominated Capital for an 89-64 win — the first postseason win for the Pioneers since a 65-49 victory over Heidelberg in 1996.
"One of our goals this season was to get a home OAC Tournament game," Vivian says. "We were picked to finish ninth at the start of the season, and that fired up our team. The highlight of the year was getting that game and beating Capital. In the first half they hung with us, but in the third quarter we put it on them."
Borich, who is majoring in Accounting, said the players could barely contain their emotions after the Capital win, especially in front of a near-capacity crowd that was on hand to watch the women play before the men's game.
"Beating Capital like that at home in the tournament was huge," Borich says. "This is what all of us on the team have been talking about doing. This is the first season that we've had that is very successful and we want to keep getting better."
The season ended on what many of the players believe was one of their best performances. Vivian's team put a scare into nationally ranked and previously undefeated Ohio Northern two nights later, but came up one point shy of the upset — losing 61-60. Five days earlier, in the season finale, Ohio Northern crushed Marietta 82-43.
"We had a chance with six seconds left to get the win," Rauch says. "We played so well, and we were playing like a team that wanted to get that win."
Now Rauch will watch to see if what the 2016-17 team accomplished really is the beginning of a resurgence. She plans to attend games and watch her sister, Katie, who will be a freshman on the team this fall.
"I've already told her and my teammates that I expect them to be better than we were this season," says Rauch, who earned a degree in Information Systems this year. "I'm so proud of what we accomplished and I feel like we have a special place in the program's history. But I don't want this to be the end. I want this to be the beginning of many great seasons to come."
- Tom Perry
TOP 5 SEASONS
Season
Record
Winning %
1989-90
20-7
.741
1974-75
9-4
.692
2016-17
16-11
.593
1986-87
16-11
.593
1985-86
14-10
.583