Roger Walker '18 places a hand over his mouth and pauses as he begins to realize his college football career is complete.
"It's hard to believe it's over," says the first-team All-American running back. "I didn't take it into consideration until recently that I will never play for Marietta College again. It's also starting to hit me that I won't be with my boys much longer. I'll be graduating in a few months, and they won't be right down the hall."
The impact that players like Walker have had on the program, though, could be felt for years.
Entering the 2017 campaign, Walker and the eight other seniors had gone a combined 7-23 in three seasons. But this fall was a breakout year for the Pioneers as they went 6-4 — the first winning season since the 2006 team went 6-4. Even more impressive was how the Pioneers went 4-1 the second half of the season, including big wins over Heidelberg (44-21) and at Ohio Northern (35-28).
"The combination of those two weeks certainly defined our season," says Andy Waddle, 2017 Ohio Athletic Conference Coach of the Year. "I think it also gave us the confidence that we could play with the good teams in our league, and win those games."
All-OAC offensive tackle Caleb Riggleman '19 says the season-opening 26-25 victory over Geneva shouldn't be overlooked, since the Pioneers had to battle back on the road. However, he believes getting a huge Homecoming victory over Heidelberg in front of a big crowd was the defining moment.
"That's when we knew we were good," Riggleman says. "Being able to do it back-to-back weeks was just more confirmation. However, losing the final game of the season at Otterbein will end up being good for us. Finishing 7-3 could have made us overconfident. We know there is still a lot of hard work to be done this offseason."
2017 Game by Game
Marietta 26, Geneva 25
Mount Union 69, Marietta 3
Marietta 49, Muskingum 25
Baldwin Wallace 52, Marietta 24
John Carroll 48, Marietta 21
Marietta 43, Wilmington 33
Marietta 44, Heidelberg 21
Marietta 35, Ohio Northern 28
Marietta 49, Capital 21
Otterbein 48, Marietta 14
Riggleman and the 15 other rising seniors are ready to lead Marietta to its first back-to-back winning seasons since the Gene Epley-coached teams of 1995 (8-1-1) and 1996 (7-3).
"It seems like for years Marietta was playing not to lose. We've been at the bottom, and now we don't want to go back," Riggleman says. "We're telling the guys that winning is the standard at Marietta, and nothing less will be accepted. We're one of the good teams in the OAC now, and that can't change. The only change is getting better."
Marietta has endured its fair share of losing over the years. In 123 years of football, the Pioneers have experienced only 44 winning seasons and have averaged just 3.5 wins a year. Of those winning seasons, only 16 have occurred since the 1954 season.
Waddle arrived in 2013 following a 0-10 season, and he proceeded to go 1-9, 2-8, 2-8 and 3-7. However, he never lost faith in the program or the approach.
"I hate to lose more than I like to win, so it was tough at times," he says. "But even though the record didn't reflect it, the coaching staff could see we were getting better. Then, this was the first year we could look out there and we had strong players on the two-deep roster at every position."
Six players were named All-OAC, including Walker and Riggleman on the first team. On the second team were center Brendan Mulholland '19 and tight end Bobby Cashaw '21, while defensive lineman Dalton Secrest '18 and offensive lineman Anthony Jalowiec '18 made honorable mention.
"This year was a real team effort," says Walker, who led the conference with 17 rushing touchdowns, 20 total touchdowns and 122 points. "We all bought in at the beginning of camp that we were going to have a winning season. This year we did some amazing things, and it was a blast."
The mission now is to make sure 2017 wasn't a fluke.
"This season was certainly fun. As coaches, we don't always take the time to enjoy it, but it was fun," Waddle says. "Now it's our job to get the guys back in the facility and engaged and focused. One of the biggest challenges we have is that so many people are patting us on the back, and we have to regain our focus, hunger and drive."
Walker, who has etched his legacy in the Marietta record books, says the players who remain understand the hard work and commitment they must make to maintain the momentum.
"I may be done, but we've worked too hard to let this slip," Walker says. "The guys we have here play the game because they love it. Who loves losing? Nobody. We had a team meeting at the end of the year, and the coaches asked the seniors if we had anything to say. We told them this isn't a one-year thing. We have to get a playoff bid soon and be in contention for a national championship. Is it going to be easy? Not at all. But they have to understand where we've come from and where we are now didn't come easy."
- Tom Perry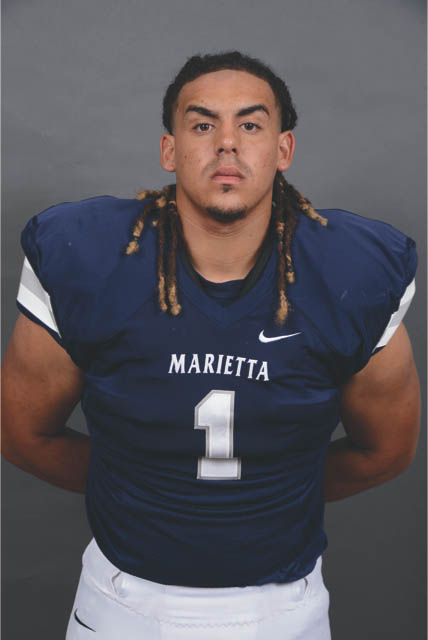 Roger Walker '18, who rushed for 1,492 yards and an OAC-best 17 touchdowns, is the second Pioneer to earn first-team All-American honors (Danté Brown was the first, in 1996). Walker, a three-time All-American, was also named to the Associated Press Little All-America second team. He was also named first-team All-North Region by D3football.com and first team All-OAC for a second consecutive season.
Click here for more on Walker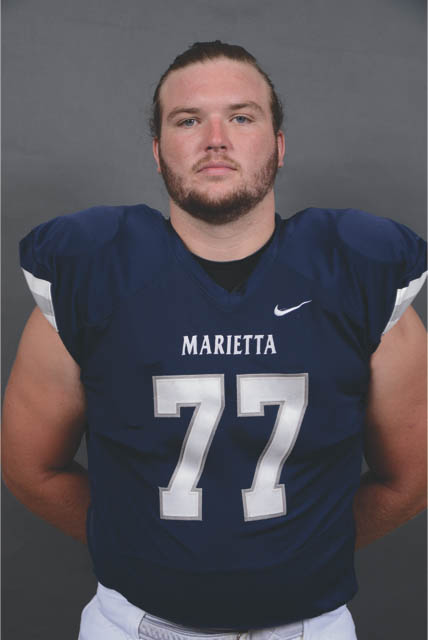 Caleb Riggleman '19, who anchored an offensive line from his left tackle position, helped the Pioneers rush for 2,277 yards in 10 games this fall. It is the second straight season Riggleman was named first-team All-OAC, and he was also a second-team All-North Region selection by D3football.com.
Click here for more on Riggleman
Andy Waddle, who completed his fifth season as Marietta's head coach, was named the OAC Coach of the Year after leading the Pioneers to their best season since a 6-4 campaign in 2006. Marietta finished 6-4 overall and 5-4 in the OAC this fall. The 2017 season was a huge turnaround for a program that had a gone 21-79 over the previous 10 seasons.
Click here for more on Waddle