Get Connected with Marietta
It takes more than desire to make a difference in the world — it takes an in-depth understanding of the policies and politics that impact communities, as well as the ability to approach those issues with an analytical mindset.
As a political science major at Marietta, you will take courses in wide-ranging fields such as American politics, public policy, international politics and political theory. You'll learn to evaluate the controversial issues of political life and relate them to ethical decisions.
Along the way, you'll apply what you're learning through internships, study abroad and/or our Washington Semester program. What better place to study American politics and government than the nation's capital? You'll meet leaders in government and the private sector as you tailor your time in D.C. with internships and individual research projects.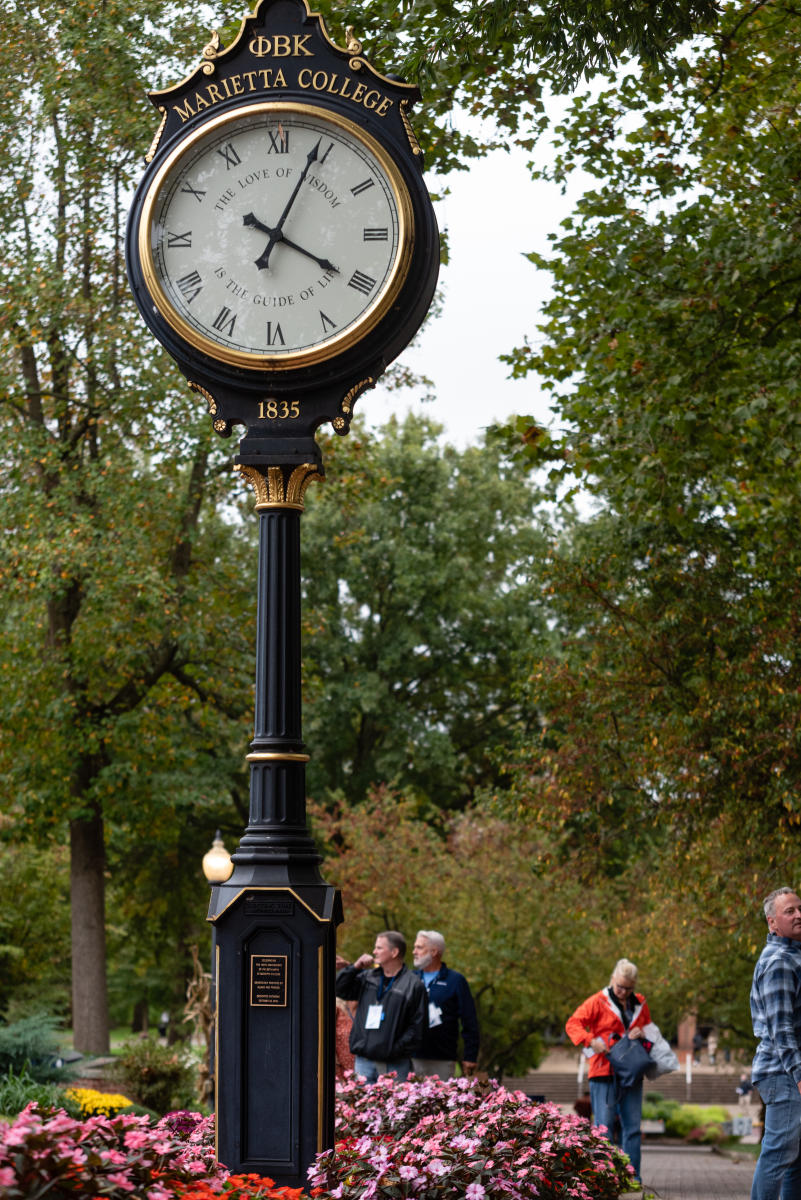 The Political Science Major
At Marietta College
Marietta College's Political Science program educates students on how to look at politics from a broader context than what is shown in the media. In addition to studying the U.S. political system and its history, majors learn social science methods and apply those methods in an original piece of political research. That research can be presented at regional, state, and national conferences, and on campus each spring during All Scholars Day. With a 10:1 student-to-faculty ratio, professors forge close relationships with students and help them connect what they learn in the classroom with research and experiential learning opportunities. The talented faculty in this department help students hone their critical thinking skills — which is key to understanding national and global political issues as they relate to making ethical decisions. 
Political Science majors complete internships, study abroad, or participate in the Washington Semester, which is a live/work/study program through American University in Washington, D.C. Marietta College also offers numerous co-curricular opportunities for students to be involved in local, state, and national politics. Marietta students have also participated in Model United Nations, interned with the U.S. State Department in China, and studied with State Department officials. Our program's blend of theory and practice will prepare you for law school, graduate studies in public policy, or careers in business, government, or education.
At Pizza and Politics, an informal discussion series, faculty with expertise on current events answer student questions and lead informal discussions about current topics, such as European attitudes on U.S. foreign policy and the State of the Union Address.
Alumni have enjoyed success in a variety of career paths, as well as in graduate and law school.
Earning a Degree in Political Science
Interested in Political Science
Contact this Undergraduate Program
Dr. Mark Schaefer • 740.376.4801 • mes001@marietta.edu
PROFILES OF PIONEERING SPIRIT
I, Pioneer
Blazing New Trails
Read stories of people who are committed to making an impact in their professions, their communities and beyond.
Our pioneers have the knowledge, the passion and the courage to pursue change for the greater good, to make a difference in the lives of others, and to pave the way for generations to come.
Related Programs
See More of Marietta