Students who major in History at Marietta College have endless opportunities to learn in a city that is home to ancient Adena Native American ceremonial mounds, museums, historical sites and rare documents.
 
The city itself is the first permanent settlement of the Northwest Territory. In fact, the deeds to the Northwest Territory are housed in Marietta College's Special Collections Department, which is located in Legacy Library.
I've gotten to travel to places I thought I never would visit, meet people who I never dreamed of meeting, and pursue professional opportunities I never imagined having access to because I was a History major at Marietta College.
-Taylor Myers '15, Educator, Teach for America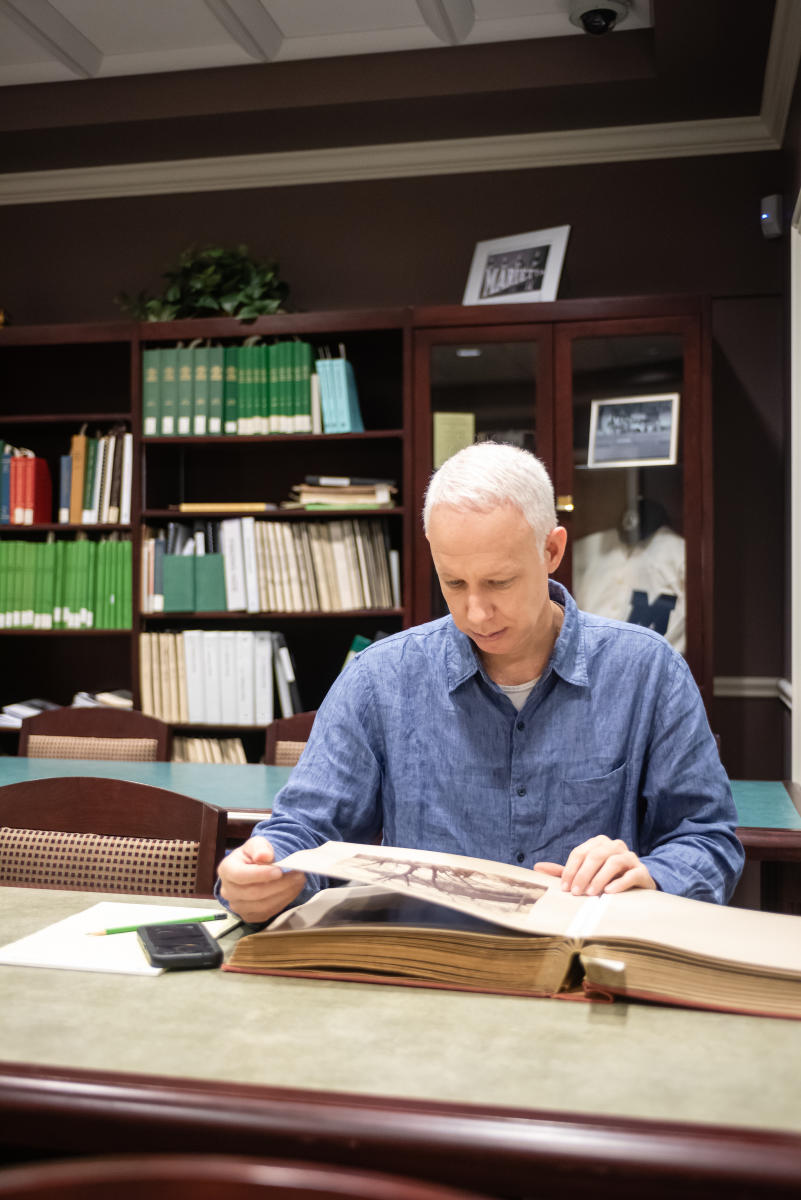 The History Program
At Marietta College
Talented and dedicated faculty are respected historians who are authorities in their fields. Students benefit from small class sizes and close-knit relationships with their professors. In addition to in-depth study of American, European and non-Western histories, majors can also take courses such as Geographical Information Systems to learn how to capture, store, analyze, and share spatial and geographic data — technology that is deemed a high-growth industry by the U.S. Department of Labor.
History majors also conduct serious research on campus — and they are not the only ones. Historians, including Pulitzer Prize-winning author David McCullough, have relied on the College's Special Collections Department to research various subjects from the nation's past.
Marietta College History graduates stand out among their peers because they understand how to research, analyze data, problem-solve and communicate information effectively. Graduates have excelled as teachers, attorneys, museum curators, law enforcement agents, entrepreneurs, and government officials.
EARNING A DEGREE IN History
The B.A. in History at Marietta College combines a spirit of adventure with a dedication to exploring the deepest challenges of human behavior to create an experience that can inspire a fulfilling future career. See what your class schedule may look like with the table below.
Marietta College's Special Collections
Over a two-year period, author David McCullough conducted research on his book, "The Pioneers," at the College's Special Collections. Listen to him as he speaks with C-SPAN about the superiority of Marietta College's offerings (fast forward to 28:30).
Interested in history
Contact this Undergraduate Program
Dr. Katy McDaniel • 740.376.4732 • kathryn.mcdaniel@marietta.edu
PROFILES OF PIONEERING SPIRIT
I, Pioneer
Blazing New Trails
Read stories of people who are committed to making an impact in their professions, their communities and beyond.
Our pioneers have the knowledge, the passion and the courage to pursue change for the greater good, to make a difference in the lives of others, and to pave the way for generations to come.
Grad School
Madison McCormick '21
There is only one thing Madison McCormick '21 loves more than learning about history — talking about history. After completing her bachelor's degree at Marietta, Madison headed to West Virginia University to earn a master's degree in public history
What You Can Do With a History Degree
Earning a Bachelor of Arts degree in History gives you plenty of flexibility to discover a career that aligns perfectly with your passion. Our graduates have experienced great success as teachers, attorneys, park rangers and much more.
Students interested in further graduate study will find they have the course requirements and faculty support necessary to pursue master's and Ph.D. degrees in history, as well as other graduate programs in business, law, and the humanities.
Careers You Can Expect
Archivist
Attorney
Librarian
Documentary Editor
Educator
Journalist
Information Manager
Foreign Service Officer
Related Programs
See More of Marietta