Get Connected with Marietta
Marietta's broad range of courses and extensive opportunities for practical experience will help you prepare for a career in management in nearly any field you can imagine. In small classes and research projects, you will learn from faculty with significant international experience.
The most important asset that a business has is its people. Students in Marietta College's Management program learn how to effectively manage and lead others, as well as study core concepts of the business world.
Talented faculty in the Department of Business and Economics provide a challenging and engaging curriculum that helps students gain a broad knowledge of best business practices and a skill set that will make them stand out in today's fast-paced business environment. The in-depth program gives majors an understanding of job design and production planning, strategy formulation and execution, operational planning, human resource development, and team building and utilization.
Professors encourage Management majors to pursue serious research projects and often involve their students in industry research. Faculty mentors also help students develop networking circles by including them in national conferences and undergraduate business case competitions against other colleges and universities.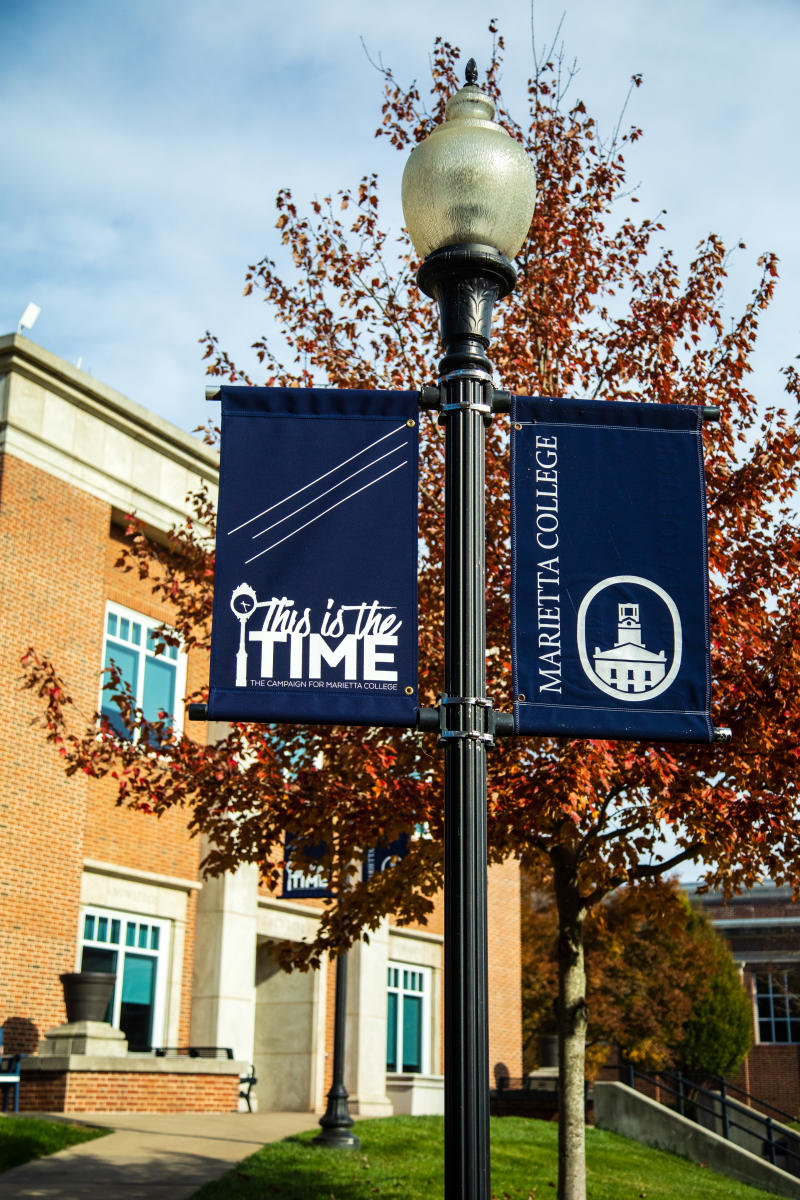 The Management Major
At Marietta College
As a management major, you will help local businesses solve real problems. You can also connect with local entrepreneurs and social innovators in our PioPitch program. Or work on your leadership skills with experts at our McDonough Center for Leadership and Business.
Internships and your senior capstone experience will help you tailor your degree. For your capstone, you can choose one of two options: Business Policies and Practices focuses on formulating and executing effective strategy for corporations in both international and domestic markets. In the second capstone alternative, Business Consulting, student teams work as consultants to help local businesses achieve goals and solve problems. Teams report findings and recommendations in a public presentation similar to a professional consulting firm.
Earning a Degree in Management
Interested in Management
Contact this Undergraduate Program
Dr. Greg Delemeester • 740.376.4630 • delemeeg@marietta.edu
PROFILES OF PIONEERING SPIRIT
I, Pioneer
Blazing New Trails
Read stories of people who are committed to making an impact in their professions, their communities and beyond.
Our pioneers have the knowledge, the passion and the courage to pursue change for the greater good, to make a difference in the lives of others, and to pave the way for generations to come.
What You Can Do With a Management Degree
At Marietta, students pursue serious research projects — and that research is celebrated each spring during the campus-wide All Scholars Day, when work is presented to the campus community. These presentations include capstone projects and internship reflections, and they also reinforce professional communication skills — an invaluable took in the eyes of every employer.
Students interested in further graduate study will find they have the course requirements and faculty support necessary to pursue an MBA or other master's degree options.
Careers You Can Expect
Client Services Manager
Human Resource Manager
Logistics Manager
Development Director
Management Analyst
Business Consultant
Data Analyst
Recent Internships
Amazon
Disney World
Hino Motors
Peoples Bank
Timken Corp.
Sherwin-Williams
Advantage Bank
Related Programs
See More of Marietta