The Adkins Society was initiated to recognize the special contributions of former Marietta College Alumni Association Board members, keep them informed of Board actions, encourage them to maintain close personal connections to Marietta College and thank them for their past leadership. 
Adkins Society Spotlight: Ariel Ross '13
This month, the MCAA Board is recognizing Ariel Ross, a new member of the honorary Adkins Society following her service on the MCAA Board's Communications Committee. She joined the MCAA Board and the Communications Committee to act as a liaison for minority students and alums and to support them in sharing their thoughts and concerns with the college and community.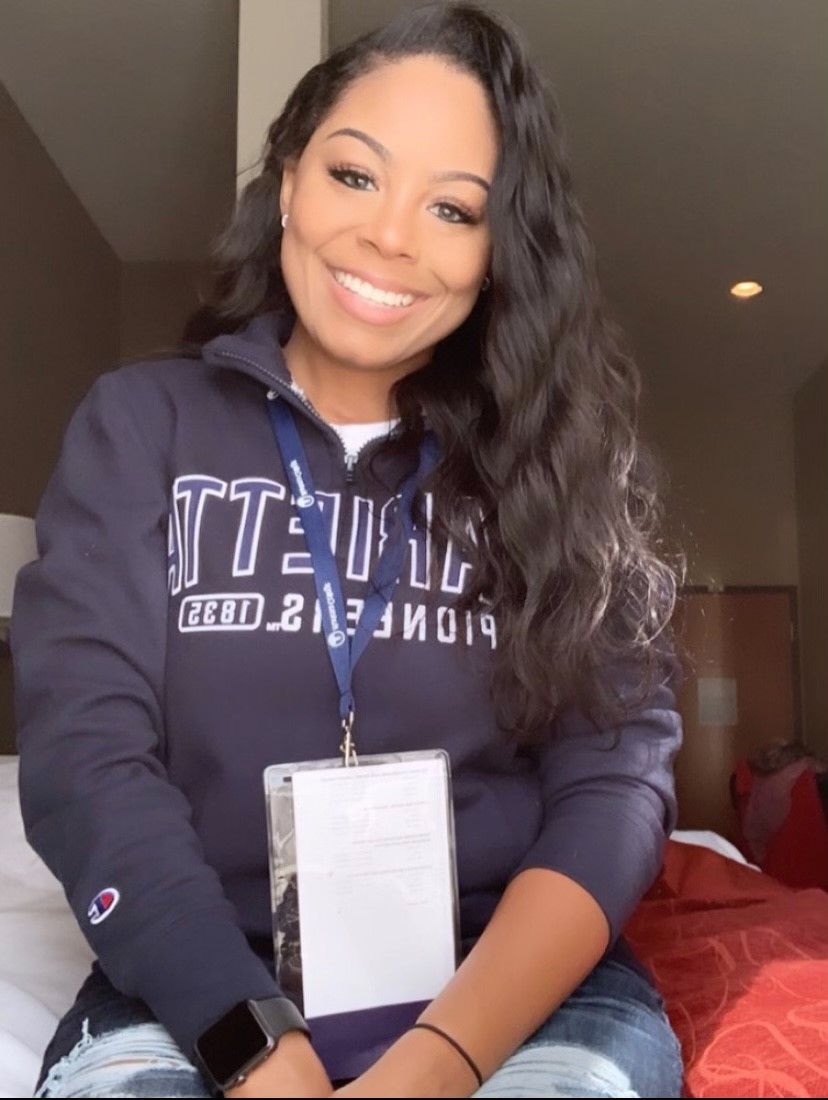 Ariel graduated from Marietta with a major in broadcasting and a minor in religious studies in 2013. Her commitment to her alma mater includes her ongoing involvement with the Office of Diversity and Inclusion. As a student, Ariel was a member of the Charles Sumner Harrison organization. Since graduation, she has planned opportunities for past members to get together. Charles Sumner Harrison was the first African American student to graduate from Marietta College in 1876.
After graduation, Ariel briefly served in the United States Air Force before she returned home to Ohio in 2013 to receive treatment for thyroid cancer. After recovering from cancer, she became a state trooper in 2017, a position she held for two and a half years. Currently, she is a Patrol/ Executive Protection Officer for The Ohio State University. Ariel is applying to begin graduate studies in public administration with her goal to be a public information officer for a local or federal agency. 
During her college years, Ariel was a member of the Omicron Chi Theta sorority. She stays in touch with her sorority sisters and attends big milestone events such as weddings and baby showers. Her favorite memories of Marietta College include the Late Night Breakfasts during finals week, which she looked forward to every year and Doo Dah Day. She loved seeing the "old" alumni return, an inspiration to her for she knew that she would graduate soon and venture out on her own as well. While on campus, Ariel was a dispatcher for the Campus Police Department for three years, an excellent opportunity where she received outstanding experience and guidance from the officers and her supervisor. Ariel writes, "They really pushed me to pursue my passion in law enforcement."
Ariel's hope for the future of Marietta is that the college will implement programs with adequate resources to promote the retention of minority students. She believes that Marietta has great potential and is one of Ohio's hidden gems. As time goes on and more resources become available, she would like to see programs through Admissions that target students in low income in urban school areas. Ariel was in Upward Bound – Talent Search as a child. Her family pushed and advocated for higher education. In her words, "Not everyone where I come from has a family like that. I believe in giving back to where you come from." The MCAA Board is deeply grateful to Ariel Ross '13 for her ongoing support, commitment, and dedication to her alma mater.
---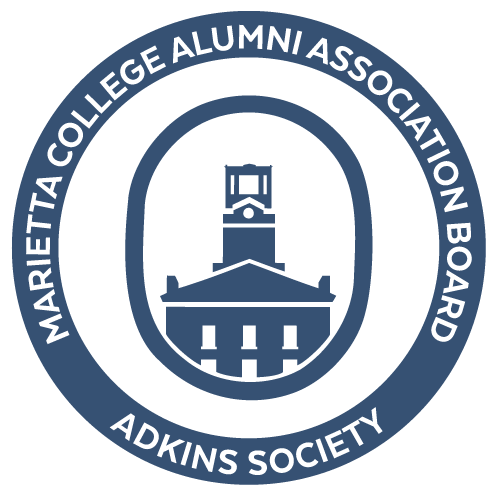 The following individuals are recognized as members of The Adkins Society:
William Annechini '72
Patty Bain Bachner '77
Charlie Ballard '51
Jeffrey Baylor '93
Beth Hagedorn Beech '75
Melissa Schultz Bennett '91
Timothy Bennett '85
Susan Voelker Blauvelt '87
Kenneth Bogart '65
James Brady '92
Jocelyn Crum Brooks '95
Robert Bruni '76
James Buckwell '61
Amanda Burtt '02
Marianne Candido '85
Leslie Cane '69
Keith Coleman '77
Lori Oslin Cook '82
Barbara Rusinko Crecco '60
Anna Custer-Singh '95
Janice Downey Donoghue '75
Rexford Ennis '68
Jennifer Schuler Everett '89
Brooke Exley '11
Mark Fazzina '83
David Feldmann '53
Andrew Ferguson '95
Stanley Fink '61
Frank Fleischer '71
Daniel Foraker '73
John Gardner '65
Missy Hall Garoza '94
Carol Gilbert '71
Carte Goodwin '96
Scott Gray '84
Douglas Greene '62
Jason Gromelski '98
Aaron Handleman '68
David Harmon '54
Robert Hauser '71
Merri Lynn Neidig Hayes Todd '70
Sofrina Hinton '95
Jack Hopkins '65
Henry Jelinek '68
Robert Johnson '05
Daniel Jones '65
Irene Neu Jones '44
Doris Austin Krasik '65
Andrew Kuhl '65
Tia Knowlton Lane '98
Ross Lenhart '66
Kathy Wilcox Lentner '97
Daniel Leonard '85
Matthew Macatol '97
Timothy Maddox '86
Elizabeth Munch Mard '71
Timothy Maroney '68
Rocco Manzo '59
C. Brent McCurdy '68
Edwin Michael '59
Jean Rocks Mizia '86
Robert Monter '62
Terrence Morris '69
Kathleen Mitchell Murphy '82
Shawn Wilska Murphy '64
John Murphy '63
Wendy Keenan Myers '92
Todd Myers '91
Margaret Hoyt Nasemann '57
Craig Nelson '96
Eugene Nevada '72
Jennifer Roach Offenberger '86
Carol Zaleski Overstreet '89
Marion Beadel Patterson '64
Rocky Peck '88
Stephanie Esparza Peloquin '06
Teresa Gilliam Petras '88
Paula King Pitasky '96
J. Roger Porter '66
Daniel Pottmeyer '74
Michael Pyles '74
Cynthia Huck Pyles '73
Joan Oxenham Pyne '69
Jodell Ascenzi Raymond '84
Jason Rebrook '96
Leslie Straub Ritter '85
Harry Robinson '48
Ariel Ross '13
Brian Rothenberg '88
Frank Schossler '86
Jacob Showalter '71
Robert Showalter '59
Laura Baudo Sillerman '68
Reginald Sims '75
David Smart '51
Ellen Elston Snediker '52
Robert Springer '64
Jeffrey Stafford '83
Jeffrey Starner '75
Elizabeth Houser Stelzer '96
Todd Stevens '80
David Stockwell '69
Jazmyn Barrow Stover '06
Ruth George Stoyak '63
Michael Swords '90
Kenton Tekulve '69
Sharon Bayless Thomas '78
Elsa Ekenstierna Thompson '56
Elliott Thrasher '62
James Tracy '79
Brooke Boyce Tucker '88
Mark Vizza '98
Susan Taylor Walton '98
Kean Weaver '84
Matthew Weekley '81
Travis Wells '97
Jonathan Wendell '70
Jim Wilson '69
Mary Ellen Zeppuhar '71
Zhou Zhou '02
Tracy Zuckett '96