Registration is now open!
October 13 - 16, 2022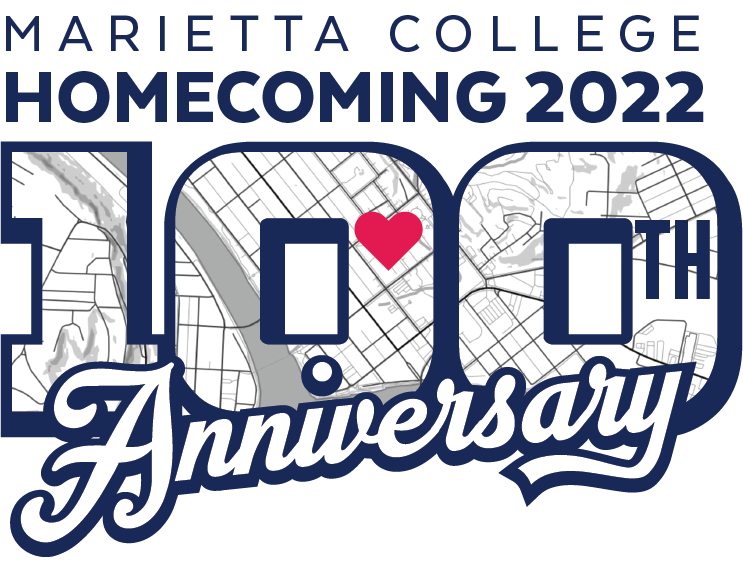 Marietta College is excited to celebrate the 100th anniversary of our first homecoming this fall! Students, alumni, faculty and staff, and community members can join us for a weekend filled with food, activities, and camaraderie as we cheer on the Marietta College football team against Wilmington College. We'll welcome you all home to Marietta as we Paint the Town Blue for the Alumni & Friends Welcome Block Party with Marietta Main Street and celebrate alumni from the Classes of 2012, 1997, and 1972 at the annual reunion dinner on Saturday evening. Don't miss the All Greek Happy Hour, Alumnae Softball and Lacrosse games, wellness activities hosted by the Pioneer Activities Council, and much more!
Additional information about the schedule of events, registration, and travel will be posted to this website. Check back regularly for updates or contact the Office of Alumni Engagement at 740.376.4709 or alumni@marietta.edu.
Homecoming 2022 Reunion Cup Challenge
Class Standings
Planning an event for Homecoming 2022?
If you are interested in hosting an event during Homecoming 2022 week, we ask that you submit an event request form using the webform below by August 26, 2022.
By doing so, you are helping the planning committee insure that we have all events correctly listed on the schedule for our homecoming guests, that we have resources to support your event needs, and that we avoid potential venue conflicts. Once you submit the form, a member of the planning team will contact you to follow up and finalize any details. 
If you have any questions about the form or registering your event, please contact the Assistant Director of Alumni Relations Erica Starr Delaney at starre@marietta.edu or 740-376-4449. 
Want to get a head start on planning for future Homecoming weekends? Future dates are tentatively scheduled for:
2023: October 19-22
2024: October 24-27
And don't forget, we are always looking for volunteers to help with planning. Are you a Pio with a passion for service? Interested in becoming a reunion volunteer or hosting an event? Check out our Alumni Volunteer Opportunities page for more information on how you can get involved!