Hear the voice inside you.
It's calling. To a place where the bold and independent thrive. Where 1,160 students share the same name. Where Pioneers lead the way. Where opportunity surrounds.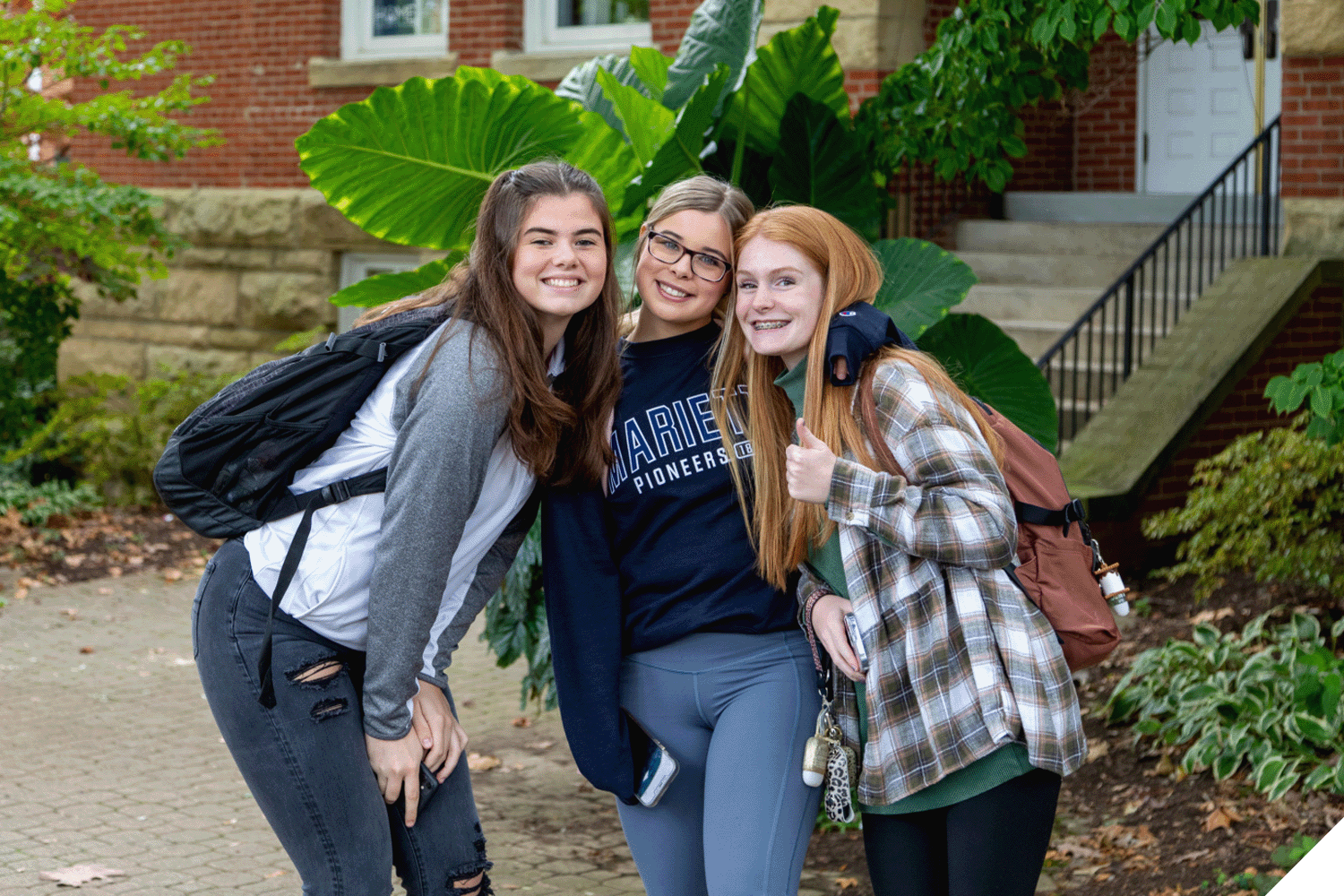 Applying as a High School Student
We welcome your application to Marietta College! We accept applications on a rolling basis.  Under Rolling Admission, we will send admission decisions out beginning the week of September 16th and every week thereafter.
How to Apply

Complete your Application. You may apply using our online application or the "Common Application."
Have an official high school transcript sent from your school.
Submit a School Counselor Report Form. Fill in the top portion of the School Counselor Report before giving it to your school counselor. He or she should complete and return this report directly to Marietta College along with your Secondary School Transcript. A letter of recommendation from your school counselor can also be submitted in lieu of the school counselor recommendation form
Submit an Essay. Marietta requires a personal statement as part of your application.

What does college success mean to you?

Teacher Evaluation (optional). Complete the top portion of the evaluation form (PDF), and give it to a teacher who has taught you in an academic subject during your junior or senior year. If you wish to submit another recommendation from a teacher, coach, or club adviser, you may do so.
Admission Tests. We are test optional. You can choose to submit your results from the ACT or SAT.
Applying to Graduate Programs
Application procedures differ depending on the program you are considering. Below is a summary of each program's requirements, with a link to view the full requirements. Please contact the department of the program you'd like to enter for specific questions about their admissions.
Master of Arts in Psychology

Review of applicants is continual, and students may begin in either the Fall or Spring semester. Students applying are required to have completed either a bachelor's degree with a major or minor in psychology from an accredited college or university or to have completed a minimum of twelve undergraduate credit hours in psychology. Students are also required to have completed specific psychology coursework and meet the minimum GPA requirement. GRE scores are asked for if their undergraduate GPA is below 3.0. Applying students are asked to complete an application, provide letters of reference and write a one-page essay.

Physician Assistant Studies Program

Marietta College Physician Assistant Program applicants must hold a Bachelor's degree in any discipline from a regionally accredited institution and have taken the pre-requisite coursework meeting a minimum GPA requirement. Applying students must submit GRE test scores with their CASPA application and meet the Technical Standards of the Program.

Master of Athletic Training

Students enrolled in the Sports Medicine major at Marietta College can apply for the 3+2 or 4+2 option.

Students coming from another institution should apply during the spring semester of their final year and will need to submit their official transcripts upon completion of the bachelor's degree through ATCAS. 

The quota of applicants accepted and enrolled in the program is limited to 15.  Students not accepted can resubmit an application the following year.

Master of Sustainability Leadership

Admission requirements:

Undergraduate degree - any field is acceptable.  Sustainability Leadership is a multidisciplinary field of study.  The ideal candidate would have an undergraduate degree that included coursework in business and science.
Undergraduate cumulative GPA of 3.0 on 4.0 scale.
At least five years of work experience.
Two letters of recommendation.
Statement of purpose, including career goals and interest in the field of sustainability leadership.
GRE is not required.

Required Documents for Completion of Application:

Official college transcript(s) showing completed BA
Resume showing at least 5 years of work experience
Statement of Purpose
2 Letters of Recommendation

International Graduate Students

In addition to the required TOEFL test scores and essay, international graduate students will be administered a writing test in the presence of an officer of the College. Based on the results of their writing sample, accepted students may be required to take English as a Second Language courses in preparation for graduate study. If so, additional tuition fees will be applicable.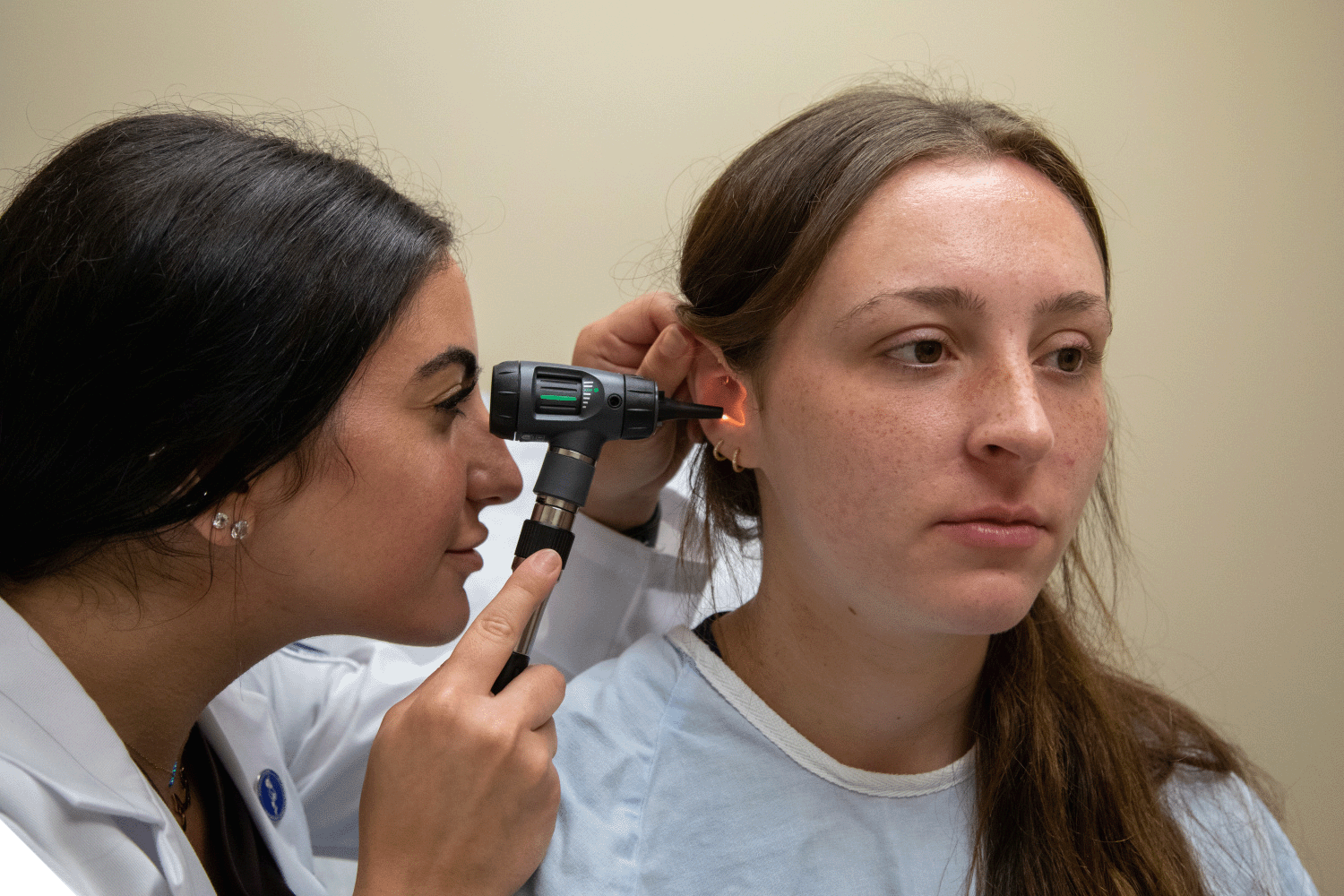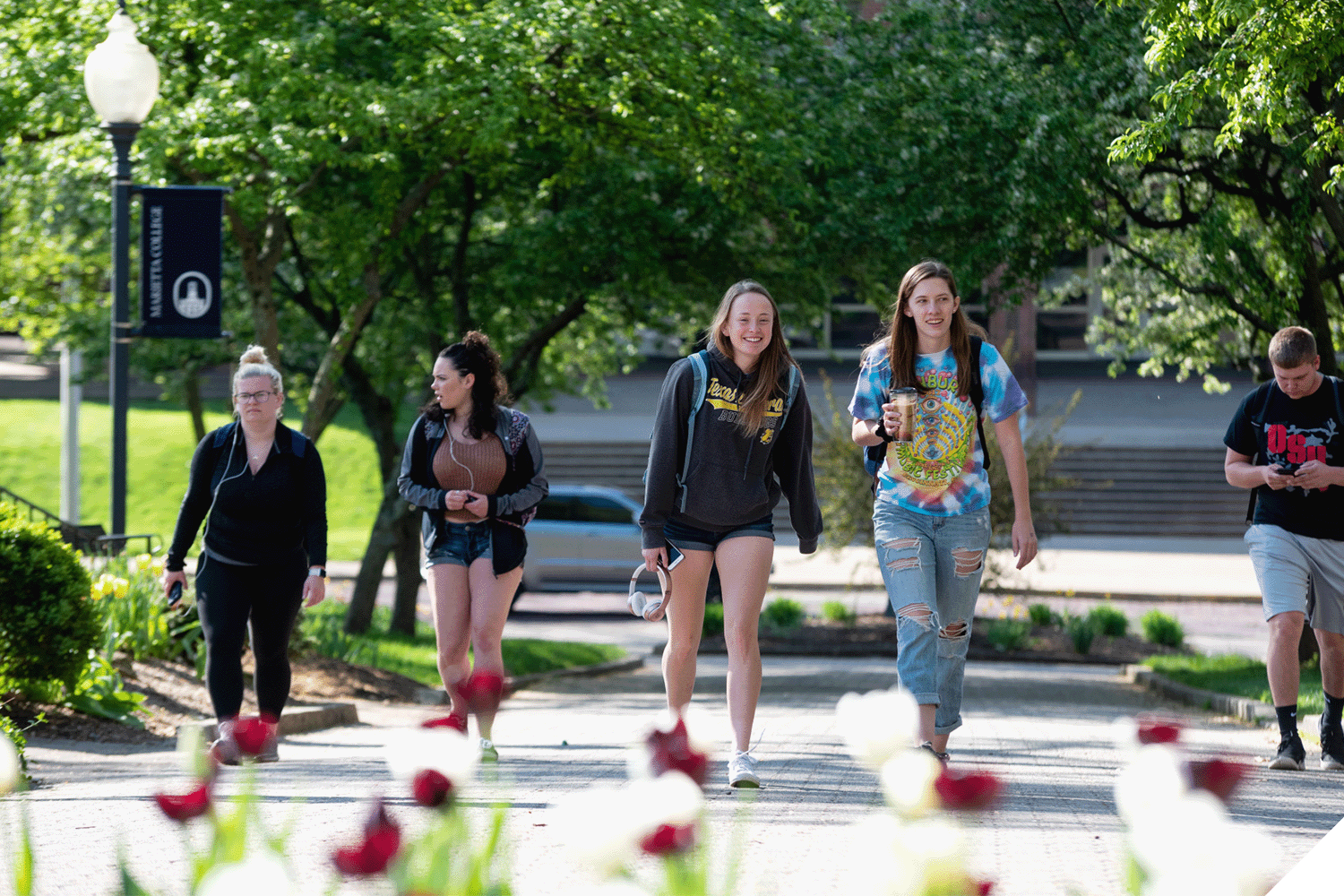 Applying as a Transfer Student
At Marietta College, a transfer student is anyone who has attended a college or university after high school graduation. If you are completing college courses while in high school, you are considered a first-year student.
Candidates for admission may apply year-round, but we recommend you file your application as early as possible. If you wish to be considered for academic scholarships, you should apply as soon as possible. 
For those transfer students who have applied early and have been accepted, class registration for the semester will begin shortly after our graduation ceremony, so you are urged to submit your $200 enrollment deposit soon. This ensures your advising appointment is arranged prior to your registration time. Your enrollment deposit is fully refundable up until May 1st.
How to Apply

Submit your Application for Admission. You can also apply using the Common App.
Submit your Transfer Essay. We are interested in knowing more about you. Please answer this essay question in one or two pages: What motivated you to apply to transfer, and what do you hope to accomplish at Marietta College?
Submit your Transfer Clearance Form (PDF). We require all transfer students to include this completed form from the Dean of Students Office at the last college/university you attended.
Submit your Transcripts. Please have both your high school and college registrars submit a Transcript directly to the Office of Admission. We can accept them electronically or by mail.

Request a Transfer Evaluation

Sit down with a Marietta College Admission Counselor to see how your credits transfer — before you even apply for admission. You can also send or email (admit@marietta.edu) the Admission Office your transcripts and request a transfer evaluation — and we will get back to you within 48 hours (not counting Saturday or Sunday).

WSCC2MC

Marietta College is excited to work closely with Washington State Community College to offer the WSCC2MC transfer program. The program is designed for students who want to start their college experience at Washington State Community College and stay local by transferring to Marietta College to complete a four-year degree.
Applying as an International Student
Admission to Marietta College is based on previous scholastic achievement and English proficiency. Please email the following items to admit@marietta.edu or mail documents to Marietta College, Office of Admission, Marietta, Ohio, 45750-4005, USA. If you have further questions, please contact international admission counselor Angela Shrader at ads008@marietta.edu.
How to Apply

Complete the International Application.
Submit your secondary school transcript, mark sheets, or certificate -- all records must be in original language format and be accompanied by NACES certified English translations (we recommend WES). Your transcript should include the subjects studied and the grades or marks for each subject. Records filed for admission are not returned; please send CERTIFIED photocopies if the documents cannot easily be replaced.
Submit your Official University or College transcripts, if applicable. You must submit an original language copy and a certified English-translated copy of the transcript.
Submit an Official Financial Statement — must be a bank balance statement or signed by an official sponsor. (Must certify that appropriate financial support will be provided for a minimum of one full year of study)
Submit your English language proficiency results from one of the following internationally recognized tests:

Students must meet the minimum of a 53 on the TOEFL (To obtain information on registering for a TOEFL exam, check online at www.toefl.org).
International English Language Testing System (IELTS): Band 5.5 or higher and at least a 5.0 in all sub-areas. Students who intend to enroll in Petroleum Engineering, Geology, Athletic Training, or one of the majors in our Education program must have an IELTS band score of 6.0 or higher to be considered for admission.
Duolingo English Test: Score of 85 or higher and at least a 75 in all sub-areas.
Cambridge Proficiency Examination (CPE): Grade C or Higher; or Cambridge Advanced English (CAE): Grade B or higher; or First Certificate Exam (FCE): Grade A. The College also considers for admission outstanding students whose scores are somewhat lower, provided that their proficiency is adequate for college work taken with English as a Second Language courses.

Submit an essay/personal statement, written in English, explaining why you would like to attend Marietta College.
Submit a copy of the identification page of your passport (or an explanation why you cannot provide this).

Transfer International Students

Transfer students must meet the same entrance requirements as freshman applicants and have a minimum cumulative grade point average of 2.5 (on a 4.0 scale) or equivalent. If you are transferring from another institution of higher education in the United States, an International Student Advisor's Report (PDF) is required in addition to the above credentials.

The College recognizes the International Baccalaureate Diploma Program for admission purposes and advance placement. Students who have received the IB Diploma will be granted general college credit for up to two higher level IB courses in which they achieve grades of 5 or better. Decisions on placement and credit in departmental majors, minors and certificates are made by the Registrar in consultation with the appropriate department chairs.

International Graduate Students

In addition to the required TOEFL test scores and essay, international graduate students will be administered a writing test in the presence of an officer of the College. Based on the results of their writing sample, accepted students may be required to take English as a Second Language courses in preparation for graduate study. If so, additional tuition fees will be applicable.

Important Postmark Deadlines

Fall semester classes begin in August. Students interested in applying for fall semester classes should have all application materials postmarked by July 15.
Spring semester classes begin in January. Students interested in applying for spring semester classes should have all application materials postmarked by December 1.

Helpful Links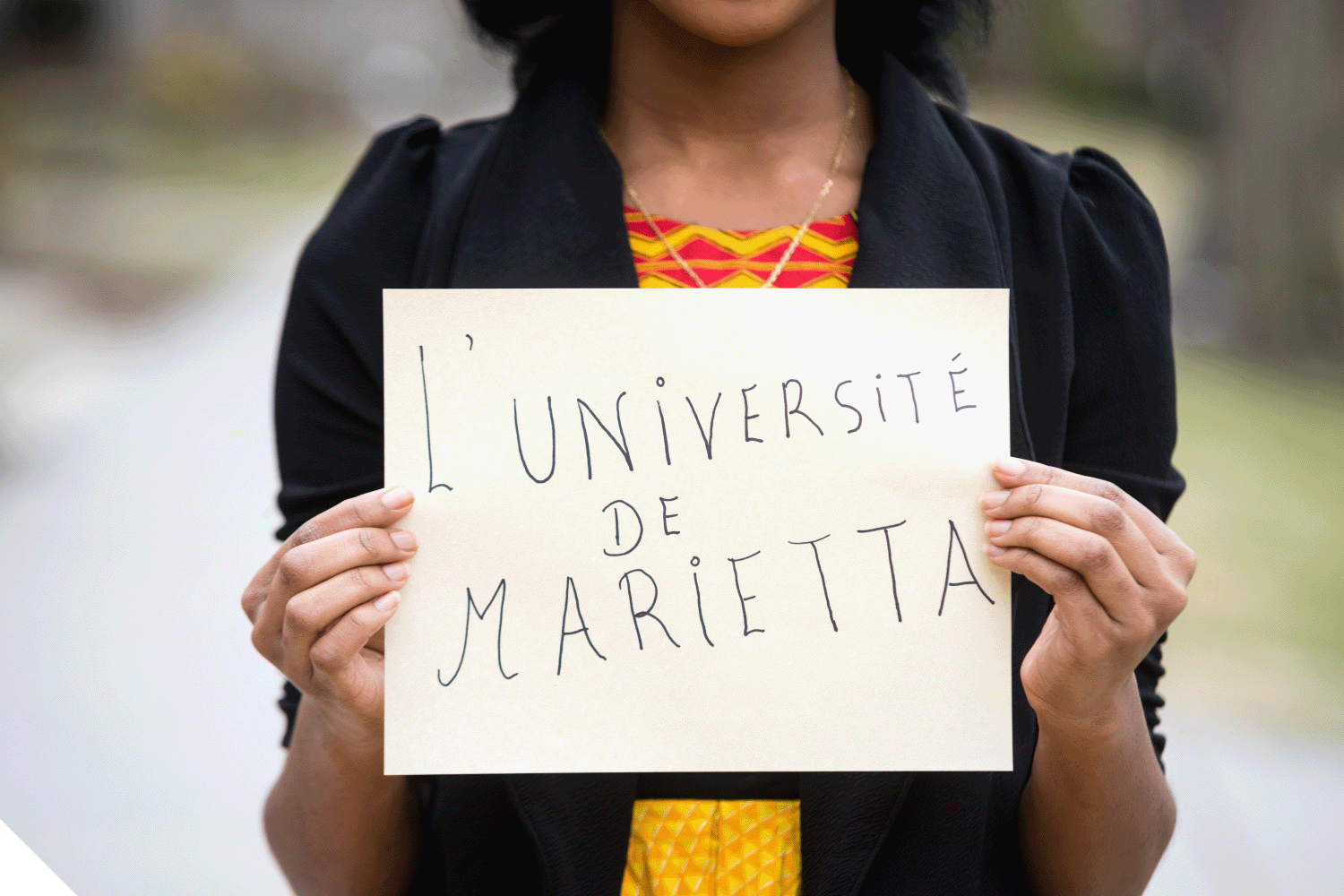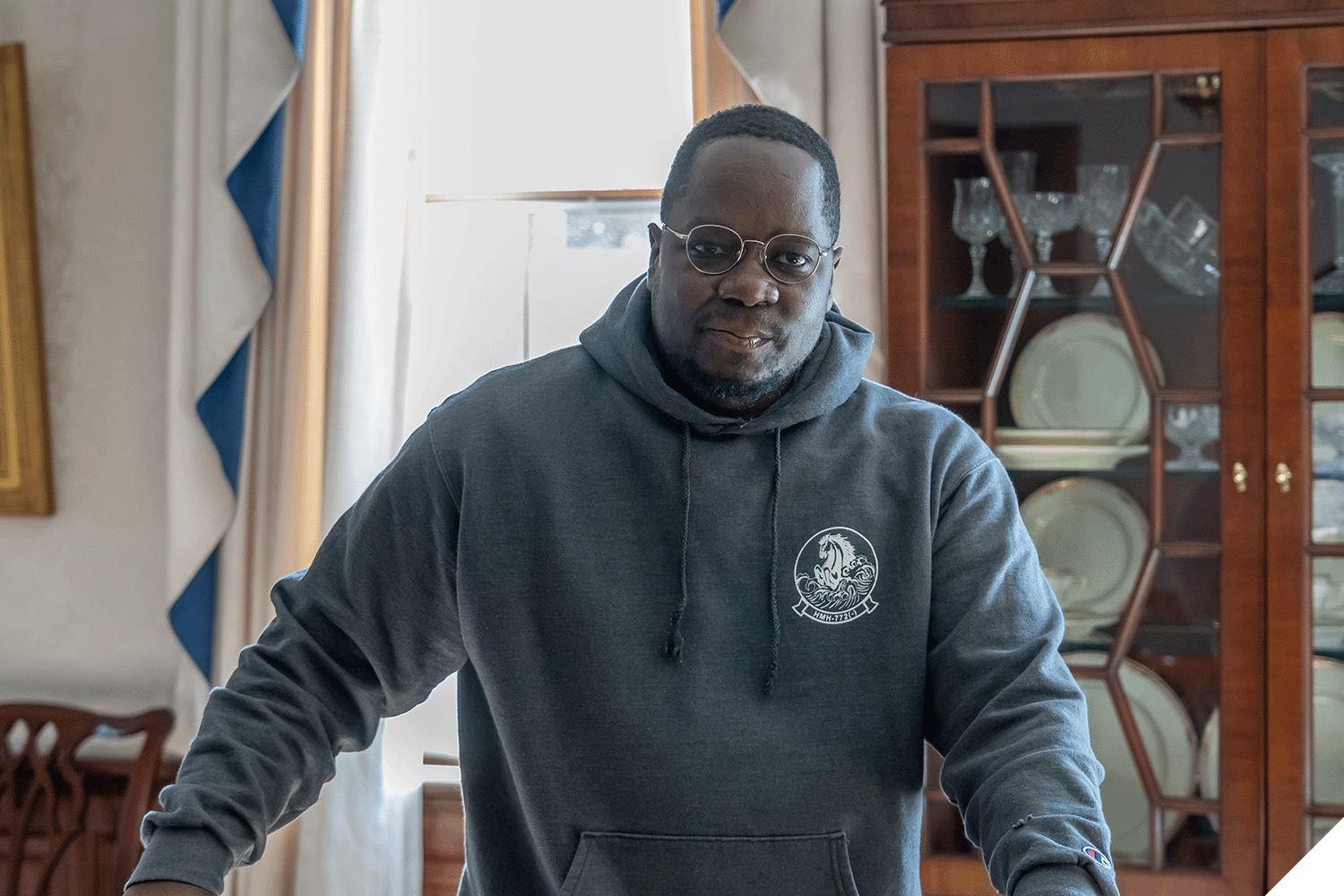 Applying as a Veteran or Military Personnel
Marietta College is committed to serving and educating our veterans, military personnel, and their families! Marietta College is recognized as an Ohio Purple Star institution for its support programs for students with military backgrounds. 
Students coming from the U.S. armed forces may offer for consideration scores earned through the College-Level Examination Program (CLEP) and/or the DANTES Subject Standardized Tests (DSST), military transcripts and/or the DD-214, as well as official transcripts from any prior institution(s) of higher education.
Armed Services

The College utilizes the recommendations of the American Council on Education (ACE) as found in the most recent Guide to the Evaluation of Educational Experiences in the Armed Services when assessing for military training for credit. A military transcript and or DD-214 may be provided as evidence of successfully completed courses listed in these publications. Credit is granted for education is equivalent to or similar to courses offered at Marietta College.

College-Level Examination Program (CLEP)

Under certain circumstances, a student may offer for consideration credits earned through the College-Level Examination Program (CLEP) of The College Board. Students will not be eligible to receive CLEP credit for courses when college credit has been awarded for the same course or more advanced courses in that same subject area. To receive credits for a CLEP examination, the student must provide a score report from CLEP and have obtained the minimum accepted score for that exam as determined by Marietta College departmental policies. The College will grant a total of up to 36 hours of credit by examination through CLEP/DANTES toward graduation. Information concerning CLEP minimum scores and examinations for which credit is awarded may be obtained from the Academic Resource Center (ARC).

Dantes Subject Standardized Tests (DSST)

The College also accepts credit through DANTES Subject Standardized Tests (DSST). The College will grant a total of up to 36 hours of credit by examination through CLEP/DANTES toward graduation. Information concerning DANTES may be obtained at the Academic Resource Center (ARC).

Transfer Credit

Transfer students will be awarded credit for all courses previously completed at an accredited institution of higher education with a grade of "C" or higher. The Registrar will determine the specific credit to be awarded and how those credits will be applied toward general education and program requirements in consultation with the appropriate department chair. Credits earned for developmental courses may be transferred in to fulfill course prerequisites but will not apply toward the minimum hours for the degree. 

Courses transferred in will be shown as transfer credit (a grade of "TR") on the Marietta College transcript. The grades earned for transferred courses are not included in computing the cumulative or program grade point averages. Transfer hours do not count as hours "in residence;" see the Residency Requirements section of the Undergraduate Graduation Requirements for more details.

Transfer credit from non-accredited institutions is determined on a course-by-course basis upon review of a course syllabus.

Credit hours transferred in from an institution following a quarter or a unit program will be converted to semester hours.

Veteran Services

The Marietta College Veteran and Military Student Center serves the needs of student veterans and military-affiliated students. Do not hesitate to contact them with any questions, for assistance with the admission process, or to ensure that you receive the benefits you are entitled to.

Yellow Ribbon Program

Marietta College's history of embracing veterans played a significant role in encouraging the current administration of Marietta College to enthusiastically join with the Veterans Administration to participate in the Yellow Ribbon program.
Applying for Readmission
At Marietta College, students must apply for readmission following:
Academic dismissal/administrative leave
Approved academic leave
Graduation from Marietta College
Medical leave
Personal leave
Suspension for academic dishonesty
Suspension for a social conduct violation
Withdrawal from Marietta College
Most types of leave only require an application for readmission. However, readmission following an academic dismissal/administrative withdrawal and readmission following medical leave require students to submit additional materials along with their application for readmission.
Your application will not be reviewed until all materials are received. For more information about readmission into Marietta College, please contact Chris Scheppner, Director of Admission.
Additional Materials for Readmission Following Academic Dismissal/Administrative Withdrawal

A student who has been dismissed for insufficient grade point average may be considered for readmission on probation if that student has been away from Marietta College for at least a summer plus one semester and can submit evidence of maturity and motivation. Materials that must be submitted along with the application are:

An essay to the Academic Standards Committee (ASC) stating what the student feels were the obstacles to their academic success at Marietta College and what they have done since their dismissal that contributed to their readiness to return. Students should also include a complete outline of how they plan to succeed, a list of their educational goals, and community resources they intend to utilize (e.g., counseling or career centers, academic advising, tutoring, study skills review, etc.).
At least one letter of recommendation from a faculty member or administrator from the most recently attended college/university other than Marietta College (if applicable) and/or one or more letters of recommendation from supervisors, counselors, commanding officers, or employers (other than Marietta College).
At least one letter of recommendation from present faculty or administrators at Marietta College (e.g., academic advisor, faculty member, etc.)

Additional Materials for Readmission Following Medical Leave

Readmission following medical leave requires the application for readmission and a letter from the student's professional therapist, physician, or both, stating the student's medical situation and their belief that the student can live and work at Marietta College. This letter must be addressed to the Center for Health and Wellness Director.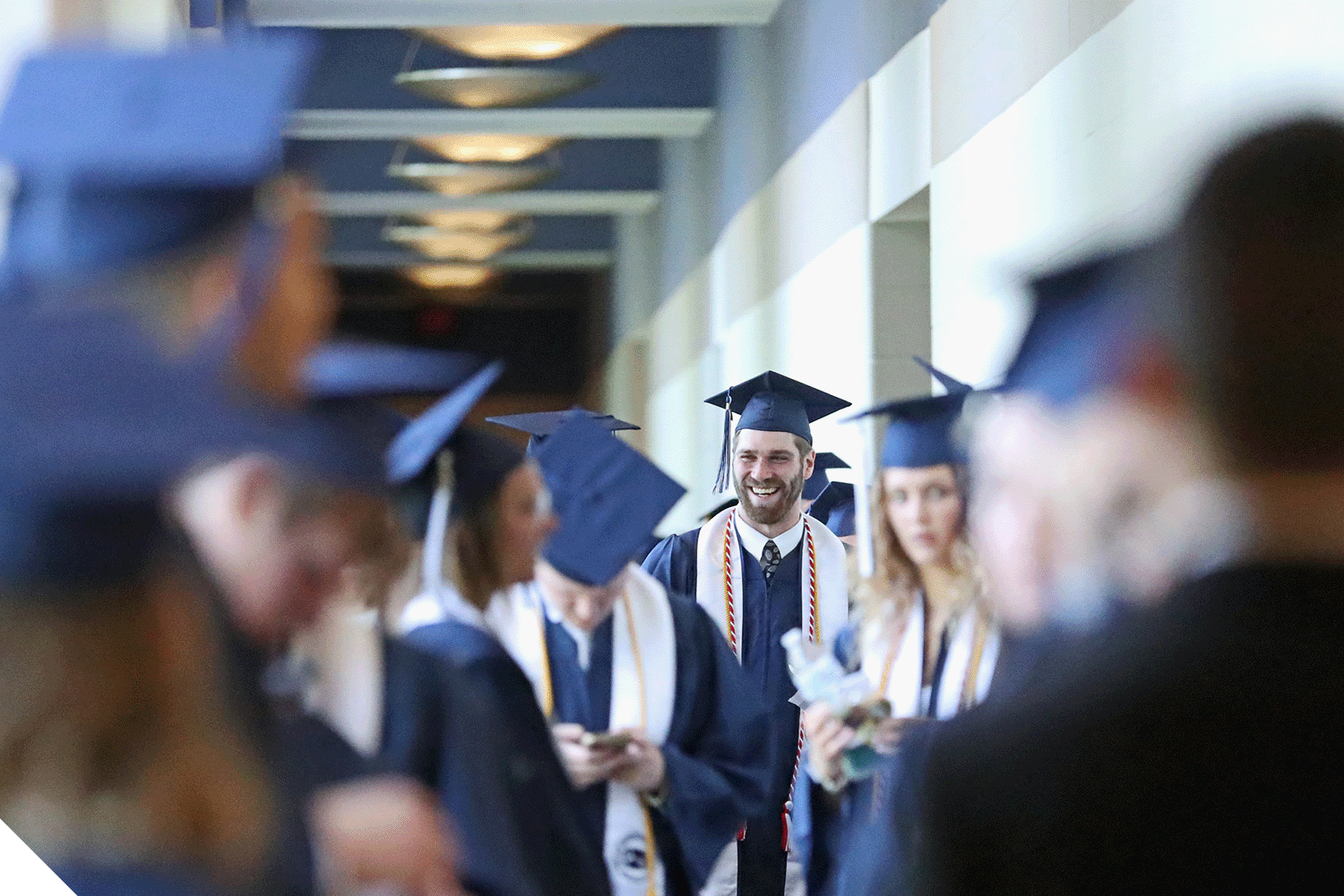 ---
Statement of Nondiscrimination
Marietta College admits students of any race, color, national or ethnic origin, disability, gender orientation, or religious affiliation to all rights, privileges, programs, and activities generally accorded or made available to students at the school. It does not discriminate on the basis of race, color, national or ethnic origin, disability, gender orientation, or religious affiliation in administration of its educational policies, admissions policies, scholarships and loan programs, and athletic and other college-administrated programs. If you have any questions regarding our non-discrimination policy, please contact Marietta College's Office of Human Resources.