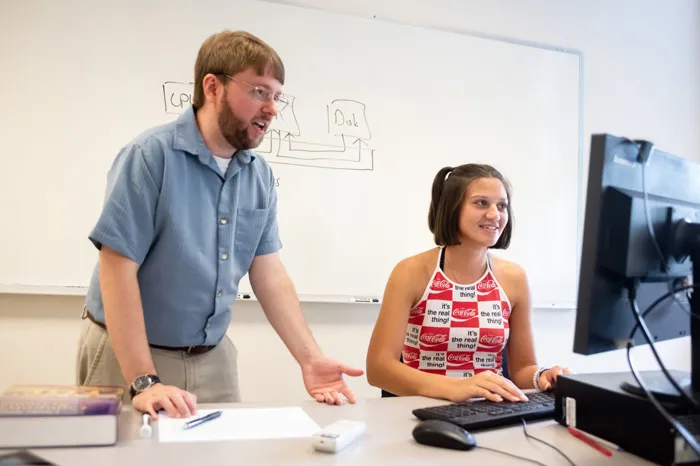 A popular summer camp is returning to Marietta College in June, giving rising and current high school students a look into a growing and in-demand field.
"We will host the Marietta College Computational Thinking Summer Academy for high school students (incoming freshmen through seniors) from Monday, June 19 through Friday, June 23," said Dr. Bob Van Camp, Professor of Computer Science. "The purpose of this academy is to introduce computer science and computational thinking to high school students within our region."
Van Camp said the weeklong experience will allow students to learn more about the field and the various careers that rely on computer scientists.
"This will also give students a chance to see what Marietta College's programs in Computer Science and Information Systems have to offer," said Dr. Matt Williamson, Associate Professor of Computer Science and Director of Esports. He added that the camp will likely also include time in the College's Esports Arena, where the varsity team competes.
Van Camp said two recent graduates, Spencer Tenney '23, who earned a Bachelor of Science in Computer Science, and Eleanor Smith '23, who earned a Bachelor of Arts in International Business and Asian Studies, are both assisting with the camp.
"Students will learn how to design programs, develop games using Unity, solve problems using a computational thinking approach, and learn more about computer science," Van Camp said.
The day camp includes lunch for the students, who will need to have transportation to and from campus. The camp costs $100 per student, with a $50 minimum down payment due at registration. Financial assistance is available to qualifying students. Registration can be done online. The academy has limited seats, so registrations are on a first-come, first-served basis.
"If you know of a student who is interested in learning more about computational thinking and computer science, or who is curious about what to study in college, this is a great opportunity," Van Camp said. "They don't have to have any prior knowledge of programming — just have a curiosity."
For more information: Dr. Bob Van Camp, rmv001@marietta.edu; or Dr. Matt Williamson, williamm@marietta.edu.