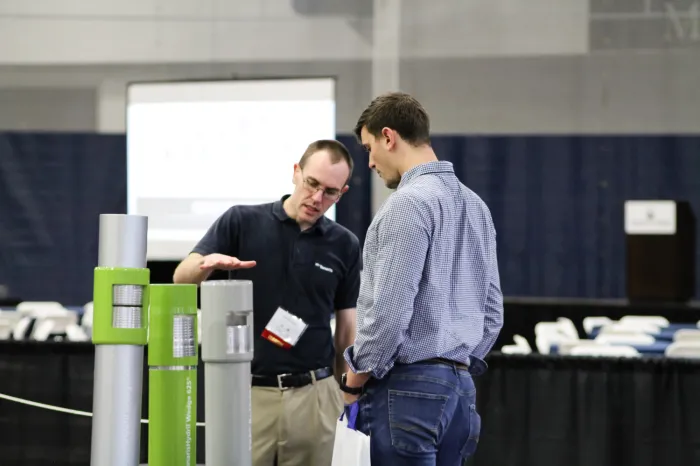 Students from Marietta College's Department of Petroleum Engineering and Geology are hosting the annual Earth, Energy, and Environment Student Exhibition from 9:00 a.m.-2:30 p.m., Friday, November 3. This event occurs on the final day of the three-day E3 (Earth, Energy, and Environment) Student Conference and Exhibition.
The E3 Student Exhibition was founded in 2017 by a group of students who wanted to host companies and organizations in person for Marietta students to learn more about the energy industry.
"We value education but also understand that classroom learning is only one piece of the academic journey," said Ben Ebenhack, Chair of Petroleum Engineering and Geology. "The exhibition allows students to make connections, but most importantly, get a glimpse of what the earth, energy, and environmental industries are doing today and where they are going in the future."
This student-driven event aims to provide fellow classmates and other students with the opportunity to learn about the industry and make connections with professionals who share a passion for energy.
Last year, over 3,500 people from 80 countries and 200 universities worldwide attended in-person and virtually. Learn more about the exhibition online at https://mce3.squarespace.com/.
Anthony Jaeger '24 (St. Clairsville, Ohio), one of the organizers of this year's event, said some big companies will be on campus, including Flowco, Innovex, SLB, Haliburton, Universal, Renegade, ONEI, Repsol, Stryker, Kimray, Welltec, Well Done Foundation, ARI, Ulterra, and Gladiator Energy.
"For students this is a great opportunity to be exposed to many new and intriguing technologies that solve problems they may not have known existed," said Jaeger, who is majoring in Petroleum Engineering. "For industry students, there is the opportunity to network and to gather more information for a career path. They also will be in direct contact with industry professionals and can hand over resumes as some of the companies are hiring interns and full-time positions."
Jaeger said there is also plenty for students and employees who are not familiar with these companies.
"There is massive equipment being brought to campus that is being displayed, and there will be industry personnel there to answer any questions that anyone has," he said.
Expo Schedule 
9:00 a.m.-Noon — E3 Expo  
Noon — Lunch (FREE - Catered by Q-Wagon BBQ)
12:30 p.m. — Speeches (includes Marietta College President Dr. Margaret Drugovich and Congressman Bill Johnson, who is on the Energy and Commerce Committee
1:00 p.m. — Announcement of E3 Committee Awards 
1:00-2:00 p.m. — Student Poster Contest 
2:00 p.m. — Student Contest Winners announced