The guidelines have been designed to be user friendly and to make your communication materials both attractive and effective. Each content section offers instant access to the information you need, including:
Marietta College's official visual identity marks, including the College's logo, seal and athletics logos
Guidelines for use of the College's official colors and typefaces
Examples of Marietta College letterhead, envelopes and business cards and instructions for their use
Important trademark and merchandising information
Marietta College Visual Identity Marks
Marietta College's visual identity is based on a system of official graphic marks, coordinated to help the public easily identify the College and to promote Marietta's distinctive assets and visibility among its many important audiences. The images depicted below are the official visual identity marks of Marietta College. To promote strength and consistency—and to protect important trademark registrations—use of these marks should adhere to the graphic standards outlined in this manual.
Official Marietta College Logo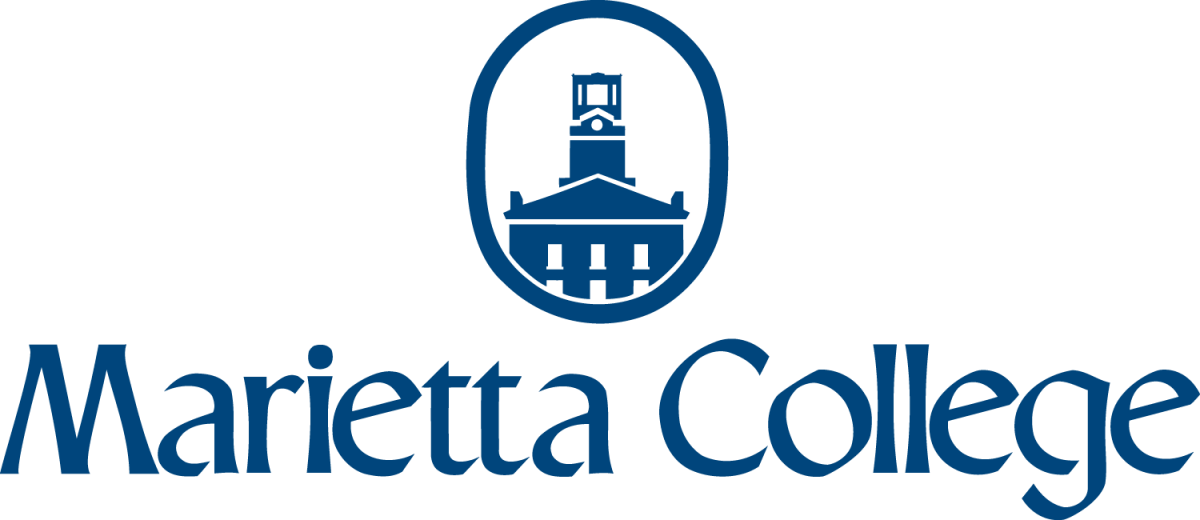 In the summer of 2006, the Marietta College President and Cabinet officially approved this logo to serve as Marietta College's primary visual identity mark of the institution for use on its stationery package, merchandise and all printed and electronic publications. The "Erwin Tower" oval icon represents Marietta College's history of commitment to academics and to its liberal arts foundation.
This logo has been used since the mid-1980s but had not until 2006 been "officially" designated as the logo of Marietta College.
Logo Usage
The Marietta College logo is the primary visual identity mark of the institution and is to be used on stationery, merchandise and all printed and electronic publications intended for off-campus use. The logo must always be printed in a one-color format. Acceptable colors are Marietta Blue (PMS 281 Coated, PMS 295 Uncoated), black, gray, metallic silver and white in a reverse-out application. The logo must be produced at 100% of the color—screening the logo is not an acceptable usage. 
Reproducing the Logo

The Marietta College logo comprises carefully crafted, customized artwork and type. As such, the College requires that electronic files or camera-ready art be used
to create all forms of communication. Any attempt to recreate the art, type or spacing and styling of the logo by desktop publishing or word processing will result in inconsistencies that will compromise the integrity of the logo. 
Logo Sizing
The recommended minimum reproduction size of the Marietta College logo is 3/4" in width. Reducing the logo further compromises the integrity of the icon and the readability of the wordmark.
Tower Icon and Wordmark Usage
The Marietta College Tower icon and wordmark may be separated (or peeled apart) and used alone to represent Marietta College. The first option in any printing of the College logo would be to use the entire logo, but there are cases where the Tower icon or the wordmark may be used. 
Incorrect Logo Usages
To ensure visual consistency, promote recognition and preserve its trademark status, the Marietta College logo must not be altered in any way. The illustrations below demonstrate many, but not all, incorrect uses of the logo: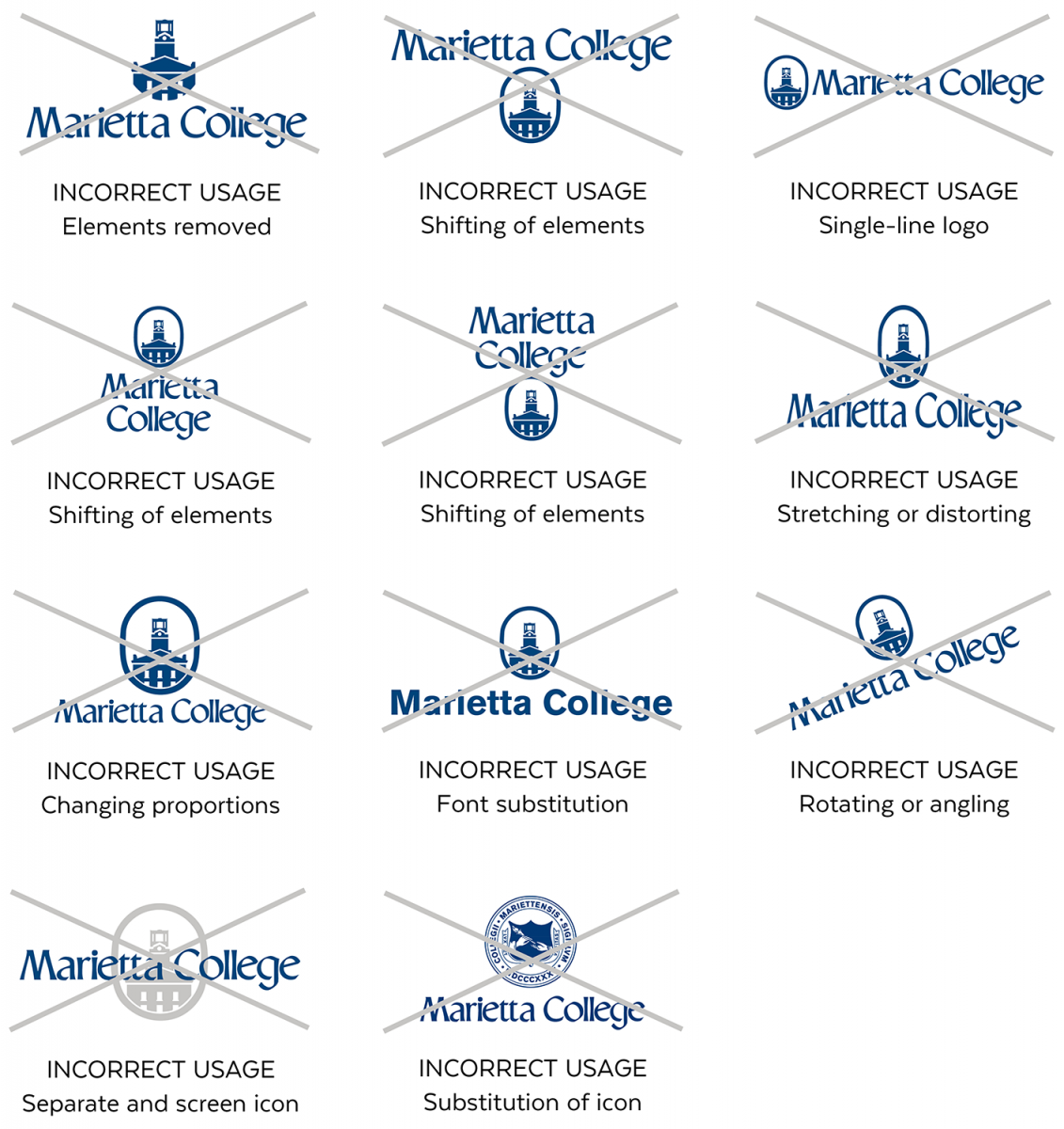 Official Marietta College Seal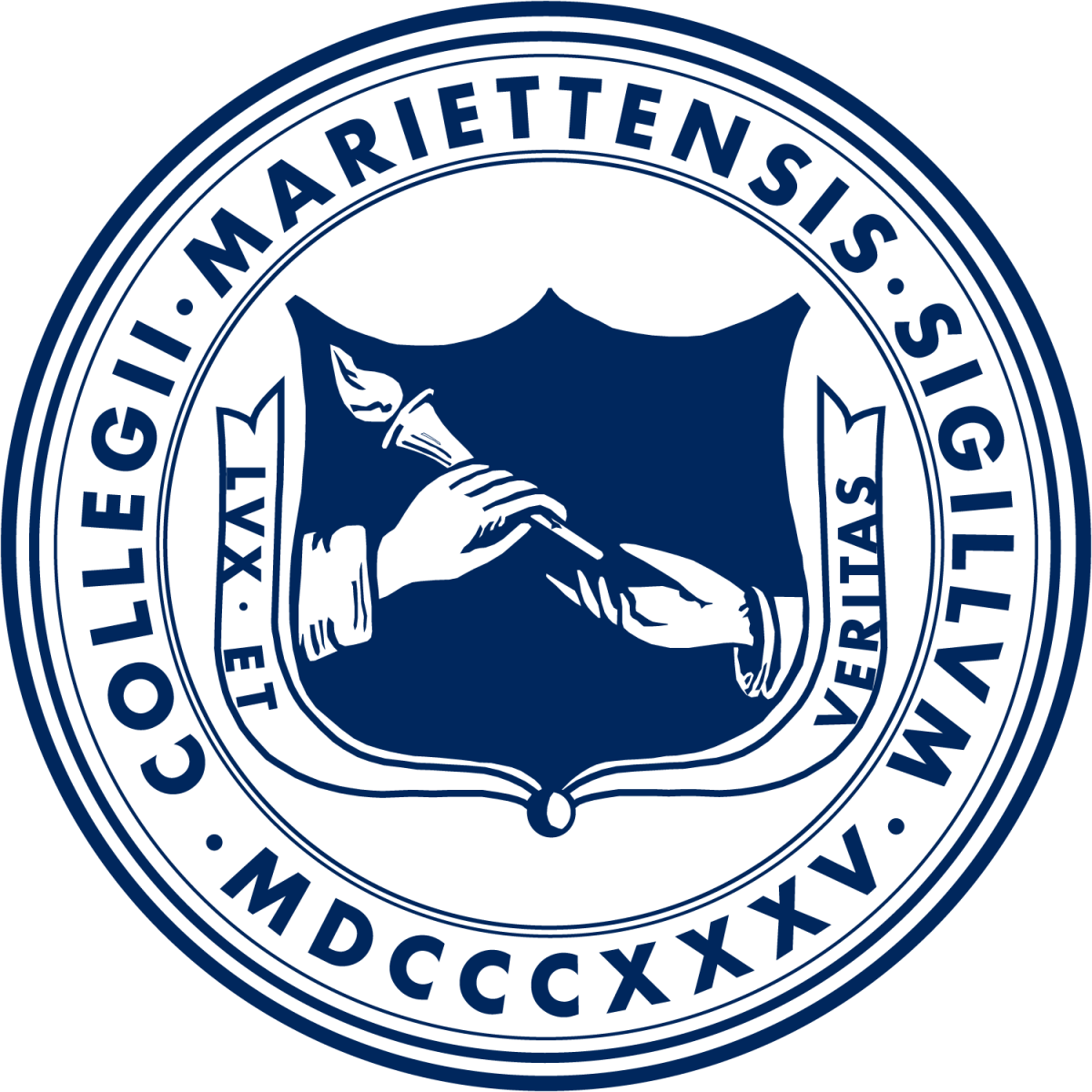 The Marietta College seal is the official ceremonial mark of the institution. As such, it is reserved for more limited use than the logo.
Historically, institutional seals were used to authenticate official messages. Their design is purposefully intricate and descriptive. The College seal is reserved as the official ceremonial mark of the institution for usages such as official documents, diplomas, citations and special signature items. It SHOULD NOT be used routinely in print or electronic communications or merchandise. Use of the seal must be approved by the Director of Creative Services. To ensure consistency, the hands in the shield should not be used as a separate image, the artwork and text inside the seal should not be altered in any way, and all previous versions of the College seal should be retired from use.
Incorrect Seal usages
The illustrations below demonstrate many, but not all, incorrect usages of the seal: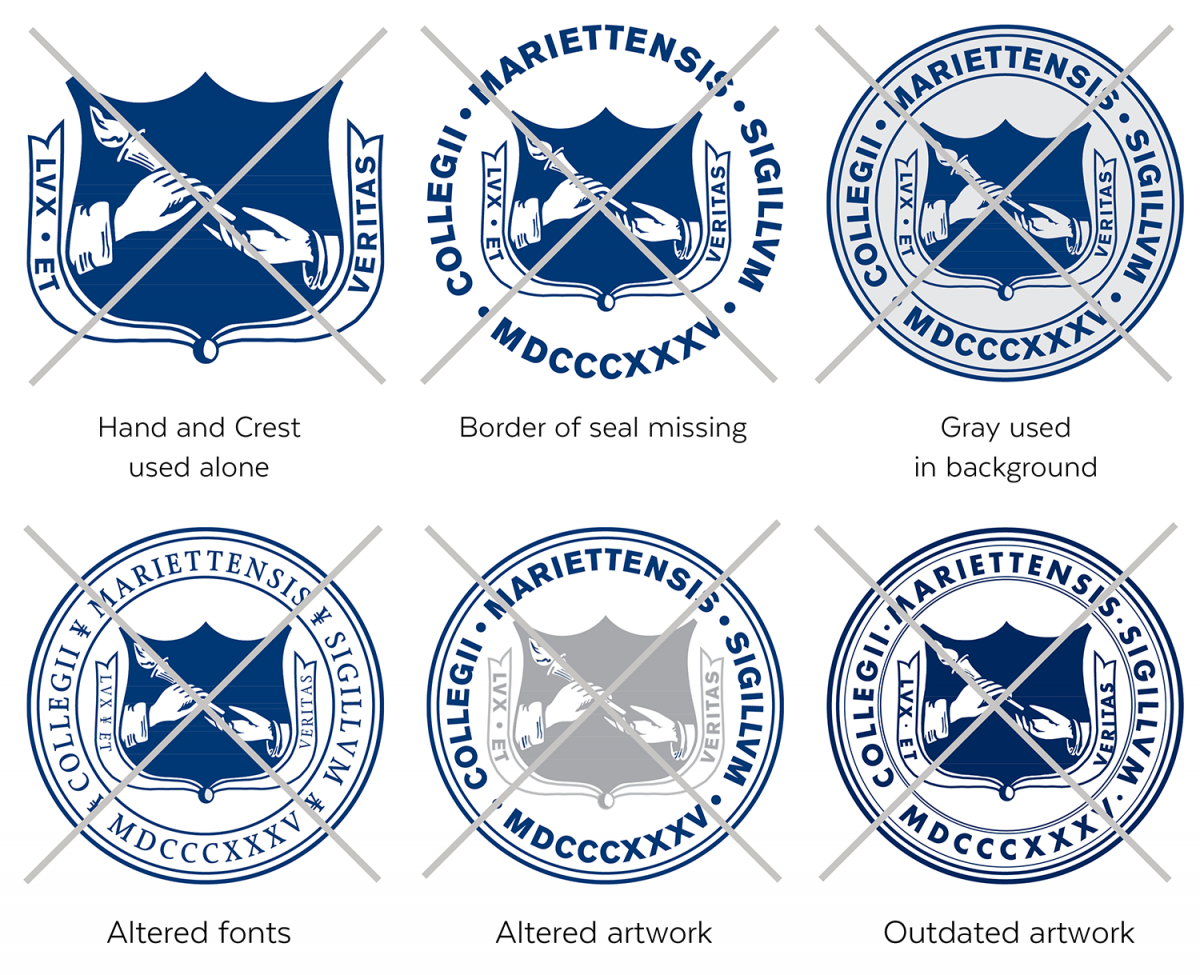 Faux Marietta College Seal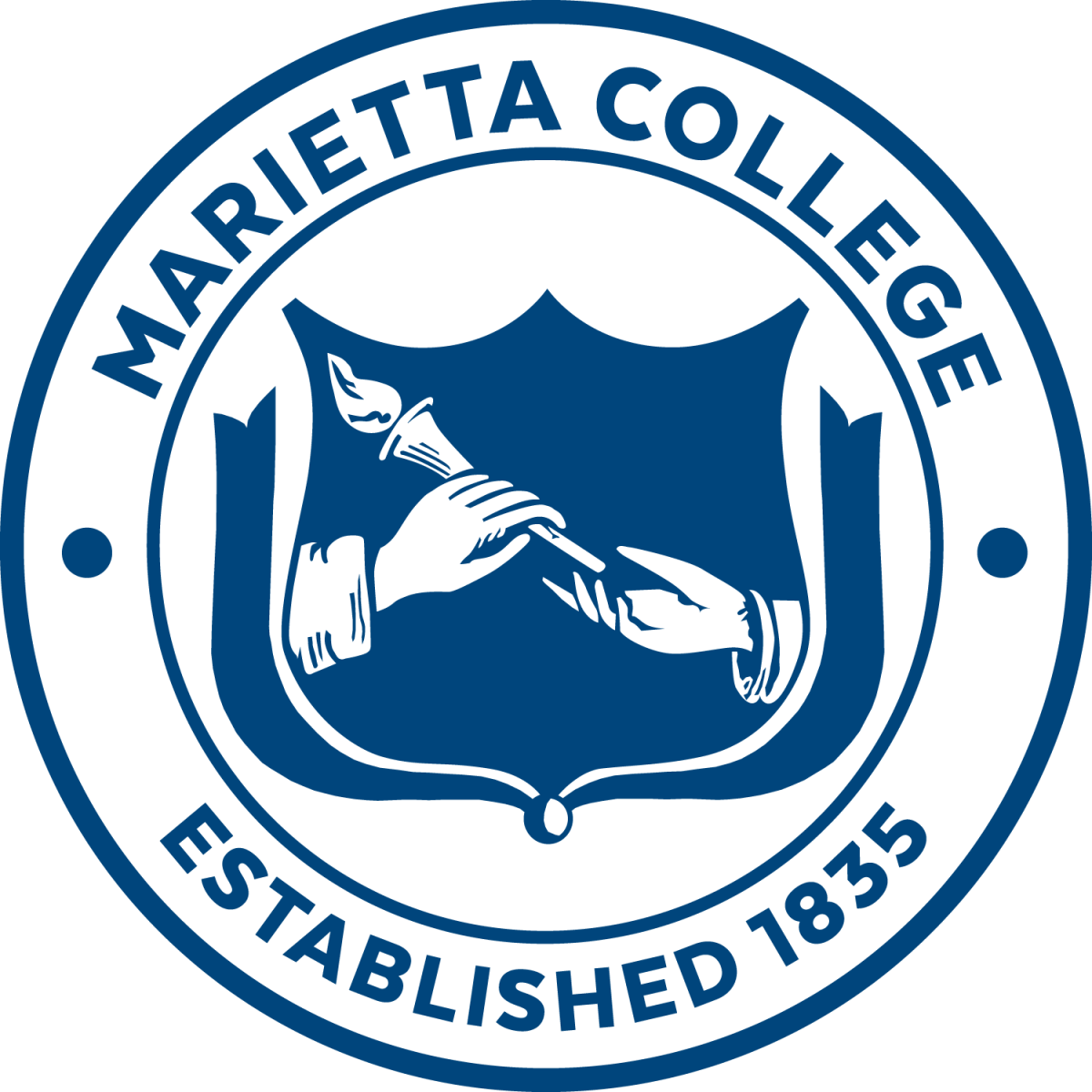 The Faux Marietta College seal is to be used only on products for merchandising that require a simplified version of the seal or do not meet the higher end product requirement of the College's official seal.
The Faux College seal should ONLY be used on merchandise and NOT official College communication.
Official Marietta College Athletics Logo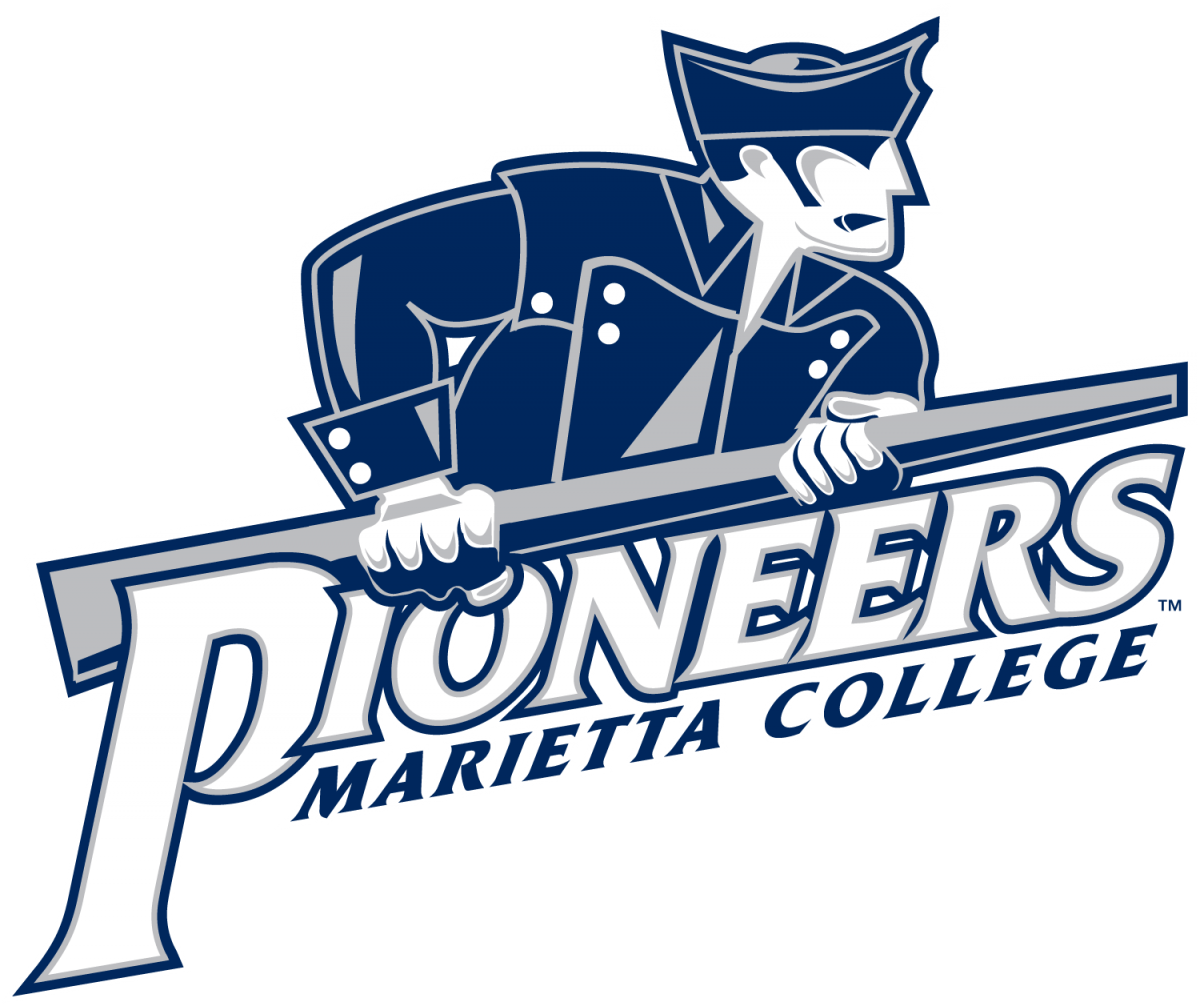 In November 2002, Marietta College introduced a new system of athletic visual identity marks (shown above). All athletic logos are reserved for the use of the Marietta College Department of Athletics, which has its own graphics standards to direct these logos' specific use.
You can find the standards for these marks located below, or on page 66 of the printed version.
Marietta College Colors
The official colors of Marietta College are "Marietta Blue" (Pantone Matching System PMS 281 for coated paper and PMS 295 for uncoated paper) white and metallic silver. When metallic silver cannot be used, the alternative is PMS Cool Gray 3. All of the Marietta College visual identity marks (the logo, seal and athletic logos) must appear in their entirety in either Marietta Blue (PMS 281 coated, PMS 295 uncoated), black, gray, metallic silver or in white for reverse-out applications.
Since white is one of Marietta's official colors, white paper is usually a better choice than off-white or colored papers for printed publications and provides a white background when reversing out Marietta's visual identity marks.
When ordering materials from a vendor (for example, shirts and mugs), asking for "navy blue" is acceptable.
Hex Colors
Hex color equivalents for web use of approved colors are as follows:
PMS 281 C - 00205B
PMS Cool Gray 3 - C8C9C7
PMS Metallic Silver 877 - 8A8D8F
Color Matching
Correct vs. incorrect usages: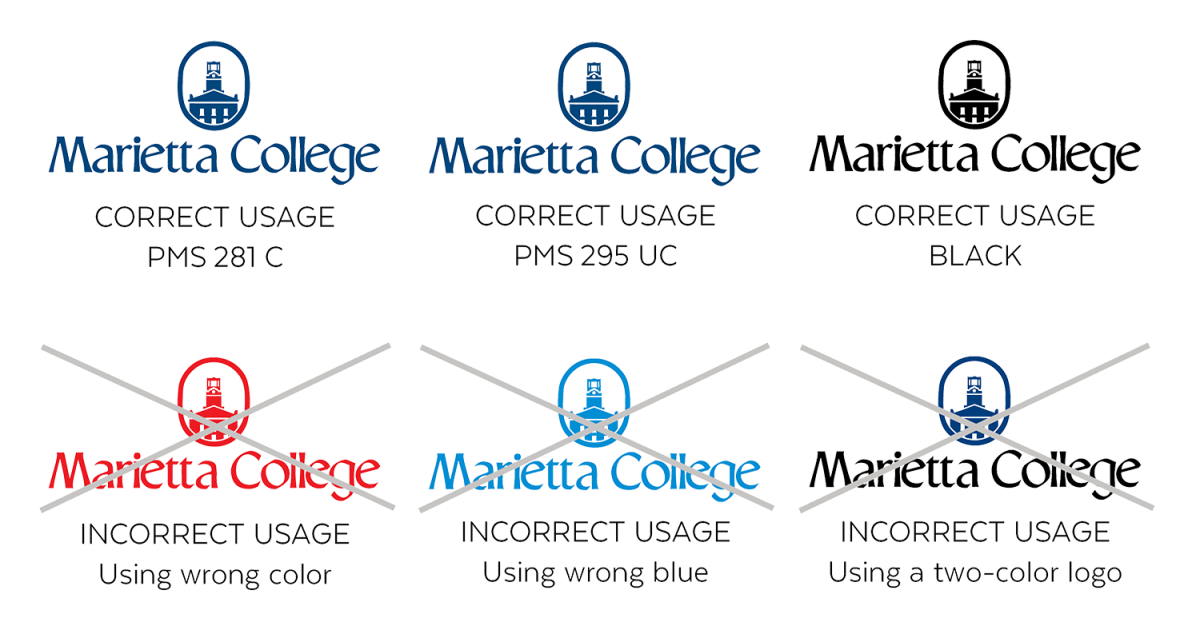 Reverses
Readability and clarity are critical elements of Marietta's visual identity marks. Dark inks on light papers offer the best effect. Designers should take care that any use of a reverse-out effect offers a high contrast for maximum legibility. To reverse out of a photo or illustration, the area chosen for the reverse should be as dark and solid as possible, avoiding patterns that could make reading difficult (see example below). If PMS 281 or black are not used in your publication, reverse the visual identity mark in white from the darkest color.
Correct vs. incorrect reverse usages:

Please Note: When printing a logo in a standard reverse, you must use the reverse logo. Adding an outline to the image will result in an incorrect usage.
Patterned Backgrounds
All marks should not be used on patterned backgrounds if at all possible. If a question arises about the usability on a patterned background, please feel free to consult the Director of Creative Services about the logo usage.
Correct Reverse Usage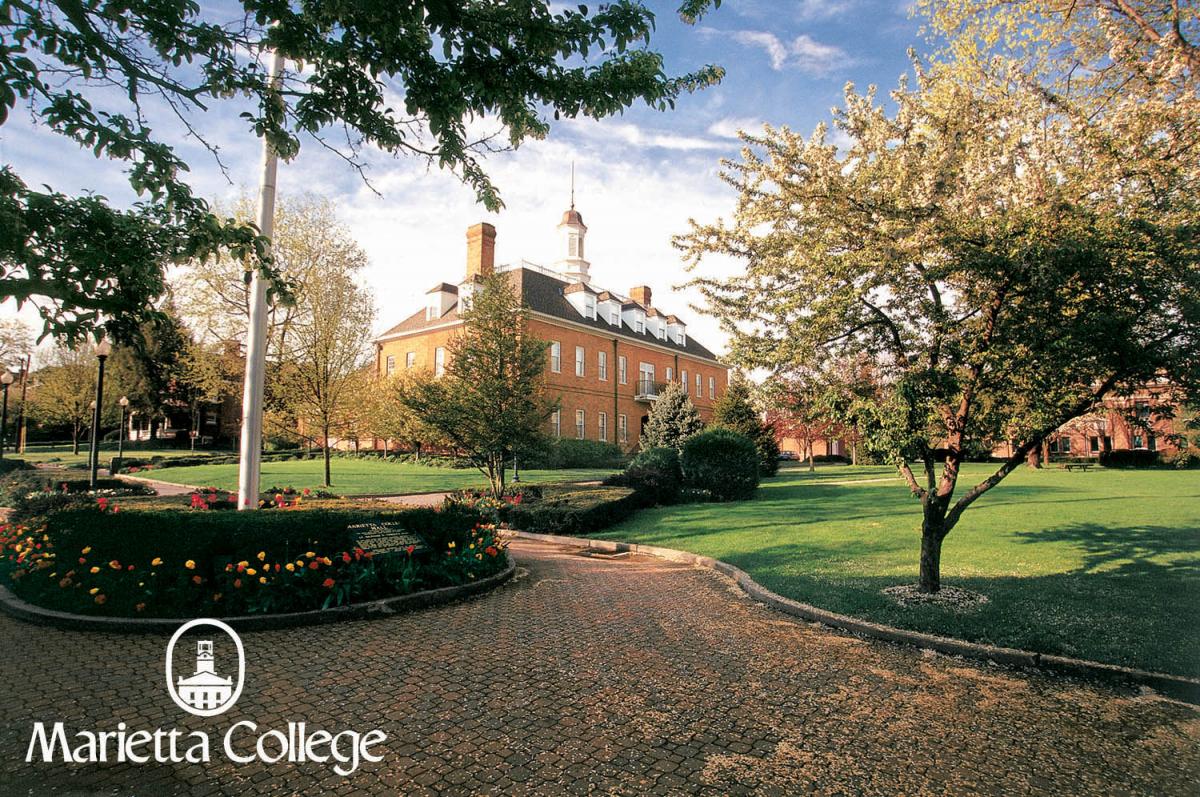 Incorrect Reverse Usage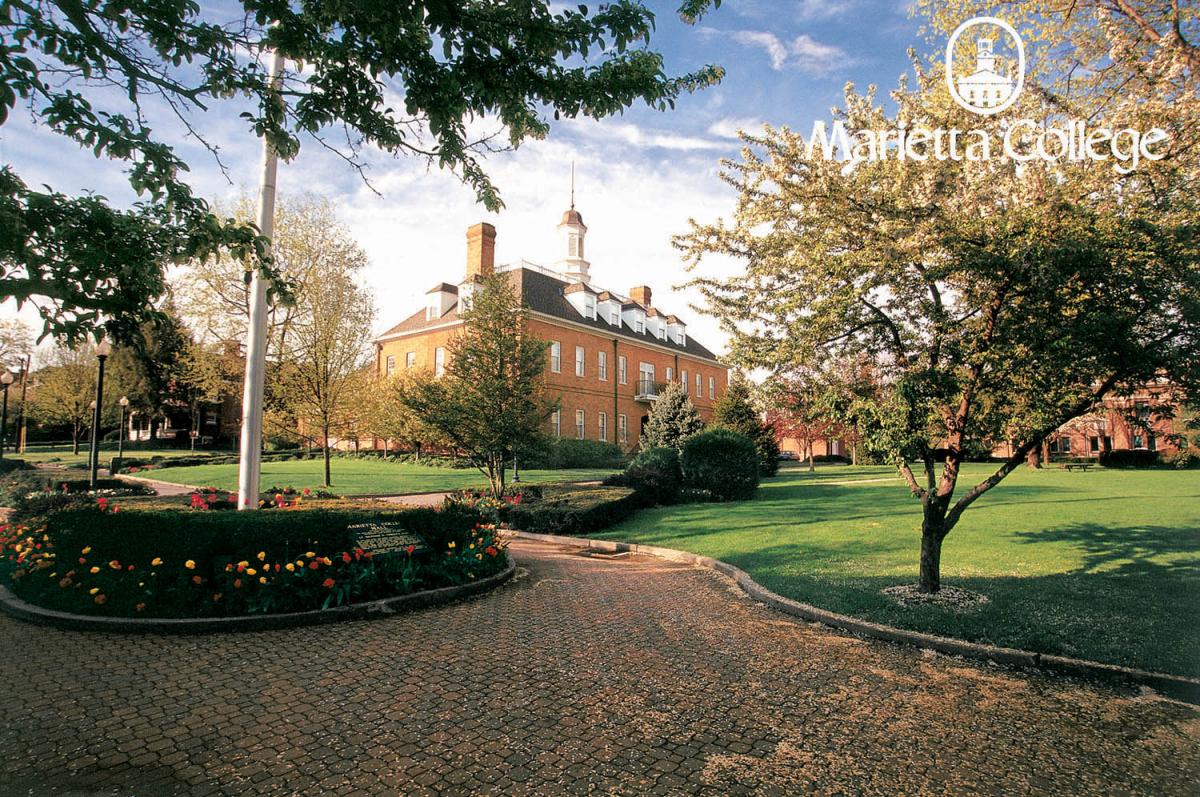 Hot-Stamping or Embossing
Designs that incorporate hot stamping or embossing of any of Marietta College's visual identity marks should be produced in conjunction with the Office of Communication & Brand Management. Hot stamping and embossing options are generally limited to navy blue, black, silver or a blind emboss.
Unit-Specific Logos
The Marietta College name and reputation are strong, and as such, they are an asset to entities on campus, a fact that reduces the need for individual unit-specific logos. The overwhelming majority of entities on campus are represented visually by the Marietta College logo, customized to the name of their individual entity as shown below. This unit-specific logo represents individual campus entities on all stationery, merchandise and printed and electronic communications. These entities include, but are not limited to:
Administrative offices and their respective departments (i.e., those that report to the Office of the President, Provost, Vice Presidents, Deans and Directors)
Former logos or wordmarks previously used by these entities should be retired from use.
Sample Proportion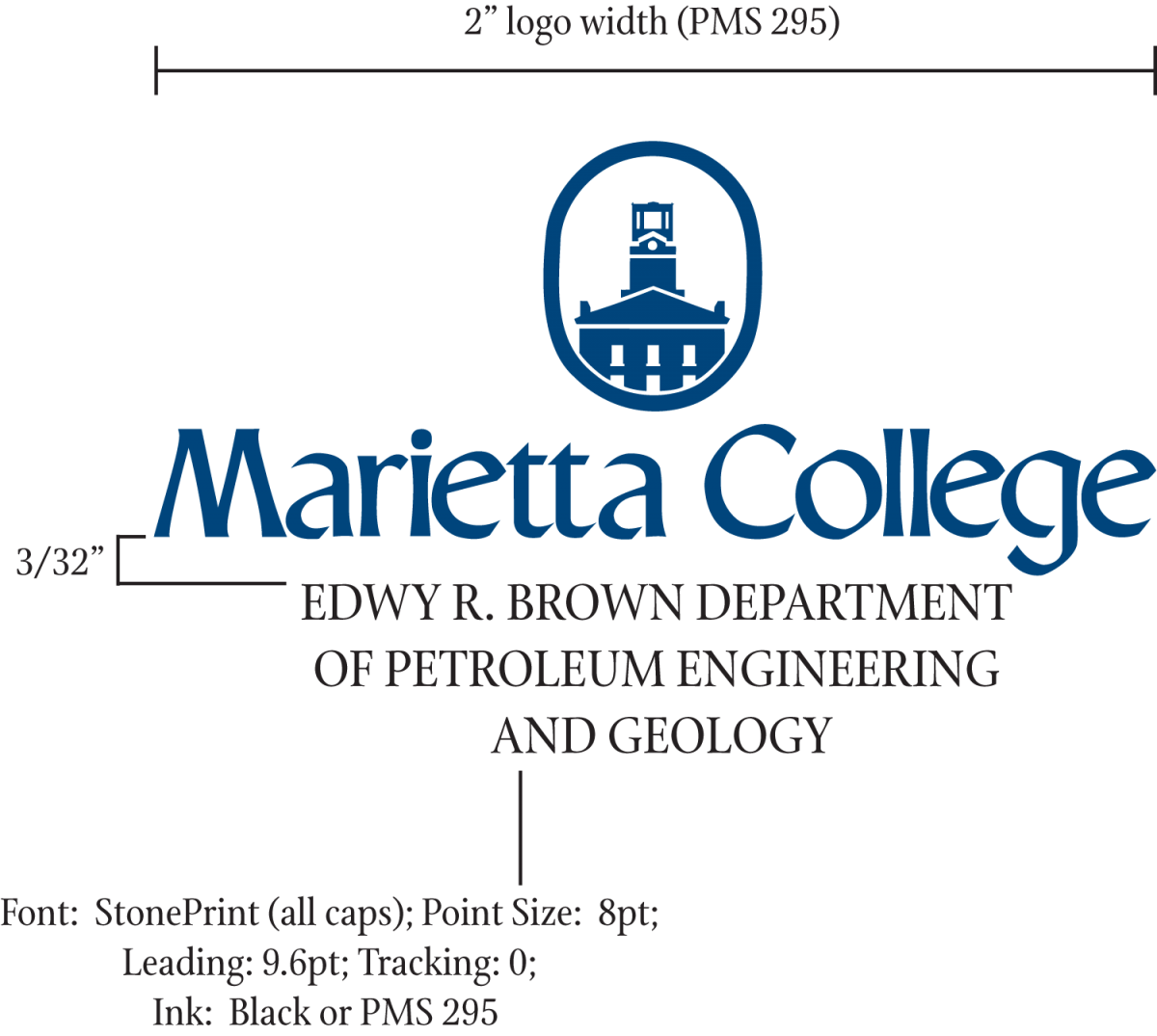 Control Area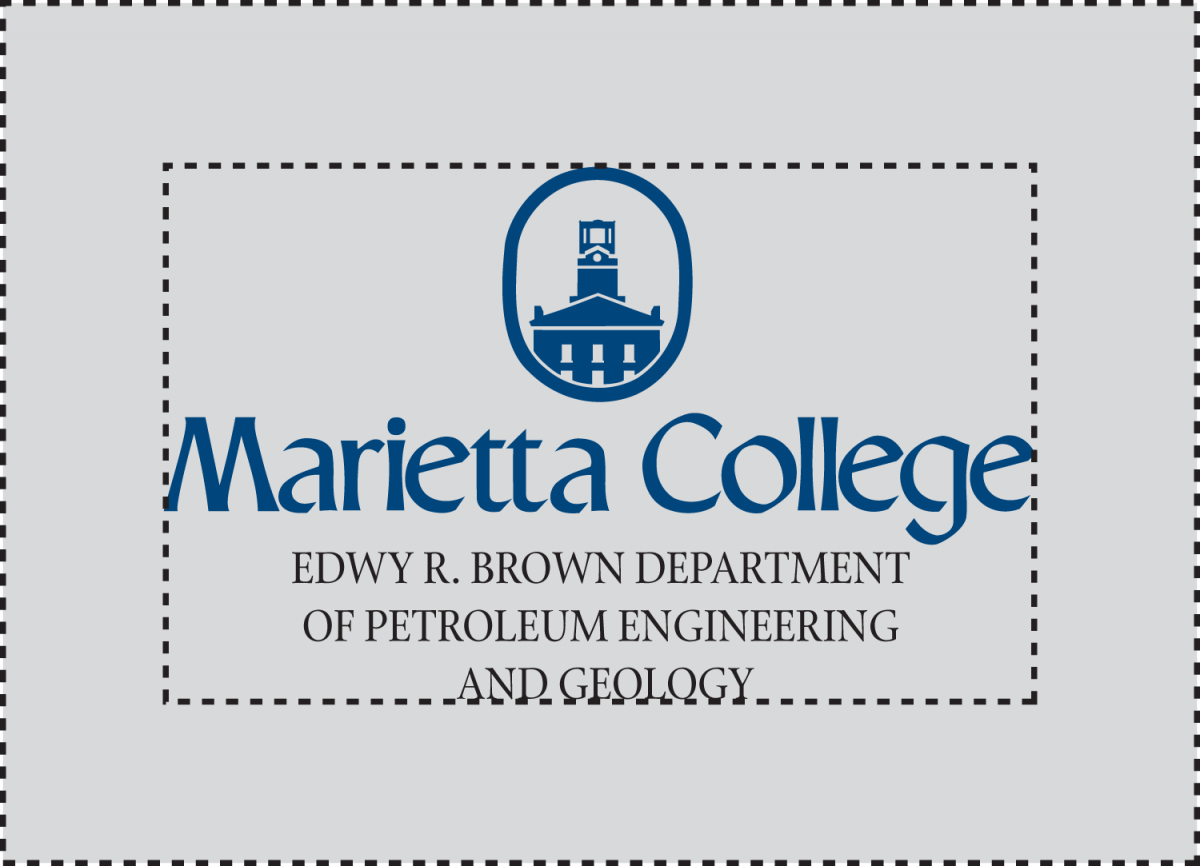 "Grandfathered" Exceptions
A limited number of individual campus entities are able to use their own logos or wordmarks, due to unique cultural or historical significance, funding provisions or an established strong identity with certain key audiences. However, to demonstrate a close connection to Marietta College, the College logo must also appear on the entity's letterhead, merchandise and printed and electronic communications.
Student-Funded Clubs and Organizations
Due to their nature and frequent changes in leadership, student clubs and organizations recognized by Marietta College and funded primarily by students may use their own logos and wordmarks when communicating with an on-campus audience. When communicating off campus, they must use the official Marietta College logo or the phrase "A Student Organization of Marietta College" in conjunction with their own logo or wordmark.
Letterhead
Marietta College's official letterhead may be ordered by contacting the Office of Communication & Brand Management. Campus entities may order standard institutional letterhead, or letterhead customized for their individual school, office, department or program, as shown below. To maintain consistency and professionalism in all College correspondence, individual campus entities or persons may not design their own letterhead.
Standard Marietta College Letterhead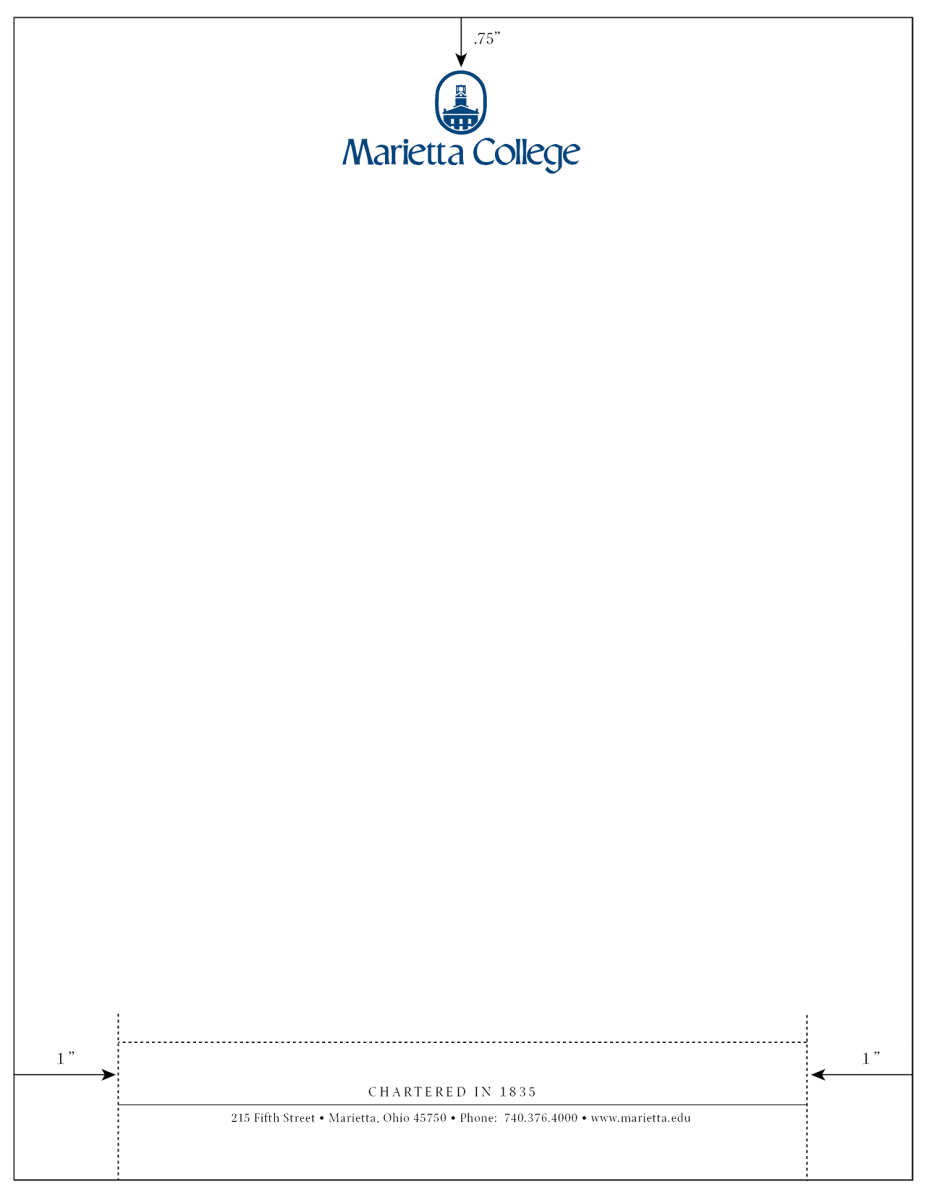 Customized Unit-Specific Letterhead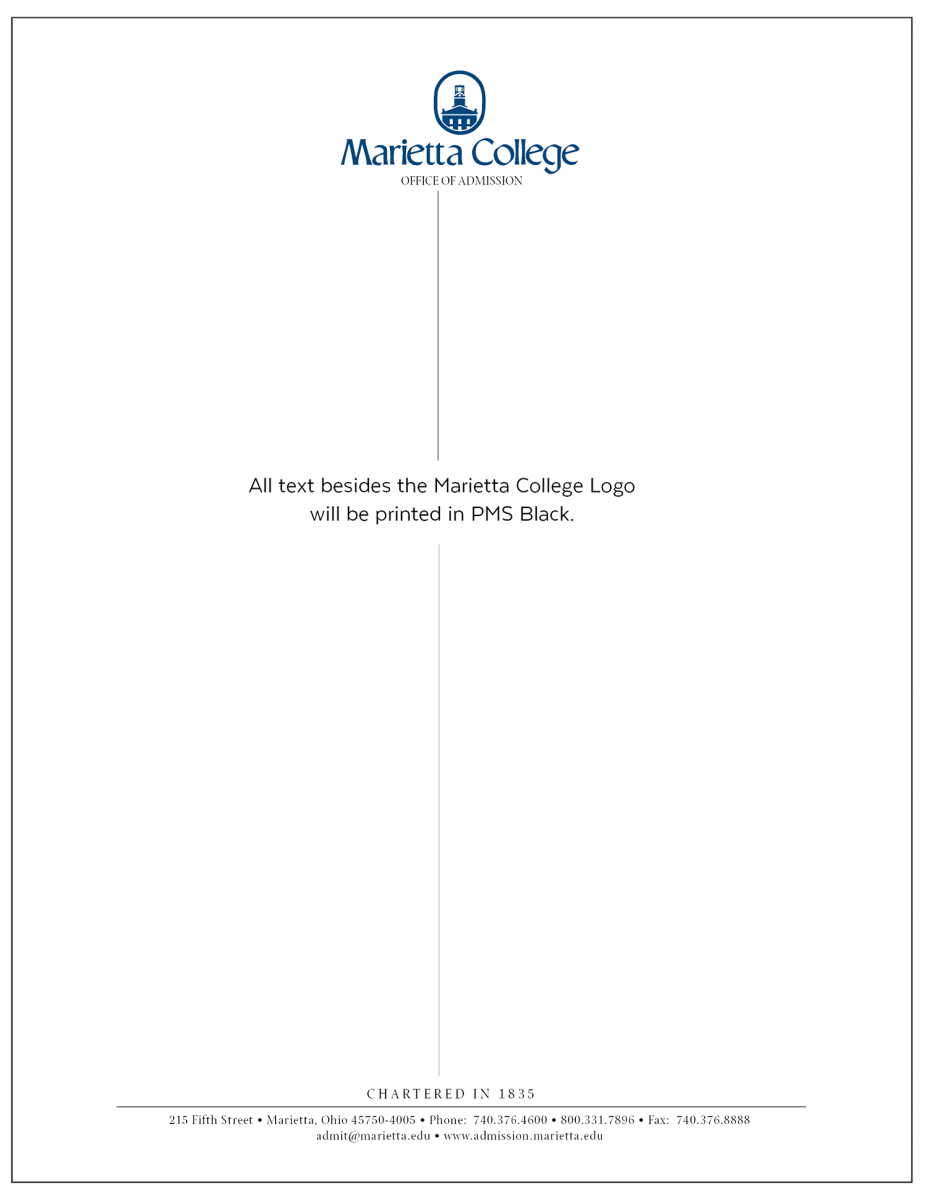 Envelopes
The standard address block used for all Marietta College envelopes and labels is illustrated below. The Office of Communication & Brand Management coordinates an annual envelope order for all campus entities ea spring, but will produce envelopes throughout the year as requested.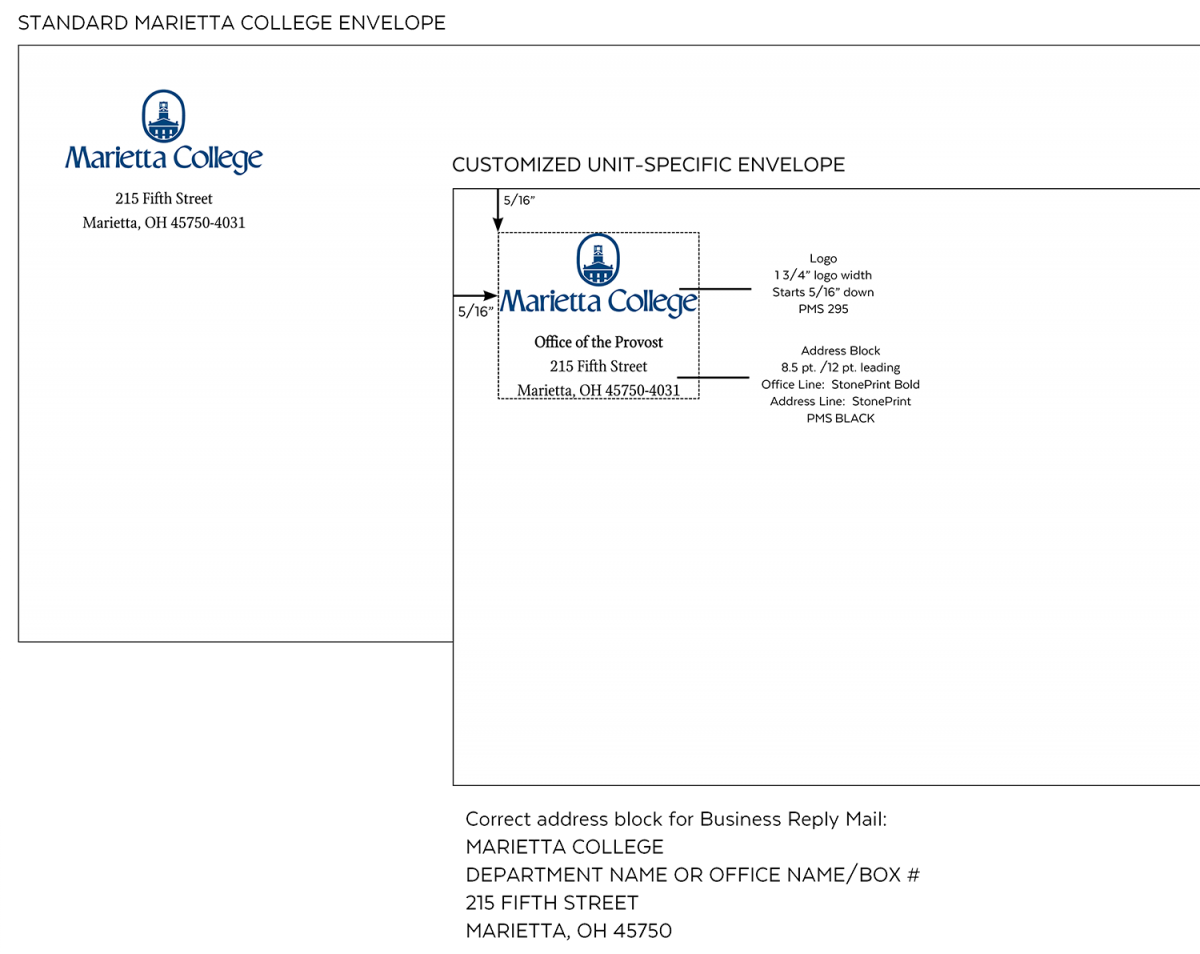 Business Cards
To maintain a consistent and professional image for Marietta College, the business card formats illustrated below will be used for all campus personnel. Individual campus units or persons may not design their own Marietta College business cards. The only exception is the Marietta College athletic department, which follows its own visual identity guidelines.
Front of the card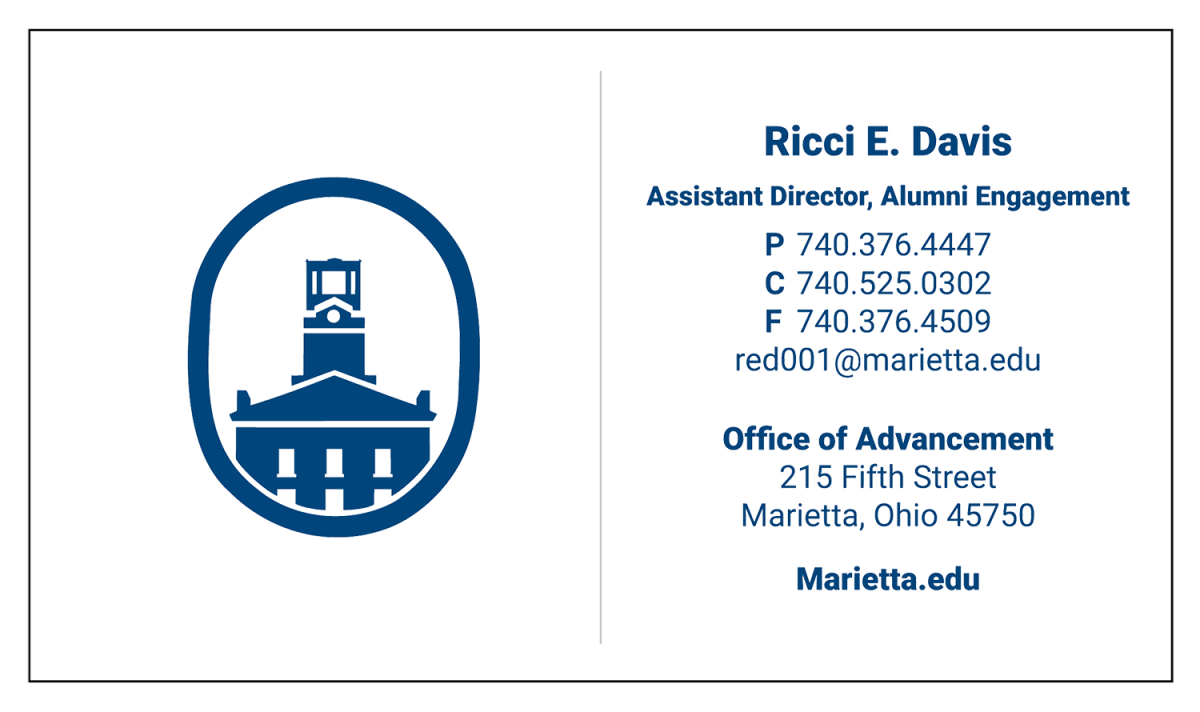 Back of the card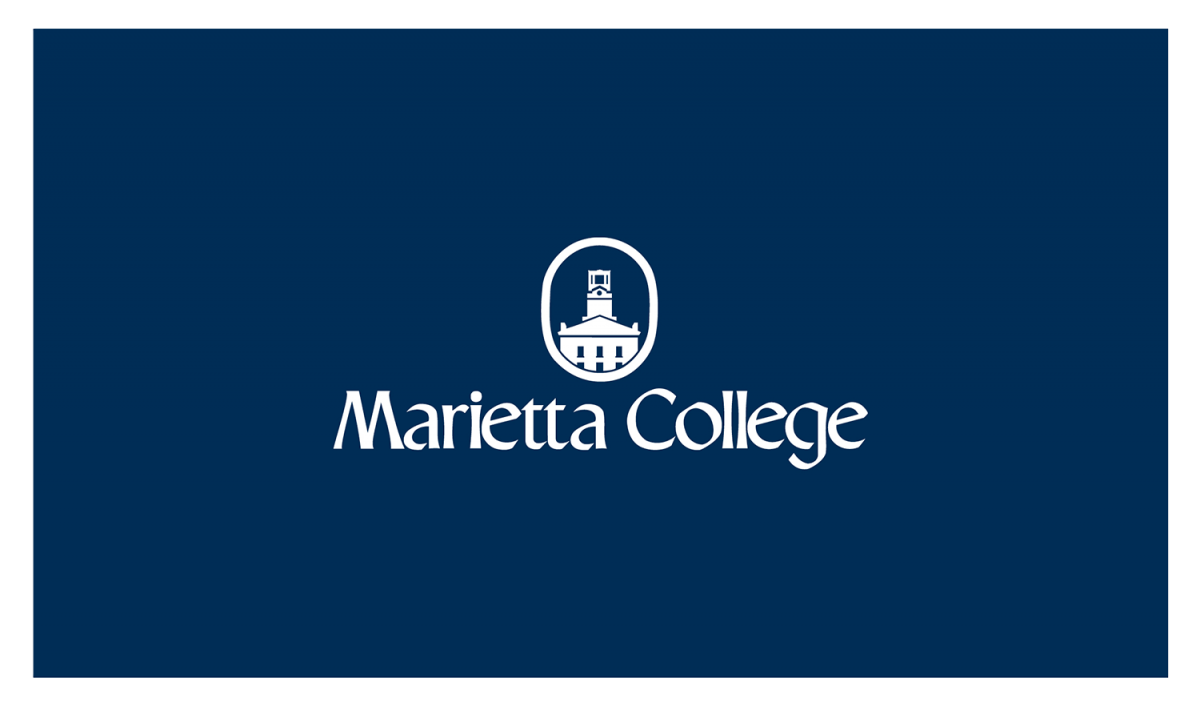 Correspondence Style Guidelines
To provide a more standardized, professional look for Marietta College correspondence, the College suggests that the letter begin at least 2" from the top of the page, with a 1" margin at both the right and left. A 1.25" margin should be set at the bottom of the page. It is suggested that correspondence should be printed in 11 point Arial (sans serif) or Times New Roman (serif) font and follow the format shown below.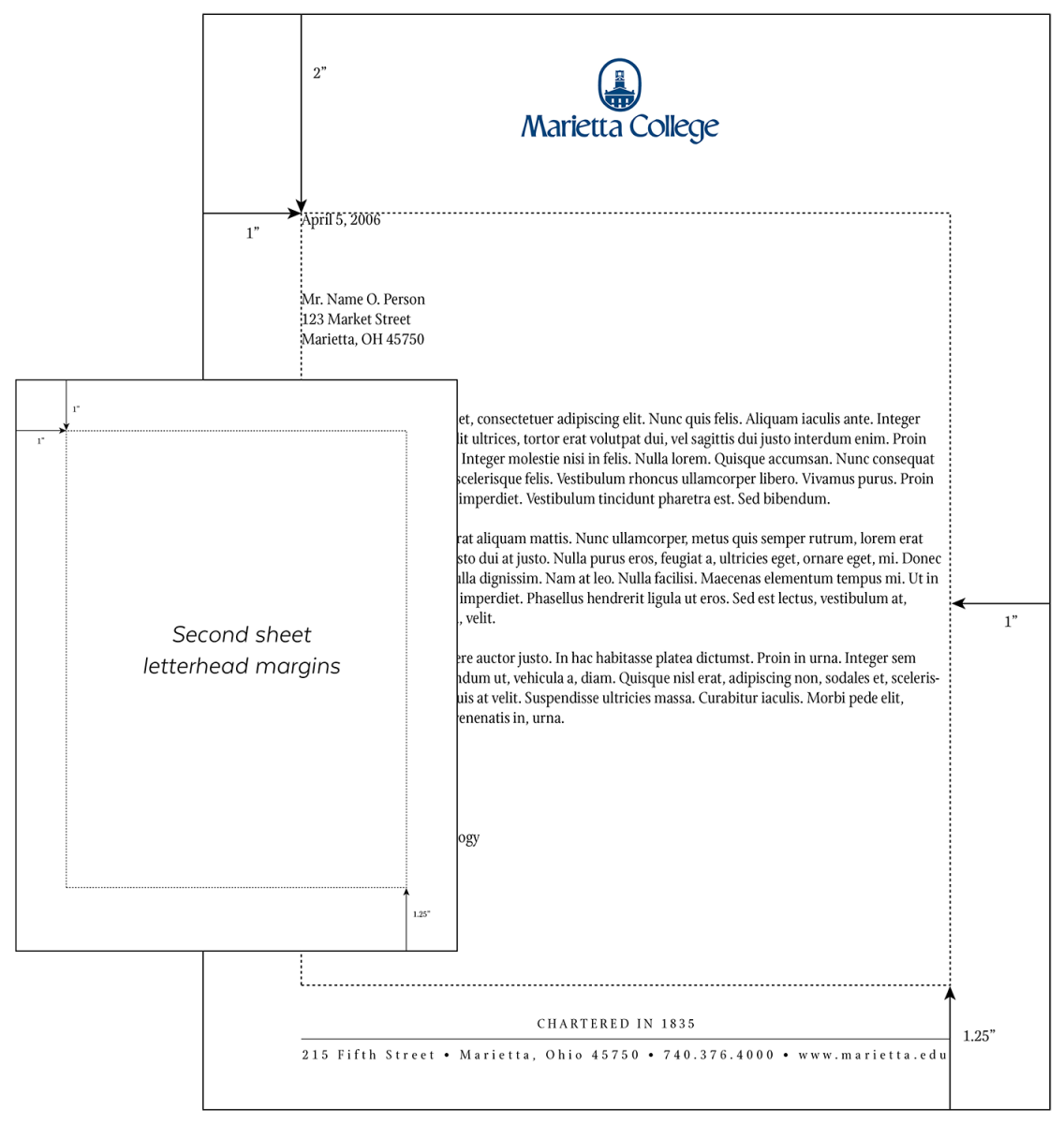 Recommended Type Styles
The recommended type styles for Marietta College's stationery and campuswide marketing materials are listed below. These type styles possess a dignified, easy- to-read quality, and their use is encouraged for body copy in brochures, newsletters, advertisements and other communications.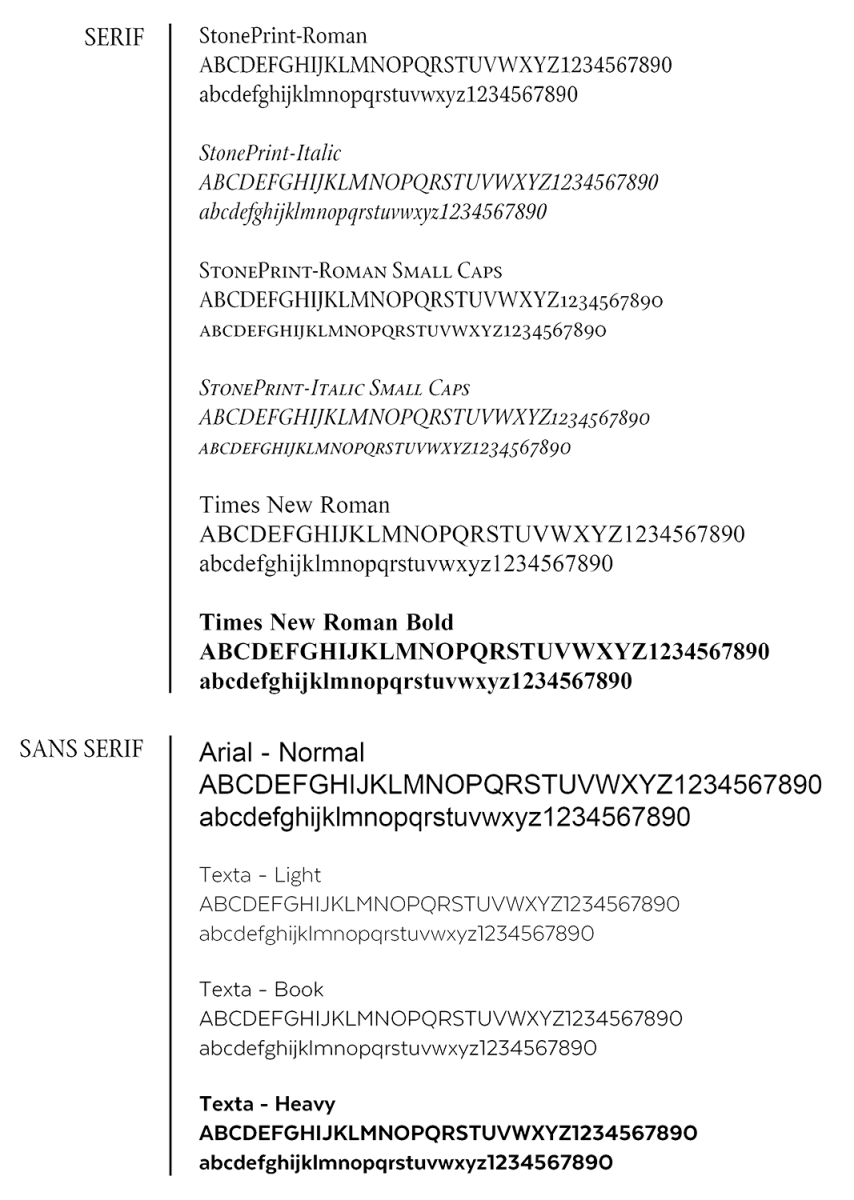 Vehicles
All visual identity guidelines outlined in this manual apply to the use of the Marietta College logo on campus vehicles. The College's location, "Marietta, OH" should also be included.
The vehicle samples shown below are for illustrative purposes only. They are not intended to limit exact sizing or placement of logo, or to be all-inclusive of options.