Within days of finishing her first year at Marietta College as an Environmental Science major and Leadership minor, Allison Murphy '21 was packing her bags in preparation to take what she learned during her first year and apply that knowledge in Central America during a research trip.
Murphy was among nine students and four faculty members representing Marietta College and Christopher Newport University who traveled for three weeks (May 8-29) to Costa Rica and Belize to research leadership in the context of conservation efforts. Participants from the Marietta College community included students Garrett Legraen '19, Brittany Martin '21 and Murphy, and faculty members Dr. David Brown, Professor of Biology, Dr. Dave McShaffrey, Professor of Biology, and Dr. Robert McManus, Professor of Leadership Studies. CNU Leadership Professor, Dr. Ben Redekop and six CNU students also participated in the research trip.
"As someone who has not traveled out of the country before, I was very excited not only to explore another culture, but to learn about the conservation efforts in a different country," Murphy says. "As an Environmental Science major, I am very interested in conservation efforts, and the leadership behind it applied to my leadership minor."
Marietta students were eligible to receive Study Abroad Office grants to help offset the cost of taking the summer LEAD 350 course.
"Before the trip — and also throughout the trip — we had to read articles and chapters from books about the government of Costa Rica and Belize, as well as their history of their conservation efforts," Martin says. She is a Geology major who is pursuing minors in Leadership Studies and Petroleum Engineering. "Each reading was related to what we would be doing or seeing the following day."
Brown says the students met with leaders of several different types of conservation groups during the trip and collected survey data from people living in the countries they visited. That information was used to write a research paper at the end of the course.
"In general, the survey assesses the population's opinions on conservation and how well their government is doing addressing the concerns," Brown says.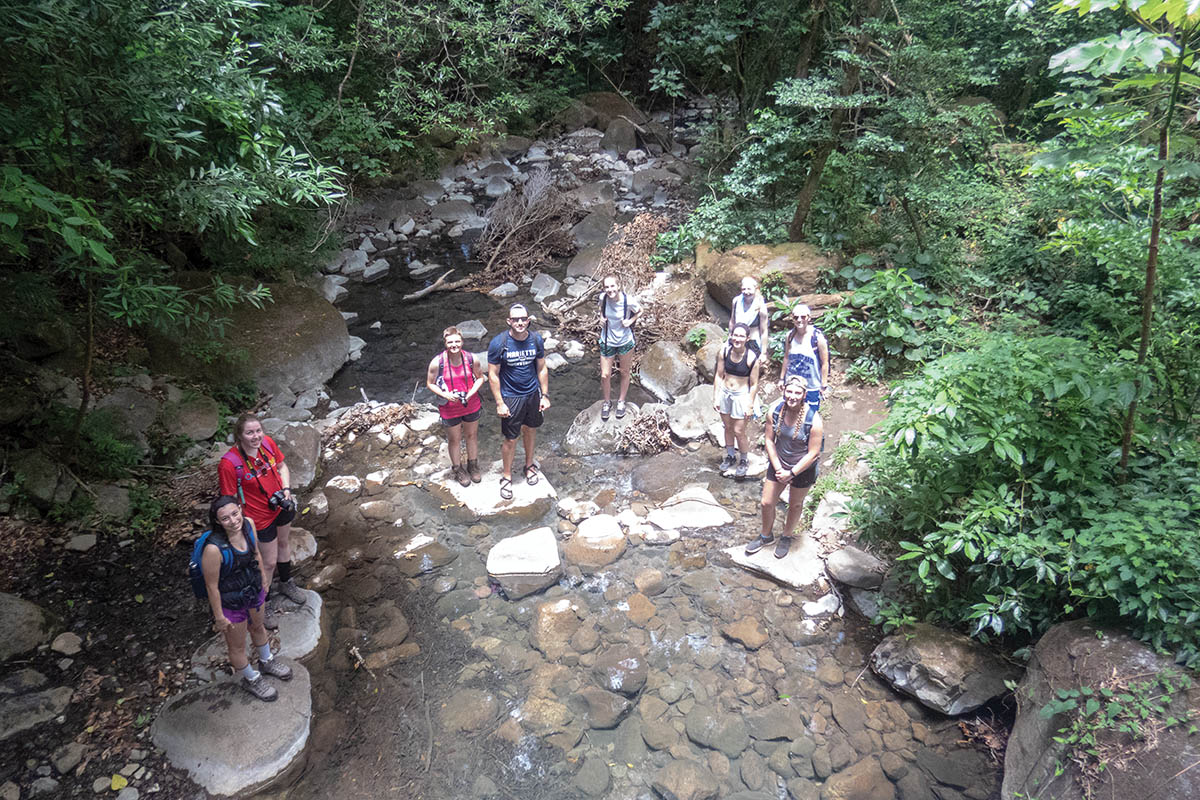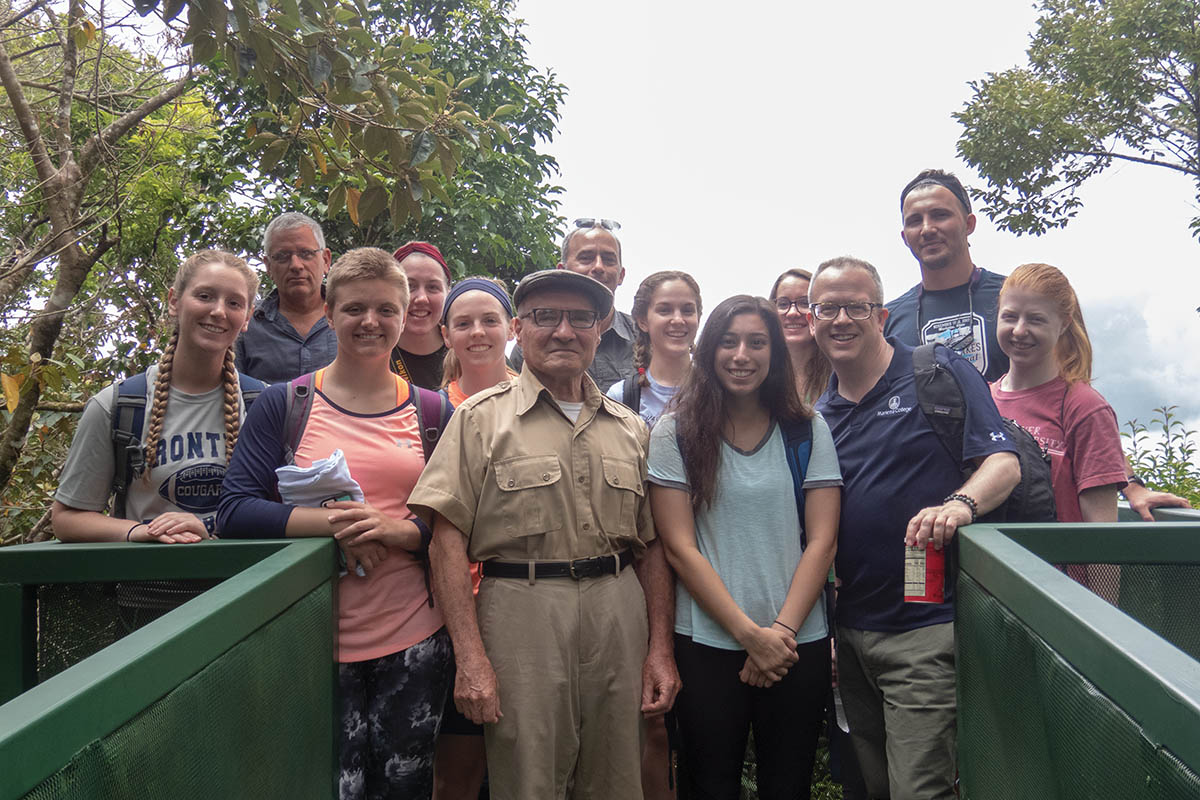 > 
(Left) Marietta College and Christopher Newport University students explore a Central American stream.
> 
(Right) Students and faculty spent time in Monteverde, Costa Rica, learning about the Children's Eternal Rainforest (Bosque Eterno de los Niños), one of Costa Rica's largest private reserve, from one of the founders, Bob Law.
> 
(Bottom) Marietta College student Garrett Legraen '19 was among a group of three Marietta College students and three Marietta faculty members who explored Xunantunich, an ancient Mayan ruin in Belize.
By gathering the data in person, students learn another valuable lesson.
"I can tell them in the classroom how important it is to get buy-in from the local community, but it really sinks in when they hear the same thing from every leader we meet with. Those leaders can tell them of experiences they have had and how they have used education, public and private meetings, and public outreach to achieve the goal," Brown says. "These trips are also great cultural experiences for our students. We oftentimes have students go on these trips that have never been out of the country, or may have never flown on an airplane. It is one thing to learn about a culture in a class and a very different experience to live in the culture for a couple of weeks."
Additionally, mentoring students during international trips makes the students more comfortable with traveling internationally.
"A number of students from past trips have gone on to study abroad for a semester, or have ended up in careers that require international travel," Brown says.
For Murphy, the Central America trip and coursework have given her confidence to keep working toward her goal.
"This trip has encouraged me to continue with my goal of working in the field of conservation and has given me examples of how I can do that," Murphy says.
- Gi Smith