Affordable Ways to Give to Marietta College
Include Marietta College in your will or living trust. 
One of the most popular and easiest ways to support Marietta College's future is to remember us in your will — and it's easy. Ask your attorney to draft a codicil or an amendment to the existing document. Don't have a will or trust? Ask your attorney to craft a new document that includes your gift. 
Name Marietta College a beneficiary of a retirement account. 
This is an effective and tax-smart way to support Marietta after your lifetime. If your loved ones are the beneficiaries of your retirement plans, federal income taxes can erode a significant amount of what they will receive. To set up this gift, contact your plan administrator for a change-of-beneficiary form. Add Marietta College, along with the percentage you would like us to receive, on the beneficiary form. Then return it to your plan administrator.
Designate us as a beneficiary of a life insurance policy. 
This is a low-cost way to make a sizeable gift to Marietta College. You likely bought the insurance policy to protect the financial stability of your family. If your circumstances have changed and you no longer need the policy for its original purpose, we hope you will consider making Marietta a beneficiary so we can use your gift to support our students after your lifetime. 
Provide support with your bank and brokerage accounts. 
Most states allow you to designate loved ones and cherished places to benefit from your bank account after your passing. Simply put, this is one of the most direct ways to prolong your support for Marietta College. For the College to benefit from your checking account, savings account or CDs, you must make them payable on death* to Marietta College. To leave us funds from a brokerage or investment account, you must place a transfer on death* designation on them.
Create an IRA charitable rollover. 
The IRA charitable rollover is now permanent and is a terrific way to make a tax-free gift to Marietta College using your qualified retirement plan. This gift may also satisfy your required minimum distribution (RMD). 
* State laws govern payable-on-death accounts and transfer-on-death accounts. Consult with your bank representative or investment advisor to consider these types of gifts.
Ross Lenhart '66 lives in Pawleys Island, South Carolina, where he enjoys volunteering at Brookgreen Gardens, visiting the Georgetown (South Carolina) Historical Society, and playing golf and tennis. Lenhart still stays in contact with his friends from Marietta College and is neighbors with Peg Howell '77.
Ed Schultz '66 lives with his wife, Mickey, on Keuka Lake of New York's Finger Lakes region, where they are retired from owning a jewelry store. Ed stays active playing tennis, skiing and spending time with former Marietta College friends, and participating in the Alpha Sigma Phi Delta chapter alumni association. He and his wife also volunteer to help teach English to local immigrants. One of his fondest connections with Marietta College was being able to march in President Ruud's inaugural as a 1966 alumni representative.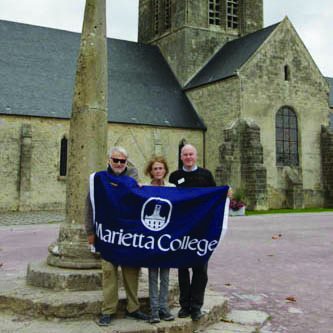 Grant Callery '68, Jackie Machan Callery '71 and Rob Dyson '68 submitted photos of Marietta alumni remembering D-Day during a visit to Utah Beach and the front of the church at Ste. Mere Eglise, where a paratrooper was caught on the steeple.
Dr. Edward Jordan's family is steeped with long-time connections to Marietta College; both his father and grandfather were valedictorians at Marietta. After graduation, Ed earned his Ph.D. from Syracuse University, taught at the college level and worked overseas as district manager and technical representative in the oil industry. Ed also taught high school science and math for 25 years, in the midst of which his wife, Laura, his sixth-grade daughter and he took a year off to travel around the world for as cheaply as possible. Now retired, they live on 45 acres on which he has created an arboretum with about 80 different tree species and various structures.
As he celebrates 50 years in The Long Blue Line, Paul Adams '69 is working to endow a scholarship in honor of Jerry Evans, a former Marietta College professor. At Marietta, Adams was the captain of the track & field team and earned the prestigious Way-Weigelt Award. He is a finance writer near Boston. He loves spending time with his grandchildren, making return trips to Marietta and raising money for cancer research. A cancer survivor himself, Paul still participates in the Pan-Massachusetts Challenge, a state-wide bike ride that has raised nearly $700 million toward cancer research since 1980.
Barry Chasen '69 continues to recommend baseball players to Coach Brian Brewer. "Having played for Coach Schaly for four years, it is a time I will never forget. (Jeff Schaly) should write a story on the fact that his father, brother John and I are all in the American Baseball Coaches Association, and how many schools the size of Marietta have three former players in a sports Hall of Fame as coaches. The ABCA is the largest baseball coaches association in the world, with more than 10,000 members, and it covers about 25 countries. As of today, there are about 33 high school coaches in there, as it is dominated by college coaches, and I am most fortunate to be one of those people, having coached high school baseball for 34 years, along with coaching for four summers in summer baseball. We represent Marietta College rather well."
Richard Miles '69 has been living in a different Marietta: the Atlanta, Georgia, suburb. He travels to Croatia multiple times each year, where he owns a property on the island of Hvar. In his spare time, he has taken up sailing and recently took the Miles family on a voyage to the Bahamas.
Freshman roommates Carolyn "Lyn" Hall '72, Marcia Miele Branca '72 and Roz Ruby '72 had a summer mini reunion in Margate, New Jersey. The group extends a message to friend Robbie Newell '72 — "If you read this, Robbie, contact us. We would like to see you at our next reunion!"
Edward Lieberman '73, who is the mayor of the Village of Sea Cliff, was elected the 2019-20 Nassau County Village Officials Association (NCVOA) President during the annual meeting in June. He is a former Nassau County Assistant District Attorney, where he served as senior trial attorney, chief of the Civil Rights unit, and member of the Official Corruption and Special Investigations Bureau. He later established a private practice specializing in criminal law. He and his wife, Kathie Roberts Lieberman '75, have two children and three grandchildren.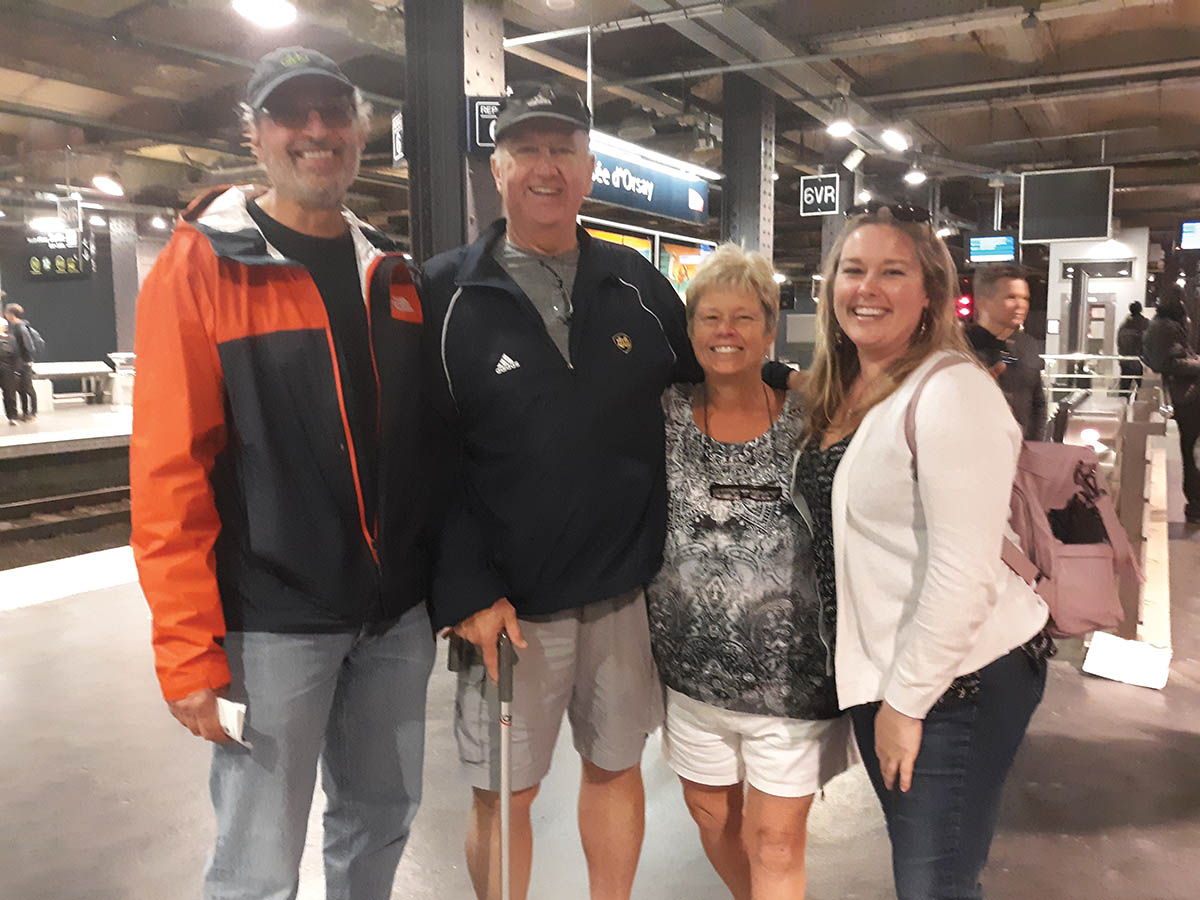 While on vacation in Paris over Memorial Day weekend, Thomas Kovacevich III '74 and Mary Ann (Sycz) Kovacevich '74, Tiffany Kovacevich '09 and Taylor Kovacevich, ran into Dominic Suarez '79. Waiting for the next train at the Museum d'Orsay metro station, the Kovacevichs asked if he and his family needed help navigating the metro. They chatted about where they lived in the U.S., and he mentioned that he went to a small college in southeast Ohio. It was an exciting chance encounter 6,424 miles from campus.
Steve Stefany '75 is now retired after 36 years of audio engineering for ABC Radio Network. He and his wife, Laura, live in Gaithersburg, Maryland, with their son Will, who started college this fall. Steve likes to spend his time volunteering and working on various video projects, which have recently included school and church interviews. The Stefany family recently returned from a trip to Switzerland and Germany, and they plan to keep traveling near and far as they enjoy Steve's retirement.
Following her years at Marietta, Amy Golino '80 worked as a stockbroker for 13 years in the World Trade Center. After having three children, she went back to school at Boston University to complete a Culinary Arts certification program. She is currently a Culinary Analyst consultant who works in research and development of a prestigious appliance company. Amy and her large, blended family reside in the White Mountains of Lovell, Maine.
Dr. Christopher Ingersoll '85 was named the founding dean of University of Central Florida's College of Health Professions and Sciences. Previously, he was the Vice Provost for Health Sciences Affairs and Dean of the College of Health and Human Services at the University of Toledo.
Dan Gautschi '91 has been named Managing Principal for the Healthcare Consulting Practice at Crowe — providing finance & reimbursement, revenue cycle and internal audit services nationally to the healthcare provider industry. Previously, he served as the Healthcare Revenue Cycle Practice Leader. Crowe is a public accounting, consulting and technology firm that combines deep industry and specialized expertise with innovation. The firm applies cutting-edge technology to make smarter software and services for clients. With offices around the world, Crowe has more than 4,000 personnel delivering exceptional client service while upholding our core values and strong professional standards. In 2019, Crowe was named to Fortune Magazine's "100 Best Companies To Work For" list for the second consecutive year.
Acclaimed actor Timothy J. Cox '99 has been keeping busy with numerous film and theatre projects in 2019. He starred in the dark comedy film "Doll It Up," which has received much acclaim and has been accepted in more than 15 film festivals all over the world. His latest film, the drama "Miss Freelance," has already received great reviews and is about to begin its festival run. Cox calls New York City his home, where he lives with his wife Jamie and their 2-year-old son, Spencer.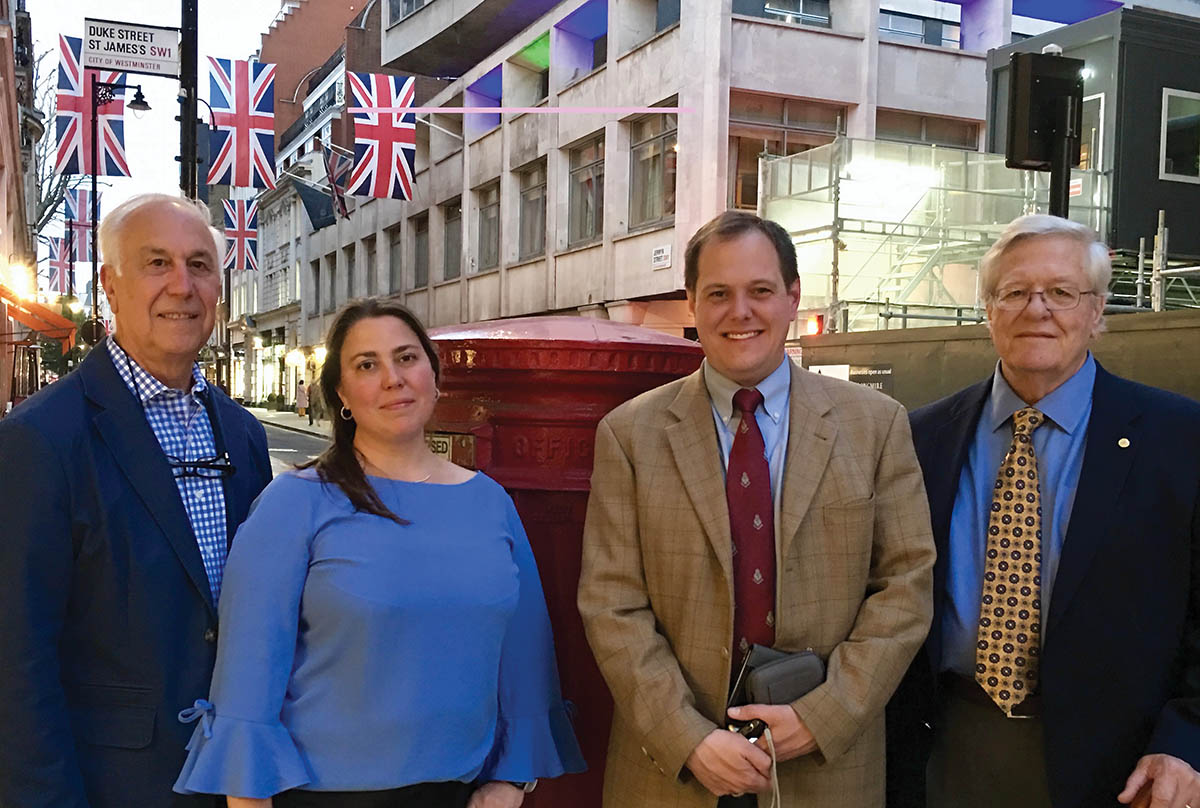 Jay Foraker '01 (ATO) and his father, Dan Foraker '73 (ATO), were recently in the UK for a reunion and took the opportunity to reconnect with fellow Marietta alumni, Charles Paul Staley '66 (ATO) and Megan Staley '99 (Chi Omega). Dan is in the natural gas business and lives with his wife, Kathi, in New Lexington, Ohio. They are the parents of Ann F. Nicely '03 and Margaret F. Graham '08. Jay is an Assistant Vice President in Risk Management at Brown Brothers Harriman in Boston. Megan's parents were visiting her in London, where she has lived since 2015. Paul is retired from teaching and school administration, and lives with his wife, Barbara, in Cincinnati, Ohio. Megan works in the liquefied natural gas business for Total Gas & Power. She will be on assignment with the trading team in Geneva until March 2020, then will join the LNG team in Paris starting in April 2020. Pictured from left to right are Paul, Megan, Jay and Dan.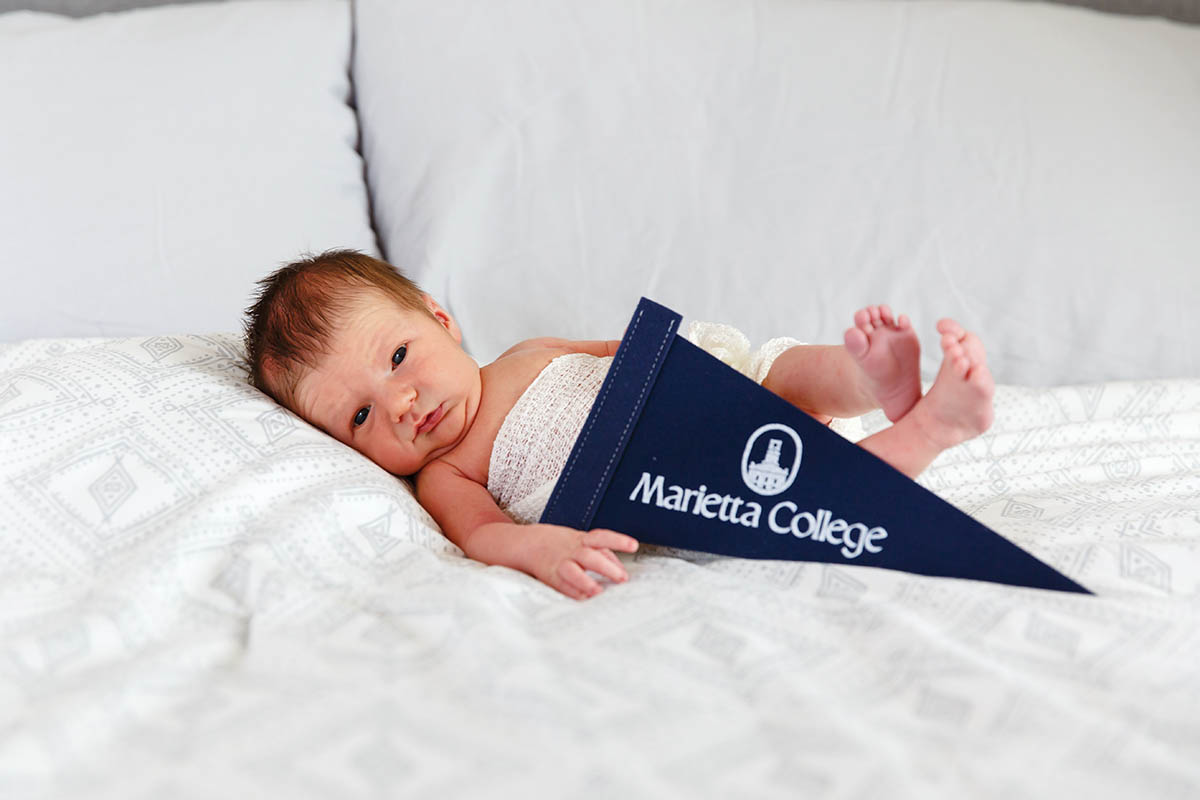 Matthew Rucker '07 and Marissa Barnhart Rucker '07 welcomed their second son, Dylan Hart Rucker, on April 24, 2019. The couple also have an older son, Trevor Hite Rucker, 4. They live in Dallas, Texas, where Matthew is an Executive Vice President at Montage Resources and Marissa is a stay-at-home mom.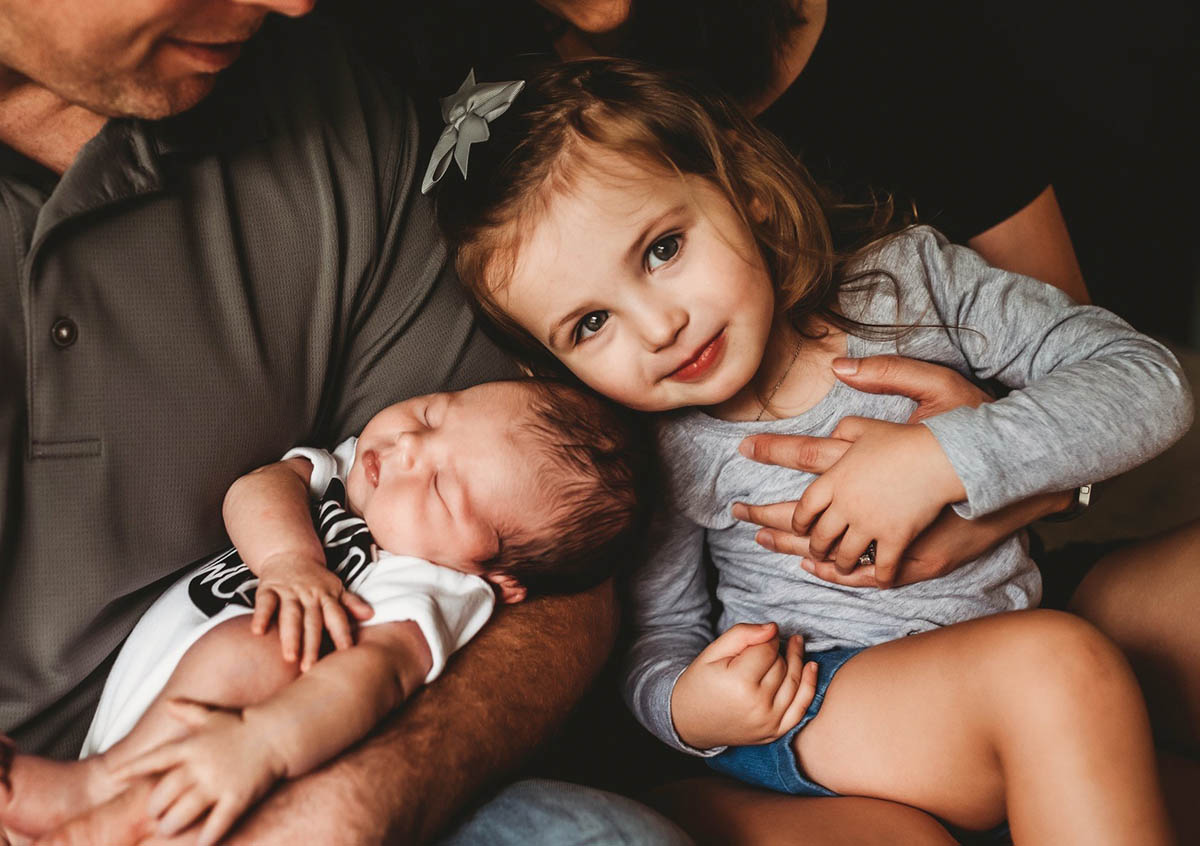 Adam MAEd'09 and Andrea Arnold Eichhorn '09 welcomed their son, William Reed Eichhorn, on April 3, 2019. They also have a daughter, Areana Grace Eichhorn. The couple reside in Marietta, where Andrea is a kindergarten teacher and Adam is a business teacher and a running backs coach for the Pioneers.
Mark Lane '01, PA'04, recently completed an orthopaedic surgery fellowship at the University of Missouri and joined First Settlement Orthopaedics in Marietta as an orthopaedic surgeon. Mark and his wife, Tia '98, MALL'02, are excited to be back in Marietta with their three children, Ethan, Emma and Evan.
Valerie Tharp Byers 2004, MAP'06 (Chi Omega) was awarded her Doctorate of Education in Higher Education Leadership from Sam Houston State University in August 2019. Her dissertation, titled "Self-Perceptions of Adjunct Faculty about their Roles at a Select Community College System," was a phenomenological qualitative study focused on the current use of adjunct faculty in higher education and the emphasis these faculty placed on their roles in terms of their levels of performance and effectiveness. Valerie celebrated her graduation with family and friends, including fellow Marietta College alumni Tim Byers '06 (Lambda Chi Alpha), Stephanie Esparza Peloquin '06, Matthew Peloquin '06 (Lambda Chi Alpha) and Paul Byers '09. Valerie currently serves on the Board of Directors for the Cure Sanfilippo Foundation, which advocates and funds research directed toward a cure and treatment options for patients with Sanfilippo Syndrome.
Kim Chavers '08 was named the women's rowing coach at Michigan State University in September, following a three-year stint working with the novice rowers at Indiana University.
Michael Daugherty '09, who has worked at Electronic Arts in Chicago, was promoted to Senior Manager of eSports Sponsorship Strategy & Activation.
Laura Aldrich '10 was commissioned as an officer (Ensign) in the U.S. Navy on May 15, 2019. She completed Officer Development School in Newport, Rhode Island, on July 5. In August, Aldrich began her Ph.D. program in Clinical Psychology at the U.S. military's Uniformed Services University of the Health Sciences (USUHS) in Bethesda, Maryland. Aldrich is proud to serve her country and is looking forward to helping active duty and veterans cope with mental health issues such as post-traumatic stress disorder (PTSD). Laura resides in Washington, D.C.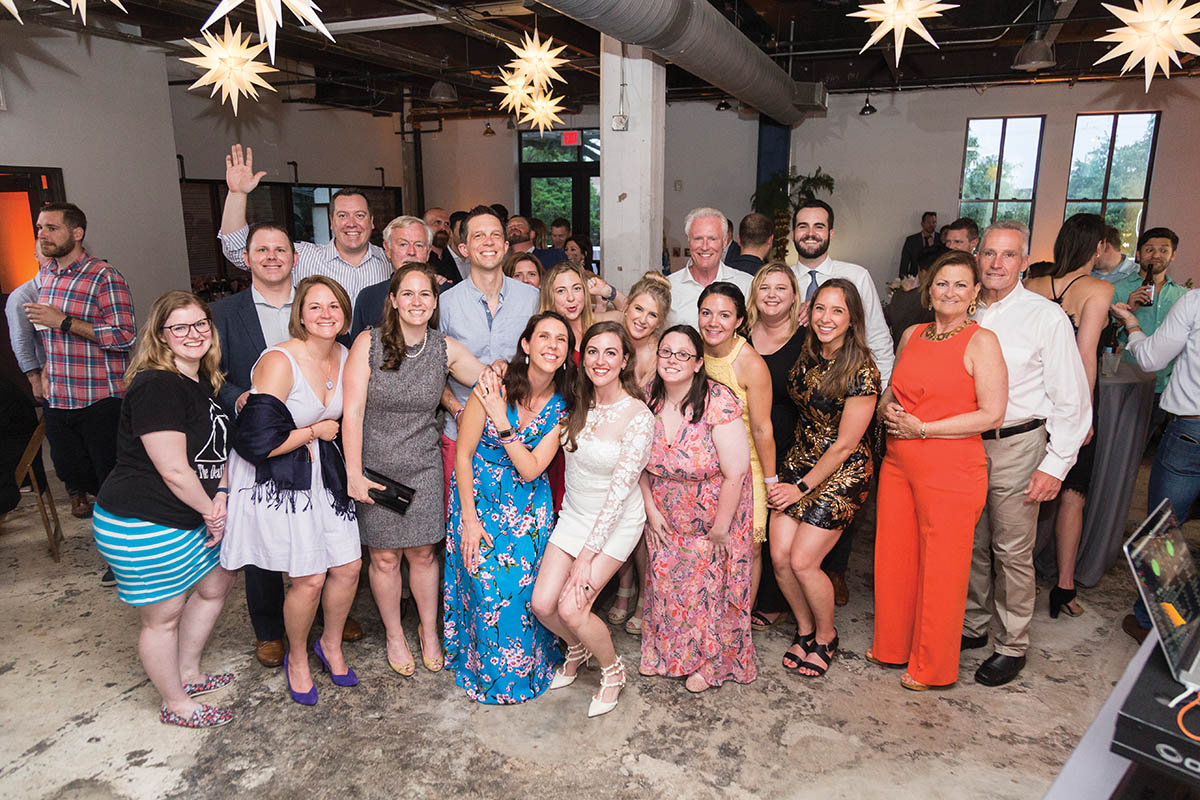 Kathryn Patton '10 married David Myerson on May 17, 2019, in Houston, Texas. Members of The Long Blue Line who are pictured at the wedding are Erin Patton Mensh '11, Jeremy Jones '07, Beth Bennon Jones '07, Brittany Metcalf '13, Frank Patton '73, Tim Byers '06, Dr. Valerie Tharp Byers '04, MAP'06, Kati Roberson '10, Kathryn Patton, Corey Jean Gartenhaus '10, Rachel Cabin '11, Ally Janakis Cooley '11, Bill Patton '66, Abbey Sullivan '09, James Metcalf '15, Danielle Stein '12, Barbara Lantelme Metcalf '79 and Jim Metcalf '79. Kathryn is working as a Field Engineer with Chevron in Houston, Texas.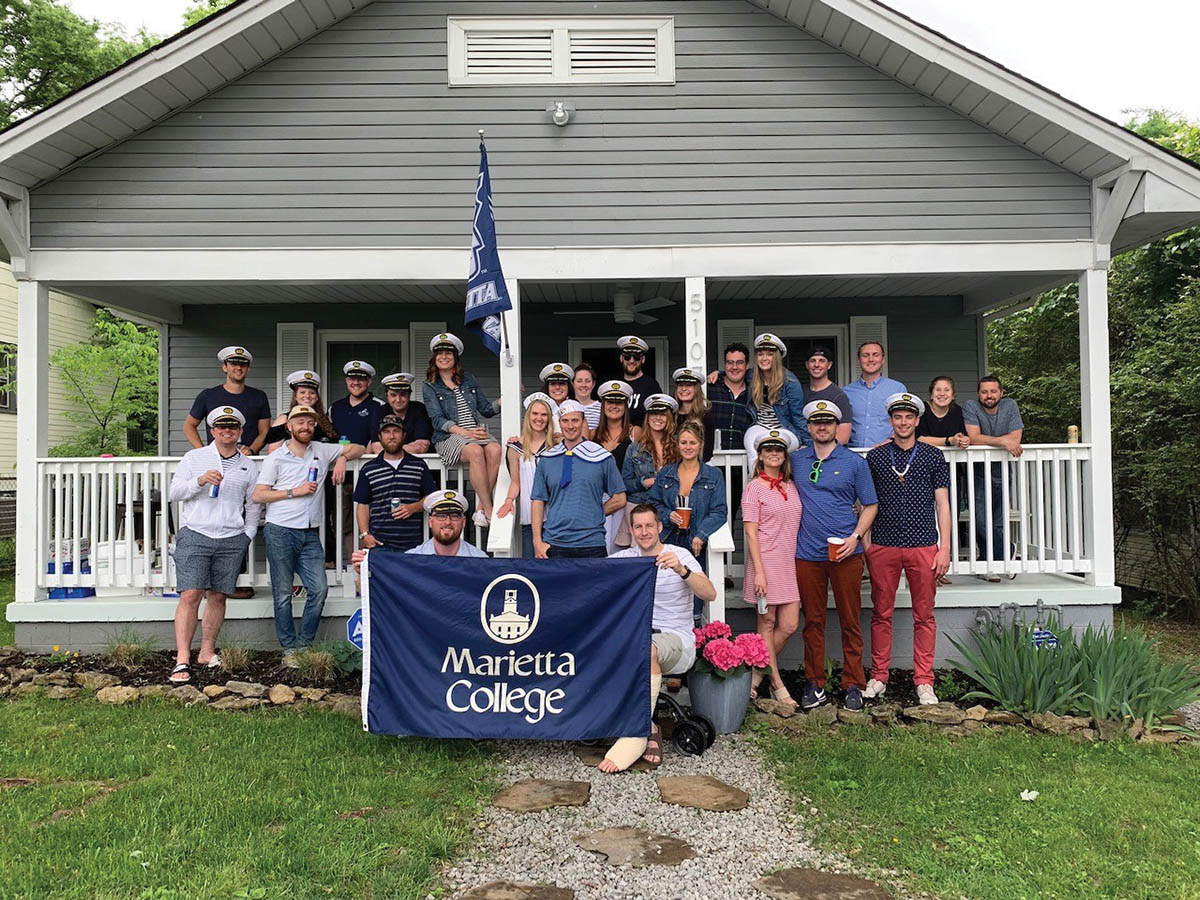 Joe Mahoney '13 shared a photo of a Marietta College reunion in Nashville, Tennessee that included 25 Pioneers. The photo was taken May 11, 2019, and the majority of the group graduated together in 2013. "We had an unofficial five-year reunion last year in Put-in-Bay, Ohio, and we had such a great time that we want to try to do it again every summer. This May, we got together for both a reunion and a combined bachelor/bachlorette party for David Hughey and Jen Braun who 
graduated in 2013 and were married in July," Joe says. The photo includes Kristen Sutton Mahoney '12; Bill Hamilton, Brenna Goethel, Sean Pottmeyer, Tyler Haskin, Andrew Brown, Jen Braun, David Hughey, Cameron Tope, Lauren Franko, Elli McSwain, Andrew Wimmer, Zack Kaegi, Kelly Sommers Robinson, Joe Mahoney, Joe Pavicic, Alex Toth, Matt Boothe and Kaitlyn Ciminillo Boothe — all Class of 2013; Mattie Stowell, Paige DeVriendt, Jon Keener and Cody Broughton — all Class of 2014; Abby Romesberg '15; and Mary Ervin '16.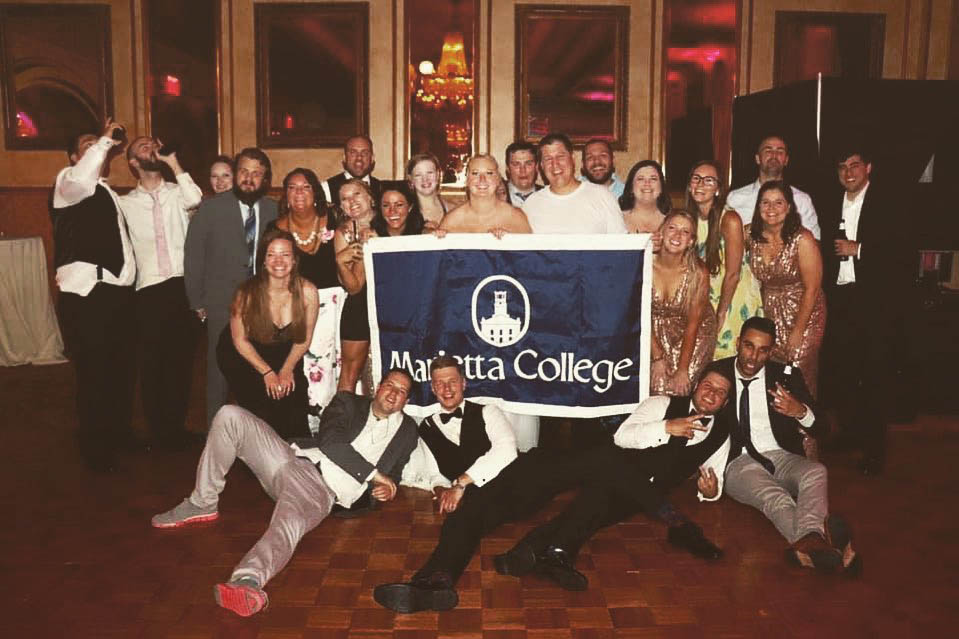 Kelsey Schenck '16 and Benjamin Burkhart '14 were married on June 22, 2019, surrounded by many fellow Marietta College Alumni. Pictured from left to right are Cody Reese '15, Hayden Weihl, Westyn Bennington '17, Julie Normand '13, Nora Kessler Silipena '98, Kellen Quinn '15, Cari Koelsch Schafer '13, Megan Wrbas '16, Paige Meyer, Tyler Baltzel '15, Nathan Schafer '12, Kelsey Schenck Burkhart, Matt Bergene '15, Benjamin Burkhart, Matthew Roberts '15, Maddie Griffiths Roberts '15, Briana Kelley Jenkins, Katie Transue '16, John Hanna '16, Karl Grant '15, Rebecca Burkhart Reese '16, Dane Sellers and Ryan Gontero '13. Kelsey works as a Probation Officer with the Superior Court of New Jersey.
This summer, Kylee Hamilton '12 studied coral reef ecology and the conservation of marine systems along the Great Barrier Reef in Australia. Kylee, an intervention specialist at Lancaster High School, lives in Lancaster, Ohio, and is a graduate student in Miami University's Global Field Program.
R. Drew Schulte '12 was promoted to Regional Manager of the Western U.S. at Athlinks Services, a company based in Louisville, Colorado, that brings race organizers, timers and athletes together to provide a better race experience.
Connor Walters '13 was named Head Crew Coach at Saint Ignatius High School in May. He works in communications at the school and teaches a senior-level course on journalism.
Hannah Tumolo '14 is a Senior Lease Abstract Analyst at YRCI for the Department of State contract. YRCI is a professional services firm located in the greater Washington, D.C. area.
Stephanie DeAngelis '15 was recently promoted to Suites Food and Beverage Manager at the PNC Arena in Raleigh, North Carolina. The arena is home to the NHL's Caroline Hurricanes and North Carolina State University's men's basketball.
Isiah Barbra '18 is the Visitor Experience Program Coordinator for Destination Cleveland. He is responsible for supporting key community affairs related initiatives and helps to strengthen Cleveland as a destination city.
Derek Krieg '19 is an Engineer I with Anadarko Petroleum Company in Denver, Colorado.
In Memoriam
1930s
Harriett L. Deuel Elliott '37 of Palmyra, Pennsylvania (1/18/2019).

1940s
Fay L. Spies '46 (Chi Omega) of Lower Salem, Ohio (2/14/2019).

1950s
Elizabeth L. Yankeelov Legg '50 (Sigma Kappa) of White Township, New Jersey (6/8/2019). Survivors include her husband, Gilbert E. Legg '50, a daughter, Deborah Legg Chapin '75, and a sister, Dorothy Yankeelov Gerard '52.
Els Boekman Thayer '50 (Phi Beta Kappa) of Grand Rapids, Michigan (7/21/2019).
Nicholas M. Cindea '51 (Alpha Tau Omega) of Spring Lake, New Jersey (8/3/2019). Survivors include his wife, Luane Armeny Cindea '53.
Sara K. Hendershot Holland '51 (Chi Omega) of Monroe, Ohio (7/13/2019).
John K. Mellen '51 (Delta Upsilon) of Davidson, North Carolina (5/6/2019).
John P. Vetrano '51 (Alpha Tau Omega) of Franklin, Massachusetts (6/5/2019).
Sara J. Racer Dennis '52 (Chi Omega) of Marietta, Ohio (6/23/2019). Survivors include a son, Michael R. Dennis '80, and a granddaughter, Shandra Dennis Porreca '06.
William W. Bedilion Sr. '54 of Little Hocking, Ohio (6/13/2019). Survivors include a son, William W. Bedilion '06.
Robert F. Evans '54 (Alpha Tau Omega) of Novi, Michigan (5/20/2019).
Jeane C. Gainer Falkenbury '54 (Alpha Xi Delta) of Charlotte, North Carolina (6/10/2019).
Richard B. Blumencranz '55 of Sarasota, Florida (6/1/2019).
Richard L. Jennings '55 (Alpha Tau Omega) of Raleigh, North Carolina (7/10/2019).
John R. Henning '56 (Alpha Sigma Phi) of Charleston, West Virginia (5/4/2019). Survivors include a niece, Janet Henning Hudspeth '71, and great nephew, Christian J. Hudspeth '12.
Jo Gandee Smith '56 of Parkersburg, West Virginia (8/6/2019).
James E. Nangle '57 (Delta Upsilon) of Zanesville, Ohio (7/22/2019).
Dean J. Weinstock '58 of Uniontown, Ohio (5/15/2019).
Frank A.B. Brendel Jr. '59 (Delta Upsilon) of Burkesville, Kentucky (3/13/2019).
James H. Cameron '59 of Zanesville, Ohio (7/26/2019).

1960s
William P. Teare Jr. '60 of Michigan City, Indiana (6/8/2019).
David D. Boney '61 of Nelsonville, Ohio (5/28/2019). Survivors include a granddaughter, Jessica D. Mick '13.
Daniel R. Harrington '61 (Alpha Sigma Phi) of North Olmsted, Ohio (8/4/2019).
Donald E. Cobb '62 of Morrison, Colorado (7/30/2019).
Carl H. Johnson '62 (Lambda Chi Alpha) of Austin, Texas (5/29/2019).
Ralph W. Applegate '64 of Shalimar, Florida (6/23/2019).
Robert W. Knight '65 (Tau Kappa Epsilon) of Simsbury, Connecticut (5/4/2019). Survivors include a stepbrother, Ross W. Lenhart '66.
Bruce L. Miller '65 of Marietta, Ohio (7/9/2019).
Randle L. Bules '66 (Alpha Tau Omega) of Roswell, Georgia (6/8/2019). Survivors include his wife, Anne Wilson Bules '66.
Partricia L. Moore Lesh '66 (Chi Omega) of Bay Village, Ohio (2/9/2019). Survivors include a daughter, Samantha Lesh Ogden '95.
Richard L. Roe '66 of Madison, Wisconsin (7/6/2019). Survivors include his wife, Barbara Kuhl Roe '67.
Anne Eesley '68 of Evart, Michigan (7/27/2019). Survivors include sisters Jeanne Eesley Kamiab '65 and Margaret Eesley '74, a nephew, Charles E. Eesley '01, and a brother-in-law, Khosrow J. Kamiab '65.
Carol J. Shailer Hoyt '68 (Sigma Sigma Sigma) of Conway, South Carolina (1/6/2019). Survivors include an uncle, Kurt P. Stocker '60.
Sally A. Fiske '69 of Baltimore, Maryland (6/5/2019).
Millie M. Miller Huffman '69 (Alpha Xi Delta) of Ponte Vedra Beach, Florida (5/30/2019). Survivors include her husband, Robert L. Huffman '68.
Ramona I. Sharp Shipley '69 of Hilton Head Island, South Carolina (2/14/2019).
Barbara E. Anderson Tegeler '69 (Sigma Sigma Sigma) of North Platte, Nebraska (1/17/2019).

1970s
William J. Fritsche III '70 of Paonia, Colorado (6/3/2019).
John E. Selser '70 (Alpha Sigma Phi) of Wayne, New Jersey (7/18/2019).
Christine R. Cunningham Morrison '71 of Marietta, Ohio (6/15/2019). Survivors include her husband, Kirk C. Adie '72, and a sister, Melissa Hill Grande '89.
Nicholas B. Brown '72 of Trenton, New Jersey (6/16/2019).
Jeffrey A. Gilar '72 (Delta Upsilon) of Naperville, Illinois (5/15/2019).
Barbara A. Knuppel Heap '72 (Sigma Kappa) of Kinnelon, New Jersey (8/7/2019).
Alan E. Amos '73 (Phi Beta Kappa) of Westerville, Ohio (7/2/2019).
Henry M. Litzinger '73 of Zanesville, Ohio (6/20/2019).
Frederick W. Peters '73 (Lambda Chi Alpha) of Claremore, Oklahoma (11/17/2018).
Percival S. Hill IV '74 of Naples, Florida (2/28/2019).
Jay I. Malamut '74 of Basking Ridge, New Jersey (10/30/2018). Survivors include a sister, Sherry Malamut Kaderli '72.
Theodore J. Suczynski '75 (Tau Kappa Epsilon) of Durham, North Carolina (5/24/2019).
Phyllis J. Carder Baker '76 of Marietta, Ohio (7/8/2019). Survivors include a sister, Rita Carder Walters '57, and a son-in-law, Frank J. Valenziano '78.
Evakay F. Foulke Sweeney '76 (Sigma Sigma Sigma) of Cape Coral, Florida (5/6/2019). Survivors include a brother, Charles W. Foulke '78.
Mark W. Wharton '76 of Macksburg, Ohio (5/19/2019).
Robert H. Emmons '77 (Lambda Chi Alpha) of Huntington, New York (5/7/2019).
Joseph A. Castelli '78 of Ripley, West Virginia (5/6/2019). Survivors include his father, Joseph T. Castelli '59.
David R. Casto '79 (Phi Beta Kappa) of New Albany, Ohio (6/24/2019). Survivors include his wife, Kathleen Olson Casto '82, a son, Brian D. Casto '09, a sister, Debra Casto Taylor '81, and his mother, Barbara Fulmer Casto '55.
John B. Dugdale '79 (Tau Kappa Epsilon) of Darien, Connecticut (5/6/2019).
Robert S. Roberts '79 of Pikeville, Kentucky (3/27/2019).
Margaret S. Calkins Van Auken '79 of Akron, Ohio (8/30/2019).

1990s
Lewis K. Hanson III '92 (Delta Upsilon) of Powell, Ohio (8/4/2019).
Missy K.J. Hall Garoza '94 of Marietta, Ohio (8/15/2019). Survivors include her father, David L. Hall '77.

2000s
Sarah-Brooke P. Mankins Nutini '06 (Sigma Kappa) of Huntington, West Virginia (7/16/2019).
---
Cavendish Q. McKay
(February 28, 1973–June 11, 2019)
The Marietta family suffered a tremendous loss in late spring when Dr. Cavendish McKay, Associate Professor of Physics, died unexpectedly on June 11, 2019.
A beloved professor and respected colleague, Dr. McKay was known by his peers as a great teacher and a brilliant physicist. He earned the College's Innovative Teaching Award and taught a broad range of courses.
Dr. McKay is survived by his wife, Sarah, and their five children, his mother and stepfather, and his siblings.