Standing in the Alumni Welcome Tent Friday night during Homecoming, Jack Hopkins '65 proudly put his hand on the shoulder of Dave Harrison '64 and both men smiled.
"This guy is as close to a brother to me as you could get," Jack says.
Jack, Dave and fellow Tau Kappa Epsilon brother Cole Van De Water '64 were together that night for the first time on campus in more than 50 years. George Norton '65 and Bob Brucken '56 also joined them at their table.
"It's a very emotion-laden trip," says Dave, who has only been back to Marietta once — 25 years ago — since graduating. It was the first time Cole had been back in 50 years. "It's amazing to be back with the guys some 50 years later."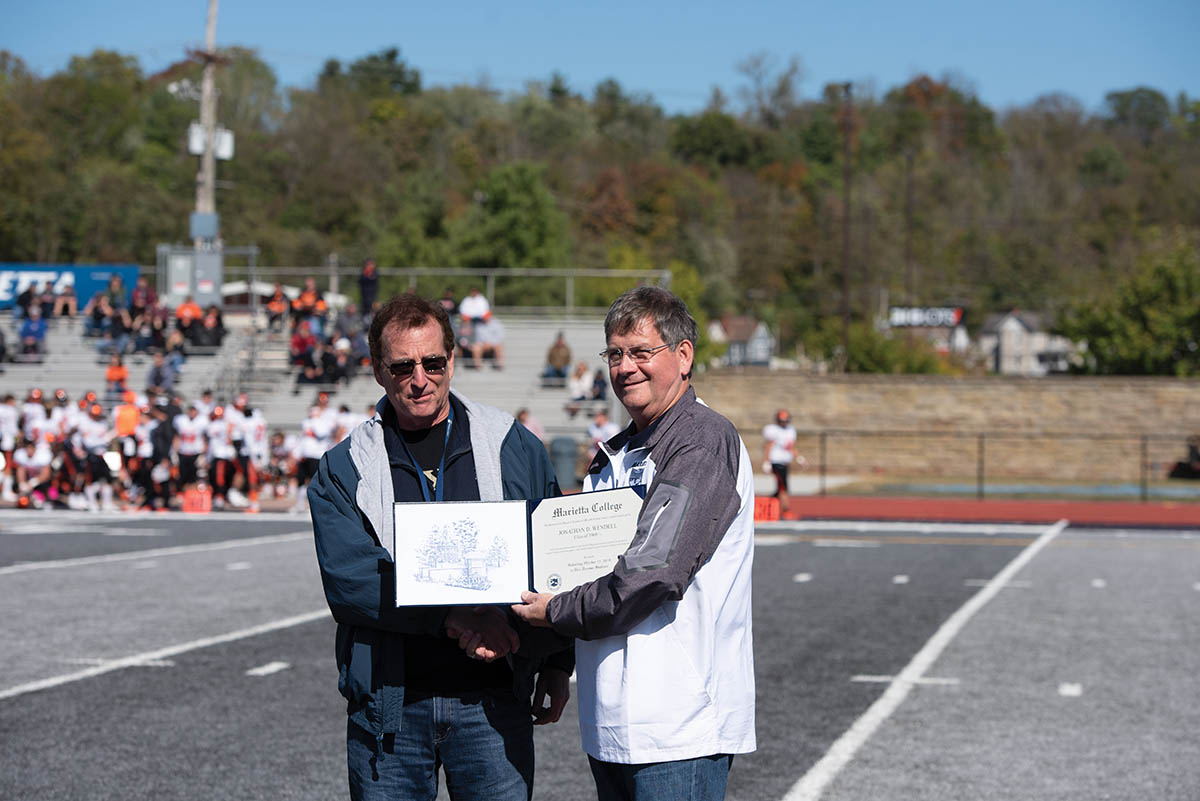 As the Pioneers were prepping for the start of the second quarter, President Bill Ruud took that opportunity to bring longtime Marietta College supporter and Lambda Chi Alpha brother Jon Wendell '69.5 onto the field and present him with a certificate of thanks for all he does to promote the College and his fraternity chapter, particularly the Lambda Chi Pig Roast at the Harmar on the Thursday of Homecoming Weekend — a tradition he helped create in 2003.
---
Paint the Town Blue
Winners 
Best residence hall: Fayerweather Hall 
Best office on campus: Academic Resource Center 
Best business: Teri Ann's
One of the Homecoming challenges this year was for the campus and local businesses to show their Pioneer Pride by decorating their spaces based on this year's theme: Same Bricks, Different Stories.
Volunteer judges Kenzi Hall '20, Carole Wylie Hancock '75, Don Buckwell '84, Courtney Wentz '17, Erica Starr '05, Chantal Centofanti-Fields and Sarah Long spent about two hours touring three residence halls, five offices on campus and 14 businesses — all decked out to welcome alumni and friends for the special weekend.
About 630 alumni and guests returned to Marietta for Homecoming 2019, and the classes of 2009, 1994 and 1969 enjoyed special reunions.
Members of the Class of 1969 celebrated their Golden Reunion. Reunion Chair Jim Wilson '69 says the committee was made up of a handful of dedicated 1969 alumni who helped plan the special weekend with the help of Dawn Werry, Director of Alumni Relations.
"There are a lot of people from our class who haven't been back in 50 years, so it's pretty exciting to see their reaction," Jim says. "What has impressed me the most about what I see on campus is what the College is offering current students. When I graduated and went in the military, I had no idea of leadership at all. These students are learning it here and they're going out in the community to practice it."
Homecoming Court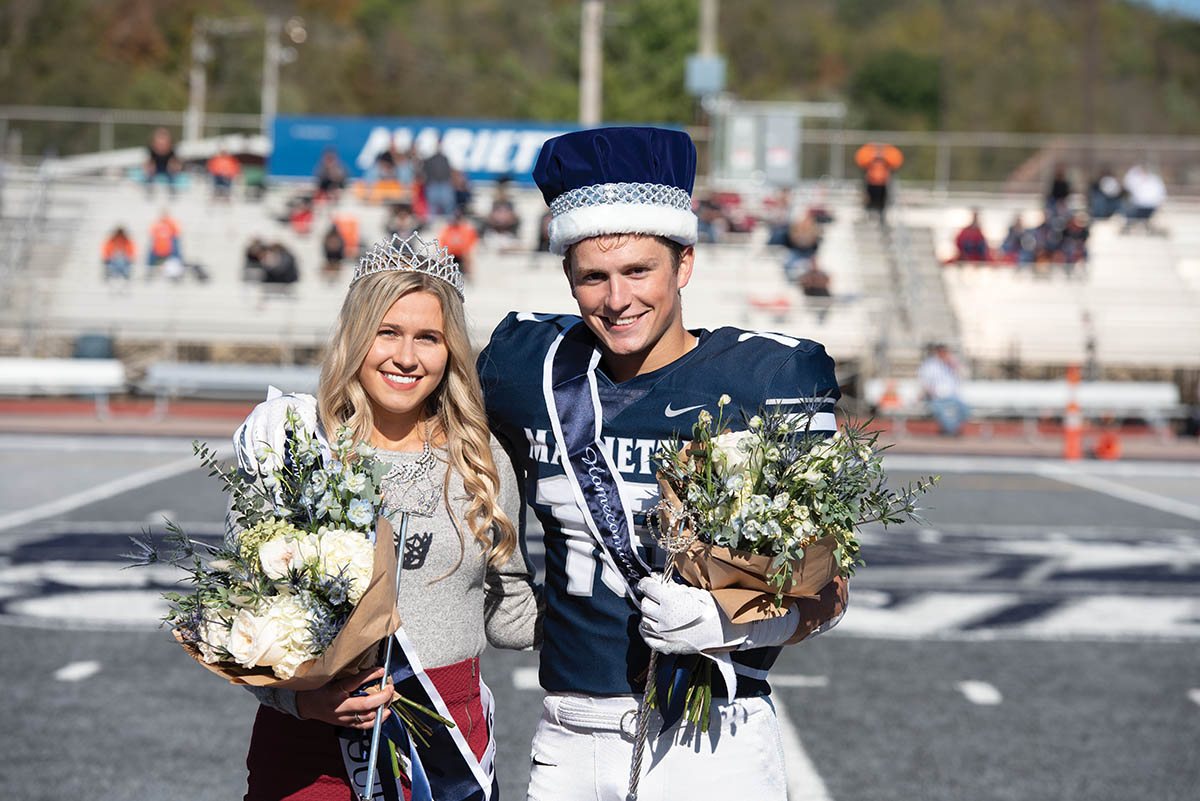 During halftime of the Marietta-Heidelberg game, the College announced the 2019 Homecoming King and Queen. King Ryan VanMeter (Football) and Queen Loren Coontz (Alpha Xi Delta) were crowned before a cheering crowd of proud Pioneers.
The Court
Alpha Sigma Phi – Ben Hayes 
Alpha Tau Omega – Daniel Blaine 
Brother 2 Brother –James Knox II 
Chi Omega – Alexis Swisher 
Cheerleading – Liz Reed 
Delta Tau Delta – Michael Doran 
MC Athletic Training Student  
Organization – Jane Kubala 
Scholars Community – Matthew Chih 
Sigma Kappa – Cady Lenington 
Softball – Erin Miller 
Women's Lacrosse – Jessica Hill
---
MCAA Awards recognize special Pioneers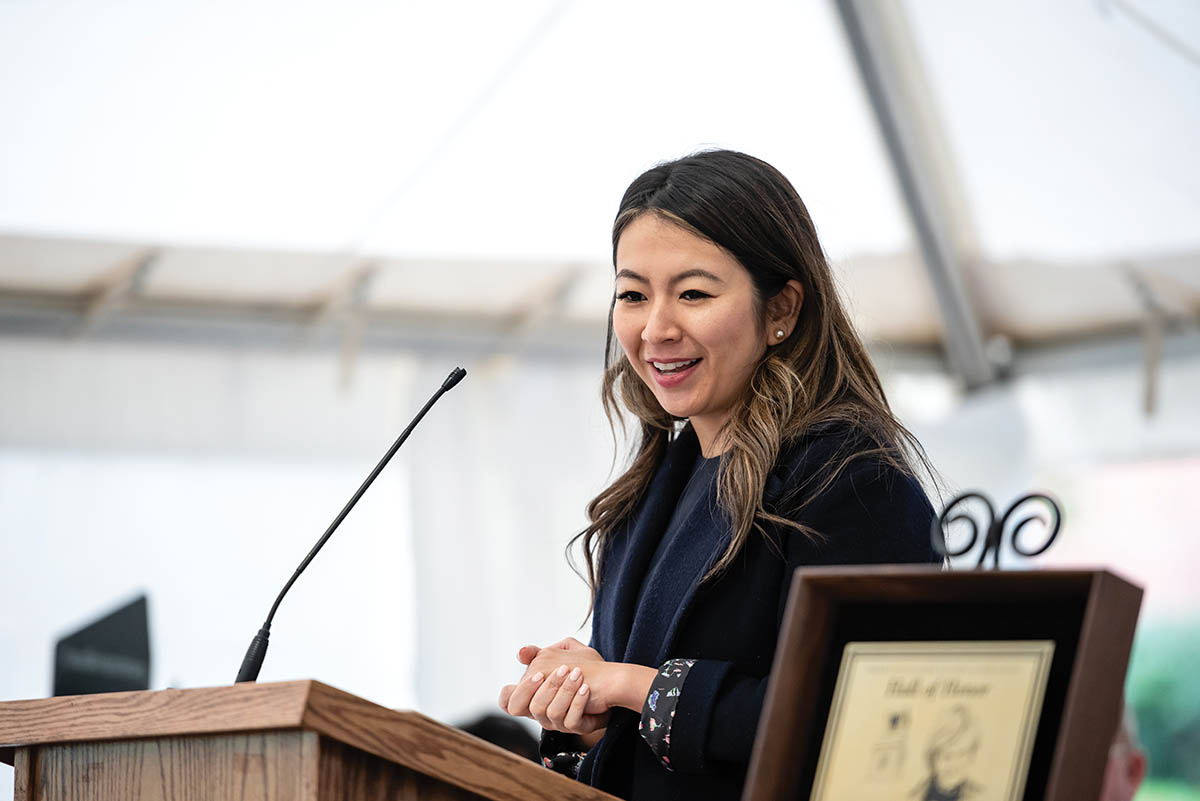 Honorary Alumnus David McCullough 
Outstanding Young Alumna Toka Akiyama '09 
Outstanding Young Alumnus Ashley Wollman '08 
Liz Tribett Service Award Gene Haynes '53 
Distinguished Alumna Margaret Barker '81 
Distinguished Alumnus C. Brent McCurdy '68 
Hall of Honor Eileen Bowser '50
In addition to a Valley Gem boat ride, the Class of 1969 enjoyed a special reception at the President's House and a dinner in Dyson Baudo Recreation Center, where a class gift of $167,956 was presented to President Bill Ruud.
Bobbie Whitford Schwarz '69, Dianne Gottesman Ronshagen '69 and Susan Spinney Conklin '69 reminisced about why they chose Marietta College, as well as the changes to campus.
"I met my husband (Andrew Schwarz '70) here and 50 years later, we're still married," Bobbie says.
Jack Hartnell '85 has stayed up to date on the changes that have taken place over the years at Marietta.
"I've never missed a reunion — not one," says Jack, who was with friend Dave Schultz '85. "There's always somebody here you're going to know."
- Gi Smith
---
Homecoming 2019 Photo Recap
See all of the photos taken during the Homecoming 2019 weekend! To see past years, visit the Homecoming Galleries page