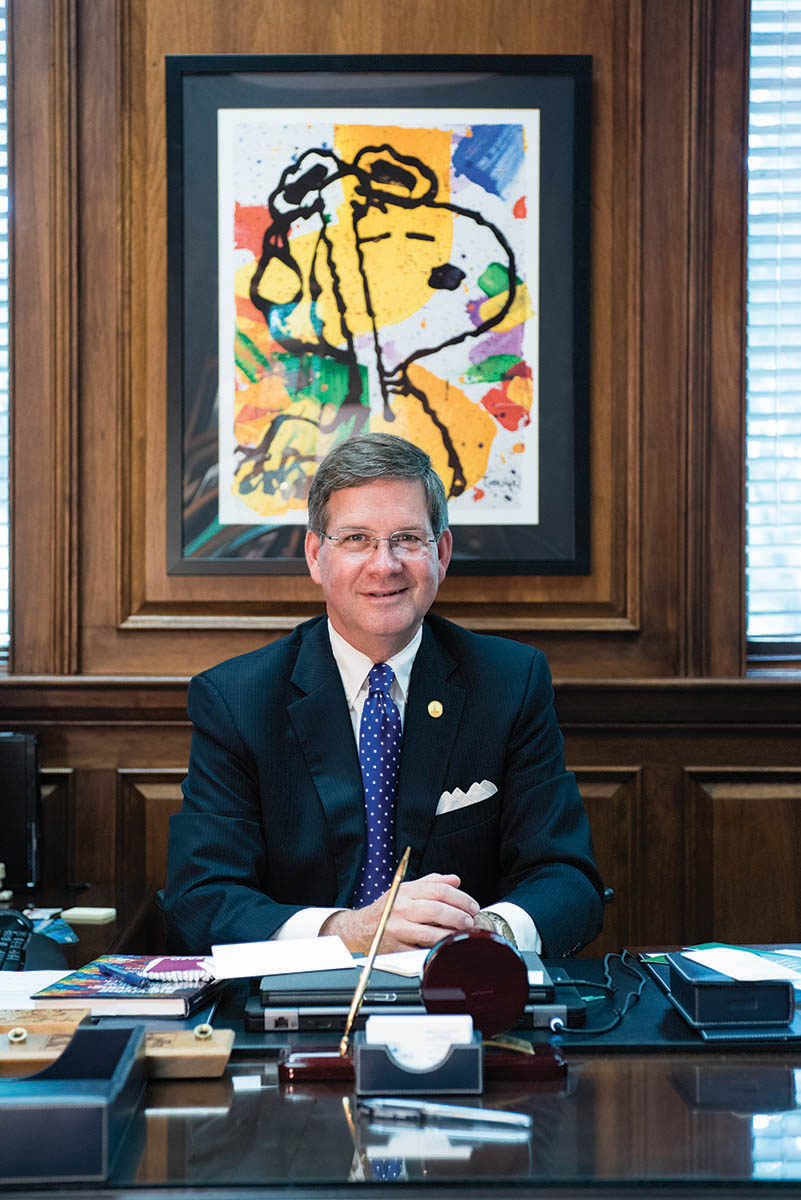 Listening to Braden Smith '22 sing "The Star-Spangled Banner" while hundreds of students, faculty and staff gathered on The Christy Mall during a 9/11 remembrance ceremony was one of the most awe-inspiring moments I have experienced since joining Marietta College more than three years ago.
A couple of weeks later, Judy and I attended an opening night performance by the Theatre at Marietta College and I was once again blown away with the talent on stage. The next night, I witnessed a packed Don Drumm Stadium crowd watch the Pioneers defeat rival Muskingum and then enjoyed a post-game fireworks show.
Alumni, donors and friends: Marietta College is continuing to gain a reputation as the place to be. I know you have heard me say it before, but amazing things are happening on campus and here are some pride-inducing examples.
Enrollment gains
We welcomed 387 new students to campus this fall, many of whom were among their high school's best. Included among this group is the first Virginia McCoy Scholarship recipient and five students who received the inaugural Charles Sumner Harrison Scholarships — all are full-tuition.
Our full-time undergraduate enrollment has increased each of the past years from 1,055 in 2017 up to 1,163 this fall. We have set ambitious goals moving forward and we plan for our enrollment to continue growing — and you can help us.
Our Admission and Alumni offices have partnered on a new program that allows alumni to refer prospective students at www.marietta.edu/alumni/refer-future-pioneer. If the student enrolls at Marietta, the student receives a $1,000 scholarship for four years in the nominator's name.
Retention success
Another reason we are experiencing enrollment increases is a dramatic improvement in our retention of students from fall to fall. From 2018 to 2019, 79.3 percent of our students returned. That is up 25 percent from 63 percent in 2016.
There are multiple factors that have helped us, including an amazing commitment by Academic Affairs and Student Life. We will do a deeper look at our retention in the spring edition of Marietta Magazine.
Improved rankings
There are dozens of publications and websites that rank colleges and universities these days, and Marietta College is typically included.
This year, we moved up three spots to No. 10 in regional college rankings in U.S. News & World Report. Marietta also moved up 73 spots in the College Factual rankings and comes in at 472nd in the nation.
Great place to work
I did not need a survey to tell me what a great place Marietta College is to work, but I am proud that we were named a Great College to Work For for a second consecutive year. Even more impressive is we were recognized in 10 of the 12 categories — up from three categories last year and on the Honor Roll. You can learn more about this accomplishment starting on page 16.
I do not like to say it, but I told you so. We are doing some remarkable things at Marietta College.
Bring forth a Pioneer!

---
Follow the President Online
twitter.com/President_Ruud
instagram.com/presidentruud
facebook.com/MariettaCollegePresident