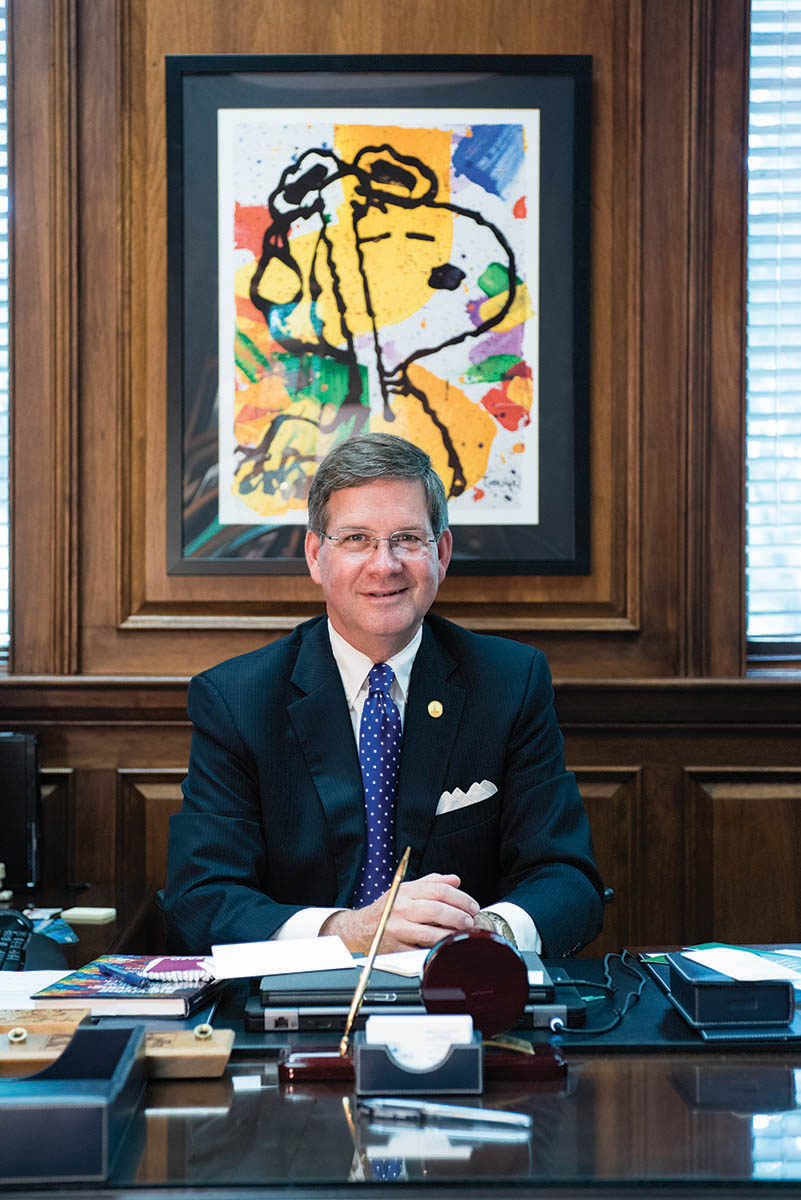 There is no specific reference to building outstanding partnerships in Marietta College's Seven Core Values. I do believe, however, that those who came up with these values intuitively knew it was embedded. Improving our relationships with all of our constituents is an important part of who we are, and we are doing even more since my arrival almost two years ago. We have connected with Marietta Main Street, hosted a First Friday in downtown in September of 2017 and will hold another First Friday in 2018. We have a burgeoning relationship with Hugh O'Brian Youth Leadership Program (HOBY) and are excited to welcome 200 rising high school juniors to campus again this summer. I am a proponent of making strong, well-developed connections that are beneficial to all parties involved. That's why we work closely with the Peoples Bank Theatre in downtown Marietta. We conduct band concerts and Esbenshade Series performances at this beautifully renovated theatre because there is a mutually beneficial relationship and it is the right thing for us to do in this wonderful community.
Right before the winter break on campus, we announced one of our most ambitious collaborations — a dual admission agreement between Washington State Community College and Marietta College called WSCC2MC. This program creates a high-quality, affordable option for students to earn their undergraduate degrees at two institutions in Washington County, Ohio.
It's clear that there is an urgent need for more flexible approaches to higher education. If you are around higher education these days, you've heard at least 100 people utter this statement: We need to meet prospective students where they are! That's why we are always exploring different ways to reach students of all ages.
Our new relationship with Washington State Community College is multifaceted. Students will have an opportunity to earn an associate's degree from Washington State and a bachelor's degree from Marietta. Students accepted into the program are eligible to live in one of Marietta's residence halls, participate in campus dining and enjoy student life options.
When the students enroll full time at Marietta College, they will receive a sizable scholarship that will help make earning a degree more affordable. This is a considerable savings for the student, but it is also equally beneficial to us. This approach does not mean we will push students who would have typically attended Marietta for four years to Washington State for the first two. Instead, we believe this will help us attract students who planned to attend Washington State and then transfer after two years — and recently we have been losing those students to competitors.
We expect our WSCC2MC program to grow and be fruitful for both institutions, and we are committed to developing even more alliances across the state — and hopefully in other states as well. Marietta will always be one of the nation's top liberal arts, residential colleges. But we also realize that we can't sit by and wait for students to come to campus and just consume information. We need to meet them at a place that fits their lives and expectations.
I'm proud to say we are coming up with solutions that will maintain the core of what makes Marietta College special while meeting students' needs. That's what it looks like to Bring forth a Pioneer!

---
Follow the President Online
twitter.com/President_Ruud
instagram.com/presidentruud
facebook.com/MariettaCollegePresident