Get Connected with Marietta
Philosophy is traditionally understood as a love of the truth. Our philosophy minors quickly discover the ideas that seem obvious or beyond question are the ones that need to be questioned most. What they also discover, is they learn to apply these skills to their major area of study and to service opportunities beyond the classroom.
The word "philosophy" is of Greek origin and means "love of wisdom." From ancient times until today, we think of philosophers as those who contemplate and question fundamental questions about life, death, and truth. Today's philosophers dwell on the topics of our rapidly changing world. Indeed, because philosophers take such care with thought, the study of philosophy provides the highest level of training in the analytical or reasoning skills needed by those pursuing careers in law, teaching, government, and business.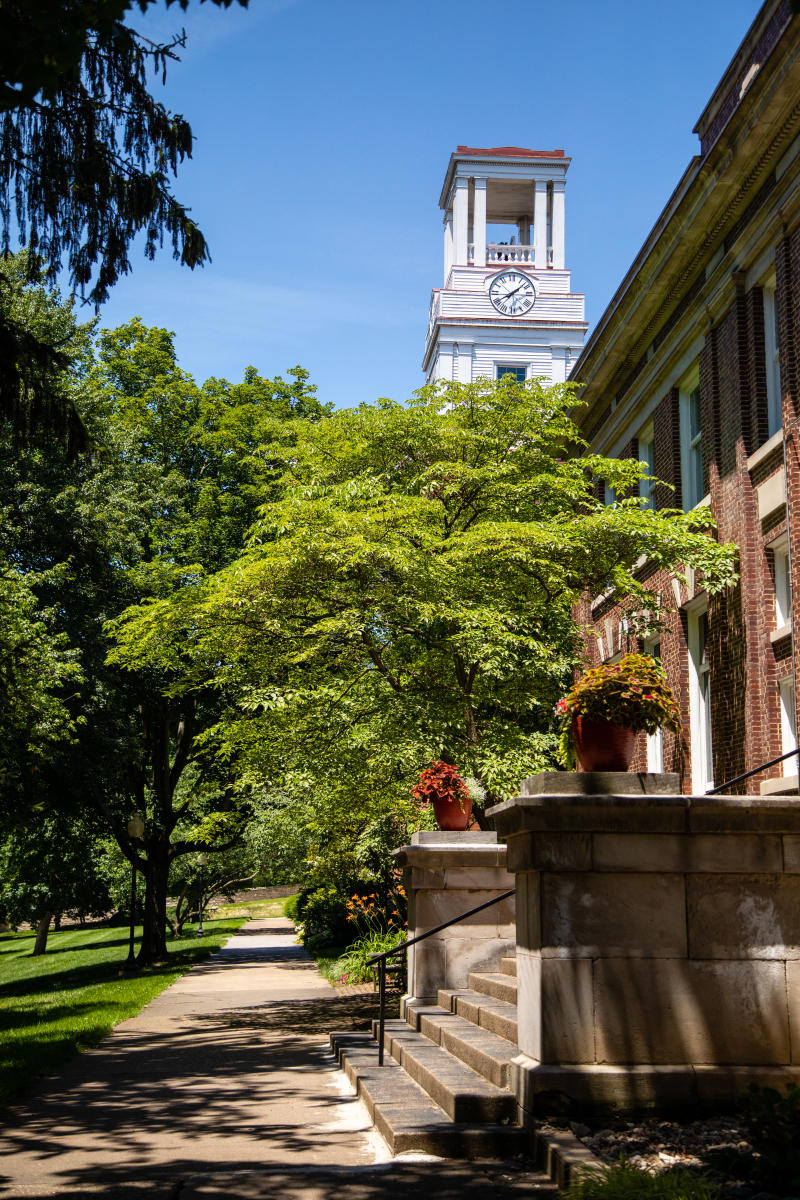 The Philosophy Minor
At Marietta College
Students majoring in Philosophy at Marietta take courses covering four branches of philosophy: logic, aesthetics, ethics, and metaphysics/epistemology. They become familiar with what some of the greatest thinkers in the world have believed about art and beauty, goodness and the difference between right and wrong, reality, and the study of the criteria on which we base our claims to knowledge.
Class sizes are small and consist largely of discussion, so students have the opportunity to discuss and explore philosophical issues with other students and the professor. Since some of our faculty have been trained in what is called the "analytic" tradition, and others in the "continental" tradition, students are able to learn two very different approaches to philosophy. The Philosophy Club also provides lively discussions, ranging on topics from the lyrics of music to the existence of things outside the material world.
Philosophy majors are well prepared for law school and other graduate programs. In fact, Philosophy majors nationwide score the highest of any major on the Law School Admission Test (LSAT). Currently, graduates of Marietta's Philosophy program are pursing advanced degrees in law, philosophy, and psychology.
Earning a Degree in Philosophy
Interested in Philosophy
Contact this Undergraduate Program
Dr. Katy McDaniel • 740.376.4732 • kathryn.mcdaniel@marietta.edu
PROFILES OF PIONEERING SPIRIT
I, Pioneer
Blazing New Trails
Read stories of people who are committed to making an impact in their professions, their communities and beyond.
Our pioneers have the knowledge, the passion and the courage to pursue change for the greater good, to make a difference in the lives of others, and to pave the way for generations to come.
Related Programs
See More of Marietta