Harvey '56 and Madeline Winograd Krauser '59 are happy to announce the birth of their first great-grandson, Jaxson Ash Xanthus, who was born on June 8, 2016. The couple have three children, six granddaughters, a grandson-in-law and now one great-grandson. "My wife Maddy and I met at Marietta College and celebrated our 60th anniversary on Feb. 9th," Harvey says. "We live in Boca Raton, Florida, during the winter months and Lee, Massachusetts, in the summer."
Maurice Dion '61 has recently moved to the Otterbein Retirement Village in Lebanon, Ohio. His mailing address is 4313 Oriole Court, Lebanon, Ohio 45036. Maurice and his wife, Judy, plan to spend the remainder of their days enjoying the campus atmosphere of the facility.
Almost 14 years ago, at the age of 60, Nancy Hoye Mufti '65 retired after working for the federal government in the Government Accountability Office for 27 years. Nancy and her husband of 52 years, Abed Mufti, a Syrian American, live a quiet life in good health in Richmond, Virginia. They maintain intense interests in current world affairs, reading the classics, currently the works of Victor Hugo, and classical music by listening and Nancy's playing the classics on her grand piano each evening. Nancy has very pleasant memories of several years spent as the piano accompanist in the late 1950s and early 1960s for MC Singers, led by Professor Albert Gifford. She keeps in close touch with many of her friends from her days at Marietta and work in D.C. Nancy and Abed also keep in close touch with their son, who lives on the East Coast.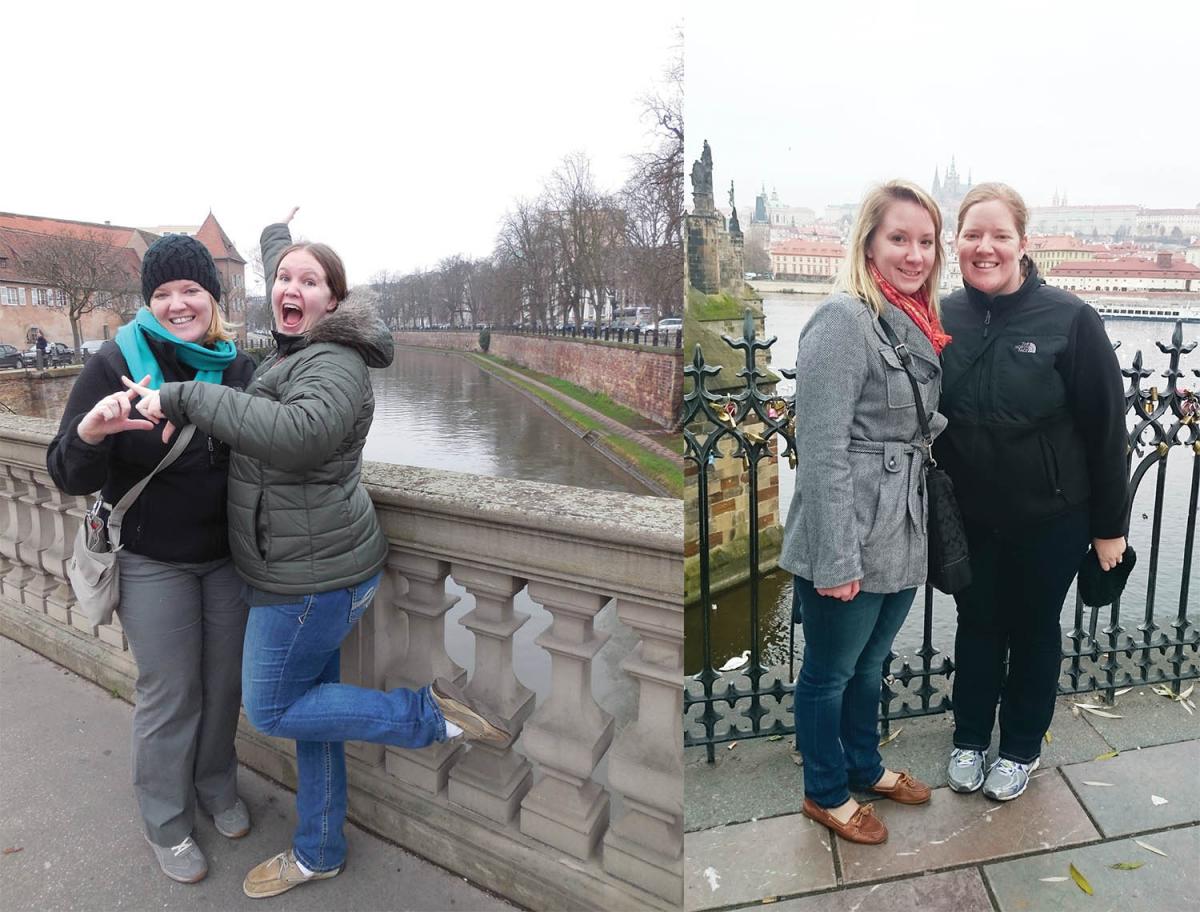 In 2015, Leanne McCullough '09 and her husband, Kemp Langhorne, moved to Stuttgart, Germany. Since then, they have enjoyed traveling and have welcomed many visitors, including two of Leanne's Chi Omega sisters. In January 2016, Kimberly Page '08 visited, and together they traveled to Strasbourg, France; Salzburg, Austria; and Berlin, Germany. In November 2016, Virginia Hynes '11 visited, and together they traveled to Budapest, Hungary; Vienna, Austria; and Prague, Czech Republic. (Left) Ginny and Leanne in Budapest, Hungary. (Right) Leanne and Kim in Strasbourg, France.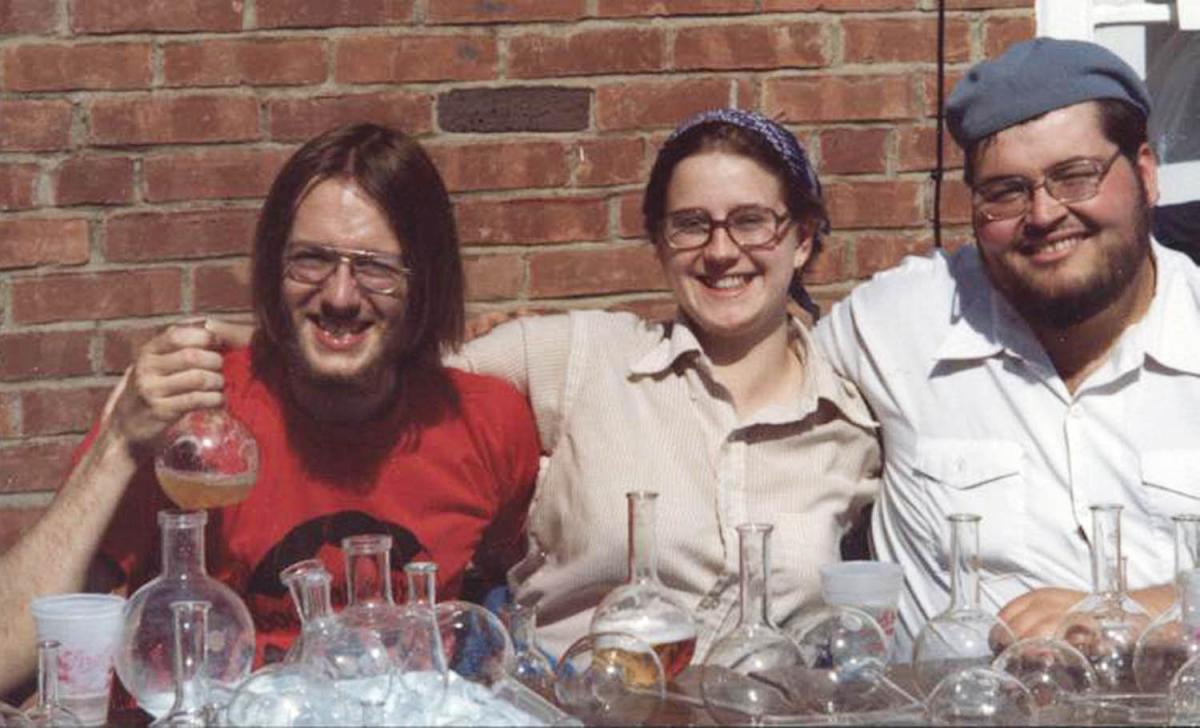 Don Southard '79 sent in a throwback picture from Doo Dah Day 1978. "In the picture are Eric Rahnenfuehrer '78, Case Weaver '78 and Don Southard '79. We were all members of the Student Affiliates of the American Chemical Society, which was a big club back then for Chem majors. We were selling old chemistry glassware."
Alison Hyman Palmer '69 (Alpha Sigma Tau) has retired from Custom Maid, a residential cleaning service that she founded in 1985, with her stepdaughter now running the business. Alison has been very active in the Association of Residential Cleaning Services International. She served as president of the association in 2008, 2010 and 2014. Once a year Allison gets together with Barb Mount Hartong '69, Ernie Hartong '71, Peggy Hosmer Perkins '69 and Pam Murphy McGrath Sergey '69. This year, the group plans to meet in Charleston, South Carolina.
Robert Bruni '76 was inducted into the San Diego Chapter of the U.S. Lacrosse Hall of Fame on October 1, 2016. Bob has been involved with lacrosse in San Diego for four decades. He was previously named the San Diego County Lacrosse Coach of the Year while serving as the boys' high school varsity head coach. He is currently serving as the vice president and member of the board of directors for the San Diego Chapter of U.S. Lacrosse.
Martin E. Santini '78, '88 (Delta Tau Delta) will be inducted into the Mid-Ohio Valley Athletic Hall of Fame in June 2017. He spent 37 years teaching and 29 years coaching at Warren School District in Vincent, Ohio. He has previously been inducted to the Ohio Wrestling Coaches Hall of Fame and the Warren High School Football Hall of Fame.
Gregg Nibert '79 was awarded the 2017 John Lotz "Barnabas" Award at the Fellowship of Christian Athletes (FCA) Coaches Dinner at the National Association of Basketball Coaches convention during the Final Four weekend in Phoenix. This award is presented annually to honor a basketball coach who best exhibits a commitment to Christ, integrity and encouragement to others, and lives a balanced life. Gregg recently completed his 28th year in charge of the Presbyterian College men's basketball team. The winningest coach in the program's history, Gregg has led the Blue Hose to more than 400 wins and compiled six 20-win seasons. He is the first men's basketball coach in Presbyterian College history to reach the 300-win plateau, an honor he reached during the 2005-06 season after becoming the first to accomplish 200 wins in the 2000-01 season. He is also the only coach in the history of the South Atlantic Conference to coach a squad to the Sweet 16 of the Division II Tournament. Over the years, Gregg and his wife, Peggy, have provided foster care to 44 children.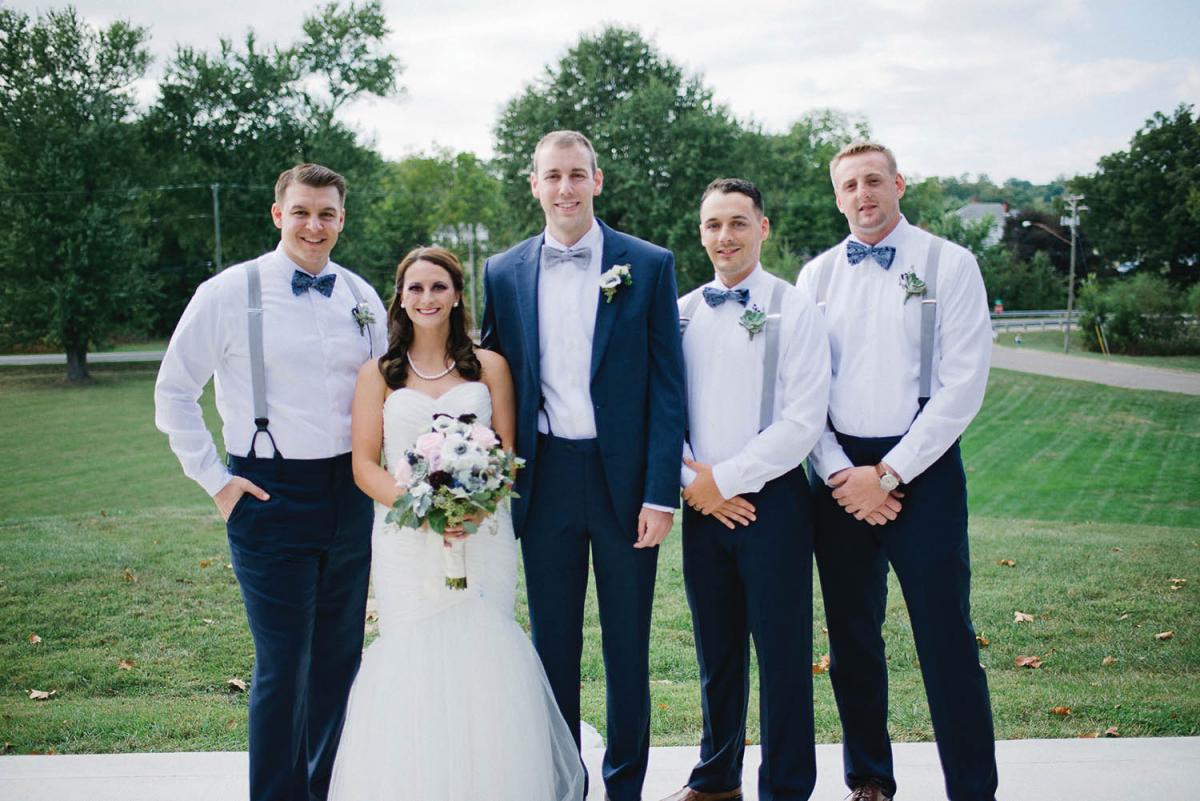 Josh Hahn '12 and Kylee Hamilton '12 (Alpha Xi Delta) were married on Sept. 24, 2016. In attendance were many Marietta alumni, including groomsmen Chase Oberfield '12, Conner Kilpatrick '12 and Jordan Nichols '12.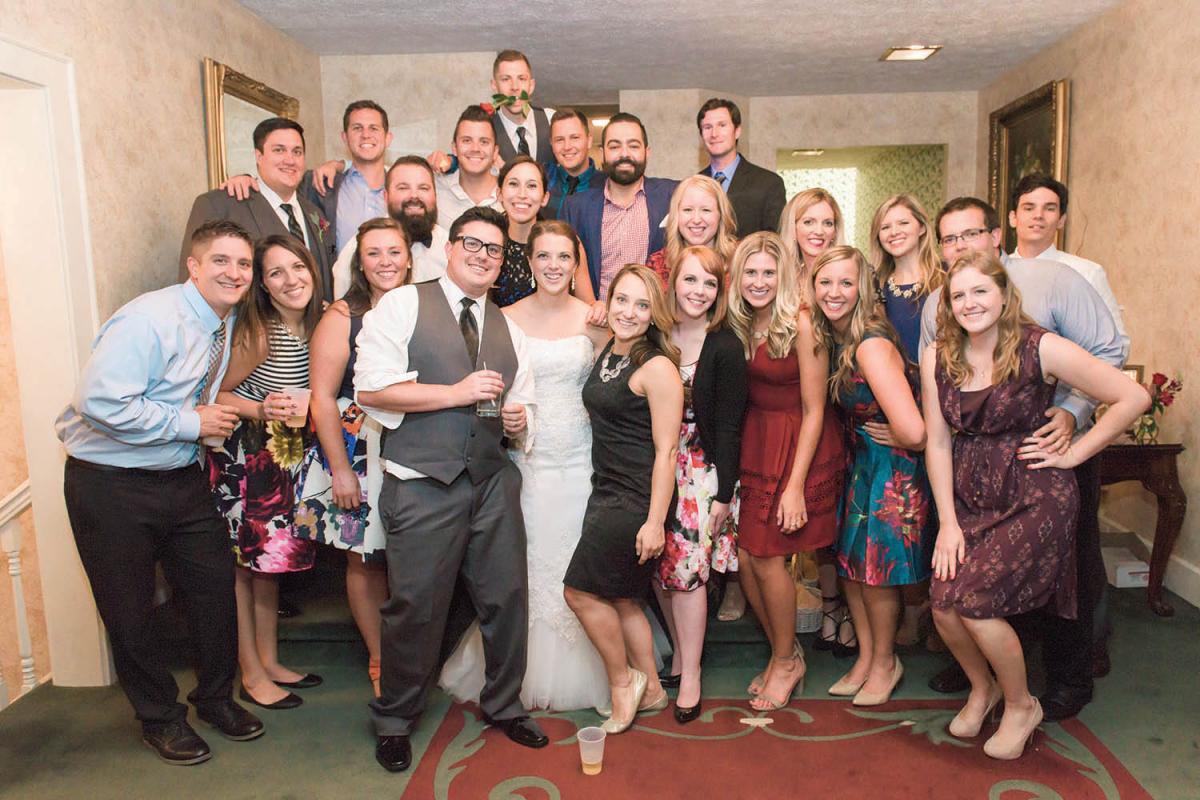 Logan Wern '10 and Marco Aguiniga '09 were married on Oct. 1, 2016. Many members of The Long Blue Line were in attendance. (Pictured from back to front & left to right) Dan Holloway '09, Jeffrey Kimble '09, Jakob Loukas '09, Joe Ropp '09, Cory Parish '10, Greg Geisler '10, Jason Monk, Brenda Puckett Wilkerson '10, Micho Aboukhaled '10, Kimberly Nelson '10, Sarah Hathaway '10,'12, Holly Casto Booth '10, Wes Casto '09, Sean Wainwright '08, Lyndsay Offenberger Monk '10, Marco, Logan, Jennifer Valentic '10, Katherine Knight Kimble '09,'10, Ashley Weiss '11, Hailee Stender '10, Tom Fogle '09 and Corin Bonnett '11.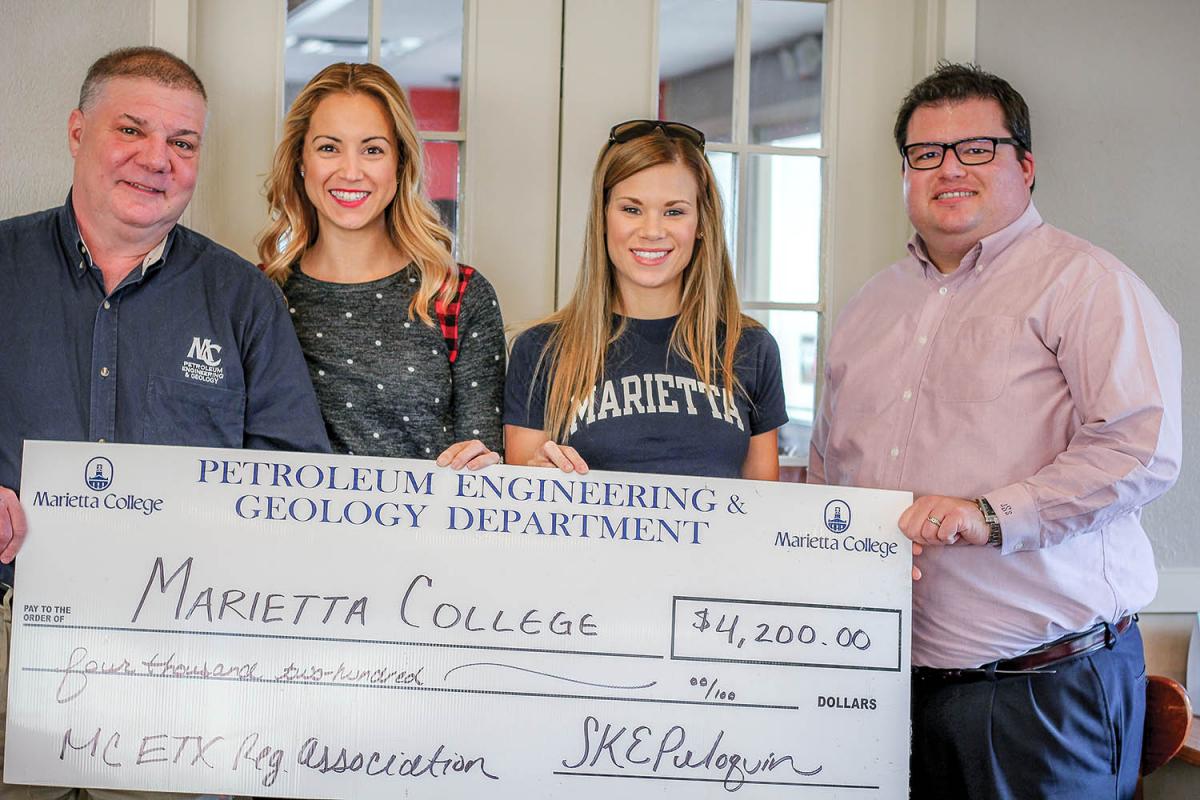 Alumni and friends from the East Texas Regional Association gathered for the annual Marietta College Alumni Golf Tournament in October at Cypresswood Golf Course in Houston to raise money for the College's Petroleum Engineering Department. The event drew 80 participants and three new teams to the course, and raised $4,200.​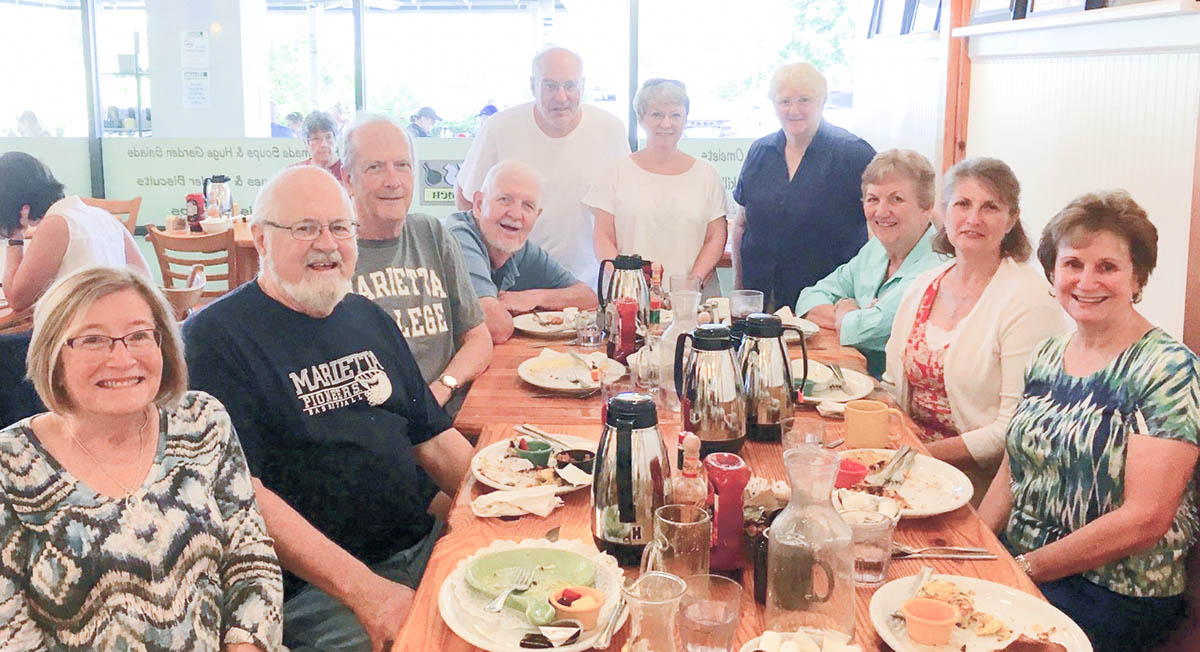 Recently, a group of former Marietta College administrators and faculty enjoyed brunch in Naples, Florida, when they were all in town for the week. (Pictured from left to right around the table) Gail Iannotti (adjunct faculty 1974-80); Bob Walker (Chemistry faculty member from 1972-2009); Art Acton (History Professor and Associate Vice President, 1967-86); Mike DeWine; Sid Potash (business faculty member 1974-2012); Marilyn Potash '72; Gloria Stewart (Director of Physician Assistant Graduate Program 2001-13); Sue DeWine (Provost 2000-07); Mary Ann Acton; and Jean Scott (President 2000-12).  A combined 133 years of service to Marietta College were represented at the table.​
Lt. Col. (retired) John Matthews '89, U.S. Air Force (Alpha Sigma Phi), has honorably retired from the U.S. Air Force after serving 26 years and three days. During his tenure, he completed two yearlong combat deployments to Afghanistan, where he earned many notable accolades that include a Bronze Star, Purple Heart, Air Force Combat Action Medal and U.S. Army Combat Action Badge. He is looking forward to a peaceful retirement from the military with his family in Colorado and many tight lines.
David B. Tenney '90 CPA and managing director of Tenney & Associates, in Marietta, Ohio, and Parkersburg, West Virginia, is celebrating 26 years with the public accounting firm. At the firm, Ryan D. Becker '00, CPA, was recently admitted as a partner, Heather M. Peters '08, CPA, was promoted to senior manager, Justin D. Tidd '10 passed the IRS's enrolled agent exam, and Kenneth D. Barth '77 celebrated four years as an associate.
Anthony Beck '92 and his wife, Laura, recently celebrated their 20th wedding anniversary this past summer by taking a cruise to Alaska and spending a few days in Vancouver, British Columbia. Anthony's company, G & M Sales Group Inc., the largest team of independent sales agents in the pool and spa industry in Canada, is celebrating its 13th anniversary this year. Anthony and Laura's daughter begins her freshman year of college this fall, with plans of studying health sciences.
Ryan Zundell '93, head swim coach of the Marietta Marlins Swim Team, was awarded two marketing awards from USA Swimming in April. The Marlins won Best Use of Social Media and Marketing Club of the Year (1-150 swimmers) for their consistent social media strategy focused on unique and engaging content. Their series of Kickboard Confessional videos and the club's "Try it and Like it" campaign were extremely effective, creating 25 tryouts and 20 new members.
Melissa Varga '10 has been selected to participate in the inaugural cohort of the Community Engagement Fellows Program at the American Association for the Advancement of Science. The program aims to improve collaboration and community building in science. It will provide a year-long professional development opportunity to individuals who cultivate member engagement and collaborative relationships within scientific associations and research collaborations.
In Memoriam
>1940s
Patricia Gray '41 (Alpha Xi Delta) of Marietta, Ohio (12/20/16).
Clyde W. Campbell '42 (Delta Upsilon) of Kailua, Hawaii (2/11/17). Survivors include his daughter, Cristina Campbell Rathyen '69 (Chi Omega), son, Kim D. Campbell '72 (Delta Upsilon), and son-in-law, Wayne M. Rathyen '68 (Tau Kappa Epsilon).
Jeanette Calakins Hoffman '43 (Chi Omega) of Sanborn, New York (11/11/16).
Barbara J. Calvin Edwards '47 (Chi Omega) of Worthington, Ohio (1/22/17). 
Michael C. Schotz '47 of Santa Monica, California (12/17/16).
Charles T. Mindling '48 of Indianapolis, Indiana (12/27/16).
Ruth Williamson Blauvelt '49 (Chi Omega) of Parkersburg, West Virginia (11/27/16). Survivors include her daughter-in-law, Susan Voelker Blauvelt '87. 
>1950s
James E. Hart '50 (Lambda Chi Alpha) of New Smyrna Beach, Florida (12/1/16).
Alfred E. Nicoletti '50 of Wilmington, Delaware (11/8/16). 
Glenn L. Shira '50 of Manassas, Virginia (1/21/17). 
Patsy Mulligan Costolo '51 (Sigma Kappa) of Mount Dora, Florida (11/1/2016).
Myron D. Farley '51 of Marietta, Ohio (12/6/16).
Melvin A. Grossman '51 of Maumee, Ohio (10/7/16).
Clifford F. Holden '51 of Marietta, Ohio (11/7/16).
Donald C. LeBlanc '51 of Avon Park, Florida (5/16/16).
Garnet Wilhelm Stephens '51 of Marietta, Ohio (12/12/16). Survivors include her daughters, Jane Stephens Auge '76 (Chi Omega), Ann Stephens Ellis '80 and Sarah Stephens Beard '83.
Edward L. Winslow III '51 of Cincinnati, Ohio (2/27/17). Survivors include his son, Peter Winslow '77 (Delta Upsilon), and daughter, Marcia Winslow Schnicker '81 (Alpha Xi Delta). 
Arlene Braun Cisler '52 (Sigma Kappa) of Springfield, Ohio (2/1/17).
Julia A. Sheets '52 (Chi Omega) of Parkersburg, West Virginia (3/15/17).
John E. Drummond E'53 of Weedsport, New York (4/16/17).
Braden M. Nida '53 of Marietta, Ohio (11/5/16).
Mary Ellen Williams Golby '54 (Chi Omega) of Washington, D.C. (9/2/16).
George T. Hepburn Jr. '54 (Lambda Chi Alpha) of Montclair, New Jersey. (11/15/16).
Robert L. Modie '54 (Alpha Sigma Phi) of Beverly, Ohio (3/19/17). Survivors include his wife, Sally Cowell Modie '54 (Sigma Kappa), and son, Gary Modie '79 (Alpha Sigma Phi). 
Robert E. Schilling '55 of Newark, Ohio (11/20/16).
Joan Johnson Woodring '55 (Sigma Kappa) of Julian, Pennsylvania. (12/18/2016). 
Paul S. Cohen '56 of New York, New York (1/3/17). 
Everett G. Elder '56 (Alpha Tau Omega) of Cary, North Carolina (3/31/17). Survivors include his wife, Sally Nesseltre Elder '55.
Sheldon E. Flaxman '56 of Atlanta, Georgia (12/23/16).
Joseph V. Nowell '56 of Marietta, Ohio (3/23/17).
Anthony L. Drapelick '57 (Alpha Sigma Phi) of Simsbury, Connecticut (10/31/16). Survivors include his daughter, Barbara Drapelick Mitchell '89 (Alpha Xi Delta), and son-in-law, David Mitchell '90 (Alpha Sigma Phi).
John D. Hamilton '57 of Parkersburg, West Virginia. 
L. Sue Mehlberg '57 (Alpha Xi Delta) of Marietta, Ohio (12/13/16).
Oran R. Adams '58 of Waterford, Ohio (1/7/17).
Nedra Harper Nokes '58 (Alpha Xi Delta) of Willis, Texas (3/27/17). 
William J. Blemings '59 (Alpha Sigma Phi) of Winston Salem, North Carolina (1/18/17).
Bruce S. DeMoll '59 of Vienna, West Virginia (10/12/16).
Ann E. Fortney '59 of Marietta, Ohio (11/11/16). 
George H. Gadbois Jr. '59 of Versailles, Kentucky (2/16/17).
Kay Oesterle Loeffler '59 (Chi Omega) of Sunnyvale, California (1/14/17). Survivors include her husband, Helmuth C. Loeffler '58.
James T. O'Brien '59 (Delta Upsilon) of East Haddam, Connecticut (11/1/16). Survivors include his wife, Patricia Kalafus O'Brien '58 (Chi Omega).
>1960s
Joseph R. Strain '60 (Delta Upsilon) of Pharr, Texas (11/21/16).
Janet Rouff Richardson '61 of Hendersonville, Tennessee (10/24/16).
Leo F. Follett '62 of Ocala, Florida (4/8/16).
Richard K. Lee '62 of Lakeland, Florida (1/20/16).
Jane Callicoat Saluta '62 (Chi Omega) of Charleston, West Virginia (12/31/16).
Nancy Jensen Gilroy '63 (Alpha Xi Delta) of Spring Lake Heights, New Jersey (1/14/17).
Brian J. Illencik '64 (Alpha Sigma Phi) of Ocean City, New Jersey (1/29/17). Survivors include his wife, Barbara Bryan Illencik '66 (Sigma Sigma Sigma).
Ernest J. Cejka Jr. '65 (Alpha Sigma Phi) of Ormond Beach, Florida (11/21/16).
Peter J. Mitchell '66 of West Newton, Massachusetts (2/21/16).
Burke G. Barker Jr. '67 (Alpha Sigma Phi) of Woodinville, Washington (3/15/17). Survivors include his wife, Jeanne Capri Barker '69 (Chi Omega).
Lee E. St. Clair '67 (Delta Tau Delta) of Miami, Florida (6/8/2016).
Nancy L. Drake '67 (Alpha Gamma Delta) of Rochester, New York (3/31/17).
Norma Greiner Doane '68 of Parkersburg, West Virginia (2/3/17).
Fredrick E. Hartman '68 of Memphis, Tennessee (2/6/17).
Nancy Richardson Schornstheimer '69 of Columbus, Ohio (10/10/15).
>1970s
Charles J. Alessi Jr. '70 (Lambda Chi Alpha) of Hamburg, New York (12/8/16).
Keith C. Fletcher '70 (Alpha Tau Omega) of Gardner, Massachusetts (8/5/11). 
Pilar Gonzalez Moore '70 of Fort Thomas, Kentucky (12/28/16).
Eugene R. Anderson '71 of Parkersburg, West Virginia (1/22/17). 
Stephen B. Ericson '71 (Alpha Sigma Phi) of Palm City, Florida (1/27/17).
Theodore K. Heller '71 (Tau Kappa Epsilon) of Chalfant, Pennsylvania (5/12/16).
Allen L. Miller '71 of Marietta, Ohio (2/24/2017).
Donna Giamportone Moseley '72 (Alpha Xi Delta) of New Berlin, New York (1/14/17). Survivors include her husband, James E. Moseley '72 (Tau Kappa Epsilon).
Joy Giebell Noland '72 of Pennsboro, West Virginia (1/28/16). Survivors include her son, Seth Noland '05.  
Michael J. Bresnahan '74 of Youngstown, Ohio (3/14/17). 
Richard E. Miller '74 (Delta Tau Delta) of Hamden, Connecticut (12/10/15). Survivors include his wife, Bonnie Merchant Miller '73, brother, Bruce Miller '69 (Delta Tau Delta) and his sister-in-law, Elizabeth Thompson Miller '73 (Alpha Sigma Tau).  
Jay A. Runkel '75 (Alpha Sigma Phi) of Ballston Spa, New York (12/9/16).
Bruce M. Campbell '77 of South Fayette, Pennsylvania (1/1/17). Survivors include his wife, Constance Lappa '76 (Sigma Sigma Sigma). 
Herbert E.  Rupp '79 of Stuart, Florida (1/28/17). 
>1980s
Lewis M. Le Blond '82 (Alpha Tau Omega) of Cincinnati, Ohio (1/20/17).
Larry J. Stoltzfus '86 of Baton Rouge, Louisiana (12/31/16). Survivors include his son, Zachary Stoltzfus '15.
Timothy J. Grubert '89 (Delta Upsilon) of Eugene, Oregon (11/29/16). Survivors include his sister, Katrina Grubert '94 (Sigma Kappa).
>Faculty Emeritus
Albert Prince of St. Petersburg, Florida (11/26/16). Survivors include his son, Frederick C. Prince '82.
>Trustee Emeritus
Margaret Smith Murray (widow of Emeritus Trustee Norman Murray) of Durham, North Carolina (3/7/17).
>Associate Emeritus
Charles E. Hugel Jr. of Wolfeboro, New Hampshire (12/5/16). Survivors include his son, Jeffrey C. Hugel '77, and granddaughter, Stephanie C. Hugel '09.
>Staff
Gene E. Newlon of Lowell, Ohio (5/15/2017). Survivors include his daughter, Karley J. Newlon '14.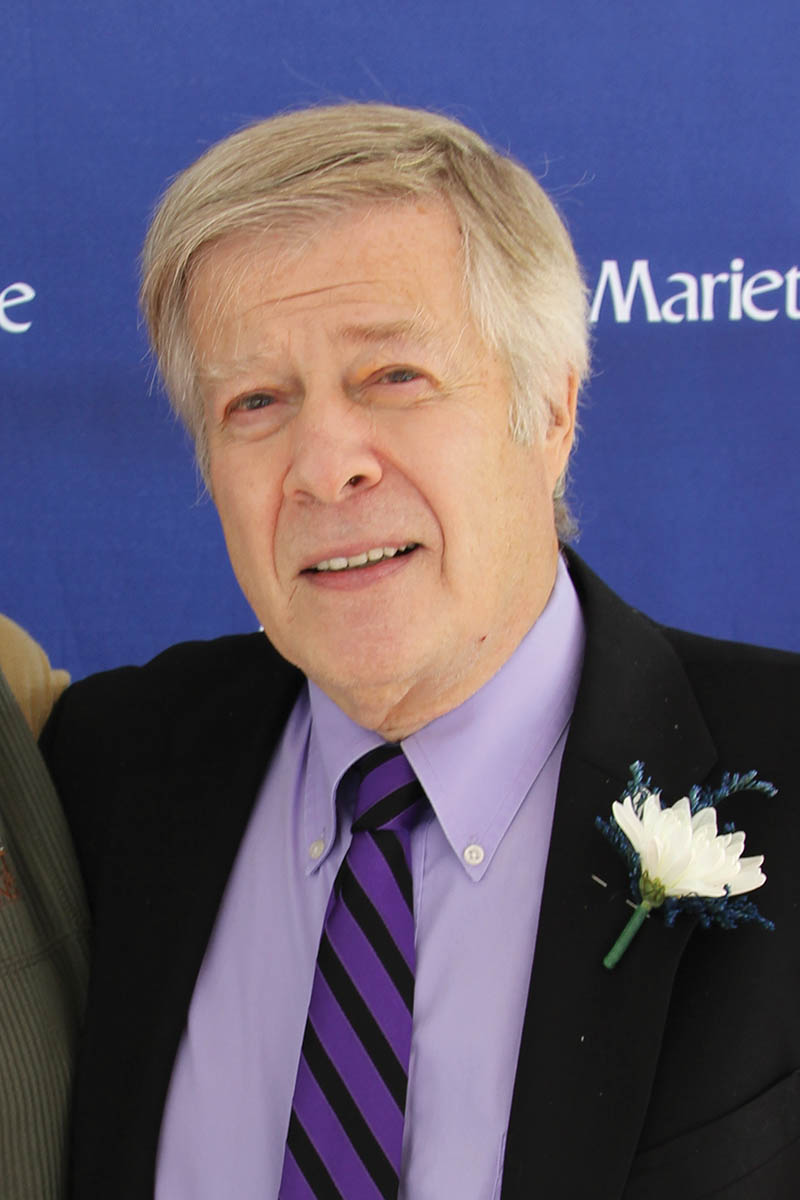 Robert "Bob" Walsh '62
1940—2017
Marietta College was saddened by the loss of Hall of Honor member Robert "Bob" Walsh '62, who died in late January while traveling abroad on business. He was 76.
After studying in the newly formed Mass Media Department at Marietta, Walsh progressed professionally, becoming a well-respected name in professional sports, broadcasting and business. As a broadcast producer on the national stage, he booked shows hosted by the likes of Regis Philbin and NBA legend Bill Russell. Russell later hired Walsh to serve as the Assistant General Manager of the Seattle SuperSonics. After leaving the team in 1976, Walsh began representing professional athletes and promoting major sporting events. He is credited for creating the March Madness celebration while serving as Executive Director of the NCAA Final Four Host Committee in 1984.
His ability to organize and manage quality sporting events allowed him to channel his gifts to help others in need nationally and internationally. In 1990, Walsh partnered with TBS founder Ted Turner and other agencies to produce the Goodwill Games. His work led him to travel to three dozen countries to coordinate events and establish nonprofit corporations that provide medical care, nutritional support, education and other community-supporting endeavors worth about $1 billion.
In addition to all of his national and international ties, Walsh remained loyal to his alma mater by volunteering his time to speak to classes and as an advisor to the College's Athletics Founders Board.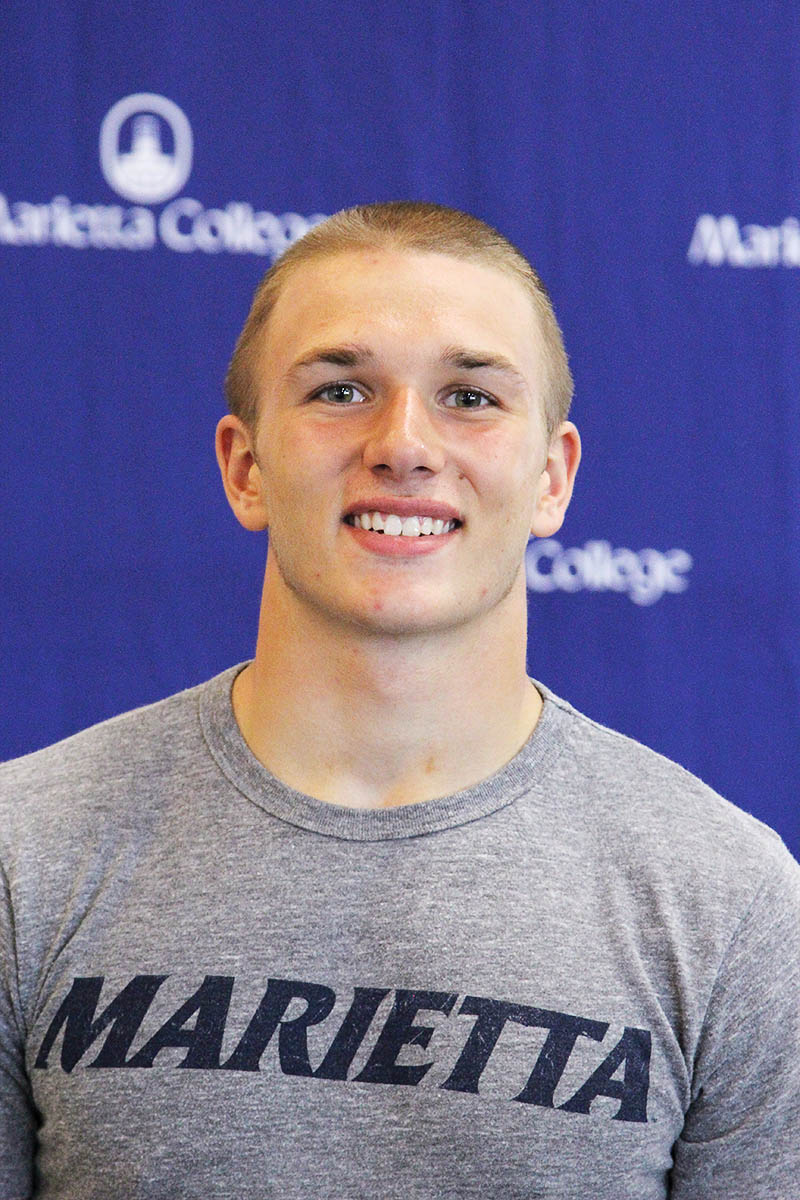 Joel T. Wunnenberg '20
1998—2017
The Marietta College community suffered a tragic loss earlier this year when Joel Wunnenberg died unexpectedly from a medical complication. He was 18.
Though Joel had only been a Pioneer for a few months, he made a lasting impact on campus. In addition to being a Petroleum Engineering major, a McDonough Scholar and member of the Pioneer football team, Joel was active in community service, particularly with the Humane Society of the Mid-Ohio Valley.
To honor his memory, the Pioneer football team will retire Joel's No. 38 jersey for the upcoming season and helmets will display a sticker with his number.
"He did everything right, even when no one was watching," head coach Andy Waddle says. "He had courage and discipline — everything you want in a player. It wasn't about the glory for him; it was about the brotherhood and the team."