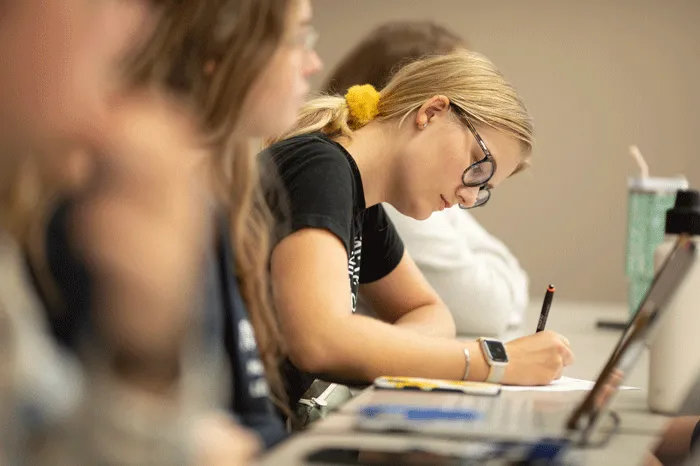 Marietta College is pleased to offer Ohio high school students who are interested in majoring in education a valuable opportunity to earn college credits during the spring 2024 semester through College Credit Plus (CCP).
Marietta's Education Program, which has consistently ranked among the best in the state, is offering an online, asynchronous section of Education 202 (Educational Psychology). The College also offers Education 130 (Technology in the Classroom) in the fall for high school juniors and seniors.
"We know Ohio students have limitless opportunities when selecting CCP courses," said Dr. Tanya Judd, Dean of Marietta College's Education Department. "However, students who are interested in majoring in Education after high school have found our courses to be extremely rewarding. The other advantage is they are learning from some of the best teacher educators in the state."
Students who complete and get a passing grade in either course (or both) will be able to use these toward a Bachelor of Arts degree in Education from Marietta. Marietta has typically experienced 100% job placement by the fall for each graduating class. The credits will also transfer to any public college in Ohio.
"We are pleased to offer these two important courses through CCP," Judd said. "We anticipate dozens, or even hundreds, of students will enroll, so we are encouraging any Ohio high school student who is interested to complete the CCP application as soon as possible."
This is the second year MC's Education Department has offered these CCP courses, which allow Ohio high school students interested in a career as a teacher to begin taking some relevant courses while beginning to learn more about what it is like to be a Marietta College Pioneer.
"We want to make sure our CCP students have a rewarding and fulfilling experience, so every student taking one of these Education courses will be assigned a faculty mentor who will help support the students and address any questions they might have," Judd said.
While College Credit Plus (CCP) permits high-ability students in grades 7 through 12 to complete college coursework for high school and/or college credit, Marietta College only admits students in grades 11 or 12.
Students seeking admission into the College Credit Plus program must have at least a 3.0 GPA and demonstrate college readiness by meeting Marietta College's admission standards and the Uniform Statewide College Readiness Standards.
Ohio high school students interested in applying for CCP credit through Marietta College can do so online at www.marietta.edu/ccp.
Any students or parents who might have questions, please get in touch with Dr. Tanya Judd at (740) 376-4490 or tj002@marietta.edu.