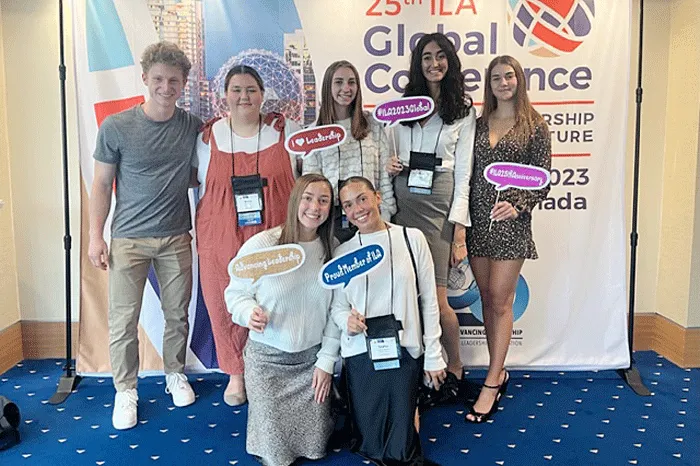 Faculty and students from Marietta College's McDonough Center for Leadership made presentations and were honored during the 2023 International Leadership Association (ILA) Global Conference in Vancouver, Canada.
Dr. Alex Perry, Interim Dean of McDonough, was recognized for her service to the ILA's Ethics Division, and for the work McDonough is doing to put ethical leadership into practice through its work around substance use disorder recovery leadership.
She also presented on ethical issues related to the Smithsonian's display of artifacts from Hiroshima, and on "How Leaders Can Foster a Sense of Belonging for Neurodiverse Followers."
Perry also hosted the annual ethics division meeting as the chair, and the College was recognized for having three consecutive Ethics Division chairs — former McDonough Dean Robert McManus, Perry and former Assistant Vice President for Enrollment Management Emily Schuck '97, who will take over as chair in November.
The ILA's authors' reception featured Perry's new book, the 2nd edition of "Ethical Leadership," which Assistant Professor Dr. Amy Elliott, Assistant Professor Dr. Jon Rogers, and Schuck were contributors to and two of the late Gama Perruci's books, "The Study and Practice of Global Leadership," and "Teaching Leadership: Bridging Theory and Practice," which he co-authored with the 2023-24 Executive in Residence and Distinguished Visiting Faculty Sadhana Warty Hall. Perruci served as the McDonough Dean for 19 years.
Elliott also chaired a session on Ethical Frameworks for Leadership.
In the case study competition, seven MC students participated. They were:
Auva Zandi '24 (Dublin, Ohio), Maria Cipro '25 (Medina, Ohio), Shayna Allshouse '26 (West Salem, Ohio), and Sophia Murray '26 (Rocky River, Ohio) developed a case study titled "Defeating Hunger in the Mid-Ohio Valley" based on the U.N.'s 2nd Sustainable Development Goal: Zero Hunger.
 
Laney Carpenter '25 (Cambridge, Ohio), Connor Reed '26 (Lewis Center, Ohio), and Emily Comiskey '26 (Shirley, New York) developed a case study titled, "Sustainable Development Goals: Combatting Climate Change" in response to the U.N.'s 13th sustainable development goal: Climate Action.